A delicious vegetable lasagna no pasta noodles necessary! Yes, it's all veggies, cheeses and marinara sauce for a tasty gluten free, vegetarian dinner. (You won't miss the noodles!) This is the perfect dish for using fresh veggies from the garden or just when you are craving Italian food on a gluten free diet.
You might also like these microwave lasagna cups with zucchini!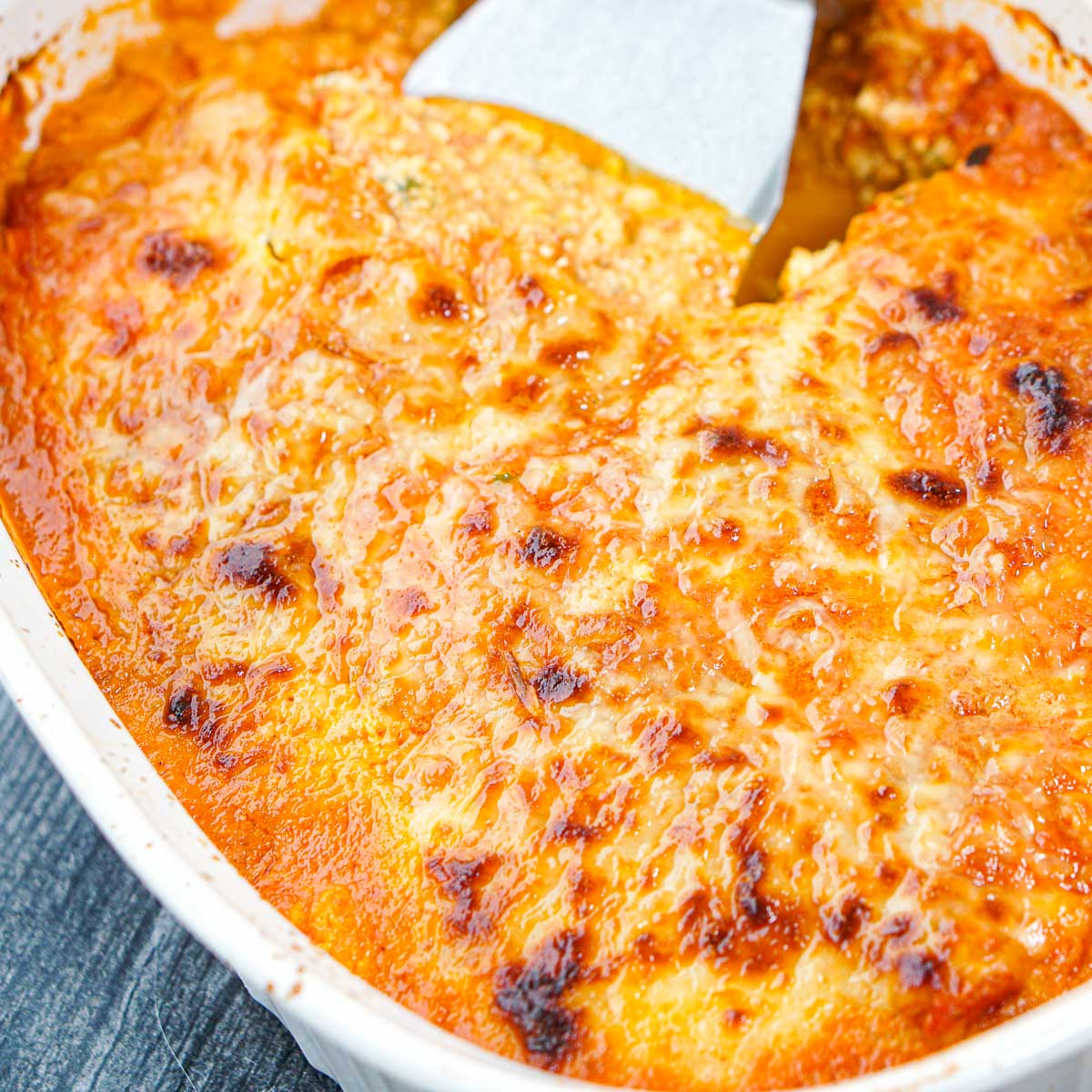 I've been wanting to try this for a long time. I love zucchini and eggplant by my husband does not. So one night when he wasn't going to be home for dinner I made this vegetable lasagna without noodles for myself and I loved it.
I knew I would. What's not to love? It's full of a variety of cheeses and creamy ricotta and some of my favorite veggies. I also liked it because it was gluten free and vegetarian which is a nice change sometimes.
Unfortunately neither my hubby nor my son will eat this but maybe that's a good thing as that means more for me. I frozen a few pieces for a quick and tasty lunch!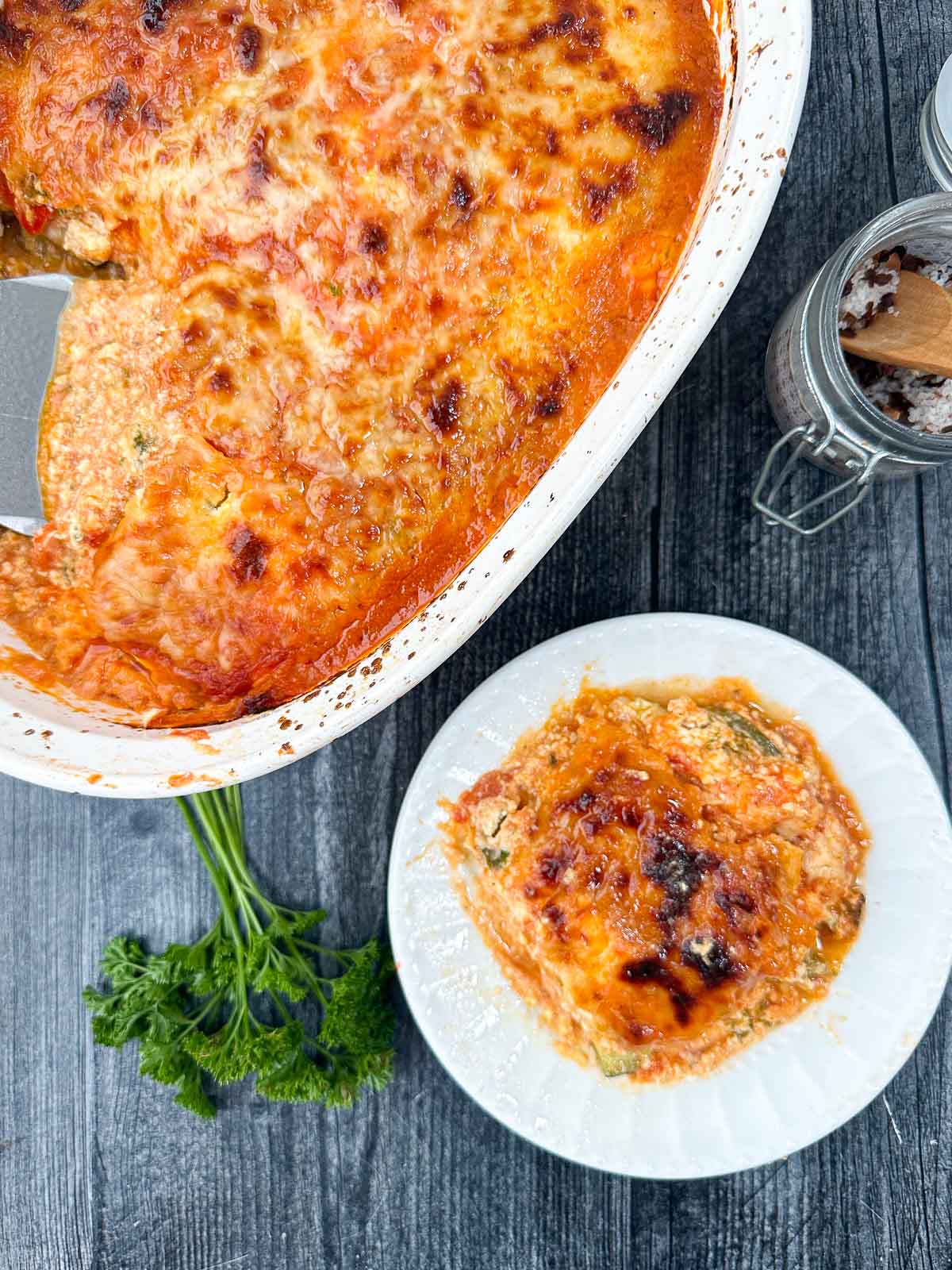 I pretty much followed the same method as my mom's unforgettable lasagna. For a traditional lasagna I really think it's the best I ever had so check it out.
However I skipped the meat sauce in the original recipe. If you want you can easily add ground beef, ground turkey or even Italian sausage to the marinara sauce to make a meat sauce.
Just heat up a pan to medium heat and brown the ground beef. Then add the sauce and mix well. Cook for a few minutes so the flavors blend together well.  
Recipe ingredients I used.
The basic ingredients I used I this vegetable lasagna were vegetables, ricotta cheese, egg yolks, fresh parsley, marinara sauce and cheeses. If you want to add a bit of heat you can also use some hot pepper flakes. Mix it in with the sauce. 
Fresh Vegetables
I used eggplant, zucchini and bell peppers for this dish. There aren't many other veggies that I think would work well as "noodles" so I would stick with these three or use just one of them if you want. Fresh spinach would also work well in addition to the noodle layers made with the veggies.
Ricotta Cheese
I like whole milk ricotta cheese because it's richer and tastier in my opinion but you can use lower fat if you want.
Marinara Sauce
I love Rao's marinara sauce and it was great in this recipe. I also love Trader Joes marinara in a can. I really like the taste of both and I use them a lot in my cooking because of their amazing flavor. However you can just use your favorite pasta sauce for this recipe.
Cheeses
I like the combination of parmesan and mozzarella cheese for this dish. The parmesan adds flavor while the mozzarella as that gooey cheese factor. Provolone is also good in a dish like this.
Egg Yolks & Parsley
This helps thicken the ricotta mixture and is necessary. The fresh parsley is for flavor and color. You could also use fresh basil leaves if you love that flavor but parsley works great.
How to cut the veggies.
Start by cutting off the tops and bottoms of the bell peppers and cleaned out the seeds. It should look like wide tube. Cut that in half and you will get two flat pieces of peppers.
The key for the eggplant and zucchini is to slice them very thin. I use one of my favorite kitchen tools – this mandoline that I bought at a tupperware party. However I also have one from Aldi that was $5 and it works great too! If you have good knife skills just make sure you slice them lengthwise very thin.
If you decide to use other veggies just make sure you slice them thinly and if they are a harder vegetable like carrots for instance, you will want to precook them in the microwave or by boiling them first.
How to make vegetable lasagna no pasta.
Preheat oven to 400°F and spray a baking or casserole dish with nonstick cooking spray and set aside.
Step 1: The hardest thing about this dish is getting the veggies soft. Get a large pot of water boiling over high heat. Cut the peppers as mentioned above and then add the peppers and cook for 6 minutes. Take them out and let them cool. Peel off the skins if you can and set aside.
You can also cook them in the microwave for about 5 minutes. It's hard to get the skins off though but you can keep them on if you want.
Step 2: Get out a medium bowl and add the ricotta, egg yolks and chopped fresh parsley. Mix well and set aside.
Step 3: Get out the prepared baking dish and add a single layer of eggplant, then spoon ⅓ of the ricotta mixture over top. Pour ⅓ of the tomato sauce over the layer of ricotta filling and then top the layer of marinara sauce with ⅓ of the parmesan cheese and then ⅓ of the mozzarella cheese.
I did a layer each of peppers, zucchini slices and eggplant slices.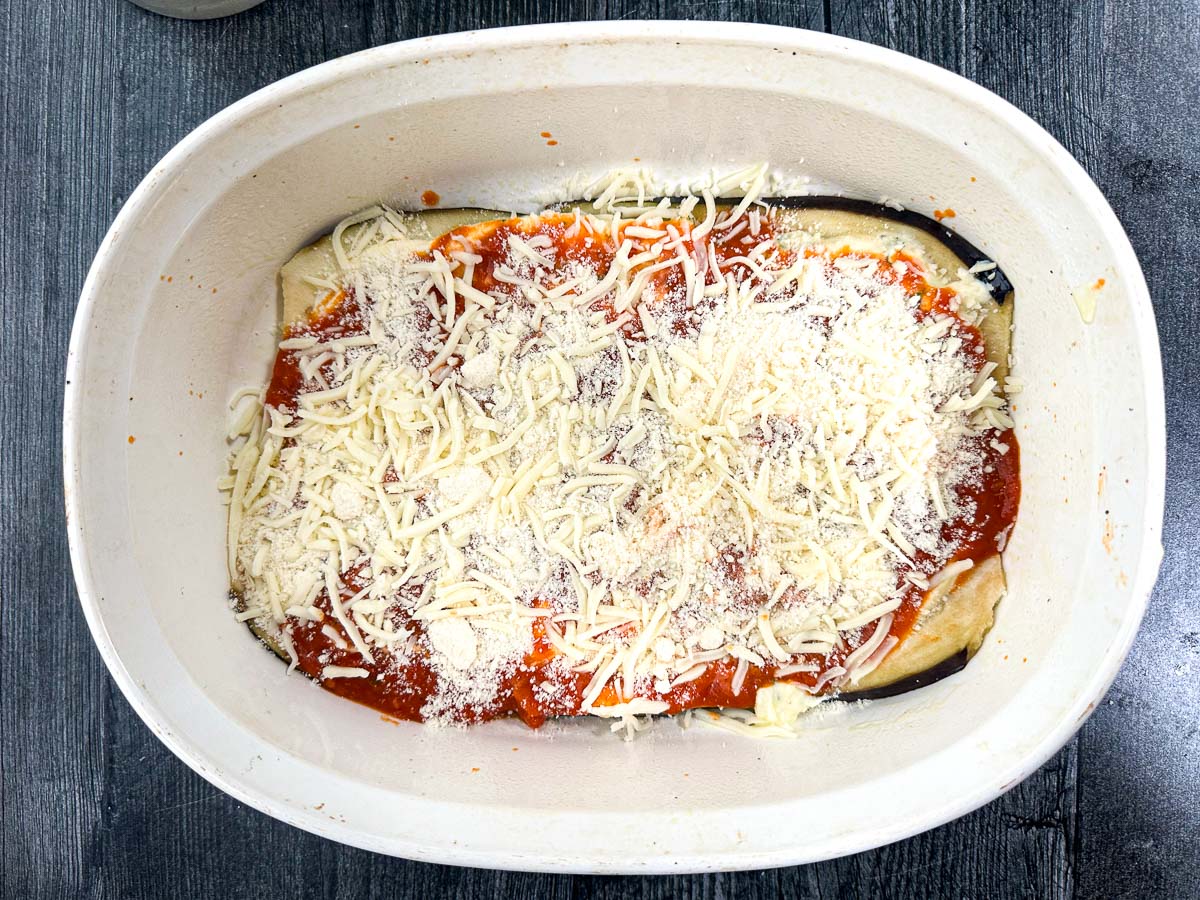 Step 4: Begin again with the zucchini slices for the next 2nd layer and finally with the peppers for the 3rd layer. The order for each layer is veggies -> ricotta -> marinara -> cheese then repeat.
Step 5: Cover with a piece of aluminum foil and place the preheated oven. Bake for 30 minutes then take off the foil and bake for 15 minutes more until the veggie lasagna is fork tender and the cheese is golden brown. Note baking time may vary depending on the thickness of the veggies.
You can also place it under the broiler for 3-4 minutes to brown the cheese if it is not to your liking after baking for a total of 45 minutes.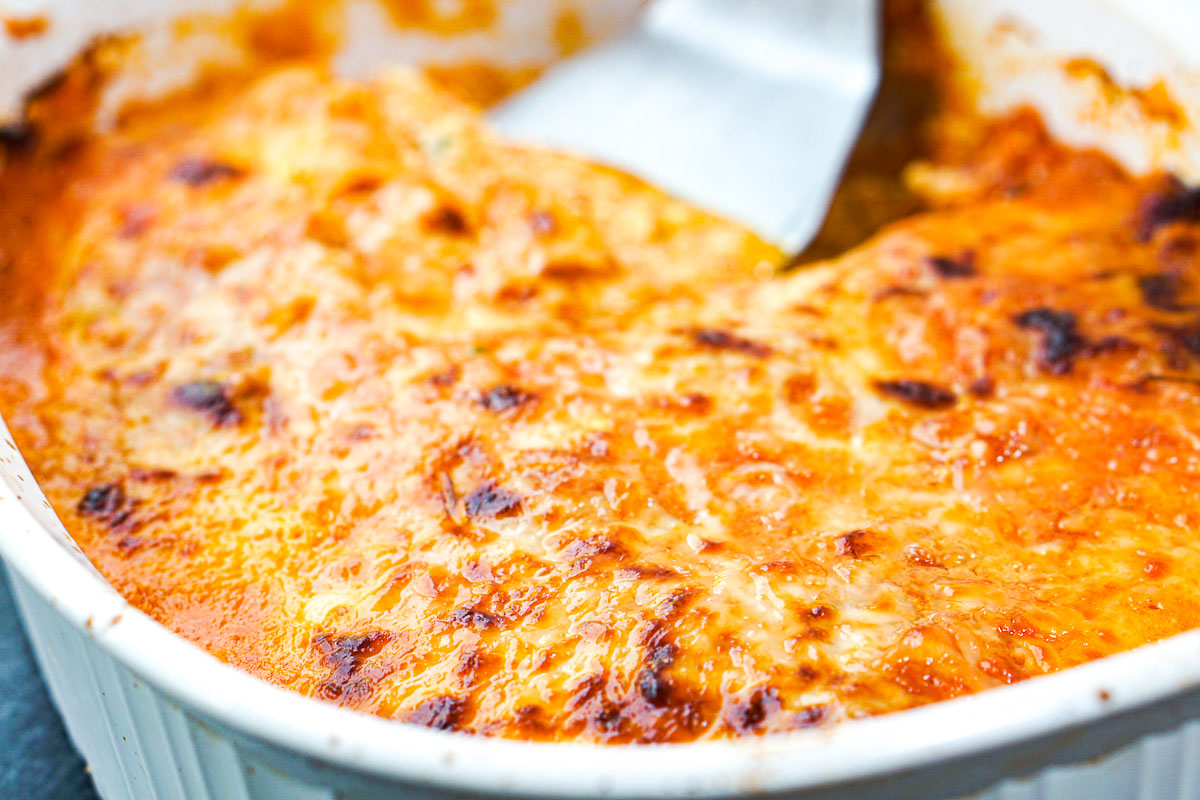 Step 6: Let set for 15 minutes to cool and set up before serving. Store leftovers in an airtight container. Please scroll down to view a printable recipe card.
As you can see below this is a bit runny because of the liquid in the veggies but it does not taste watery in my opinion. This also has a lot of ricotta cheese which I like but if you want you can skip the top layer if you don't like it as much as I do.
Serve this veggie lasagna with a simple green salad and add some garlic bread if you aren't gluten free of course!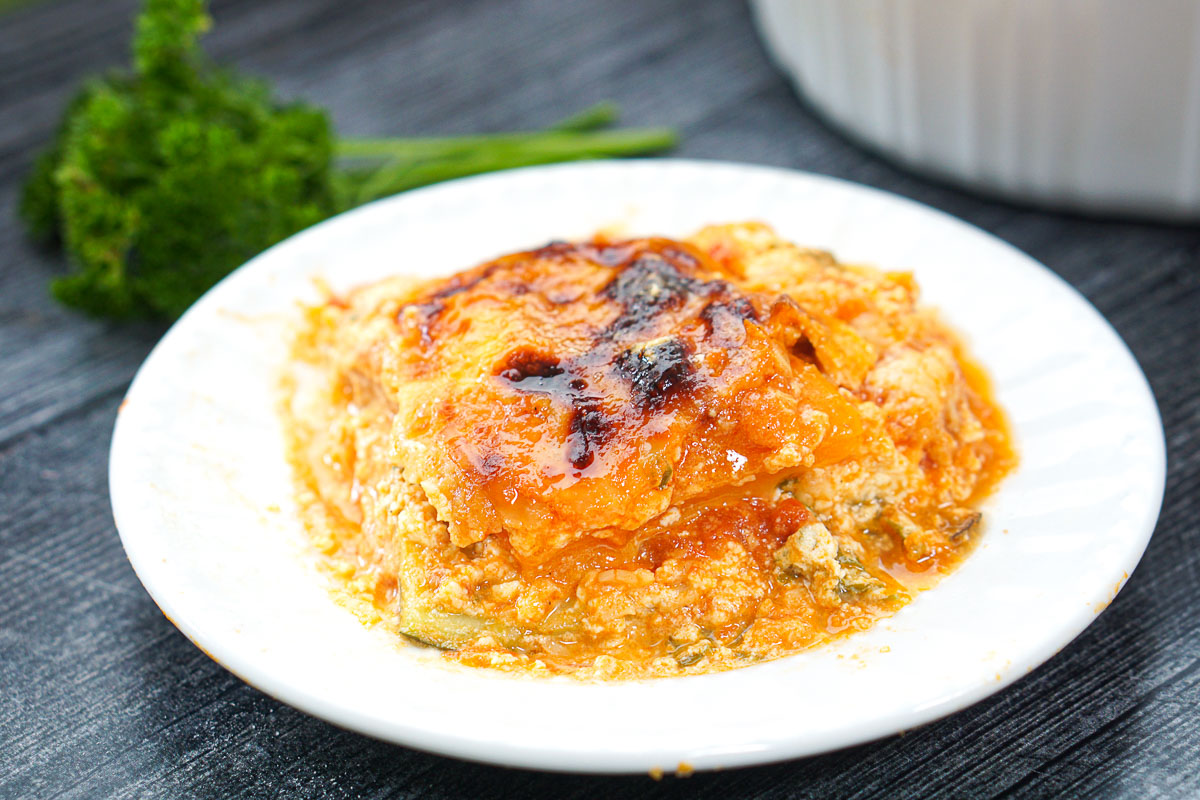 More gluten free vegetable main dishes to try.
Below are some of my favorite recipes for veggie main dishes that don't have any bread, pasta, etc. so they are gluten free too. These recipes are perfect for meatless meals or when you you want something a bit lighter for dinner.
Well I hope you like this veggie lasagna without pasta as much as I did. Unfortunately my husband doesn't eat zucchini nor eggplant so this was all for me. But maybe that's a good thing? 😉
Vegetable Lasagna No Pasta
A delicious veggie lasagna no pasta! Yes, it's all veggies, cheeses and marinara sauce for a tasty gluten free, vegetarian dinner. (You won't miss the noodles!)
Ingredients
2 bell peppers
½ eggplant, sliced thin lengthwise
1 zucchini, sliced thin lengthwise
15 ounce container of whole milk ricotta
4 egg yolks
¼ cup parsley, finely chopped
28 ounces marinara sauce (I use Raos)
1 cup Parmesan cheese, grated
1 cup mozzarella cheese, shredded
Instructions
Preheat oven to 400° F and spray a baking dish with nonstick cooking spray.
Cut the veggies. Slice the eggplant and zucchini very thinly lengthwise. I used a mandoline to make them uniformly thin. For the peppers, cut the tops and buttoms off to make a wide tube. Then cut in half so you have two flat pieces of pepper.
Place a large pot filled with water on the stove and bring to a boil. Add in the peppers and boil for 6 minutes. Take out of the water, cool and then peel off the skins if you can. Set aside. You can also microwave the peppers for 5 minutes but you probably won't be able to get the skins off but that's ok.
Mix the ricotta, egg yolks and parley and set aside.
Place a layer of eggplant slices on the bottom of the baking dish then top with ⅓ of the ricotta mixture.
Add ⅓ of the tomato sauce on top of the ricotta mixture and sprinkle ⅓ cup of the Parmesan cheese and ⅓ cup of the mozzarella on top of the layer of sauce.
Continue with the 2nd layer of zucchini, ricotta, sauce and cheese. Then make the last layer the peppers, ricotta, sauce and cheese.
Cover with foil and bake for 30 minutes then take off the foil and cook for another 15 minutes or until browned on top.
Test the vegetables with a fork to make sure tender. Cooking time will depend upon the thickness of the vegetables.
Let stand 15 minutes before cutting. Serve with a green salad and crusty bread (if you are not gluten free.)
Notes
I like Rao's marinara and Trader Joe's Tuscan Marinara in a can because these sauces have more of the savory garlic and onion flavor and are not too sweet. However you can use whatever pasta sauce you like best.
If you want to add a bit of heat you can also use some hot pepper flakes and mix it in with the sauce.
Also I did not use added salt or black pepper. The sauce and cheeses tend to add enough of salt for my tastes but you can sprinkle salt and ground black pepper over the veggies if you wish.
Lastly if you want you can use minced fresh basil leaves in place of the parsley or in addition to it if you like that flavor.
Nutrition Information:
Yield:

6
Serving Size:

1 grams
Amount Per Serving:
Calories:

401
Total Fat:

24g
Saturated Fat:

12g
Trans Fat:

0g
Unsaturated Fat:

9g
Cholesterol:

191mg
Sodium:

1160mg
Carbohydrates:

25g
Fiber:

5g
Sugar:

12g
Protein:

22g