If you are in a hurry and looking for a healthy meatless dinner, try this mini zucchini lasagna cups recipe that only takes 5 minutes in the microwave. Just a few minutes to put together you can then microwave for a delicious, healthy meatless dinner for 1. Cook one for dinner and save the other for lunch the next day. Or better yet, freeze it for another night.
You might also like this easy zucchini lasagna soup recipe!
Today I am sharing a healthy meatless dinner that I made for myself the other day. I had no intention of posting this as you might be able to tell from the sloppiness of my pictures but it was really tasty and easy so I'm sharing.
These mini zucchini lasagna cups only take 5 minutes to put together and 5 minutes to cook in the microwave. It's not low carb but I would say it's lower in carbs coming in at 8.1g net carbs.
5 Ingredients You Need To Make This Healthy Zucchini Lasagana
Below you can see the ingredients I used to make these lasagna cups. I didn't end up using the parmesan cheese but feel free to add a little if you wish. The ingredients I did use I got from Aldi and they are: mozzarella cheese, egg, zucchini, whole milk ricotta and low carb marinara (Specialty Selects marinara).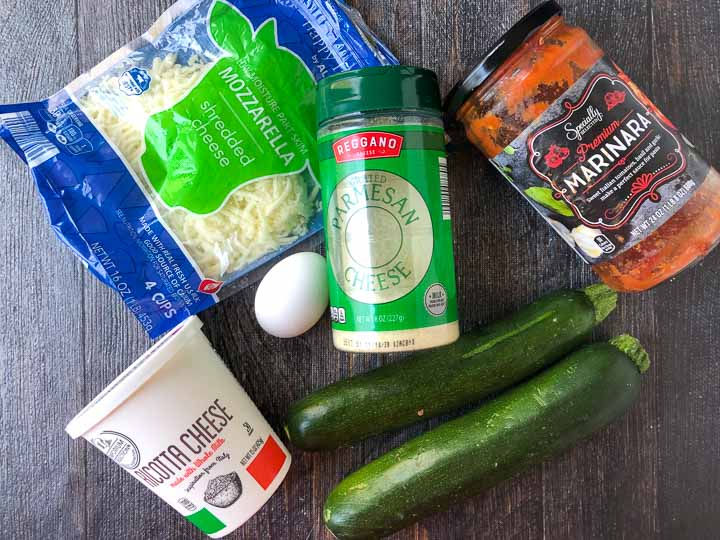 Let's Make Our Microwave Lasagna Cups
You want to first slice the zucchini very thin using a mandoline or do it by hand. But try to make them uniform and rather thin. Place a layer on the bottom then add the ricotta mixture which is just the ricotta mixed with egg.
Next layers some sauce then mozzarella and then start over again. The last layer should be zucchini, sauce then mozzarella – no ricotta. Below you can see how much I used, about 5 small slices of zucchini, a tablespoon or so of the other ingredients in each layer.
How Long To Bake In The Microwave
You want to cook these for about 3-5 minutes in the microwave. The longer you do the better. I like it when it gets brown and crusty around the edges but it should be cooked in 3 minutes. Also cook it longer if you want the zucchini softer.
However I must tell you about a problem – these really splatter in the microwave. See my tip below.
Microwave Tip!
I first found these cool silicone microwave covers from Amazon that I have on my wishlist which would be great for this microwave lasagna. However I recently found an easier solution for microwave splattering on Lifehacker.com – use a coffee filter! Just place it over the ramekin before cooking in the microwave.
If you don't have a coffee filter you can try a paper towel or a napkin. I still want the silicone covers though because I have just about every cooking gadget known to man and those would be useful.
These mini zucchini lasagnas are very hot right out of the microwave so let them sit for a few minutes to cool before eating. I have not frozen these yet but I think they would work great. I'll have to get back to you on that one.
5 Minute Microwaveable Mini Zucchini Lasagna Cups
Well I hope you give these little zucchini lasagna cups a try. They are really tasty and while they are not low carb, they are not all that high carb either. They are the perfect quick dinner when you are in the mood for Italian food and don't want to take all day making a big lasagna.
The nutritional information for 1 mini zucchini lasagna cup is:
237 cals / 14.8g fat / 11.4g carbs / 3.3g fiber / 15.9g protein = 8.1g net carbs

Mini Zucchini Lasagna Cups- 5 Minutes in the Microwave
These 5 minutes mini zucchini lasagna cups are super easy to make in the microwave and perfect for a meatless dinner than is rather low in carbs.
Ingredients
2 cups zucchini, thinly sliced and uniform
⅓ cup whole milk ricotta
½ cup mozzarella cheese, shredded
½ egg, beaten
¾ cup low carb marinara (I used Aldi Specialty Selects marinara)
Instructions
Spray the ramekins with cooking spray.
Place a layer of zucchini in each ramekin.
Next mix together the egg and ricotta and spoon a little in each ramekin.
Next comes about a tablespoon of sauce in each followed by about a tablespoon of shredded mozzarella.
Continue with another layer of zucchin, ricotta, sauce and mozzarella.
The last layer will be zucchini, sauce and mozzarella.
Cover the ramekin with a splatter lid or a coffee filter and cook for 3-5 minutes. I like when it starts to get browned but it should be cooked in 3 minutes. Just note if you don't use the coffee filter it will splatter in your micorwave and make a mess. You can also try a paper towel or napkin.
Let cool for a few minutes before eating.
Notes
1 ramekin is:
237 cals / 14.8g fat / 11.4g carbs / 3.3g fiber / 15.9g protein = 8.1g net carbs
Nutrition Information:
Yield:

2
Serving Size:

1
Amount Per Serving:
Calories:

237
Net Carbohydrates:

8.1g