This easy Thai eggplant curry recipe is a great way to use vegetables from the garden, especially eggplant! A simple Thai red curry sauce is made from just 3 ingredients and then you add eggplant, sweet peppers and zucchini for a deliciously healthy vegetarian dinner. This is a low calorie and fairy low carb dinner too.
You might also like this butternut squash noodles red curry recipe.
This summer, my husband is growing Italian and Japanese eggplant. He doesn't eat it but I personally love it. So I starting thinking of all the ways I could use it.
Today I have for you an easy Thai eggplant curry dish that takes so little time and you only need a few ingredients to make the sauce. I also add some colorful vegetables that we had (from the garden) but if you wanted to you could use just eggplant.
This is a nice meatless dinner and a good way to eat your veggies for the day. It's low in calories with only 143 calories per serving and pretty low in carbs with just 7g net carbs.
Below are the different varieties of eggplant we had in our garden. The thinner ones were Asian eggplant and the round one was an Italian variety. You can use whatever you kind you want. Learn more.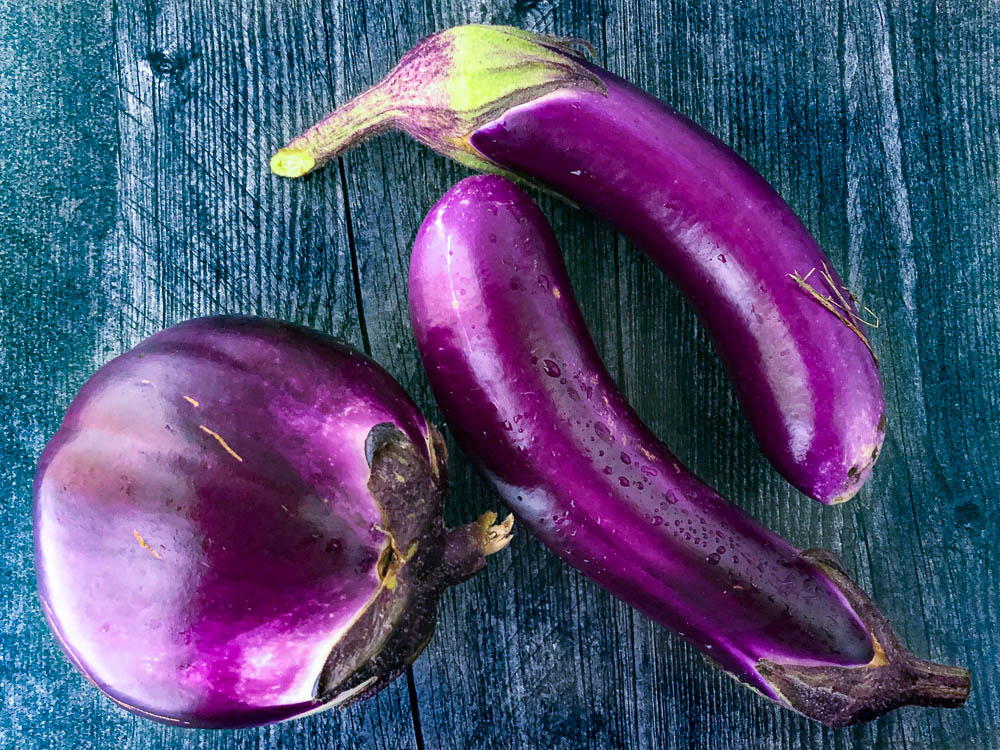 Benefits of eggplant.
Technically eggplant is a fruit but most people refer to them as a vegetable. They are part of the nightshade family and have a mild flavor but a unique texture.
They are low calorie but high in fiber. One cup of raw eggplant has only 20 calories and 2 net carbs so it's low carb too!
I like it because when cooked it becomes soft and is almost creamy in texture. Where when raw it is somewhat bitter and very spongelike.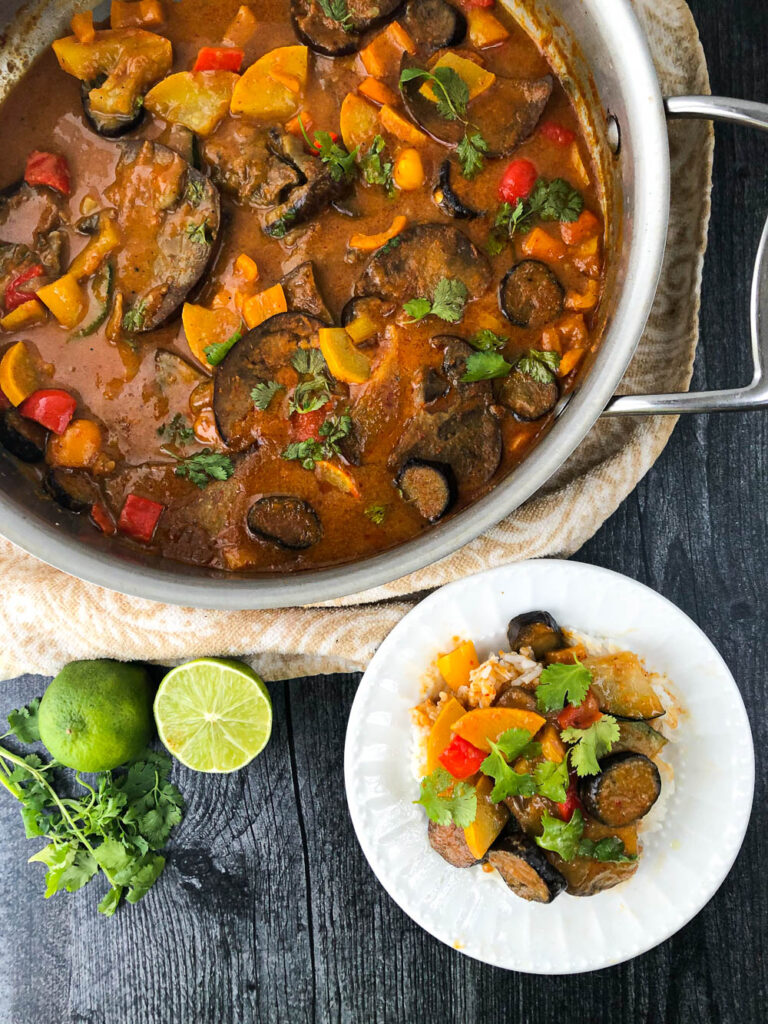 Recipe ingredients I used.
The Thai curry sauce only needs 3 ingredients and that is the Mae Ploy curry paste, coconut milk and Swerve brown sugar sweetener.
I used lite coconut milk for it's low carb count but any type of canned coconut milk would work. Thai Kitchen red curry paste also a good paste to use and you can try regular brown sugar if you don't care about carbs.
The vegetables I used are the eggplant but I added some colorful sweet bell peppers and yellow and green zucchini. Many people add potatoes to their vegetable curry but I was trying to keep the carbs down. Other low carb vegetables to try would be mushrooms, snow peas or even broccoli.
And at the end I sprinkled fresh cilantro on top with a squeeze of fresh lime juice. Note that if you have Thai basil in your garden that would work great instead of the cilantro.
How to make Thai eggplant curry.
Step 1: Heat up a saucepan to medium high heat. Add some oil and once it's hot, fry both sides of the eggplant pieces. Just a few minutes on each side then take it out and set aside. Turn down the stove to a medium heat.
Step 2: Make the coconut curry sauce by adding in the curry paste, coconut milk and Swerve brown sugar sweetener. Whisk until well combined and let it simmer for a minute or two.
Step 3: Add in the all the veggies, mix and the cover with a lid. Simmer for about 15 minutes until the veggies are tender.
Step 4: Let cool a few minutes before serving. Serve over regular rice or cauliflower rice for a low carb option. (Please scroll down for the recipe card.)
More tasty eggplant recipes to try.
I love eggplant though I don't eat it much. However I do have a few recipes on the blog. My favorite is my mom's moussaka but I also have an easier similar recipe of stuffed eggplant with cauliflower cream. It has the same Greek flavors.
My other two recipes are eggplant beef stew and sausage stuffed eggplant cups. So if you love eggplant try one of these delicious recipes and look out for another one coming soon – spicy grilled eggplant!
What to serve this vegetable curry with.
Today we ate this over rice. If you have jasmine rice that would be great. However if you are on a low carb diet it would be great with cauliflower rice too. You could also try some Asian noodles like udon or for zucchini noodles for a healthier option.
Well I hope you enjoy this easy eggplant curry recipe. The creamy eggplant and colorful vegetables make a nice change of pace and go great with the easy coconut curry sauce.
The nutritional information for 1 serving is 143 calories
10.8g fat / 9.7g carbs / 2.7g fiber / 0.9g protein = 7g net carbs
Eggplant Thai Curry
This easy eggplant Thai curry recipe is not only delicious but it's low calorie and fairly low carb too!
Ingredients
2 cups eggplant slices
1 vegetable oil or coconut oil
½ cup zucchini slices
½ cup sweet bell peppers, sliced
2 tablespoons curry paste
1 can coconut milk
1 tablespoon Swerve brown sugar sweetener
1 lime, juiced
¼ cup cilantro leaves
Instructions
Heat up a large saucepan and then add oil. Place the eggplant slices and brown on both sides. Then take the slices out. This should take 3-5 minutes.
Add the paste, Swerve and coconut milk to the pan and whisk to combine. Bring to a simmer and then add all of the vegetables.
Cover and cook for 15 minutes on medium low. When the vegetables are tender tit is done.
Turn off the heat and squeeze a lime over top and then sprinkle the fresh cilantro and serve. Serve with extra lime wedges if you want.
Nutrition Information:
Yield:

4
Serving Size:

1
Amount Per Serving:
Calories:

143