If you've seen the mouth watering TikTok videos for feta pasta and you are going to love this keto baked feta pasta version that you make in the air fryer. It has creamy feta cheese with roasted tomatoes, garlic and herbs tossed with zucchini noodles. It's a rich and delicious low carb dinner can make in 20 minutes in the air fryer! Each serving has just 7.2g net carbs!
You might also like these keto cheesy zucchini air fryer noodles!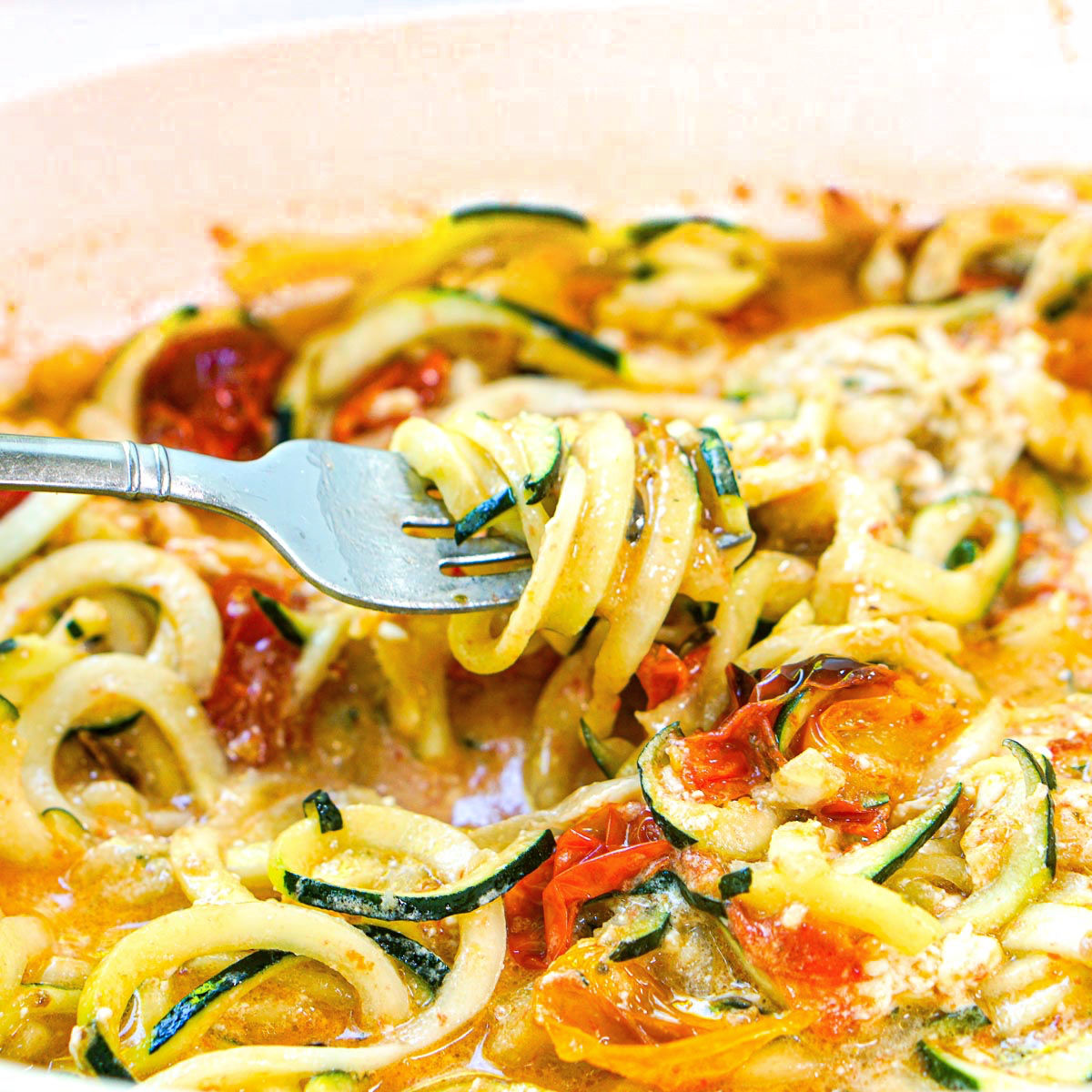 I've been wanting to make this for a long time. And while staring at all the fresh basil and zucchini in my garden decided to make a keto friendly version today. OMG this air fryer keto baked feta pasta is so awesome and delicious!
First of all making it in the air fryer only took 20 minutes or so and the flavors of the gooey feta cheese with the garlic roasted tomatoes made an awesome sauce that went perfectly with zucchini noodles.I didn't miss regular pasta that was part of the original recipe at all.
So this delicious low carb dinner is also gluten free and so tasty you could serve it for guests. I liked it so much I made it again in the oven with chunks of zucchini and it was just as good.
Recipe ingredients I used.
You just need a few simple ingredients to make this recipe – grape or cherry tomatoes, extra virgin olive oil, garlic cloves, oregano, fresh basil leaves, onion, a block of feta cheese, salt, hot pepper flakes (optional) and zucchini noodles.
You want to use block feta cheese to get the best results, not crumbled. And if you want to add some heat you can use a sprinkle of hot pepper flakes. I didn't use any black pepper but you can use a little if you want.
As for keto noodles, you can use your choice of keto pasta alternatives. I personally like zoodles but you can try Palmini, spaghetti squash, Shirataki noodles or any other kind of keto pasta you want. There are many options out there these days for those on a keto diet.
Optional ingredients for this baked feta dish are a squeeze of fresh lemon juice, lemon zest or grated parmesan cheese if you want extra cheese. Shrimp or chicken are two protein options you can add to this dish.
How to make keto baked feta pasta in the air fryer.
Step 1: Get out a medium sized bowl and mix the olive oil, tomatoes, onion, garlic cloves (crushed), oregano and hot pepper flakes if using. Place in a single layer into a baking dish that will fit into your air fryer basket and place the block of cheese in the middle.
I used a silicone spatula to scrape up the extra oil, herbs and spices and dripped it over the feta cheese. You can also use 3 tablespoons olive oil for the tomatoes and 1 tablespoon to drizzle over the block of feta.
Also I used this wonderful silicon liner for my air fryer. If you don't have one I strongly recommend getting one. You can take it right out and easily clean it and not the whole basket.
NOTE: If you don't have a casserole dish that will fit into you air fryer basket, you can try some heavy duty aluminum foil and place it in the air fryer. Make suer it comes up on the sides to keep the juices in.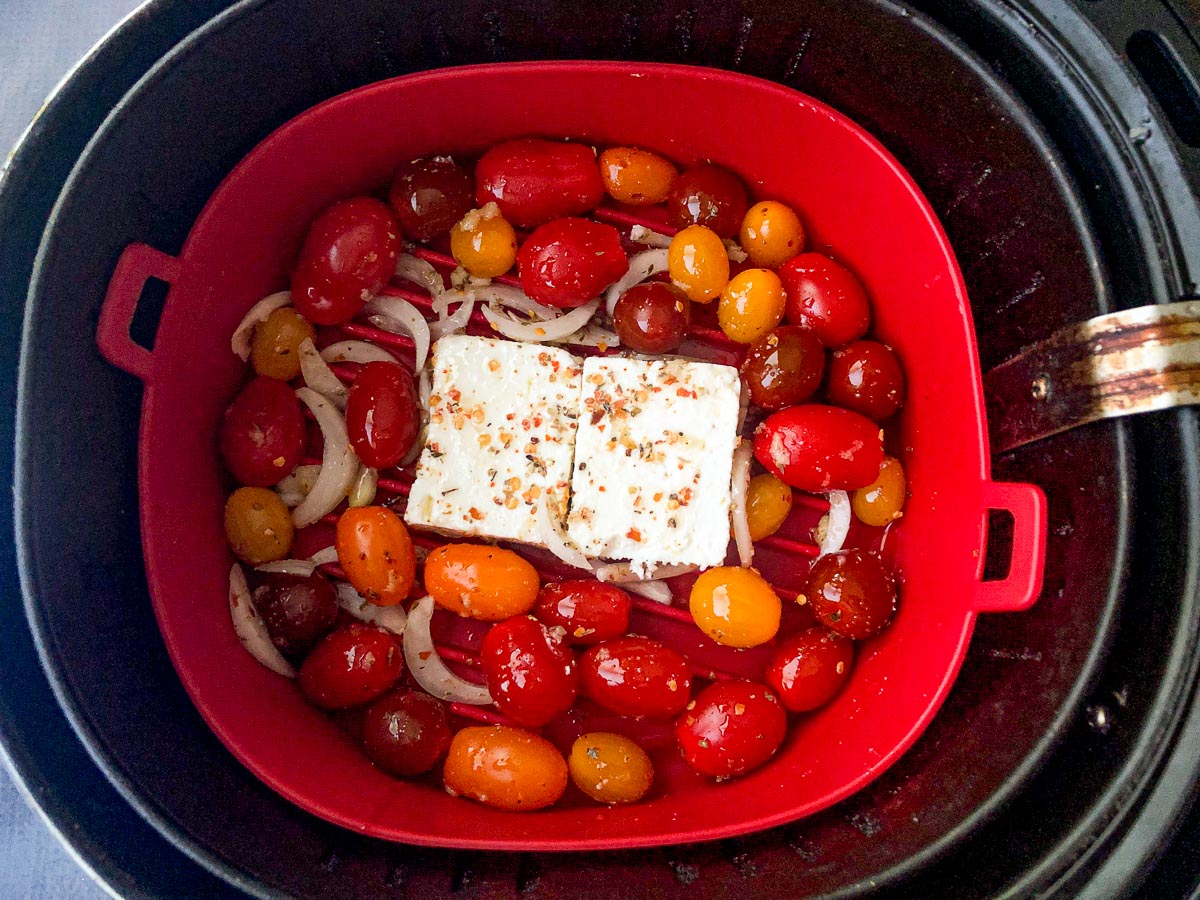 Step 2: Bake for 15 minutes at 400°F. Check towards the end and see if it can come out sooner. The feta should be lightly browned and the tomatoes charred and wilted. Pull out the liner and let cool.
Step 3: In the meantime make your zucchini noodles. Place them in a microwave safe bowl and cook for 1-2 minutes. I like mine al dente so I only did it for a minute or so. You don't want them to be mushy.
Step 4: When the tomato mixture is done, add in the zucchini noodles and mix well. I ended up placing the whole mixture into a baking dish and mixing together so I could easily serve it. The melted feta makes an awesome creamy sauce for the low carb noodles.
Step 5: Mix in a little chopped fresh basil and serve. Store leftover in an airtight container. (Please scroll down to view the printable recipe card.)
Below you can see the finished dinner. Believe it tastes much better than it looked. The aroma when cooking was so delicious with the roasted garlic and tomatoes.
I tried to freeze a serving for a low carb lunch but I ended up eating it!
How to make this in an oven.
All you need to do is stray a baking dish with nonstick cooking spray. Mix the onions and tomatoes with olive oil and spices. Spoon into the casserole dish and place the feta block in the middle. Make sure there is a little of the oil on the block of feta.
Bake in a 400°F oven for about 25-30 minutes until the feta and tomatoes have browned and the tomatoes are about to burst. Take it out and mix in cooked zucchini noodles.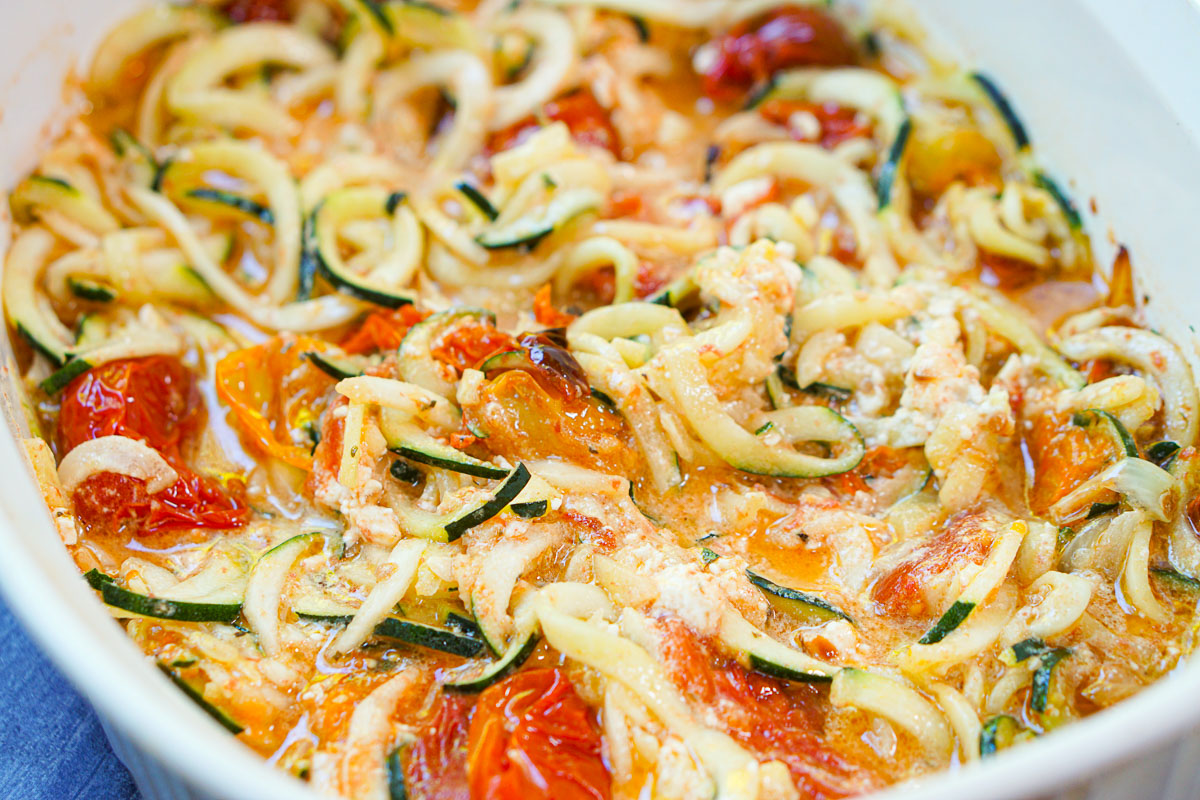 More delicious keto pasta recipes to try.
I love zucchini vegetable noodles but I've used all kinds of keto pastas from Palmini hearts of palm noodles to turnip noodles and spaghetti squash noodles. Here are my top 5 favorite recipes for keto pasta dishes to try.
And here are more keto feta cheese recipes if you have any extra when making this dish and need some recipe ideas of how to use it.
Well I obviously need to watch some more TikTok videos because this keto baked feta pasta was missing from my life. It was so flavorful and creamy I can't wait to make this healthy keto pasta recipe again. I hope you like it as well.
The nutritional information for 1 serving is 226 calories / 18.3g fat / 10.2g carbs / 3g fiber / 7.9g protein = 7.2g net carbs
Air Fryer Keto Baked Feta Pasta Recipe
This air fryer keto baked feta pasta dish is so flavorful and delicious and it's done in just 20 minutes! Using zucchini noodles makes it gluten free as well.
Ingredients
¼ cup olive oil
2 cloves garlic, crushed
½ teaspoon oregano
½ teaspoon salt
12 ounces grape tomatoes
¼ cup onion slices
4 ounces feta, in a block not crumbled
4 cups zucchini noodles
10 basil leaves, chopped
red pepper chili flakes (optional)
Instructions
In a medium bowl, add the tomaotes, olive oil, garlic, oregano, onions and salt. Mix well then add to a baking dish that will fit in your air fryer. If you don't have one, you can try to line the basket with alluminum foil. Nestle the block of feta cheese in the middle with the tomatoes surrounding it. Then scrape the extra oilive oil and spices from the bowl and drop over the feta cheese. I used a silicon spatula. You need a bit of the oil to cover the cheese to keep it moist.
Bake at 400°F for 15 minutes until the cheese is lightly browned and the tomatoes are charred and bursting.
In the meantime while the tomatoes are baking, make the zucchini noodles. Place them in a microwave safe bowl and cook for 1-2 minutes. I like mine al dente as they don't work as well if they are mushy.
When the tomato mixture is done baking add it to the bowl with the zucchini noodles and mix well. The feta makes a creamy pasta sauce that you then mix to coat the noodles.
Mix in the chopped basil leaves and serve.
Notes
Note you can also use Palmini noodles or other keto friendly pasta. You can also substitute Italian seasoning for the oregano but I personally like oregano.
The nutritional information for 1 serving is 226 calories / 18.3g fat / 10.2g carbs / 3g fiber / 7.9g protein = 7.2g net carbs
Nutrition Information:
Yield:

4
Amount Per Serving:
Calories:

226