This low carb side dish of feta & zucchini is a quick and easy recipe that's full of flavor and great for those on a keto diet. Keep this keto recipe in mind when you get all that zucchini from your garden this summer. Each serving has only 3.5g net carbohydrates.
You might also like these keto side dishes!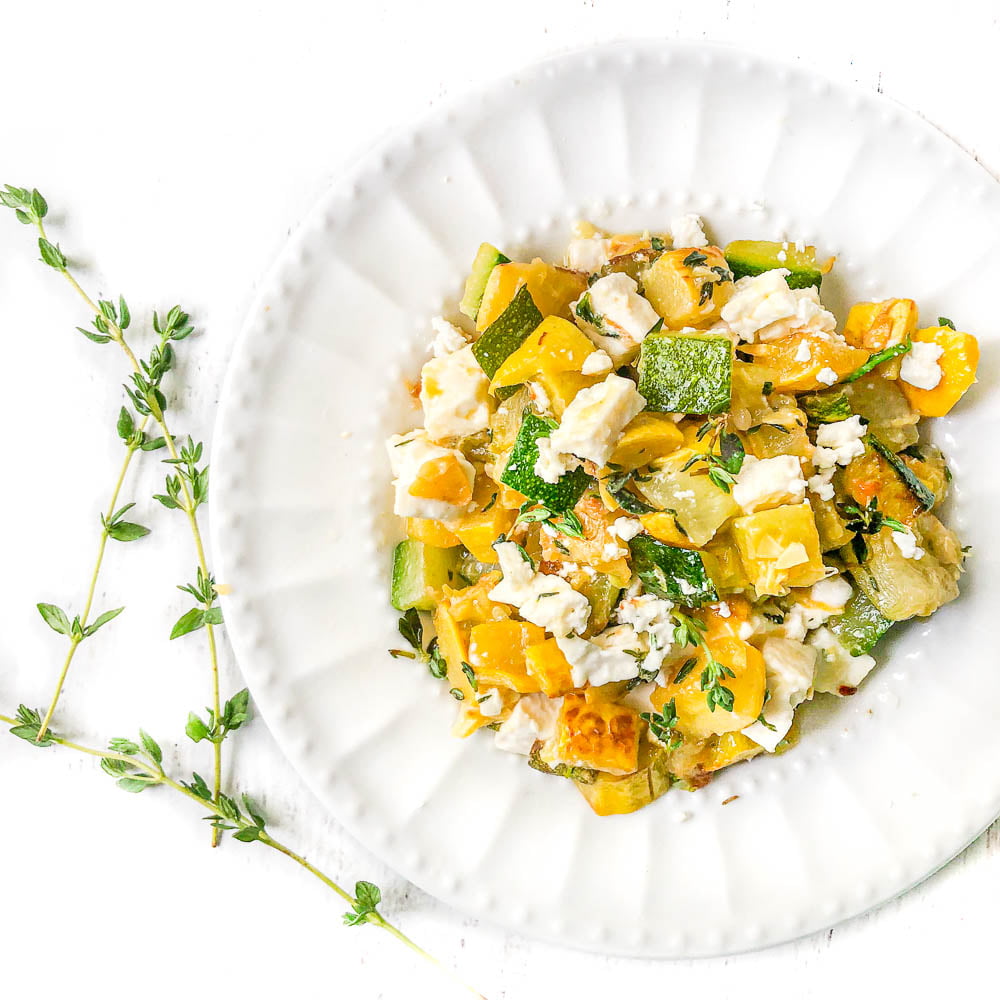 Usually once our garden zucchini starts coming in I make so many zucchini dishes. I like zucchini because it'sone of the most versatile keto vegetables.
So today I'm starting a little early with the zucchini recipes and came up with this feta & zucchini low carb side dish. It was really tasty and so easy to make. So if you are looking for an easy keto, summer zucchini dish, try this one out!
Other Keto Side Dishes To Try!
Whether you are looking for something to go with your main dish or just for a quick healthy lunch, these low carb sides are easy and tasty and can be meals in of themselves.
Ingredients I Used
There are only 4 items in this recipe: yellow and green zucchini, feta cheese, fresh thyme and butter.
Sometimes the simplest of recipes have tons of flavor. If you don't like or have feta, you can try goat cheese too. You can also use dried thyme if you don't have fresh but only use 1 teaspoon of dried.
Tip: 1 teaspoon of dried herb = 3 teaspoons of fresh herbs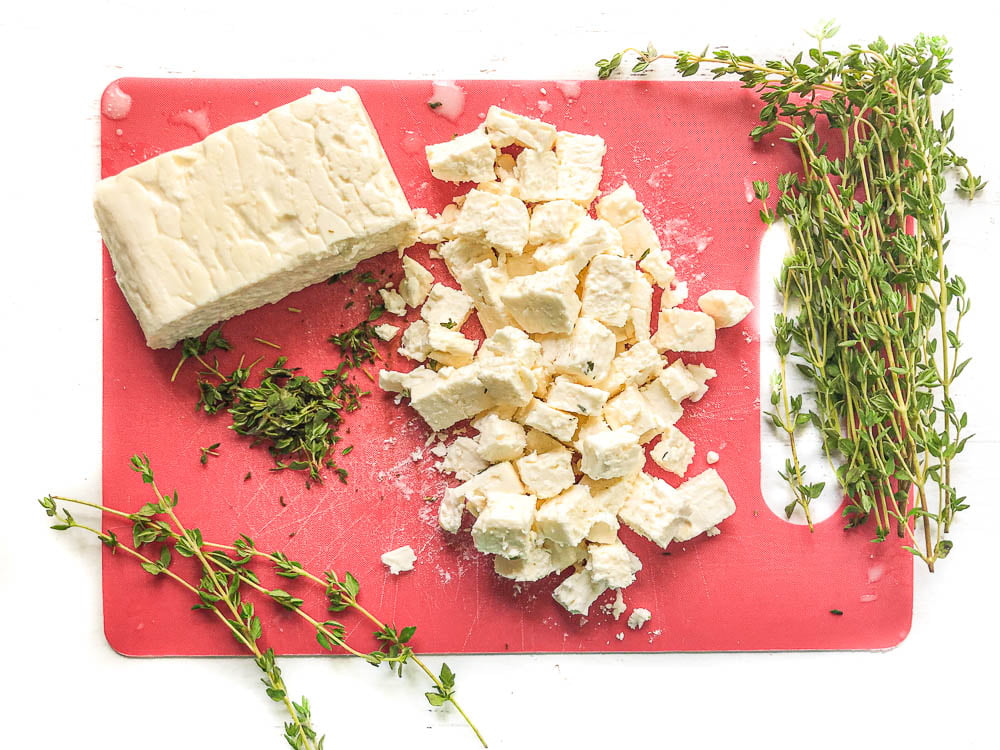 Let's Make Some Feta & Zucchini!
This is truly simple but here we go.
STEP 1: Melt some butter in a large saute pan. Add in the zucchini and thyme.
STEP 2: Sprinkle with salt and pepper and saute until the zucchini softens and starts to brown.
STEP 3: When it's at your desired level of cooking take off the burner. I sometimes like to get those really brown zucchini pieces but it can turn to mush so today I just let it brown a little bit.
STEP 4: Take it off the stove and carefully fold in the crumbled feta and serve immediately.
Variations To Try
You don't have to use both yellow and green zucchini. I just think it makes a nicer presentation.
Other vegetables you can use are peppers, tomatoes, broccoli, asparagus, etc. You could also add some toasted pine nuts or walnuts for some added crunch and texture.
I really enjoyed this simple, delicious side dish. It's something I would eat for lunch too as it takes such little time and great for my keto diet.
Since I almost always have feta in my fridge and both zucchini and thyme growing in my garden, I will probably whip up this zucchini dish often.
The nutritional information for 1 serving is: 149 calories
13.1g fat / 5g carbs / 1.4g fiber / 5.1g protein = 3.6g net carbohydrates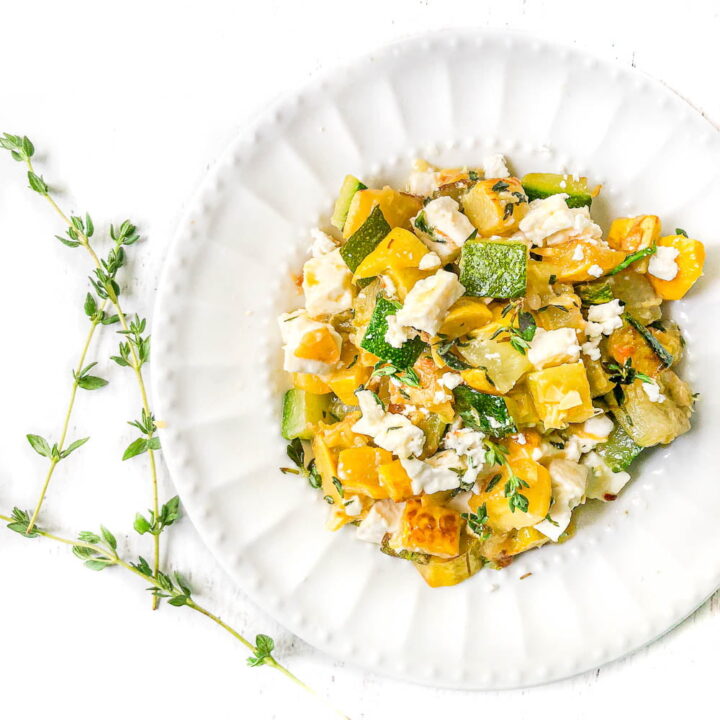 Feta & Zucchini Low Carb Side Dish Recipe
This is an easy and tasty keto side dish that is perfect with summer zucchini and thyme!
Ingredients
4 cups yellow and green zucchini, diced
2 tablespoons butter
1 tablespoons fresh thyme leaves
½ cup feta cheese, crumbled
salt and pepper to taste
Instructions
In a large saute pan, add your butter and when it's melted add the zucchini and thyme leaves. Sprinkle with salt and pepper.
Saute until the zucchini is softened and starting to brown.
Take off the stove and scatter the feta cheese.
Slowly fold in the feta and serve.
Notes
The nutritional information for 1 serving is: 149 calories
13.1g fat / 5g carbs / 1.4g fiber / 5.1g protein = 3.6g net carbohydrates
Nutrition Information:
Yield:

3
Serving Size:

1
Amount Per Serving:
Calories:

122
Unsaturated Fat:

0g