If you are looking for a delicious keto Asian salad try this crunchy slaw. Full of colorful vegetables and tossed in a delicious low carb Asian dressing. It's the perfect keto side dish for busy weeknight dinners. Or take this keto cabbage salad to parties and picnics. It only take about 10 minutes and has 5.7g net carbs!
You might also like this keto antipasto cabbage salad.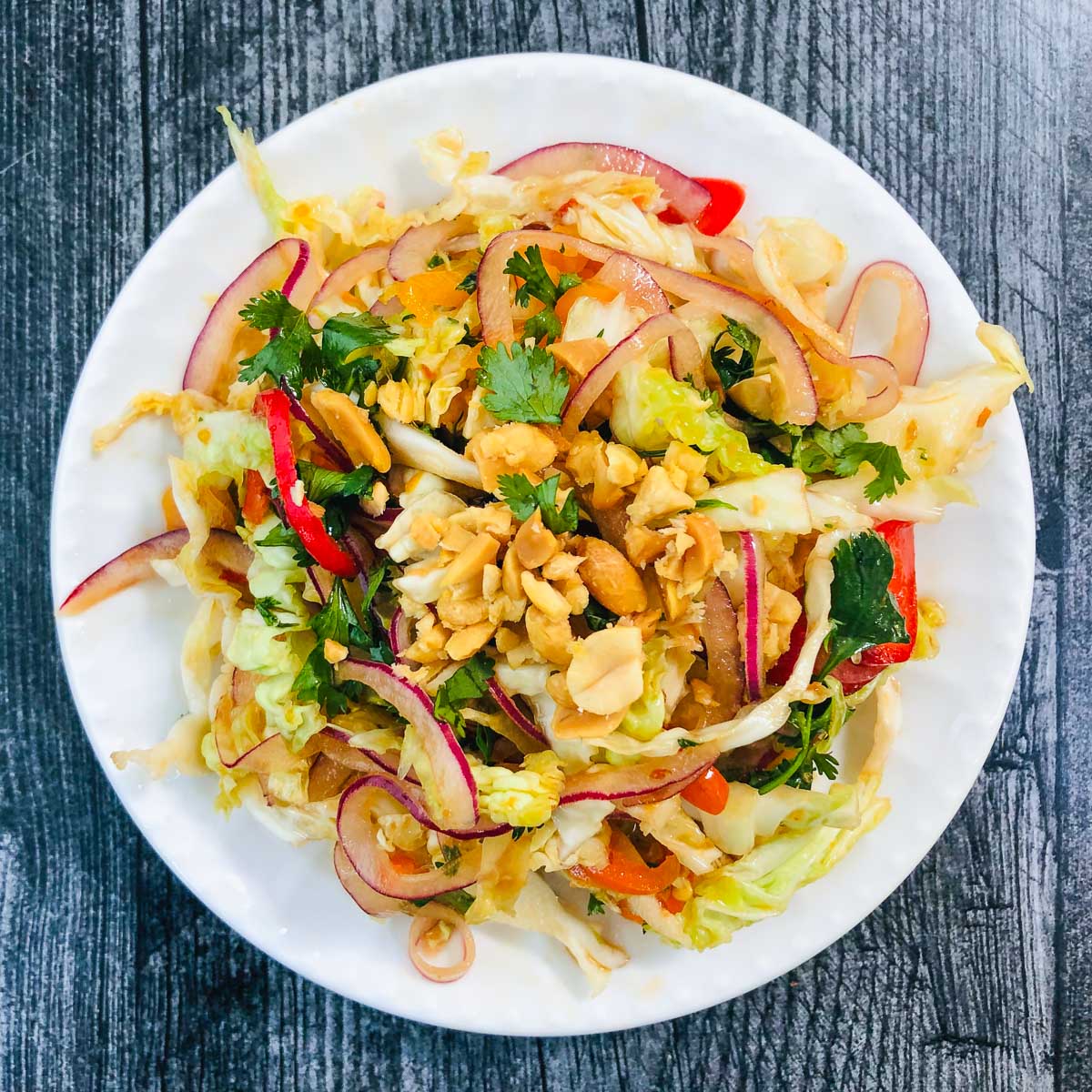 After coming back from vacation I wanted to add more veggies to my diet. I went to a Fresh Thyme market and saw a pretty head of Savoy cabbage and decided to make this crunchy, delicious keto Asian salad.
I personally love any kind of colorful and healthy salad and my husband loves Asian salad dressing so this crunchy cabbage salad works for both of us. It's sweet and savory and definitely filling. We ate it as a side dish for dinner and then for lunch the next day.
This keto slaw would also be great to take to your next party or picnic. It's definitely a crowd pleaser and great for those on a low carb diet. With only 125 calories this cabbage salad is a low calorie side dish too!
Cabbage salad ingredients I used.
The simple ingredients I used for the nutritious salad base was chopped Savoy cabbage, red onions, fresh cilantro and sweet bell peppers. I added chopped roasted peanuts as a garnish but you can use sunflower seeds, sliced almonds, cashews, pecans or sesame seeds as a substitute.
I used Savoy cabbage because I like the looser and crinkly leaves. It's also milder than regular green cabbage and worked great in this slaw. (learn more about it here.) However you can substitute with another variety if you want.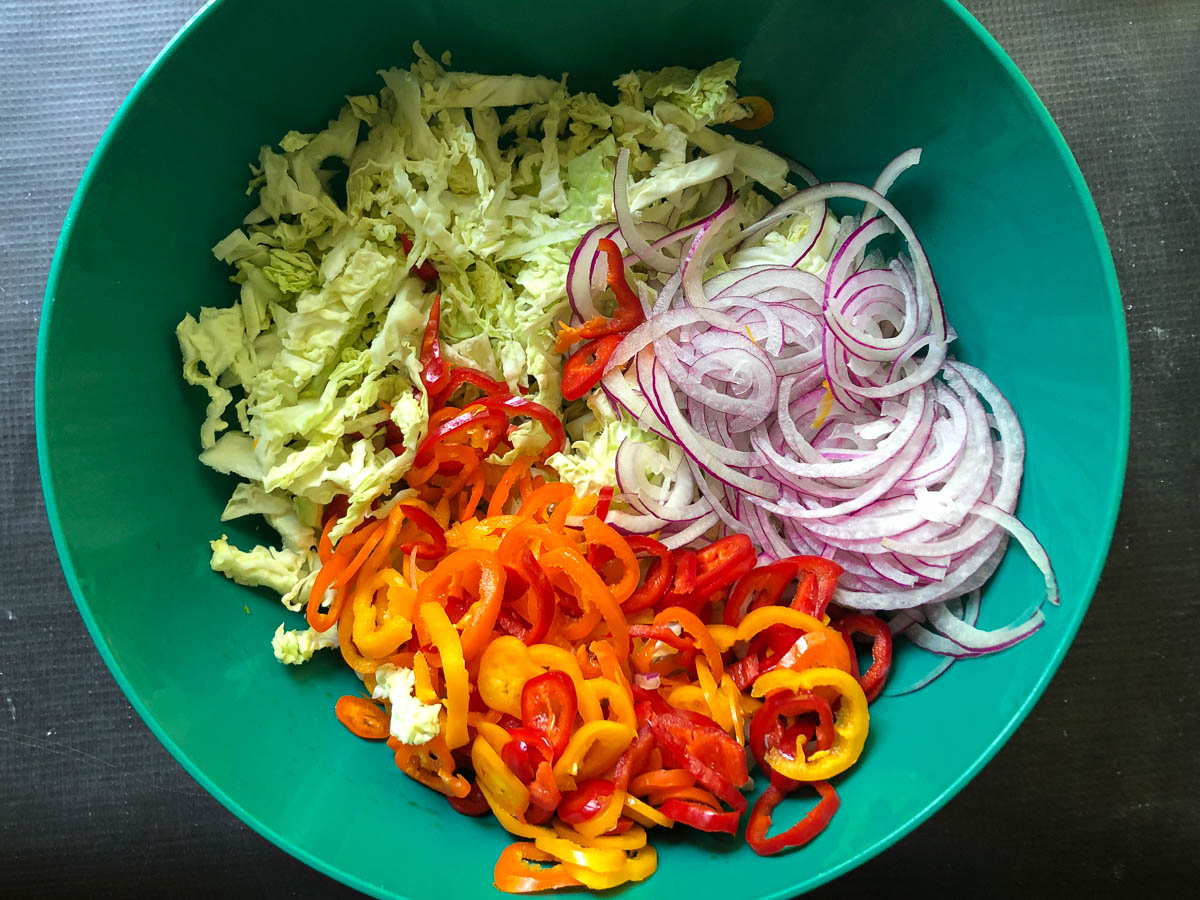 Keto Asian salad dressing ingredients I used.
The ingredients of the keto Asian salad dressing where soy sauce, sesame oil, olive oil, apple cider vinegar, garlic chili sauce and Swerve brown sugar sweetener. If you want to more heat to this dressing you can always use some hot pepper flakes.
Note that many people substitute coconut aminos for soy sauce if you have problems with soy. However it has sweetness to it so put in less of the sweetener and taste. If it needs more sweetness add more Swerve.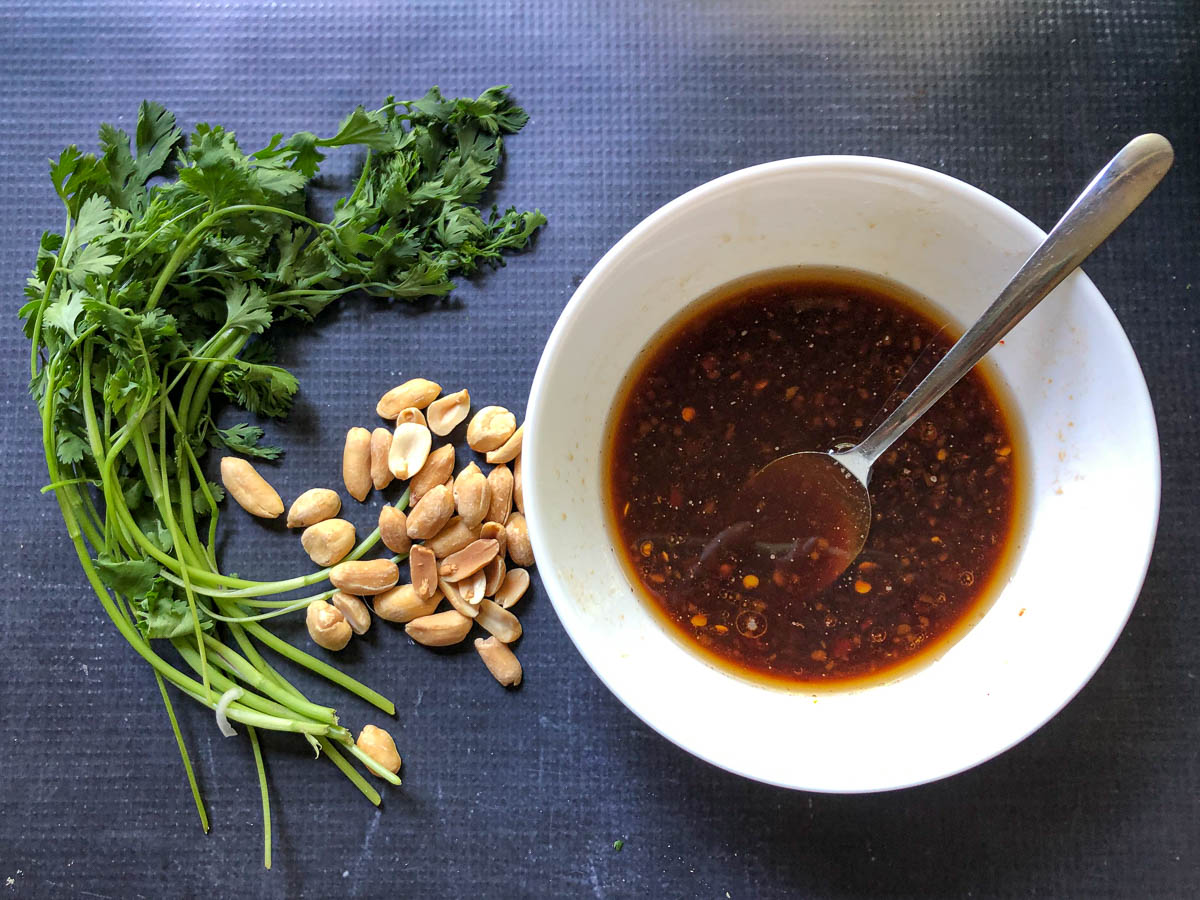 Recipes using garlic chili sauce.
It's usually available in most grocery stores as well as in Asian markets. You can also buy it on Amazon. It's a good condiment to have in your refrigerator or panty.
How to make keto Asian salad.
Thinly slice the red onion and bell peppers. Place the shredded cabbage and the rest of the vegetables in a large salad bowl along with the cilantro leaves.
Mix together the soy sauce, sesame oil, apple cider vinegar, olive oil and garlic chili sauce.
Pour the Asian dressing over the cabbage salad and mix well. Refrigerate until ready to eat.
Chop the peanuts and sprinkle over the top before servings.
Please scroll down to view the printable recipe card.
Store leftover in an airtight container or cover with plastic wrap and refrigerate. You can make this a day before if you are taking to a picnic or party and it will keep very well.
Other delicious keto Asian dishes to try.
As I mentioned above I like to use that garlic chili sauce in many of my low carb recipes. Here are more Chinese, Thai and Japanese keto recipes you might like.
My husband and I really enjoyed this keto Asian salad. It's such a great low carb side dish for summer weeknight dinners especially if you are on a keto diet. Plus it takes just about 10 minutes to make. I hope you give it a try.
The nutrition info for 1 serving is 125 calories / 9.4g fat / 8.4g carbs / 2.7g fiber / 2.7g protein = 5.7g net carbs
Keto Asian Cabbage Salad Recipe
This keto Asian salad is a slaw made with cabbage and other veggies, tossed in an sesame dressing with chopped peanuts. It's a low calorie, sweet, crunchy, spicy and healthy side dish!
Ingredients
4 cups cabbage, shredded (I use Savoy cabbage)
½ cup red onion, thinly sliced
1 cup sweet bell peppers, thinly sliced
½ cup cilantro leaves
2 tablespoons soy sauce
2 tablespoons Swerve brown sugar sweetener
2 tablespoons olive oil
1 tablespoon sesame oil
2 tablespoons apple cider vinegar
1 tablespoon garlic chili sauce
½ cup chopped peanuts
Instructions
Shred the cabgabe and slice the other veggies. Place in a large salad bowl.
Mix the soy sauce, olive oil, sesame oil, vinegar, Swerve brown sweetener, garlic chili sauce together in a smaller mixing bowl.
Toss the dressing and cabbage mixture together then fold in the cilantro.
Top with chopped peanuts and serve or refrigerate to let the salad marinate a bit. This should keep for a few days and not get soggy. You can also make it the night before.
Notes
The nutrition info for 1 serving is 125 calories / 9.4g fat / 8.4g carbs / 2.7g fiber / 2.7g protein = 5.7g net carbs
Nutrition Information:
Yield:

6
Serving Size:

1
Amount Per Serving:
Calories:

125