If you love Thai or Chinese takeout you will love these 23 keto Asian recipes in this week's keto meal plan. There is everything from fried cauliflower rice to Mongolian meatballs. All of these low carb dishes are easy to make and full of Asian flavors.
Check out all of my recipe collections!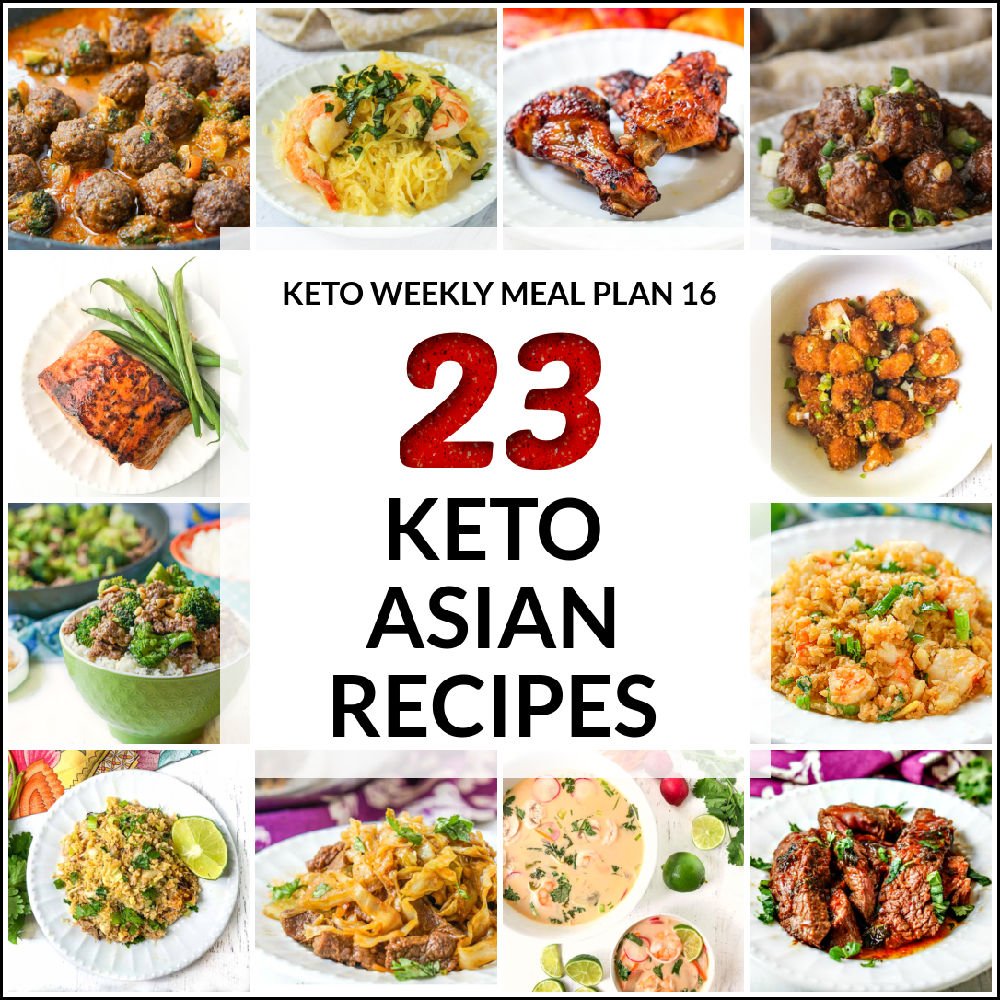 I don't live in an area where they have good takeout options but I do love Chinese and Thai food. Unfortunately many of the dishes in these types of restaurants do not fit into a keto lifestyle.
So I had to come up with my own low carb versions of take out meals and today I'm sharing with you 23 keto Asian recipes!
Why some Chinese & Thai food is not keto friendly.
If you are on a keto diet you probably already know that rice and noodles are not keto friendly do to their high carb count.
And while there are usually a lot of vegetables in Chinese and Thai dinners, the sauces often have a lot of sugar.
However there are keto friendly meals you can order at a restaurant and my friend Sarah has a guide.
So when you are making your own Asian keto food that is why you use sweeteners and substitutes for the starches.
When in doubt, make your own.
It's really not hard to make a lot of your favorite dishes with a few tweaks to make them keto. Of course there is cauliflower rice for regular rice and a various keto noodles instead of udon or other regular noodles.
Before we get to the recipes I wanted to share my favorite pantry ingredients to make some of these dishes. And below that I'll give you my tips for making super quick and easy Chinese and Thai sauces.
Asian cooking ingredients to have in your pantry.
soy sauce, garlic and ginger – While fresh ginger and garlic are nice to have, I often buy chopped garlic in a jar and tubes of ginger paste to have on hand for quick sauces. These two ingredients are my favorites for cooing Asian food and of course soy sauce is a given. I often buy the ginger paste at Aldi.
coconut milk – Buy a few cans of coconut milk and even coconut cream if you can find it. They last for a long time and they give so much flavor to Thai food. Plus there are many keto and Paleo recipes that use it as a dairy substitute like in my dairy free ranch dressing.
curry pastes – My absolute favorite Thai curry pastes are Mae Ploy curry paste. It comes in red, yellow, green and even Panag curry flavors. You can find these in bigger grocery stores, online or in Asian grocery stores. They come in a nice size container and it's very inexpensive. Use this, with some coconut milk and sweetener for an easy Thai sauce. You can also try Thai Kitchen red curry paste and that is usually available in a big grocery store.
rice wine vinegar – While you can use regular white wine vinegar for some Chinese sauces, rice wine vinegar is usually available in most grocery stores and is nice to have on hand.
sesame oil – I love the flavor of sesame oil. You will recognize the scent from most of your favorite Chinese dishes. Just adding a little at the end of recipe, will add loads of flavor.
chili garlic oil – You can find this in an Asian grocery store and I absolutely love it. It's so flavorful I would use it on everything if I could.
chili garlic sauce – This is a bit different from the chili oil in that it's more of a sauce than oil. It too is a go to ingredient for Asian flavors.
cilantro, green onions, sesame seeds, limes and hot pepper flakes – It's nice to have these on hand for both Chinese and Thai dishes for the finishing touches.
When in doubt, try these easy Asian flavor combinations.
One day my sister made these green beans for a family dinner with chili garlic oil, soy sauce and brown sugar. They were fantastic and I have that recipe in the list below.
I learned from her that this is a great flavor combination for just about any Chinese dish you want to make.
So to make a Chinese dish using chili garlic sauce use this formula:
3 parts soy sauce + 2 parts chili garlic sauce + 1 part Swerve brown sugar sweetener
If using chili garlic oil it would be:
3 parts soy sauce + 2 parts Swerve brown sugar sweetener + 1 part chili garlic oil
And a very simple Chinese flavor for vegetables or cauliflower rice try:
1 part garlic and 2 parts ginger + 4 parts soys sauce
For Thai sauces try this basic recipe:
3 tablespoons of Thai curry paste + 2 tablespoons of Swerve sweetener + 1 can of coconut milk
Those are my go to formulas for Asian flavors. You can use this on vegetables, cauliflower rice or any type of stir fry. I've even made meatballs with these flavors. Give one a try and let me know if you like it.
Now time for our 23 keto Asian recipes sure to satisfy your craving for takeout!
23 Keto Asian Recipes - Keto Meal Plan 16
If you miss Chinese or Thai takeout on a keto diet, you will love these 23 keto Asian recipes for this week's meal plan.