If you are craving Thai curry, try this easy Thai curry meatballs recipe. These  curried meatballs have a spicy coconut milk that's super easy to make and keto too. Instead of take out, try this 30 minute low carb curry dinner with only 4.7g net carbs per serving!
You might also like this Thai keto turkey burgers recipe!
We often have Keto meatballs for a low carb dinner in my home. Today I was in the mood for Thai food and thought why not create a Thai curry meatballs recipe.
It was so good and more importantly for me on some days is that it was really easy. Start to finish this keto dinner only took 30 minutes and each serving had 4.7g net carbs!
An Easy Thai Red Curry Sauce
I love Mae Ploy curry pastes. They are really easy to use and very inexpensive. You can find them in most Asian grocery stores but you can also find them online.
For this low carb Thai curry sauce I used Mae Ploy curry paste, Swerve Brown Sugar sweetener and coconut milk. That's all. Then for the dish I added some low carb vegetables like broccoli, peppers and mushrooms and then some cilantro at the end for a garnish.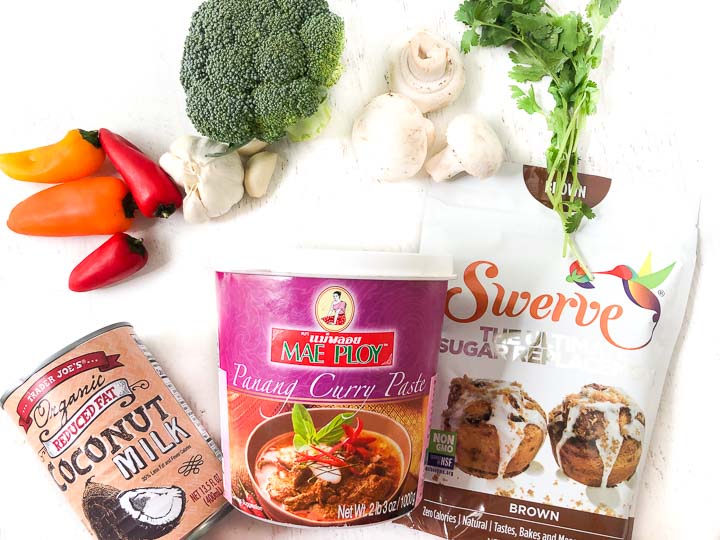 Let's Make Some Thai Curry Meatballs!
For the meatballs the first time I used ground beef, garlic and ginger. However they were a bit dry so the next time I used ½ ground beef and ½ ground pork. Just mix all of that together to make your meatballs.
Brown them a little and take them out of the pan to make the sauce. For the coconut curry sauce you just whisk together the Mae Ploy curry paste, Swerve brown sugar sweetener and a can of coconut milk. Let that simmer for a minute to dissolve the brown sugar.
This sauce is a bit spicy so start with 2 tablespoons of the curry paste, make the sauce and taste it. Then add more if you want. I used 3 tablespoons because we like it spicy!
Add in the veggies and let them cook for a minute or two. Place the meatballs in the pan, cover and cook for 5 minutes. That's all folks!
You can eat these curried meatballs as is or you can eat them over cauliflower rice or even veggie noodles.
Recipe Tips And Notes
I used beef and pork for the meatballs but this would be just as good with ground chicken or turkey. They might be a bit dry but the spicy sauce works well with them.
I used Mae Ploy curry paste but you can also try Thai Kitchen red curry paste or another Thai curry paste that you find in the grocery store. I bought Mae Ploy at an Asian store for a couple dollars and it lasts forever.
I used 3 tablespoons of the curry paste and it was spicy. The coconut milk tones it down but if you are not a spicy person you might want to start with 1 or 2 tablespoons, mix it up and then add more.
I used Swerve Brown sugar sweetener for this dish but you can use another kind of brown sugar substitute like Lakanto golden. You could also use regular Swerve if you want but I like the brown sugar flavor in this dish.
This went great over cauliflower rice. You can also try veggie noodles.
Well I hope you like this meatball recipe! It makes about 26 meatballs and 4 servings. Like I mentioned before it was done in 30 minutes and tastes a keto takeout dinner. You can't beat that.
The nutritional information for 1 serving has:
476 cals / 35.2g fat / 7g carbs / 2.3g fiber / 30g protein = 4.7g net carbs
Easy Keto Thai Curry Meatballs
This easy keto Thair curry meatballs recipes is the perfect low carb dinner substitute for takeout. Serve over cauliflower rice for a spicy and tasty dinner.
Ingredients
½ lb ground beef
½ lb ground pork
½ teaspoon ginger, crushed
1 teaspoon ground garlic
1 tablespoon oil
½ cup broccoli, chopped
½ cup peppers, sliced
½ cup sliced mushrooms
1 can of coconut milk (1 ½ cup)
3 tablespoons Mae Ploy Curry Paste
2 tablespoons Swerve Brown Sugar Sweetener
cilantro as a garnish (optional)
Instructions
Mix the ground beef, ground pork, ginger and garlic together in a large bowl and then form into meatballs. I got 26 meatballs out of this batch but you can make these any size you wish.
Add the oil to a large saute pan and heat to medium high. Add the meatballs and brown a litte on all sides then take them out and set aside.
Add the coconut milk, curry paste and Swerve sweetener to the pan and whisk to make the sauce. Simmer for 3 minutes until the brown sweetener dissolves and everything combines.
Add the veggies to the sauce and let simmer for a couple minutes.
Place in the meatballs, cover with a lid and cook for 5 more minutes until the meatballs are cooked through. The time will depend on how big you make the meat balls.
Serve over cauliflower rice and garlic with chopped cilantro if you wish.
Notes
Recipe Tips & Notes
I used beef and pork for the meatballs but this would be just as good with ground chicken or turkey. They might be a bit dry but the spicy sauces works well with them.
I used Mae Ploy curry paste but you can also try Thai Kitchen red curry paste or another Thai curry paste that you find in the grocery store. I bought Mae Ploy at an Asian store for a couple dollars and it lasts forever.
I used 3 tablespoons of the curry paste and it was spicy. The coconut milk tones it down but if you are not a spicy person you might want to start with 1 or 2 tablespoons, mix it up and then add more.
I used Swerve Brown sugar sweetener for this dish but you can use another kind of brown sugar substitute like Lakanto golden. You could also use regular Swerve if you want but I like brown sugar flavor.
This went great over cauliflower rice. You can also try veggie noodles.

The nutrtional information for 1 serving is:

476 cals / 35.2g fat / 7g carbs / 2.3g fiber / 30g protein = 4.7g net carbs
Nutrition Information:
Yield:

4
Serving Size:

1
Amount Per Serving:
Calories:

476