This antipasto keto cabbage salad is a nice change from your standard creamy coleslaw. It's made with cabbage and other vegetables as well as Italian meats and asiago cheese. Full of flavor, this Italian coleslaw makes a great low carb lunch or even picnic salad and only takes about 10 minutes to make.
You might also like this creamy southwestern keto coleslaw recipe!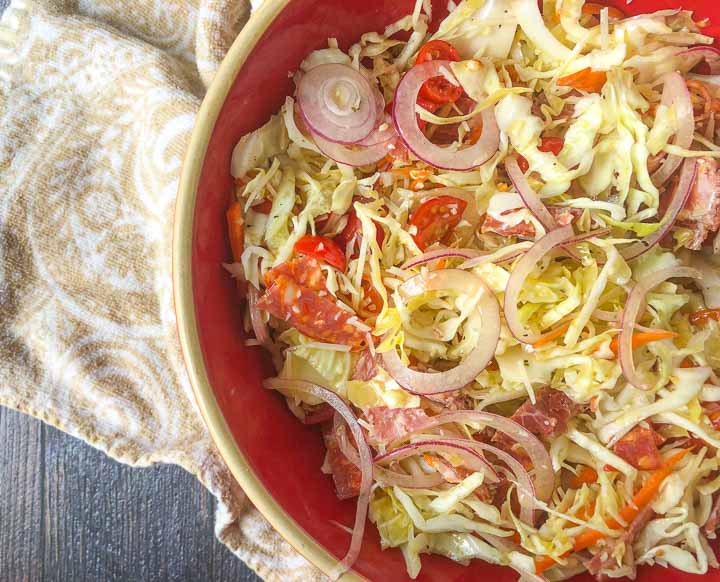 Growing up I remember my mom and dad going through a phase where they ate cabbage instead of a dinner salad. It was shredded cabbage and onions with a lemon and olive oil dressing.
It was very simple and very tasty and I liked it a lot. Now that I think of it, we never had creamy coleslaw. My father probably didn't like it so my mother never made it.
Anyway, that Italian coleslaw was the impetus for this antipasto keto cabbage salad. I wanted to make an oil and vinegar based coleslaw and then ramp it up a bit with some antipasto fixings like capricola, pepperoni, salami, cheese and tomatoes.
It was yummy! This is something I can eat for a low carb lunch or dinner, especially in the summer.
Is cabbage low carb or keto?
Cabbage is low calorie and low carb but also very nutritious. In 1 cup of raw cabbage there has only 22 calories and 3g net carbs. It's also very high in vitamin C and vitamin K. Check out my friend Jenn's post on is cabbage keto to learn more about this awesome veggie!
I really like cabbage for low carb dishes. It's great raw as a salad but it's also good cooked as cabbage noodles.
I have a couple keto coleslaw recipes you should try like this cucumber slaw with margarita dressing! Also I have cooked low carb cabbage recipes like this ground beef & cabbage post which offers 4 flavors for a 10 minute low carb dinner.
Cabbage salad ingredients I used.
So the vegetables used in this recipe are cabbage, red onions, carrots and grape tomatoes. The meats I used were from the tray below that I bought at Aldi. I used the salami, Calabrese, and capocollo along with some shredded asiago cheese. Actually I bought all the ingredients from Aldi.
How to make this antipasto keto cabbage salad.
Note: While carrots can be a little higher in carbs, I didn't use too much. Same for the grape tomatoes and red onions. However the meats and cheeses were very low in carbs. 
Start by slicing the red onions and cabbage. I used a mandoline to make them very thin. The carrots I used a julienne peeler to make match sticks.
Next chop and slice the rest of the vegetables, cheese and meats. Below you can see all the things I used.
Then whisk together the cabbage salad dressing which is oil and vinegar with garlic, Italian seasoning, dried mustard, salt and pepper.
Finally dress the salad refrigerate until ready to eat.
By the way you can use whatever antipasto items you'd like. Some other things you can include are artichoke hearts, marinated olives, various cheeses, or sun dried tomatoes.
This made a huge bowl of coleslaw which was really hard to eat in one sitting. Raw cabbage is filling!
Therefore I had it for lunch the next day and guess what, it was just as good. The cabbage softens a bit but the meat and cheeses were not soggy.
Recipe Tips And Notes
Slice the cabbage and red onion very thin with a mandoline for both flavor and so that the cabbage will be easy to eat right after you put this together.
You can add other antipasto types of foods like olives, roasted peppers, artichokes or different cheeses if you wish.
Other easier types of meats to find that you can use are salami, pepperoni and ham.
The dressing is very simple but if you are in a hurry you can always use your favorite low carb Italian dressing.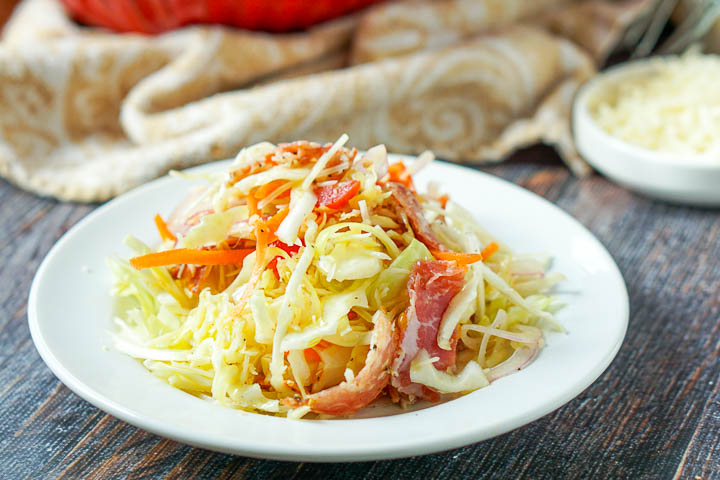 I also made this dish because my husband loves these flavors and though he thinks I don't cook for him, he's wrong. I usually do.
This antipasto keto cabbage salad recipe is point in case because he's not much of a creamy coleslaw fan either (I married my dad) and loves antipasto everything. See Rick, I do think of you!
So I hope you like this dish. To me it's an Italian coleslaw or cabbage salad and it's great for a quick low carb lunch or dinner. However it would also be great for a summer picnic or party.
The nutritional information for 1 serving is: 228 calories
20.2g fat / 5.3g carbs / 1.6g fiber / 7.4g protein = 3.7g net carbs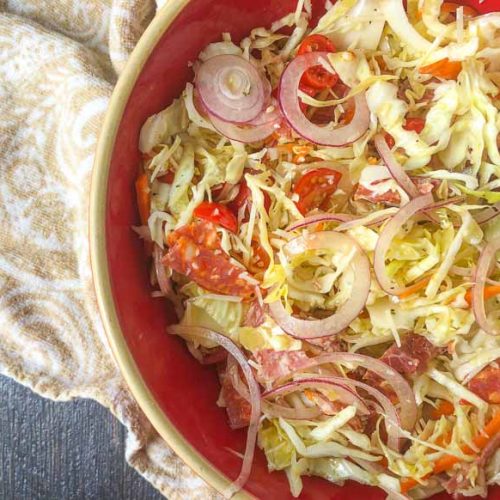 Antipasto Keto Cabbage Salad
This antipasto coleslaw is a nice change from your standard creamy coleslaw. A great low carb salad to take to a picnic!
Ingredients
½ cup carrots, julienned or shredded
4 cups cabbage thinly sliced
½ red onion thinly sliced
½ cup of grape tomatoes quartered
1 oz of cappricola ham, chopped
1 oz of hard salami chopped
½ cup of shredded asiago cheese
1 oz of pepperoni chopped
¼ cup vinegar
½ cup olive oil
¼ teaspoon pepper
½ teaspoon salt
¼ teaspoon dried mustard
¼ teaspoon Italian seasonings
1 teaspoon crushed garlic
Instructions
Slice your meat, chop your vegetables and shreds your cabbage and cheese.
In a large bowl add the cabbage, carrots, onion, tomatoes, ham, salami, pepperoni and asiago cheese. Mix well.
In a smaller bowl, whisk your vinegar, oil, salt, pepper, mustard, garlic and Italian seasonings.
Add dressing to cabbage mixture and mix well.
Serve immediately or refrigerate to soften the cabbage.
This tastes great the next day too as the flavors meld together.
Notes
The nutritional information for 1 serving is:

228 cals / 20.2g fat / 5.3g carbs / 1.6g fiber / 7.4g protein = 3.7g net carbs
Nutrition Information:
Yield:

8
Serving Size:

1
Amount Per Serving:
Calories:

228
Net Carbohydrates:

3.7g