This antipasto coleslaw is a nice change from your standard creamy coleslaw. A great low carb salad just in time for summer!
Growing up I remember my mom and dad going through a phase where they ate cabbage instead of a dinner salad. It was shredded cabbage and onions with a lemon and olive oil dressing. It was very simple and very tasty and I liked it a lot. Now that I think of it, we never had creamy coleslaw. My father probably didn't like it so my mother never made it. Anyway, that cabbage dish was the impetus for this antipasto coleslaw. I wanted to make an oil and vinegar based coleslaw and then ramp it up a bit with some antipasto fixings like capricola, pepperoni, salami, cheese and roasted peppers. It was yummy! This is something I can eat for lunch or dinner, especially in the summer.
In looking over my older recipes on this blog I see that I really like the antipasto theme. I made antipasto stuffed peppers and antipasto french bread pizza! Actually my husband loves these flavors and though he thinks I don't cook for him, he's wrong. I usually do. This recipe is point in case because he's not much of a creamy coleslaw fan either (I married my dad) and loves antipasto everything. See Rick, I do think of you!
To make this simple dish, all you need to do is shred your coleslaw, chop your veggies and slice your meats. It takes literally minutes to make.You can use whatever antipasto items you'd like. Some other things you can include are artichoke hearts, marinated olives, various cheeses, or sun dried tomatoes.
Antipasto Coleslaw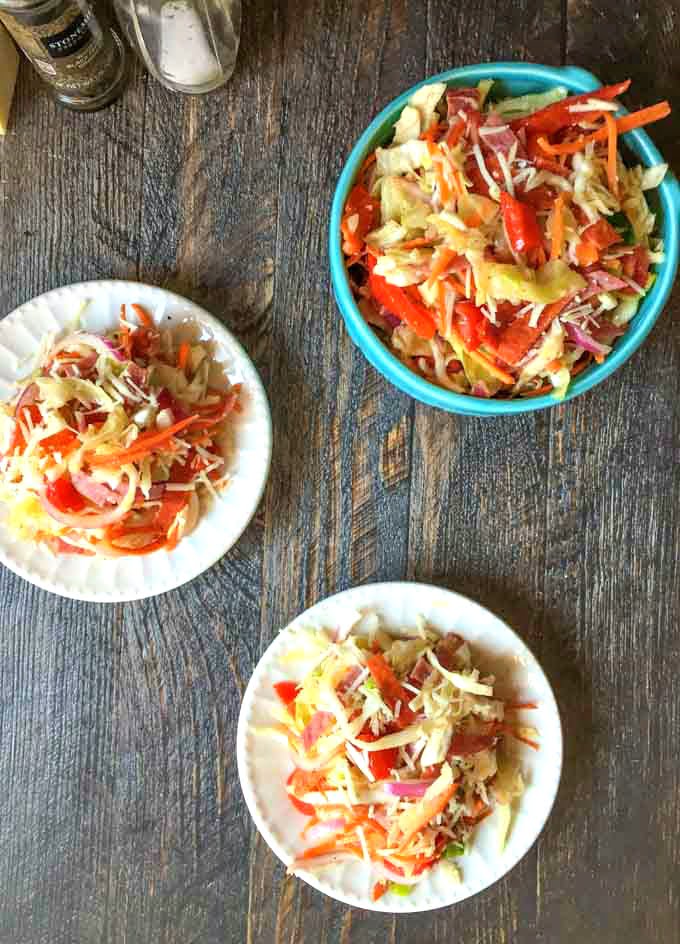 This made a huge bowl of coleslaw which was really hard to eat in one sitting. Raw cabbage is filling, therefore I had it for lunch the next day and guess what, it was just as good. The cabbage softens a bit but the meat and cheese were not soggy. So you could make this the night before and it will be fine for a picnic or dinner the next day. This is another summer salad for your picnic and party arsenal. And if you would like a twist on traditional creamy coleslaw, check out my southwestern coleslaw post.
Antipasto Coleslaw
This antipasto coleslaw is a nice change from your standard creamy coleslaw. A great low carb salad to take to a picnic!
Ingredients
1/2

head of cabbage shredded or thinly sliced

2

carrots

julienned or shredded

1

red onion thinly sliced

1

cup

of grape tomatoes quartered

1

oz

of cappricola ham

chopped

1

oz

of hard salami chopped

1

oz

of pepperoni chopped

1/2

cup

of shredded asiago cheese

1

cup

of roasted red peppers cut into strips

For the dressing

1/4

cup

white balsamic vinegar

1/2

cup

olive oil

1/2

teaspoon

salt

1/4

teaspoon

pepper

1/4

teaspoon

mustard

1/4

teaspoon

Italian seasonings

1

teaspoon

crushed garlic
Instructions
Slice your meat, chop your vegetables and shreds your cabbage and cheese.

In a large bowl add the cabbage, carrots, onion, tomatoes, ham, salami, pepperoni and asiago cheese. Mix well.

In a smaller bowl, whisk your vinegar, oil, salt, pepper, mustard, garlic and Italian seasonings.

Add dressing to coleslaw mixture and mix well.

Serve immediately or refrigerate to soften the cabbage.

This tastes great the next day too as the flavors meld together.