This creamy southwestern keto coleslaw recipe is a nice change of pace from your usual creamy slaw. It's full of crunchy cabbage and carrots with a creamy southwestern coleslaw dressing and roasted pecans! It's full of flavor and will be perfect for your next picnic or try it on fish tacos. Each serving has only 4.3g net carbs.
You might also like this keto creamy cilantro lime coleslaw recipe!
I made some zesty garlic pulled pork in my slow cooker the other day and it was out of this world. Really it was quite good. I used limes and salt and lots and lots of garlic. Anyway I thought that this creamy southwestern keto coleslaw would go perfectly with the zest and spice of the pork.
I'm not a huge fan of the sweetness of traditional coleslaw so I added some southwestern flavors for a different twist. And I wanted to make this a low carb dinner so the slaw and pork fit the bill.
Coleslaw On A Keto Diet
Some people wonder if you can eat coleslaw on a keto or low carb diet and the answer is yes. However you need to make your own. Classic coleslaw has sugar in it's dressing but aside from that there are usually only around 3 net carbs in 1 ½ cups of coleslaw mix.
So the veggies are not very high carb and if you use sweetener in your dressing you can make a low carb coleslaw and not worry about your diet.
Low Carb Coleslaw Dressing Recipe
Since we are making a southwestern version of creamy coleslaw dressing, we will be adding a few extra spices. This coleslaw dressing uses mayo, lime juice, Swerve brown sugar sweetener, cumin, garlic powder, dried mustard, cayenne and onion powder. Just mix them altogether and you have your southwestern dressing.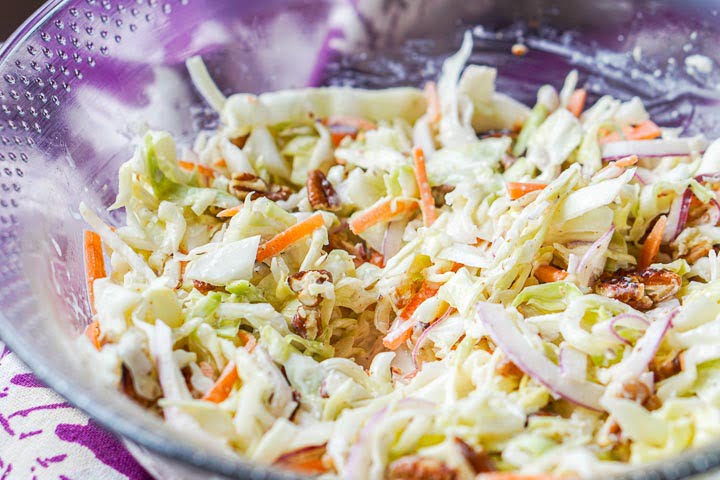 Veggies I Used For This Keto Coleslaw
The veggies in classic coleslaw is usually just shredded carrots and cabbage. Today I shredded my own cabbage and carrots so I could use a little less carrots because carrots tend to be a higher carb vegetable. However you could just use a mix if you want.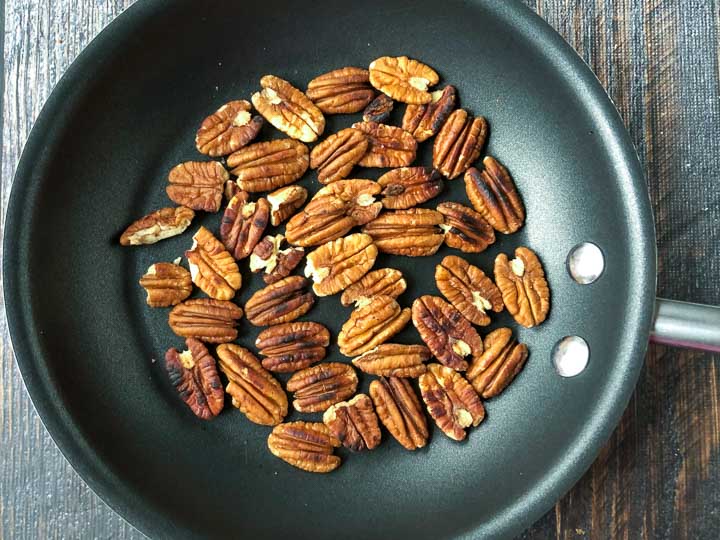 However I also added very thinly sliced onions and roasted pecans. The pecans are optional but I really like the added crunch they give to the slaw.
How To Quickly Roast Pecans
Just add raw pecans to a dry non stick skillet and let them roast for about 5 minutes until they start to brown and become fragrant. When they cool down, chop them and add to the salad.
Creamy Southwestern Keto Coleslaw
To make this coleslaw recipe just mix together the keto coleslaw dressing, roast the pecans and chop the vegetables. Mix everything together and refrigerate until ready to eat.
Coleslaw Recipe Tips And Notes
As I mentioned above you can shred your own cabbage and carrots so that you can cut a few carbs by using less carrots. However you can just buy the bag of mix at the grocery store. The carbs are not that bad.
The roasted pecans are optional but I really like the crunch they give the salad. You can substitute walnuts or almond slices if you wish but I like pecans the best.
The longer this marinates it the refrigerator the softer the cabbage will get. I personally like it crunchy and eat it right away but that is up to you.
You can make this more spicy by adding more cayenne or even hot pepper flakes if you wish.
Well I have lots of low carb slaw recipes so if you like this one go and check one of them out. I especially like the creamy cilantro lime coleslaw.
The nutritional information for 1 serving is:
181 cals / 16.8g fat / 7g carbs / 2.7g fiber / 1.8g protein = 4.3g net carbs
Creamy Southwest Keto Coleslaw
This creamy keto coleslaw has a nice blend of southwestern flavors that makes a great low carb side dish. Quick and easy to make and tastes even better the next day.
Ingredients
6 cups cabbage shredded
¼ cup carrots grated
¼ red onion, thinly sliced
½ cup mayonnaise
2 tablespoons lime juice
2 teaspoon Swerve Brown sugar sweetener
½ teaspoon cumin
¼ teaspoon cayenne
¼ teaspoon dry mustard
½ teaspoon salt
¼ teaspoon onion powder
¼ teaspoon garlic powder
1 oz cup raw pecans (¼ cup)
Instructions
In a large mixing bowl, add your cabbage, onion and carrots. Mix well.
In a small bowl mix mayonnaise, lime juice, sweetener and spices. Mix well.
Add dressing to cabbage and toss until everything is well coated.
If using roasted pecans, add the raw pecans to a dry skillet and cook on medium head until browned and fragrant.
Wait until they have cooled before chopping and adding to the slaw.
Refrigerate for a few hours to let the cabbage soften.
Notes
The nutrtional information for 1 serving is:
181 cals / 16.8g fat / 7g carbs / 2.7g fiber / 1.8g protein = 4.3g net carbs
Nutrition Information:
Yield:

6
Serving Size:

6 Servings
Amount Per Serving:
Calories:

181
Net Carbohydrates:

4.3g