This roasted vegetable couscous salad is a delicious warm side dish or cold vegetarian salad. It uses pearl couscous and a variety of colorful veggies all tossed in a delicious lemon dressing. You can top it with feta cheese and toasted pine nuts or eat as is! A delicious and hearty meal in itself.
You might also like this easy roasted veggie noodles recipe!
This is a very old post that I am redoing. I initially made this roasted vegetable couscous salad for Sunday Supper potluck event and really loved it. At the time I had developed a crush on pearl couscous. I just loved it's chewy texture.
So when I came across some Israeli couscous at Trader Joe's I thought I'd remake it. This dish is great as a warm vegetarian side dish or as a cold salad.
We had some as a warm side dish with pork chops one night and I ate the leftovers as a cold salad for lunch. Hot or cold it tastes great and it's an easy way to get more veggies in your diet.
The difference between regular and pearl couscous.
It's important to note the I used Israeli couscous which is also known as pearl couscous in this recipe. It's much larger than regular and has a chewier texture like a pasta ball.
Below you can see that they look different and they are also made a little differently.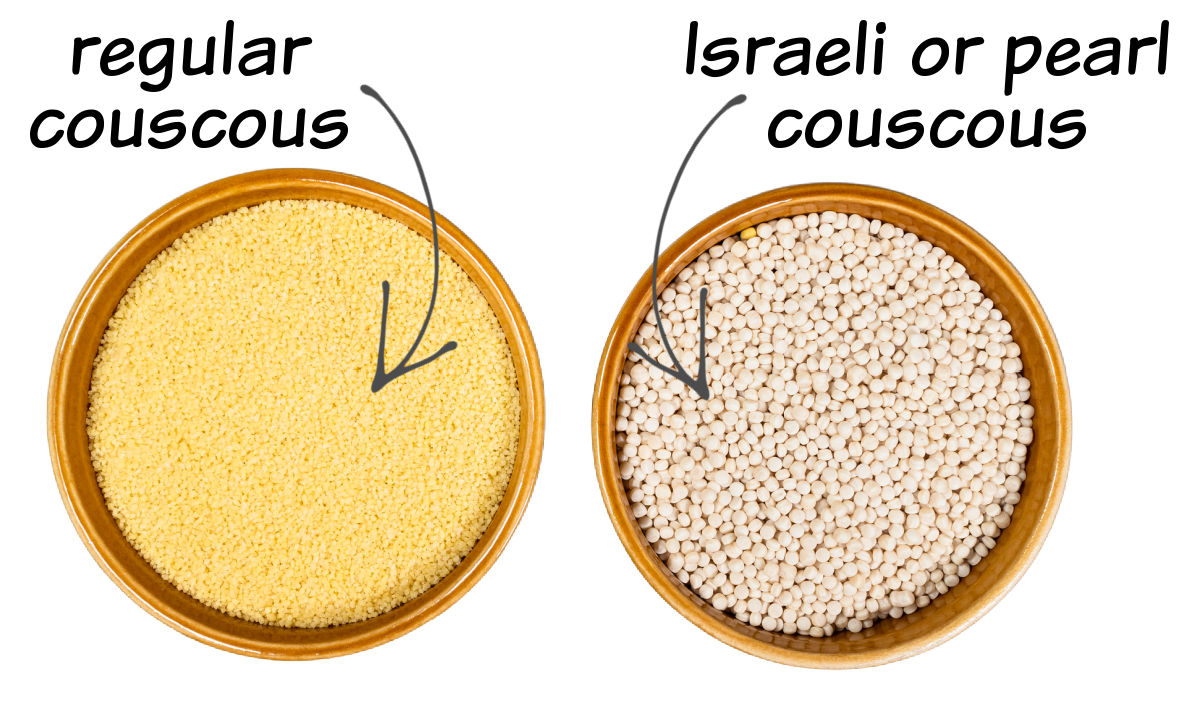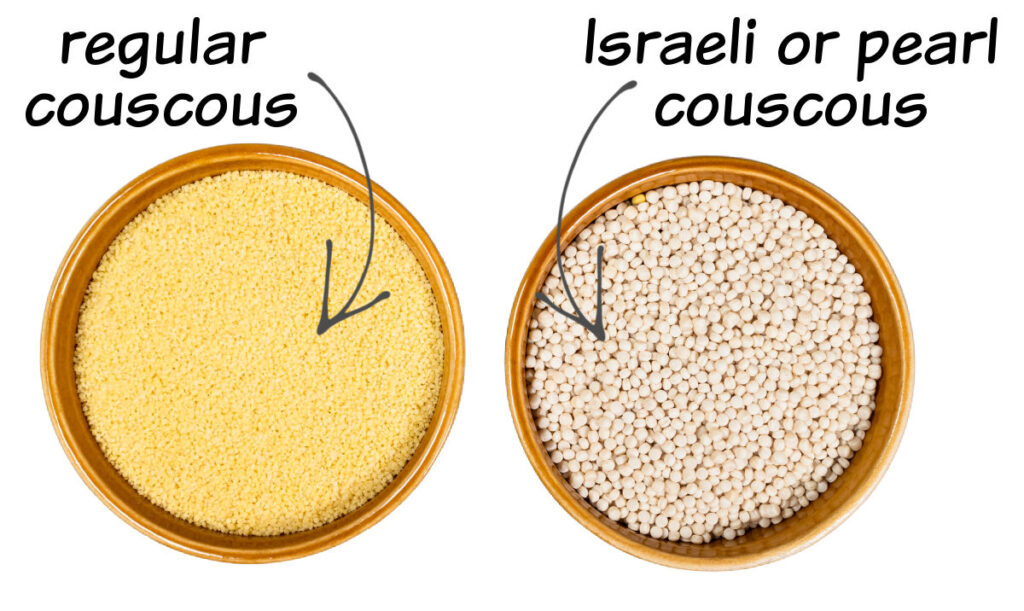 Regular couscous is made from semolina which is a type of wheat. Tiny pieces are made by rolling this wheat and then they are dried and cooked in boiling water. This similar to regular pasta.
Pearl couscous s also made from semolina but also wheat flour. It larger and in the shape of a pearl hence the name. Rather than dried it is toasted after it's shaped and has a chewier bite to it. It also has a nutty flavor. (source)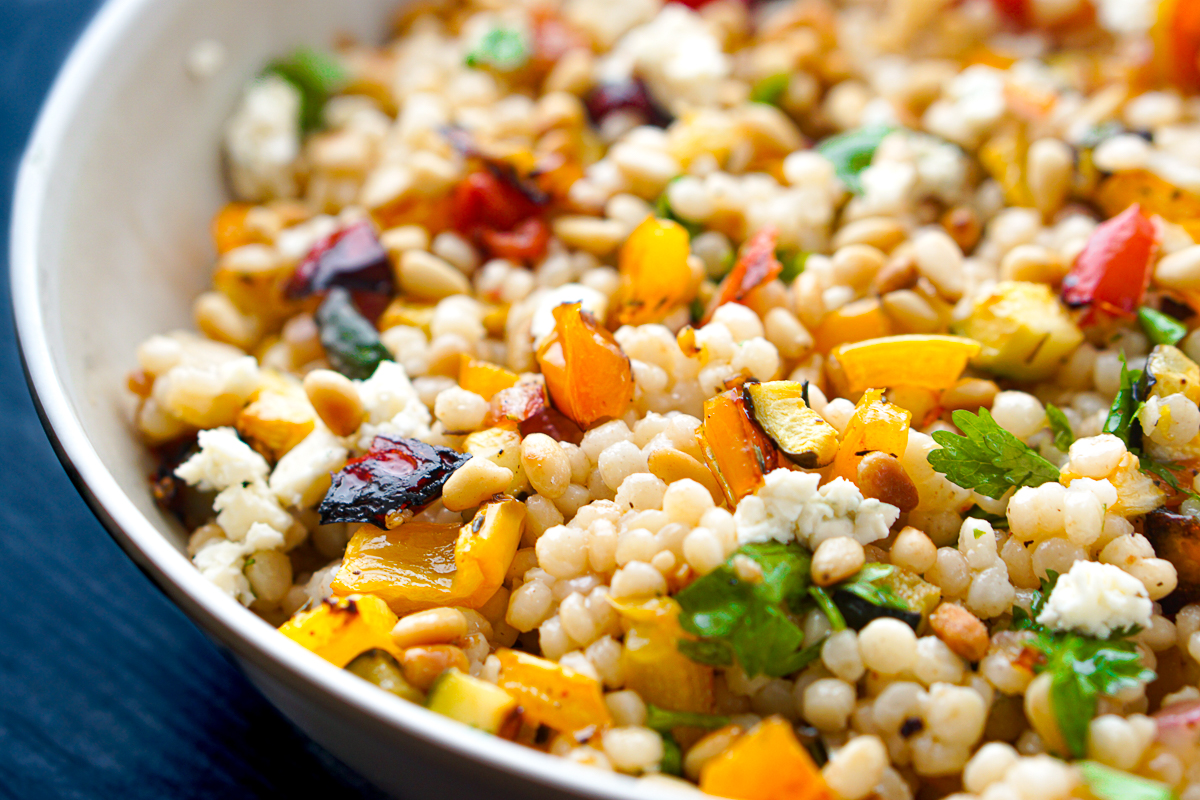 Recipe ingredients I used.
The simple ingredients I used for the dish were chopped vegetables, olive oil, salt, pepper, thyme, garlic cloves, pearl couscous, feta cheese, fresh lemon juice and zest and toasted pine nuts.
You can use any kind of vegetables you want but I used yellow squash, green zucchini, mushrooms, bell peppers, grape tomatoes and red onion. This combination cooked well and taste delicious together IMO but you can use your favorite veggies.
And while I love pearl couscous you could use regular. Or you could substitute white or brown rice, pasta or just eat the vegetables as is!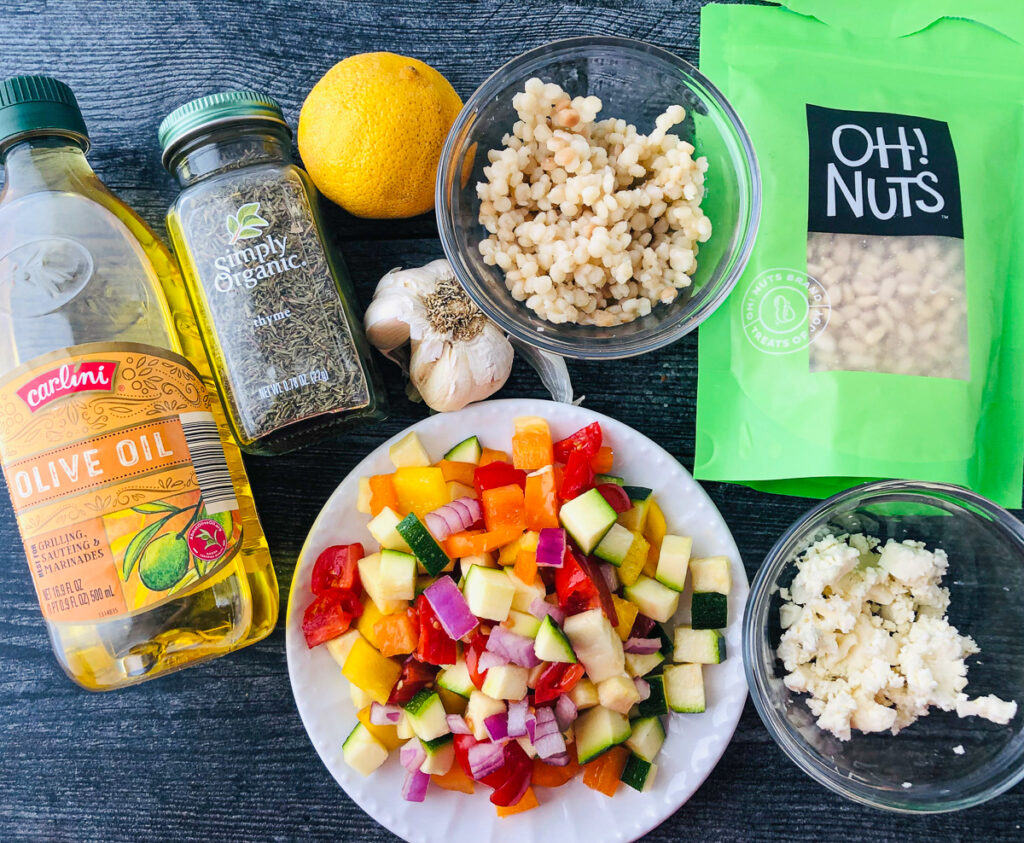 How to make roasted vegetable couscous salad.
Step 1: Chop all of the vegetables and preheat the oven to 400°F. Prepare a baking sheet with nonstick cooking spray.
Step 2: In a large mixing bowl mix the chopped veggies, olive oil, garlic, thyme, salt and pepper. Spread them out on the prepared baking sheet in a single layer so they cook uniformly.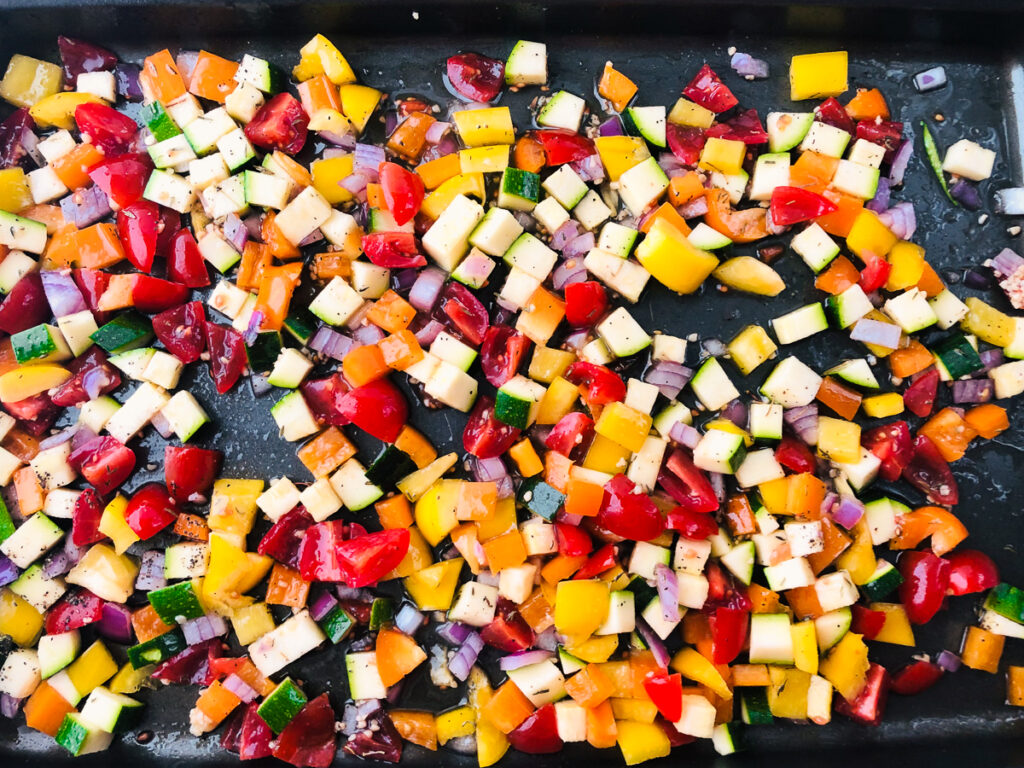 Step 3: Place in the preheated oven for 35-40 minutes or until the vegetables brown nicely. Cooking time may vary depending on the size of your vegetables. You can even stop here and eat just the roasted veggies and it will be quite tasty.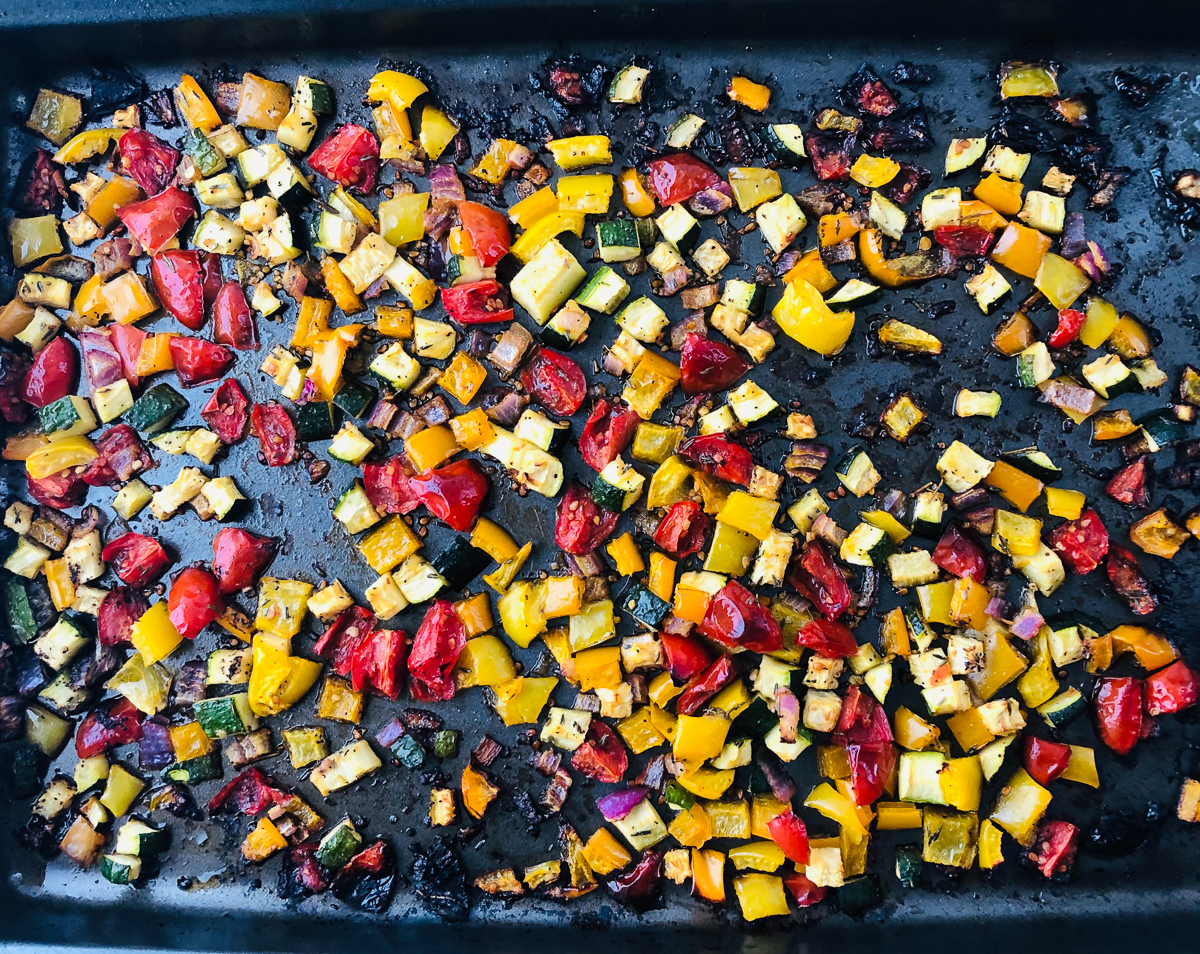 Step 4: In the meantime cook pearl couscous according to the package instructions while the veggies are roasting. Also you can whisk together the lemon vinaigrette.
Step 5: When the veggies are golden brown, mix them with the cooked couscous in a medium bowl and toss with the lemon dressing. Then add the feta cheese, parsley and toasted pine nuts for a yummy warm side dish.
Place leftovers in an airtight container and eat as a cold salad the next day if you wish. (Please scroll down to view printable recipe card.)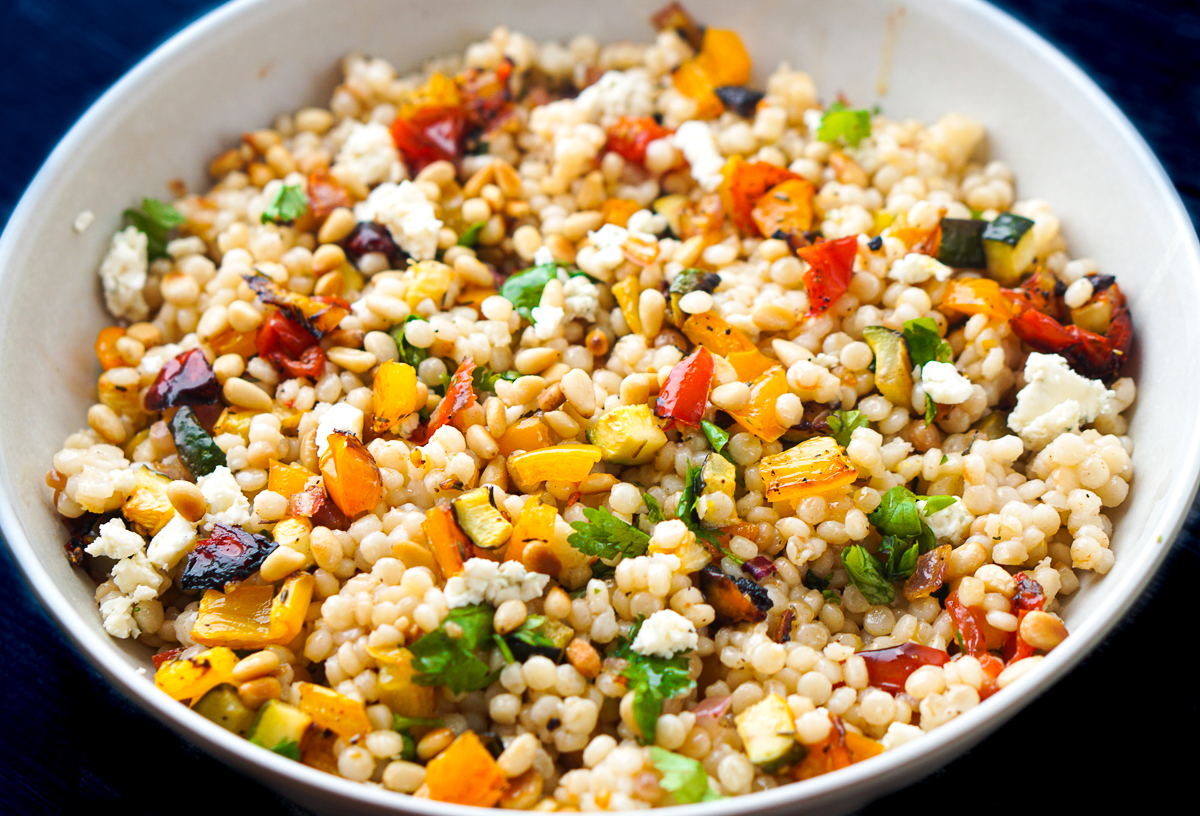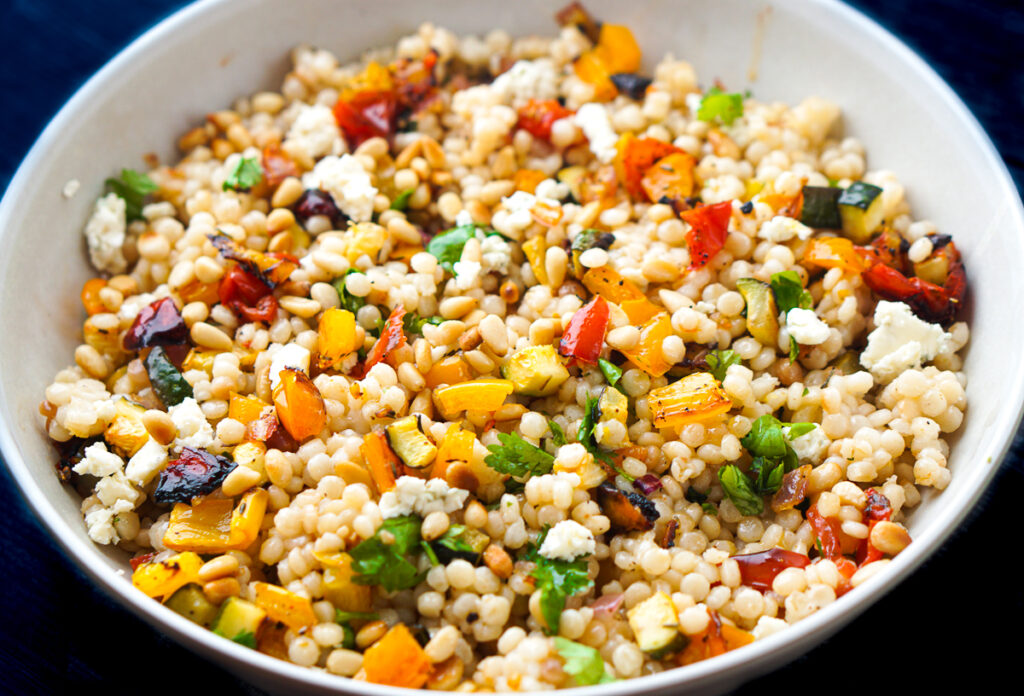 A fun way to serve this as a cold couscous salad.
As I mentioned you can eat this recipe either hot or cold. Eat straight after you make it for the warm version. Or you can pop it in the refrigerator and let it cool into a tasty couscous salad.
So if you decide to go for the cold salad this is a fun way to serve. Just clean out a pepper like the colorful orange bell pepper pictured below and stuff it with the couscous salad. This would be great for brunch or to take along to a picnic.
Essentially this is a container you can eat!
So there you have one of my older but delicious recipes that I just rediscovered. Using a combination of pearl couscous and roasted vegetables you can make a delicious side dish that would go great with any meaty main dish. Or eat it as a vegetarian meal on a meatless Monday.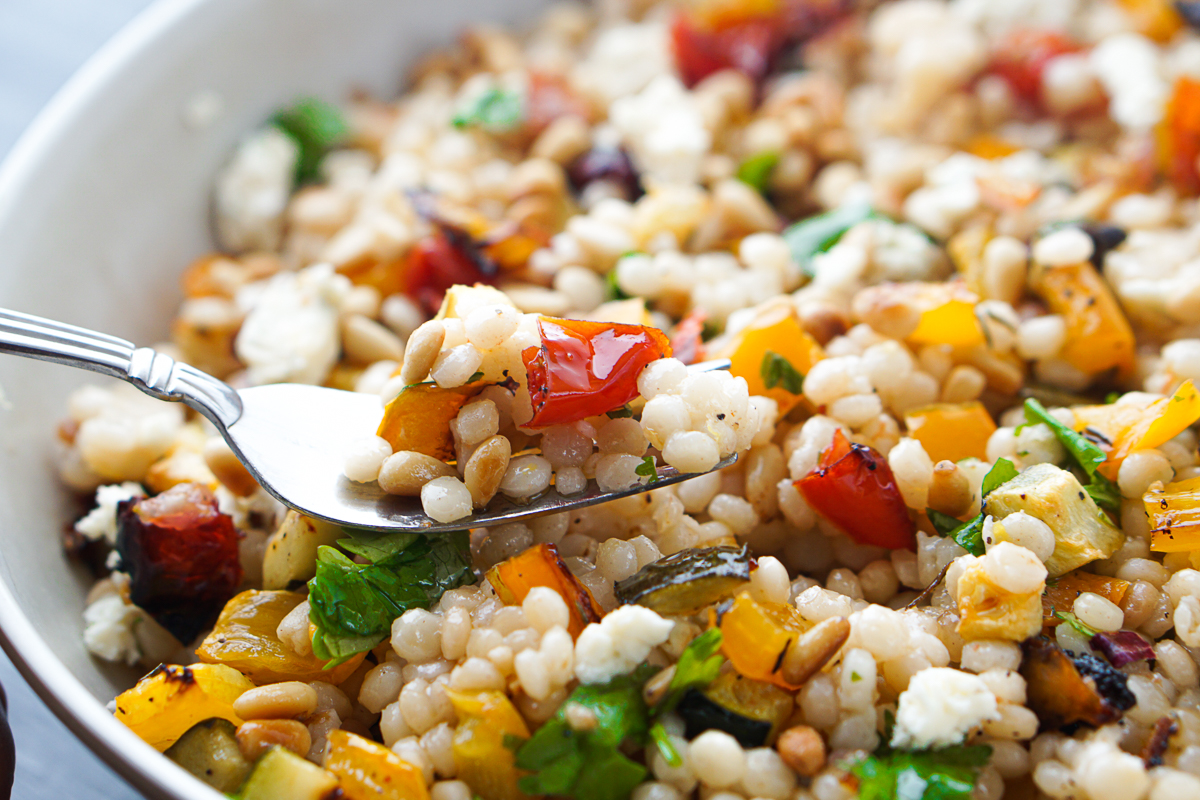 Adding crumbled feta cheese and toasted pine nuts at the end gives it extra flavor but even without it, this will tasty awesome. Enjoy!
And if you dig pearl couscous, check out my Middle Eastern chicken & couscous soup or my arugula couscous salad which also uses it.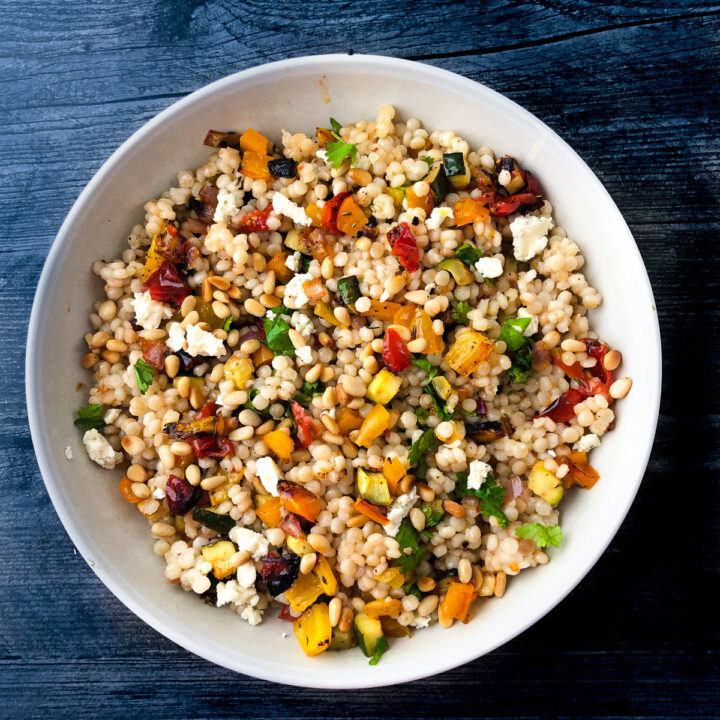 Roasted Vegetable Couscous Salad with Lemon Dressing
Total Time:
1 hour
20 minutes
This roasted vegetable couscous salad is the perfect side dish for any meaty main dish or as a vegetarian dinner. You can eat it hot or cold! Easy, healthy and tasty!
Ingredients
4 cups vegetables, chopped into small pieces (I used grape tomatoes, red onions, sweet bell peppers, zucchini)
3 tablespoons olive oil
½ teaspoon salt
½ teaspoon dried thyme
¼ teaspoon black pepper
2 cloves garlic, crushed
4 cups pearl couscous, cooked (see notes)
¼ cup pine nuts, toasted (optional, see notes)
¼ cup parsley, finely chopped
¼ cup feta cheese, crumbled
Lemon Dressing
¼ cup lemon juice
1 teaspoon lemon zest
½ cup olive oil
Instructions
Preheat oven to 400°F
For the roasted vegetables: In a large bowl, add the chopped vegetables, 3 tablespoons of olive oil, salt, thyme, pepper and garlic. Mix to make sure the vegetables are well coated with the oil and spices.
Spray a large bakingsheet with cooking spray and then add the vegetable mixture. Make sure that they are spread out in an even layer for best results. Place in the oven and roast for 30-40 minutes or until the vegetables are browned. Once they are done, set them aside to cool. Note cooking time may vary depending on the size of your vegetable pieces. So check on them at 30 minutes and watch from there on in.
Whiel the vegetables are roasting, make the pearl couscous according to package instructions.
For the dressing: Whisk the lemon juice, zest and ½ cup olive oil and set aside.
Once the vegetables and couscous are done, add them to a large bowl with the parsley and half of the dressing. Toss well to combine and then sprinkle the feta cheese and toasted pinenuts if using. Serve as a warm side dish.
Store leftovers in the refrigerator and to eat as a cold salad, toss with the rest of the dressing.
Nutrition Information:
Yield:

6
Serving Size:

1
Amount Per Serving:
Calories:

499
Total Fat:

31g
Saturated Fat:

5g
Trans Fat:

0g
Unsaturated Fat:

24g
Cholesterol:

6mg
Sodium:

282mg
Carbohydrates:

46g
Fiber:

7g
Sugar:

5g
Protein:

11g