This jalapeno corn dip with bacon is an easy and tasty dish to serve at your next party. Sweet creamy, cheesy corn and spicy jalapeños with the salty goodness of bacon.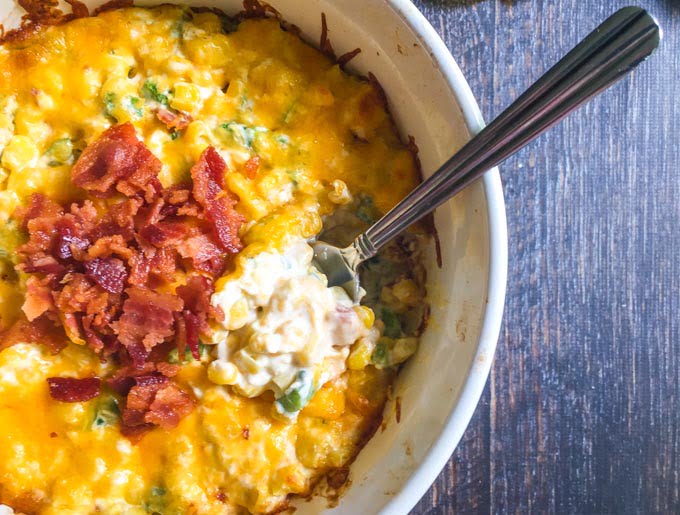 So what do you bring to book club, when you have to run around like crazy all day, have to run to the store for some wine, and still have to finish this month's book? The answer my friend is Jalapeno Corn Dip with Bacon. This dip has my comfort food trinity of cheese, bacon and jalapeños. Essentially it's like my bacon wrapped stuffed jalapeños with the added sweetness of corn, however this take only a few minutes to whip up. You can pop it in the oven, go get ready for book club and grab your wine, book, chips and dip on the way out the door. And this is what I'm doing tonight.
Jalapeno COrn Dip REcipe
I could eat this stuff with a spoon. But I think it would be better to serve it with tortilla chips instead of spoons as that would encourage double dipping (remember that episode of Seinfeld?) As I mentioned above, this is a super easy appetizer. All you have to do is mix cream cheese, cheddar cheese, jalapeños, corn and bacon. Spoon it in a baking dish and bake for 20 minutes. So easy.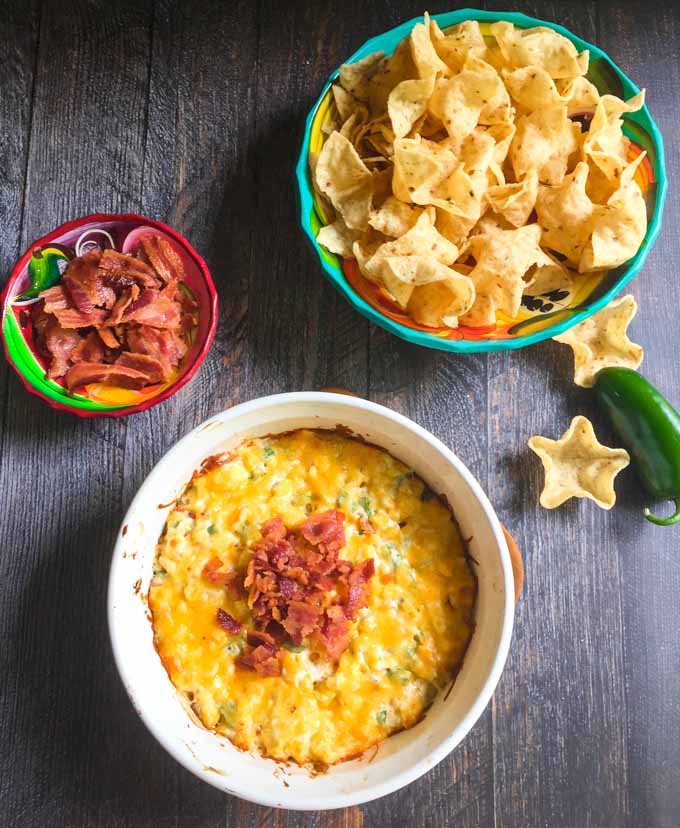 Notes for Jalapeno Corn Dip REcipe
Make sure your cream cheese is at room temperature so it will be easy to mix.
You can add more bacon if you want. I used 4 pieces and I thought it was fine but when it comes to bacon everyone has different boundaries. 😉
I used 3 fresh jalapeños. Clean the insides of seeds but try to keep the ribs because that is where the heat is. However this was not hot enough for me. Because I don't like to set people's mouths on fire at a party, I kept it at a safe level. I also have come to love the green pepper taste of jalapeños so that does have a place in this dish. However if you want it hotter you can use a different pepper or add some red pepper flakes or cayenne powder.
So that's a quick and easy party dish for you. I'm excited to see my friends and drink wine discuss our newest book selection. I hope they like this dip as much as my family did on Memorial day. And I hope you enjoy it too!
PS I've just acquired a love of wine. Recently my whole family…all my brothers and sisters and their families….went to Sonoma for my birthday. It was the best vacation ever! My husband is slowly writing all about it on his travel blog Daytripping with Rick and you can check it out one of our wine tours here.
Jalapeno Corn Dip with Bacon
This jalapeño corn dip with bacon is an easy and tasty dish to serve at your next party. Sweet creamy, cheesy corn and spicy jalapeños with the salty goodness of bacon.
Ingredients
4

strips of bacon

2

cups

of corn

frozen, fresh or canned

3

jalapeños

fresh and diced (clean out the seeds but leave the ribs for some heat)

1

cup

cheddar cheese

shredded

8

oz

cream cheese

room temperature
Instructions
Preheat oven to 400 degrees.

Cook your bacon anyway you like. Crumble 3 pieces and leave the last piece for garnish.

In a large bowl, add your corn, cream cheese, jalapeños, 3 strips of bacon crumbled and 3/4 cup of the cheddar cheese.

Mix well to combine.

Spoon into a baking dish and sprinkle remaining cheese and crumbled bacon on top.

Bake for 20 minutes or until desired browness on top. You can also stick it under the broiler at the end for a minute or two.

Serve with tortilla chips.
---
More great appetizers for wine book club!