This easy Mexican street corn salad recipe takes less that 10 minutes to make and is a great way to use leftover corn on the cob. It uses a citrusy dressing with Mexican flavors and a little queso fresco cheese. It goes great with grilled main dishes and would be perfect for parties and picnics as well. An easy and tasty summer side dish you'll love.
You might also like this easy linguine salad recipe!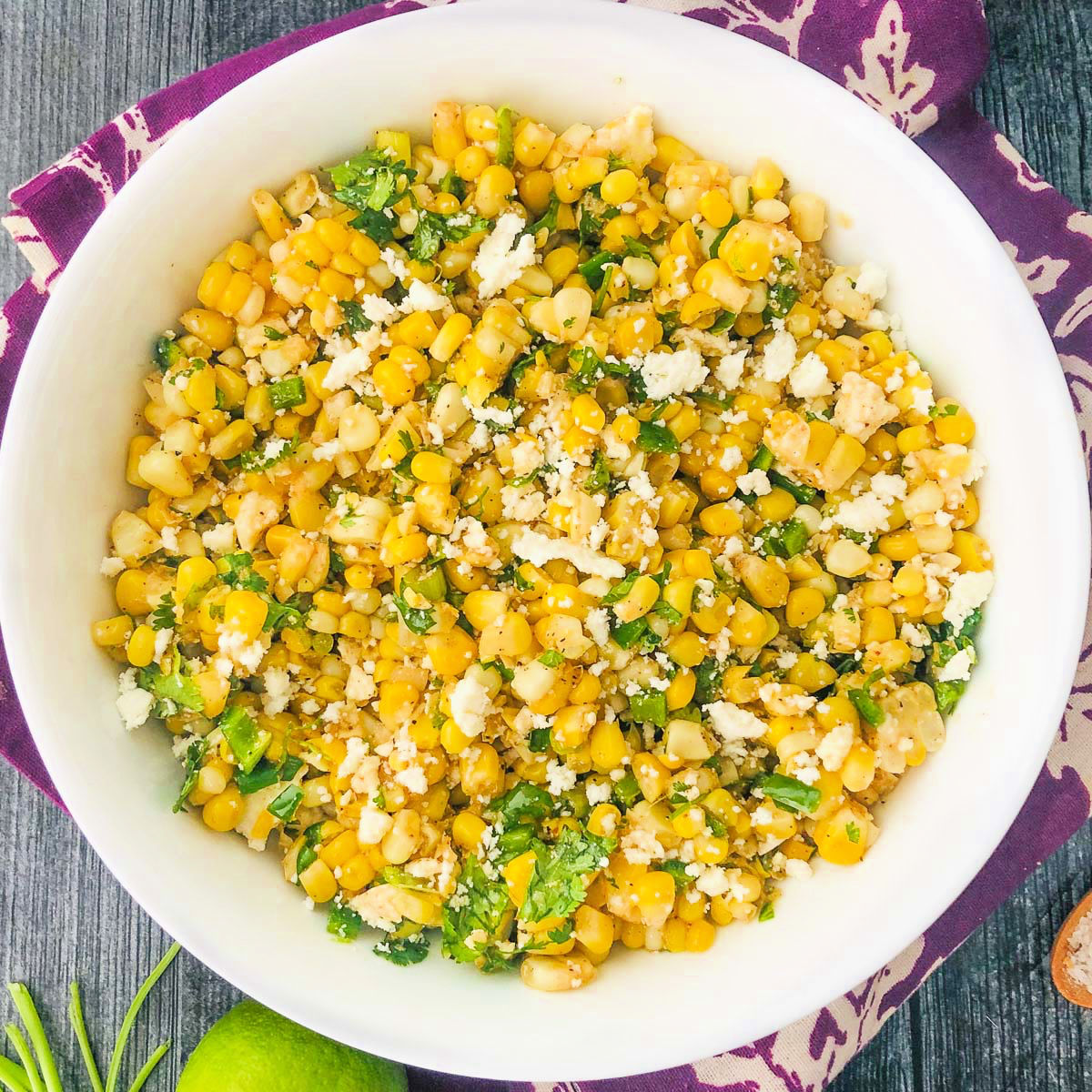 In the summer we eat a lot of fresh corn on the cob, but what do you do with leftovers? You make this delicious Mexican street corn salad! It's my take on Mexican elote and it only takes about 10 minutes to make and is the perfect side dish for summer barbecues and parties
It's a combination of sweet corn, jalapeno, green onions and cilantro, dressed in a zesty vinaigrette and topped with queso fresco cheese. It's full of fresh flavors and so easy to make it's sure to be your new favorite summer salad! Though you can also eat it as an appetizer with tortilla chips.
Salad ingredients I used.
The simple ingredients you need to make this recipe is cooked corn (leftovers work great), jalapeno pepper, Mexican queso fresco cheese, fresh cilantro leaves and green onions.
In the photo below you can see what queso fresco looks like. I bought this package at Aldi so I think most grocery stores will have it. It's a Mexican cheese that has the texture of feta cheese and mild flavor like fresh mozzarella cheese.
You can substitute a bell pepper for the jalapeno if you want. You can also substitute crumbly cotija cheese, feta cheese or goat cheese for the queso cheese. Lastly you can add diced avocado which would go nicely with the rest of the ingredients.
For the dressing I used fresh lime juice, olive oil, cumin, fresh garlic, chili powder, salt and black pepper. I prefer this lime vinaigrette to a creamy dressing which some people use by adding mayonnaise or sour cream.
How to make Mexican street corn salad.
Step 1: In a medium bowl whisk together all the salad dressing ingredients and seasonings and set aside.
Step 2: Next clean the kernels off the cob if using leftover ears and place in a large mixing bowl.
To clean the jalapeno, take out the seeds and the ribs as you can see below. The ribs and seeds are where all the heat are. If you want a medium heat keep the ribs in.
Step 3: Add the chopped jalapeno, cilantro, green onion and crumbled queso cheese to the corn in the large salad bowl.
Step 4: Pour the dressing over the salad and mix well. You can add additional cheese or additional cilantro for garnish if you want. Place in the refrigerator to chill before eating. (Please scroll down to view the printable recipe card.)
Store leftovers in an air tight container. This salad will keep for a few days.
What to serve with this side dish.
When I made this dish I served it with pesto turkey burgers (coming soon). It is definitely a quick side dish you can eat with anything on the grill to make a complete meal. Some grilled main dishes I recommend are:
Other recipes and ideas for leftover ears of corn.
I have a similar recipe to this salad for a hot Mexican corn side dish that is very popular. So if you don't want a cold salad check that one out.
I also have a rich and tasty jalapeno & bacon corn dip that works with leftover corn on the cobb as does this rainbow salad and this Mexican black bean salad.
Other food ideas are to use it in corn chowder or bread. Or use it in succotash, on top of salads, add to Mexican soups, a burrito bowl, etc.
My husband loved this Mexican corn salad (as did I). And since it takes only minutes to make and uses leftovers I will definitely be making it more often for our weeknight meals.
It the perfect side dish for a delicious summer dinner. I hope you like it as much as we did. Enjoy!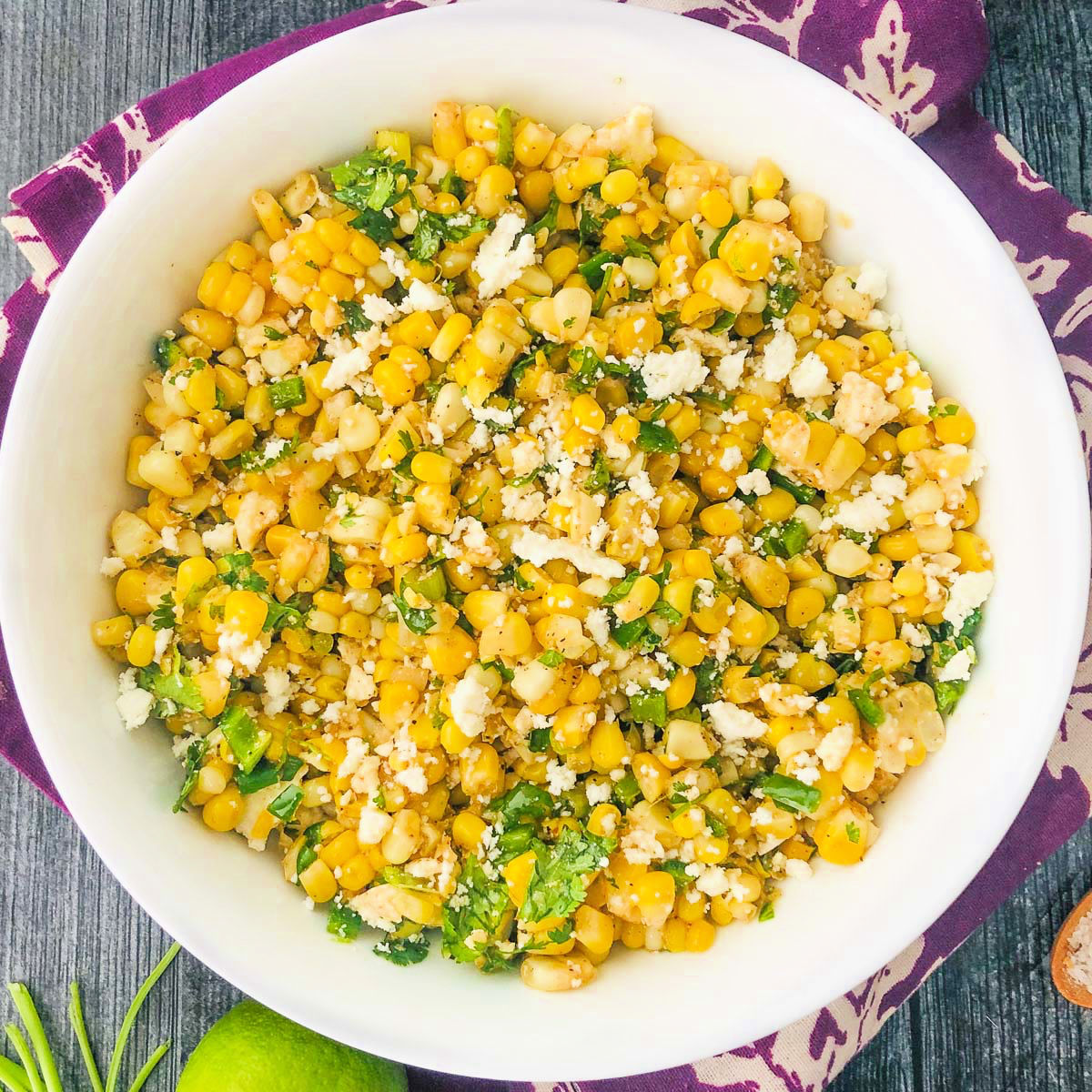 Easy Mexican Street Corn Salad
This easy Mexican street corn salad is great for using up leftover corn on the cob. It just takes minutes to make and is full of flavor.
Ingredients
4 cups of corn kernels, cooked not raw
1 jalapeno, finely diced
½ cup queso fresco
¼ cup cilantro, minced
1 green onion, minced
¼ cup lime juice (1-2 whole limes)
½ cup olive oil
1 clove garlic, crushed
¼ teaspoon chili powder
¼ teaspoon ground cumin
¼ teaspoon paprika
¼ teaspoon salt
¼ teaspoon black pepper
Instructions
Clean the corn kernels off of the cobs and place in a large mixing bowl.
Clean the seeds and ribs from the jalapeno and finely dice. Chop the rest of the ingredients (green onion, cilantro and queso) and add to the bowl.
In a small mixing bowl, whisk the olive oil, lime juice, garlic and spices. Pour over the corn mixture and mix well.
Refrigerate until ready to eat. Store leftovers in an airtight container.
Nutrition Information:
Yield:

6
Serving Size:

1
Amount Per Serving:
Calories:

291
Total Fat:

22g
Saturated Fat:

4g
Trans Fat:

0g
Unsaturated Fat:

17g
Cholesterol:

7mg
Sodium:

170mg
Carbohydrates:

23g
Fiber:

3g
Sugar:

5g
Protein:

5g