For a quick and delicious low carb summer, try this grilled keto shrimp & marinade recipe. The juicy shrimp is full of fresh flavors of lime and garlic and cooks in minutes on the grill. Pair it with some cauliflower rice for a tasty keto shrimp rice bowl! And there is just 1g net carbs for 10 pieces so they're perfect for anyone on a keto diet!
You might also like this keto coconut shrimp with salsa recipe!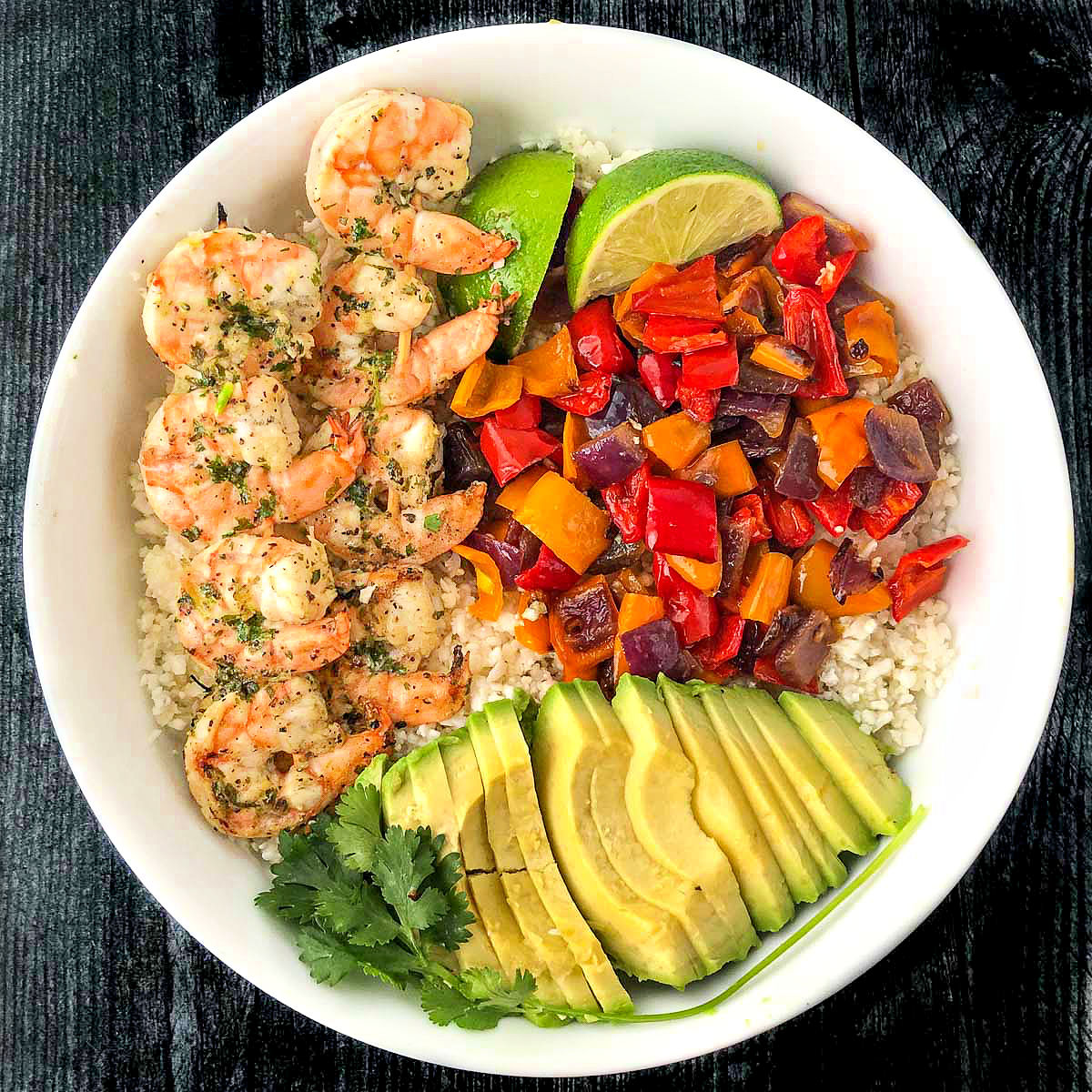 I bought a huge bag of frozen shrimp from Costco because grilled shrimp is one of the easiest low carb dinners you can make in the summer. So I quickly mixed up a tasty shrimp marinade with garlic, lime, cilantro and other spices and dinner was almost done!
This grilled keto shrimp recipe was so fresh and delicious. While the shrimp was marinading I made a bowl of cauliflower, sautéed some colorful peppers and onions and sliced an avocado. Then when the shrimp was done marinating I grilled it in just minutes and topped my rice bowls.
This keto dinner was full of flavor and my hubby raved about it. It was the perfect low carb meal for us.
Recipe ingredients I used.
This shrimp marinade was a variation of what I used for my zesty garlic pulled pork and it worked great for this dish. It consisted of lime juice, cilantro, olive oil, lime zest, fresh garlic cloves, oregano, cumin, salt and black pepper.
As I mentioned above I used frozen, peeled raw shrimp for this dish that I got from Costco. They come in different sizes but I wanted a medium size so that I could fit a few on the skewers. You can use what ever size you want and of course you can use fresh if you prefer.
How to make grilled keto shrimp and marinade.
Step 1: First thing you need to do is make the marinade by adding garlic and fresh cilantro to a food processor. Pulse to mince both. Then add the rest of the marinade ingredients and process until well mixed.
Step 2: Get out a medium bowl and add the thawed shrimp and marinade, mix and let set for 30 minutes.
Step 3: Then take it out and thread shrimp onto skewers. I used wood skewers. You should soak them to because dry wood can be flammable. The wet wood is less likely. However you they are only on the grill for a few minutes so it's not likely.
Note I got 4 pieces per skewer. Cooking time may vary depending on the size.
Step 4: Place on the hot grill grates and cook for about 2-3 minutes per side. You don't want to over cook them because they will get tough. When they turn pink on one side flip them over and do the other side.
Step 5: Once they are done, take them out and let them cool before serving. Please scroll down to view the printable recipe card.
Step 6: If you want to make the shrimp rice bowl, you can saute the onions and peppers in some olive oil while the shrimp are marinating. Add some cooked cauliflower rice to a bowl, the sautéed peppers and avocado slices.
Different ways to eat this grilled shrimp.
The night I made these for a cauliflower rice bowl pictured below for me. However I made tacos with them for my family. They used flour tortillas and all their favorite toppings. If you are looking for keto tortillas, these Carb Counter street taco tortillas are awesome!
These would also be a great addition to a fresh summer salad, by itself with a cauliflower rice side dish or with zucchini or other vegetable noodles.
Top it with the cooked shrimp kabobs and a wedge of lime for super easy summer dinner.
Other keto grilled dinners for summer to try.
If you like to grill in the summer time, try one of the keto grilled dinners. They are all very easy and tasty.
This truly was a simple and easy keto dinner on the grill. I hope you like this grilled keto shrimp recipe and try the cauliflower rice bowl. It's quite delicious and the perfect summer dinner!
The nutrtional information for 1 piece is 67 calories / 4.9g fat / 0.1g carbs / 4.9g protein = 0.1g net carbs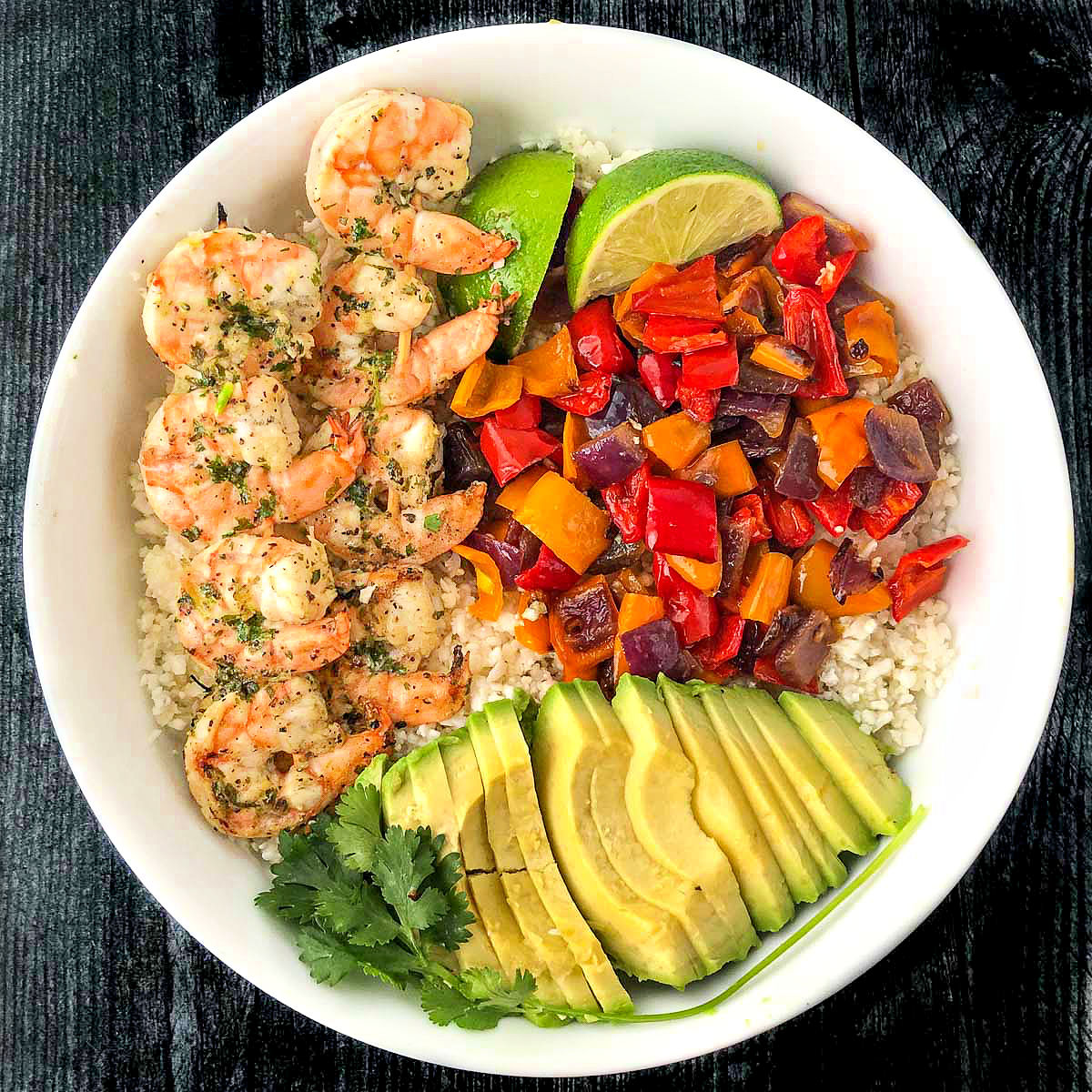 Grilled Keto Shrimp and Marinade Recipe
Additional Time:
30 minutes
For an easy and tasty summer dinner, try this grilled keto shrimp recipe. The tasty keto marinade for shrimp is fresh and light.
Ingredients
¾ pound shrimp, raw and peeled (about 24)
2 cloves garlic
¼ cup cilantro leaves
¼ cup lime juice
zest of 1 lime
½ cup olive oil
½ teaspoon oregano
½ teaspoon cumin
½ teaspoon black pepper
½ teaspoon salt
Instructions
To make the shrimp marinade, add the garlic and cilantro to a food process and blend until well minced. Then add the rest of the ingredients and blend until well combined.
Add the peeled raw shrimp to a medium bowl and pour the marinade over top. Let set for 30 minutes to marinade.
When ready to grill, take it out of the bowl and thread on skewers. I used wet wood skewers on the grill and it was fine.
Place the skewers and on the grill and cook over medium heat on the grill for 2-3 minutes per side. They should have just turned pink completely on both sides. Try not to overcook or they will get tough.
Let set for a few minutes before serving.
Optional: If you want to add these to a rice bowl, you can cook and assemble it while the shrimp is marinating. For mine I used a bed of cauliflower rice to a bowl. I sauteed onions and bell peppers on the stove in the meantime and then sliced an avocado. Add a lime wedge and some fresh cilantro and you are done.
Notes
The nutrtional information for 1 piece is 67 calories / 4.9g fat / 0.1g carbs / 4.9g protein = 0.1g net carbs
Nutrition Information:
Yield:

24
Serving Size:

1 shrimp
Amount Per Serving:
Calories:

67