This Paleo coconut shrimp & pineapple mango salsa can be ready in less than 30 minutes. The bright, light fruit salsa, tastes delicious with the crunchy coconut shrimp! Only 3.7g net carbs for 10 shrimp!
You might also like this coconut crusted chicken recipe!
It's that time of year when we try a different fish fry every Friday. Usually they offer fish sandwiches and some offer fried shrimp. This year I'm taking a shot at making our own fish fry entrees. That is why today I am making Paleo coconut shrimp with a pineapple mango salsa. I never realized how easy coconut shrimp is to make or I would have made it years ago. My family really liked it, especially my father in law so that was a big boon for me!
An Easy Paleo Dinner In 30 Minutes
One of the good things about this dish is that it takes no time to make. The salsa just requires some chopping and mixing and the shrimp only take a few minutes to bread and fry on the stove. So this dinner took me less than 30 minutes start to finish. Another plus to me. And for some reason I had never tried fruit salsa before and now I love it and I have to find more dishes to serve it with!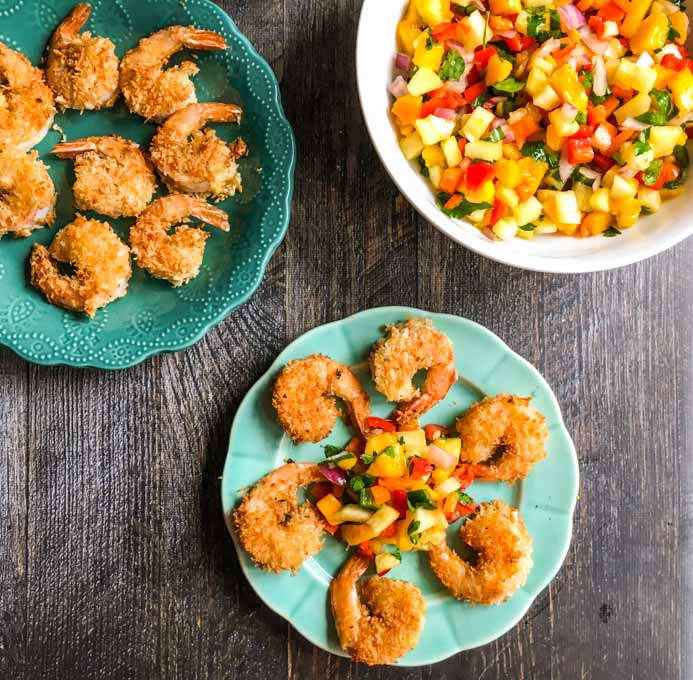 How To Get That Coconut Flavor
I use a lot of coconut products in my cooking. In my pantry I have coconut oil, unsweetened shredded coconut, flaked coconut and coconut flour. I like coconut because it has a lot of good health benefits and it adds that yummy coconut flavor to dishes like this.
So in this recipe we are using coconut oil to fry the shrimp in and breading it with unsweetened shredded coconut.
Paleo Coconut Shrimp Recipe
I made the shrimp like I did my Paleo coconut crusted chicken. I simply dipped it in egg and then coated with shredded coconut and then fried it in coconut oil. Coconut oil is highly resistant to oxidation at high heats so it's the perfect oil for frying.
I used frozen shrimp and it worked fine. These are items I have on hand all the time so I can make this easily any day of the week. They also would make a great appetizer.
What's In The Fruit Salsa
The salsa is a combination of pineapple and mango because I couldn't make up my mind which one to use. It has sweet peppers and cilantro, lime juice and red onion. It was yummy! I ended up eating this for my dinner without the shrimp (because my family scarfed all the shrimp but I didn't mind.)
I hope you like this super simple but delicious shrimp dinner. Enjoy! The nutritional information for 10 shrimp is:
515 cals / 46.9g fat / 8.9g carbs / 5.2g fiber / 18.8g protein = 3.7g net carbs
2 tablespoons of the pineapple mango salsa is:
10 cals / 0g fat / 2.6g carbs / 0.4g fiber / 0.2g protein = 2.2g net carbs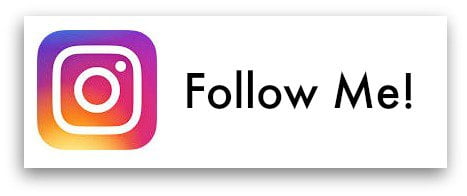 Paleo Coconut Shrimp & Pineapple Mango Salsa
This Paleo coconut shrimp & pineapple mango salsa can be ready in less than 30 minutes. The bright, light fruit salsa, tastes delicious with the crunchy coconut shrimp!
Ingredients
To make the shrimp
1

lb

shrimp, raw and peeled

1/4

cup

coconut oil

1

cup

unsweetened coconut, finely shredded

2

eggs

1/4

teaspoon

salt

1/4

teaspoon

pepper

1/2

teaspoon

onion powder

1/2

teaspoon

garlic powder
To make the salsa
1

cup

pineapple, chopped

1

cup

mango chopped

2

tablespoons

lime juice

1/3

cup

red onion, chopped

1

jalapeno, seeded and chopped

3/4

cup

sweet peppers, chopped

1/4

teaspoon

salt

1/4

cup

cilantro, chopped or parsley chopped
Instructions
Chop the pineapple, mango, onion, jalapeño, peppers and cilantro into small pieces.

Add to a large bowl and toss with salt and lime juice. Refrigerate until ready to use.

Thaw shrimp if necessary and blot dry with a paper towel.

In a shallow bowl, beat eggs.

In another shallow bowl add the salt, pepper, onion powder, garlic powder and shredded coconut. Mix well.

Hold each shrimp by the tail and dip into the eggs and then the coconut mixture and then place on a plate. Continue with all the shrimp. Make sure the shrimp is well coated with the coconut.

In the meantime add your coconut oil to a small to medium skillet and heat to medium high.

Add the shrimp one by one, working in batches. When they start browning on the bottom, flip and brown the other side. This should only take a few minutes per side. Adjust the heat if they are getting too brown or not brown enough.

Place some paper towels on another plate and when the shrimp are done frying, place them on the towels to drain the excess oil.

Serve immediately with the salsa.