These lemon Parmesan zucchini noodles are unbelievably flavorful, healthy and only take 10 minutes to make. Perfect with fresh veggies from the garden.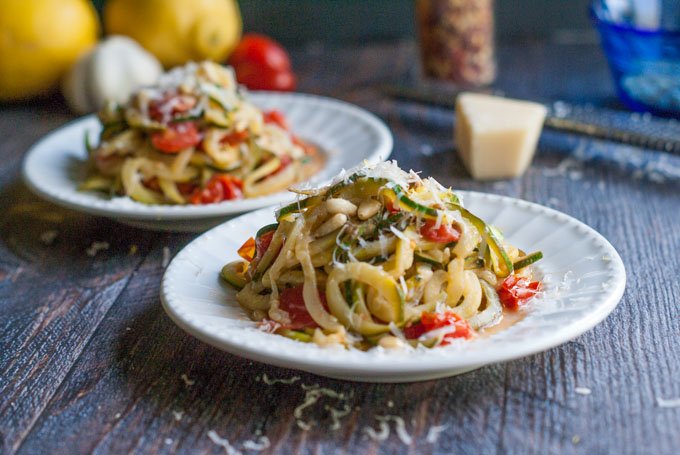 Did you ever throw something together because you were hungry and wanted something tasty but didn't have much time? Well that was me the other day. I was in the mood for some pasta but since I'm always trying to eat less "white stuff", I came up with these lemon Parmesan zucchini noodles. I love zucchini noodles. First of all they are good for you and secondly they take little time to make. In this case it took me about 10 minutes from start to finish. This was the perfect quick and healthy lunch for me. Now if you are not one for zucchini noodles, regular pasta would be just as good if not better. Though I'm telling you this dish is really good. Luckily for me that this recipe also worked for our latest Ultimate Recipe Challenge which is PASTA! 
I love veggie noodles and I love my spiralizer(s). I'm even keeping in mind what vegetables I'd like to spiralize when planning my garden this year.  In the past I've made red curry cabbage noodles, rosemary & garlic turnip noodles, beet & goat cheese noodle salad, and many more zucchini noodles dishes. So you can see I really, dig those veggie noodles.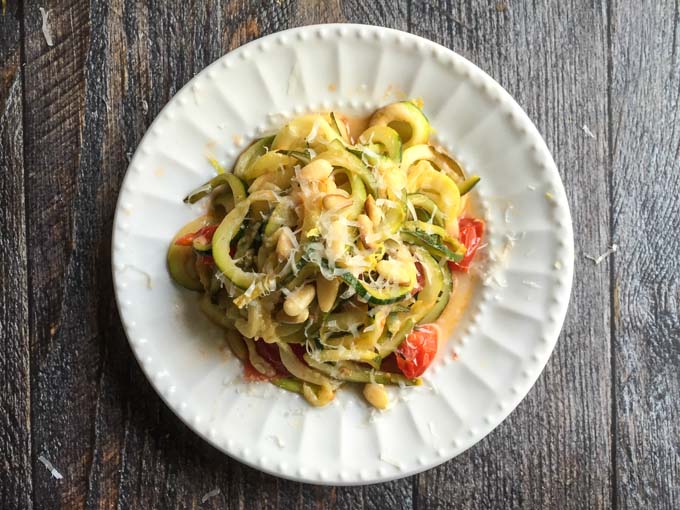 Now for the recipe. It's very simple. All you do is sautee some garlic, grape tomatoes, lemon juice and zucchini noodles in olive oil for around 5 minutes. Then you add some lemon zest and freshly grated parmesan cheese and mix well. That's it. I also added some toasted pine nuts because I just love them but they are not essential to this dish. The lemon zest in my opinion makes this dish. It gives such brightness to a dish that is delicious on it's own.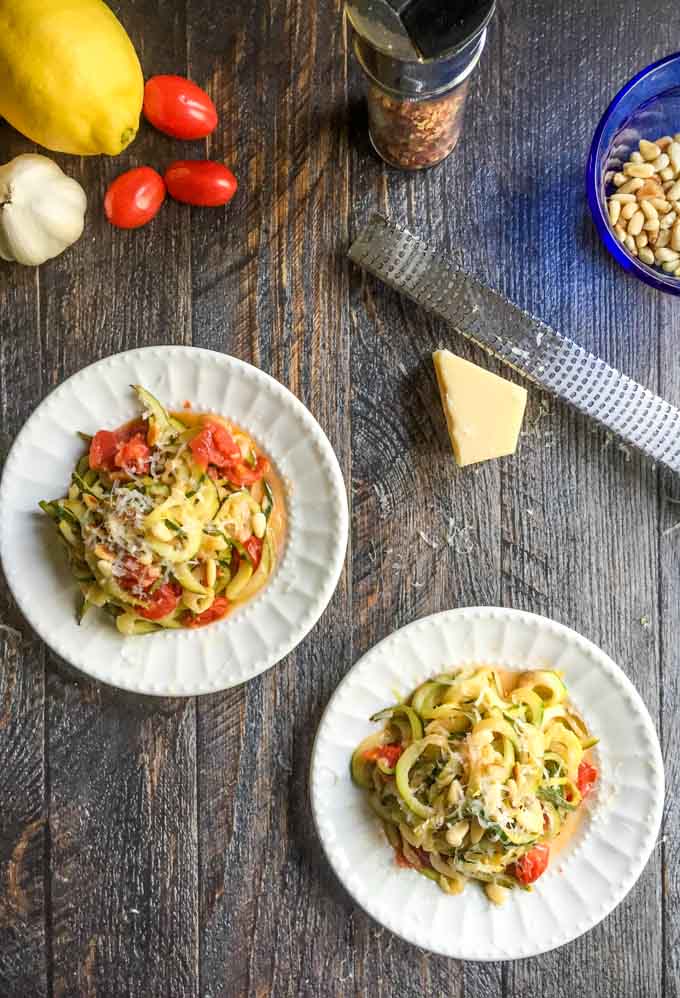 Now if you are saying to yourself there is no way I'm eating a zucchini noodle or any other veggie noodle, that fine. Make this with regular pasta. Quite frankly my son would never eat zucchini noodles…..yet. I'm still working on him. Make your pasta separately and toss it in after the tomatoes have cooked a few minutes. Follow the rest of the recipe as instructed. I hope you give this a try and please let me know if you have any quick and easy veggie noodle recipes. I'd love to hear from you! Please scroll down to find more tasty pasta dishes from the Ultimate Pasta Challenge.

Lemon Parmesan Zucchini Noodles
These lemon Parmesan zucchini noodles are unbelievably flavorful, healthy and only take 10 minutes to make. Perfect with veggies from the garden.
Author:
Denise Wright (MyLifeCookbook.com)
Ingredients
2 zucchinis made into noodles
2 Tablespoons of fresh lemon juice (about 1 lemon)
1 lemon, zest only
4 Tablespoons of olive oil divided
1 clove of garlic, minced
salt and pepper to taste
12 grape tomatoes chopped
½ cup of freshly grated Parmesan cheese
Instructions
In a saute pan add 2 Tablespoons of oil.
Add the garlic and tomatoes and saute for 2 minutes.
Next add your zucchini noodles and sprinkle with salt and pepper.
Add the rest of the oil and cook for about 5 minutes.
Take off heat and add zest and Parmesan.
Lemon Parmesan Zucchini Noodles