The next time you have leftover corn on the cob you have to try this spicy Mexican corn recipe. It's a buttery and spicy side dish that takes just 15 minutes to make. The flavors of buttery sweet corn and zesty lime go great together with the spices and fresh herbs. It's the perfect summer side dish and uses leftover corn!
You might also like this rainbow Mexican corn salad recipe!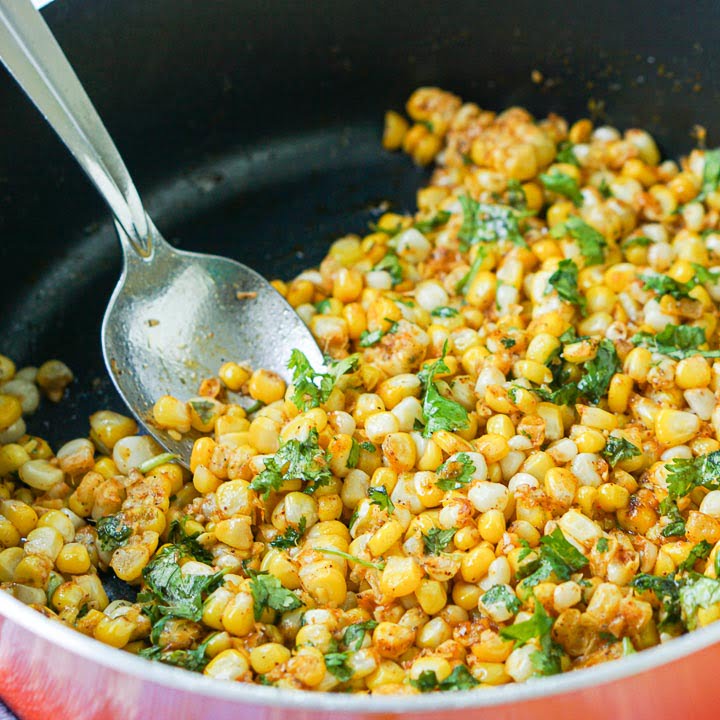 (Update) Yesterday we celebrated my father in law's birthday and I ended up with lots of corn on the cob leftover. I remembered this old recipe and decide to redo it.
I am so glad I did make this spicy Mexican corn because it was sensational. It's not low carb but it is crazy good. It has plenty of butter but also spices like cumin and garlic. Then there is the lime zest and cilantro which give it a brightness to go with the sweet corn.
And not only are you using leftovers, this side dish only takes 10-15 minutes tops. You've got to try this one!
What is Mexican Street Corn?
Corn on the cob is a common street food in Mexican and is called elote. Street vendors usually cover cobs in mayonnaise and lots of spices and top them with crumbled cotija cheese and cilantro. This dish I'm showing you today is a much simpler one but uses all lot of the same flavors of street corn.
Recipe ingredients I used.
As I mentioned I used cooked ears of corn from the night before. You can use fresh if you prefer or even frozen corn. It just has to be cooked. The other ingredients are butter, garlic, paprika, chili powder, cumin, lime zest, lime juice, cilantro, salt & pepper.
Tip: An easy way to add a bit of smoky flavor to this dish is to use smoked paprika which you can sometimes find at Trader Joe.
How

to make

spicy Mexican corn with leftovers!
Step 1: Start with a large skillet, heat to medium heat then melt butter (2 tablespoons).
Step 2: Once the butter has melted add your garlic, lime zest and spices and mix well, reserving the last tablespoon of butter for the end.
Step 3: Next add in your corn kernels and sauté for about 2-3 minutes making sure the corn is heated through.
Step 4: Lastly add the rest of the butter and mix well. Turn the heat off the corn mixture and a squeeze of lime juice and sprinkle some cilantro and you are ready to serve.
This corn side dish would go great with tacos, marinated grilled chicken breast, burgers or any meaty main dish.
Store leftovers in an airtight container. Please scroll down to view the printable recipe card.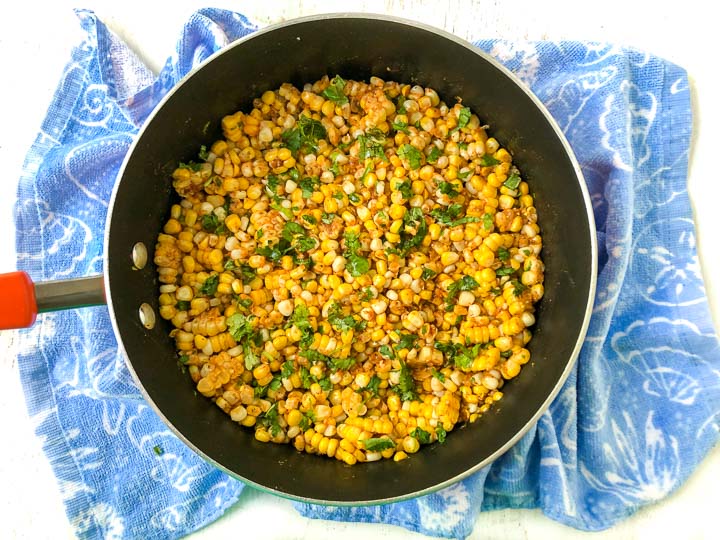 Two variations of this Mexican street corn recipe.
While I love this dish just the way it is, here are 2 more variations you might want to try.
I had some leftover cajun shrimp from our birthday feast and so I added it to this dish for my lunch. It went great and made it more like a meal. So if you wanted you can add cooked shrimp at the end and mix it well.
Another idea is you can make this a cold Mexican street corn salad. It would be great for a picnic or cold summer side dish. I would not use a pan at all. Just mix olive oil (2 tablespoons) instead of butter. You could also try a little mayo or sour cream. Mix it with the lime juice, lime zest, garlic and spices so it's like a dressing. Toss everything together and add a lot of cilantro. Refrigerate it before eating. You can also add some Mexican cheese like queso blanco or cotija cheese. They have the texture of feta cheese but less of a tang to them.
Recipe Tips And Notes
This is a great recipe for leftovers but you can also use fresh corn or frozen. Just make sure it is cooked before you add it to the pan.
While this is spicy it is not spicy hot. If you wanted some heat too, you could add a diced jalapeno, or just add some cayenne pepper or even hot pepper flakes.
I also had leftover cajun shrimp which I chopped up and added. It was really delicious so keep that in mind. I have a cilantro lime shrimp recipe that would go great with this dish.
This is a great summer side dish and would make a great salad for picnics and parties. I would use olive oil instead of butter and mix it with the garlic, spices and lime juice. Then add the cilantro and maybe chopped green onion and mix well.
You can add different things like black beans, ripe avocado, cherry tomatoes, etc for a different flavor. Just make sure to avocados after it's cooked at the end. Here is a very popular black bean salad recipe that you might also like.
So next time you find yourself with leftover corn, reuse it! You'll love this spicy Mexican corn dish. Next time I think I'm going to add a fresh jalapeno pepper from my hubby's garden for additional flavor. Enjoy.
The nutritional information for 1 serving is: 172 cals / 9.8g fat / 20g carbs / 0.9g fiber / 3g protein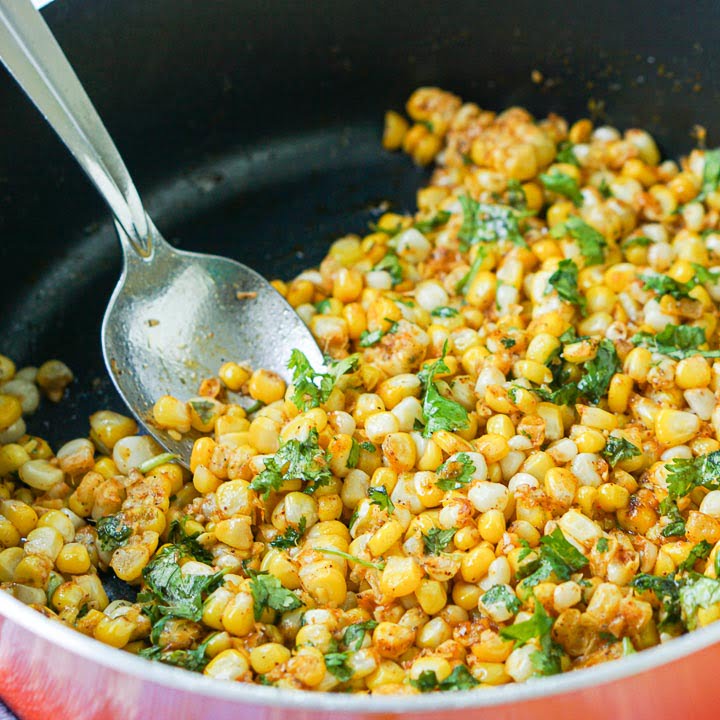 Spicy Mexican Corn (Using Leftover Corn)
Spicy Mexican corn is a delicious way to use leftovers. The zest lime and spices perfectly compliment the buttery sweet corn.
Ingredients
4 cups corn, cooked (roughly 4 cobs of corn)
3 tablespoons butter
2 garlic cloves, crushed
1 lime, both juice and zest
½ teaspoon chili powder
½ teaspoon cumin
¼ teaspoon pepper
½ teaspoon salt
¼ teaspoon paprika
¼ cup fresh chopped cilantro
Instructions
Cut the kernels off of the cobs using a sharp knife and set aside.
In a large skillet, melt 2 tablespoons of butter.
Add your garlic, lime zest, chili powder, cumin, salt, pepper, and paprika.
Stir the spices into the butter and then add your kernels.
Saute for 2 - 3 minutes or until the corn is cooked through and the spices are well incorporated.
Add your last tablespoon of butter and mix until melted.
Turn off the heat and add your lime juice and mix well.
Sprinkle chopped cilantro on top and serve.
Nutrition Information:
Yield:

4
Serving Size:

1
Amount Per Serving:
Calories:

172
Unsaturated Fat:

0g