This Mexican Bean Salad recipe is perfect for summer picnics and parties. You can make it the night before in minutes. The colorful black bean & corn salad is mixed with a zesty vinaigrette that everyone will love. Even the leftovers are delicious!
You might also like this easy bean salad dip!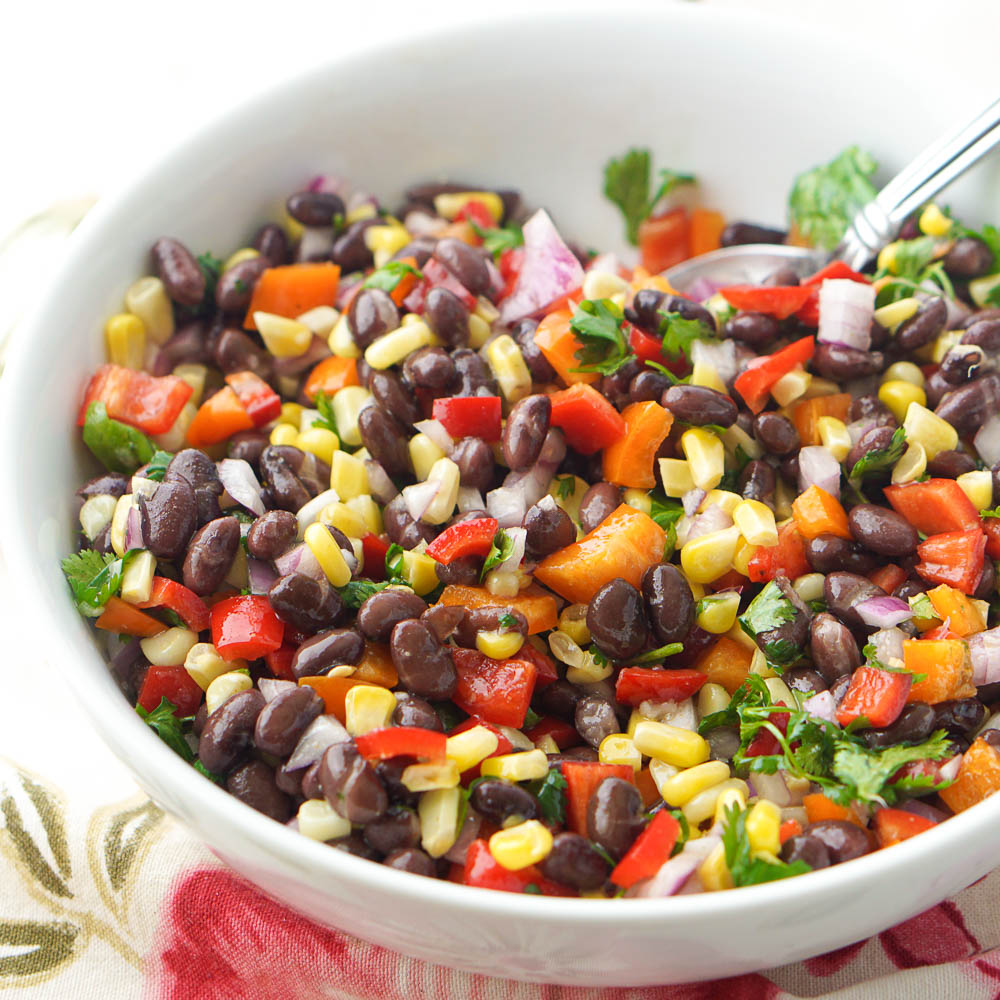 Once more I have to thank my lovely sister in law Gayle for this recipe. I'm not sure where she got this easy Mexican bean salad recipe. Or if she just created it on her own.
However I do know it's delicious and one of our favorite summer picnic side dishes. It's easy to make in just 5 minutes or so in advance.
Just chop the veggies and mix with black beans, corn and the tasty salad dressing for a healthy and colorful summer salad full of Mexican flavors.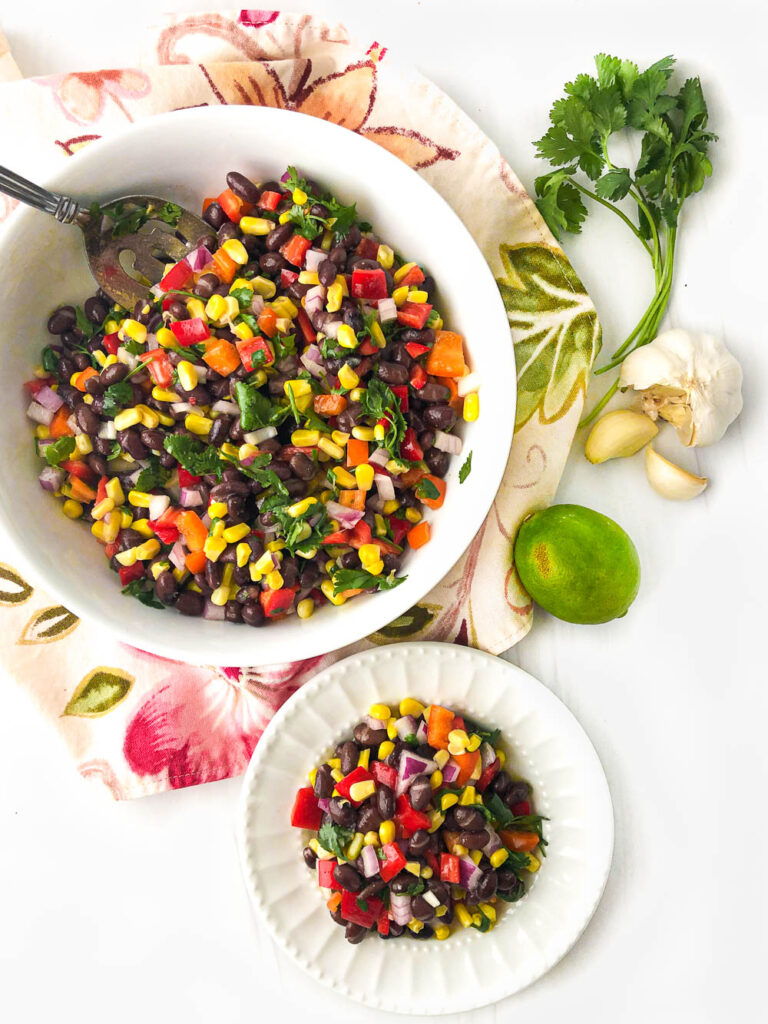 Recipe ingredients I used.
The Mexican salad ingredients are basically black beans, cooked corn, sweet bell peppers, red onions (or green onions) and fresh cilantro tossed in a Mexican dressing.
A note on the cilantro: If you don't like cilantro you can always substitute basil or parsley or both. Also you could use other kinds of beans if you wish like garbanzo beans or kidney beans.
You can use frozen or fresh corn but it has to be cooked before adding. This is a good recipe to use leftover cooked corn.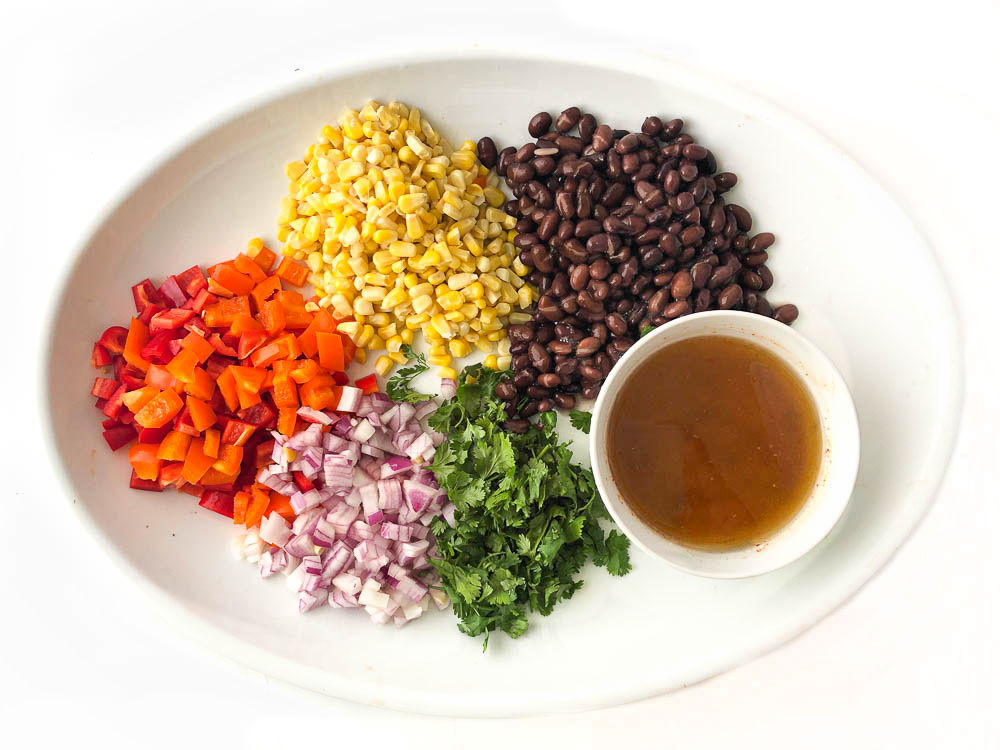 I love the flavors of this dressing and use it on it's own. The ingredients I used for that is fresh lime juice, olive oil, fresh garlic clove, cumin, salt and chili powder. There is no sugar so it's zesty rather than sweet. The peppers and corn add enough sweetness.
You can use lemon juice or vinegar as a substitute for the lime but the lime is best so use that if you have it. You can even add some lime zest to the dressing if you want.
How to make this easy Mexican bean salad.
First thing you want to do is chop the fresh vegetables (bell pepper, red onion) and fresh cilantro. Place them in a big mixing bowl.
Next drain and rinse the black beans with cold water then add to the vegetables.
The corn should be cooked so you can use leftover corn or frozen corn but you will have to cook it first. Let it cool and add to the bowl. (You could also use canned corn kernels.)
Lastly whisk together the vinaigrette (olive oil, lime juice, garlic, cumin, salt and chili powder). Add to the bean mixture and mix well.
Spoon into an airtight container and refrigerate for a couple of hours until ready to eat. (Please scroll down to see or print the recipe.)
Note you can make this a day in advance which is helpful for summer parties. It will still be good for a day or two because none of ingredients will get mushy.
And you don't have to save this for a party obviously. We ate it for dinner and had some leftovers for the weekend. To make it more of a complete meal you can add some cooked chicken or shrimp.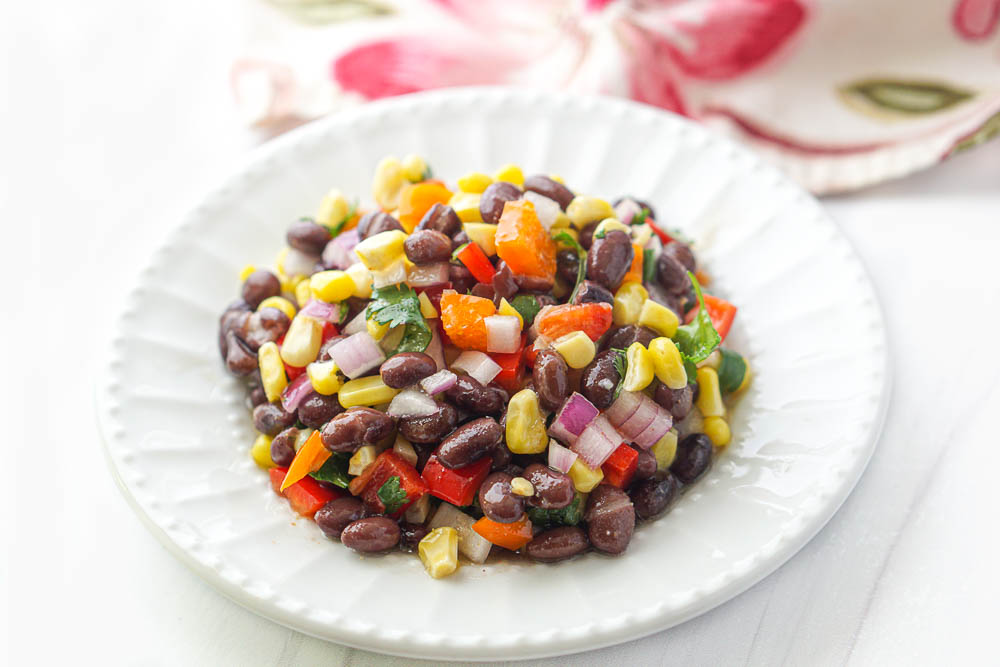 What to eat with this picnic salad?
You can eat this with just about anything you grill and make it a meal. We had it with burgers, grilled chicken, tacos, sandwiches, etc. Try one of these delicious recipes for summer.
Also it's my favorite recipe for picnic side dishes because it can stand the heat and goes with other picnic foods.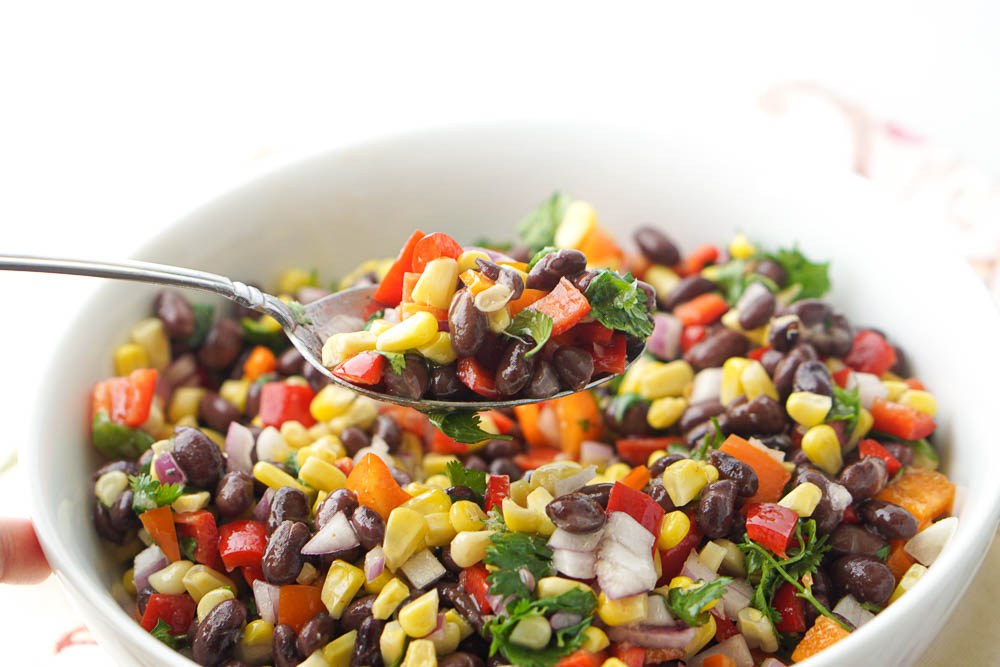 So I hope you enjoy the Mexican black bean salad recipe as much as we do! It takes so little time to make and there is no cooking necessary. The dressing alone is simple but tasty.It's a great dish for lunch too.
By the way I also have a veggie & bean salad that you dip with tortilla chips and is a great appetizer or picnic side dish for a summer party.
Easy Mexican Bean Salad Recipe
This Mexican Bean Salad is super easy to make, filling and delicious. The protein-rich beans, crunchy vegetables and delicious dressing make the perfect dish for summer picnics, pot lucks and parties. And you can make it the night before.
Ingredients
1 cup corn, frozen or canned
1 can black beans
½ cup onion (red or green onions)
1 cup chopped sweet peppers
½ cup of cilantro, chopped (can substitute parsley or basil)
¼ cup lime juice
½ cup olive oil
½ teaspoon cumin
¼ teaspoon salt
1 clove garlic, crushed
¼ teaspoon chili powder
dash of black pepper or cayenne powder (optional)
Instructions
If using frozen corn cook according to directioins. Let cool. Note you can also use leftover ears of corn or roasted corn which will add even more flavor but it's not necessary.
Drain and rinse the black beans and add a large mixing bowl.
Add your corn, peppers, onions and cilantro and mix well.
In a separate bowl whisk the lime juice, olive oil, cumin, garlic, salt and chili powder to make the salad dressing.
Add it to the salad and toss well. Place in an air-tight container and refrigerate until ready to eat.
Can be made the night before.
If you are not a fan of cilantro you can substitute parsley and/or basil.
Nutrition Information:
Yield:

6
Serving Size:

1
Amount Per Serving:
Calories:

262
Total Fat:

19g
Saturated Fat:

3g
Trans Fat:

0g
Unsaturated Fat:

15g
Cholesterol:

0mg
Sodium:

363mg
Carbohydrates:

21g
Fiber:

6g
Sugar:

3g
Protein:

6g
---