This easy veggie and bean dip is a colorful and tasty dish to make for your next party. Eat with tortilla chips or as a salad.
Summer is almost here and to me that means parties and picnics. There are birthday parties, graduation parties, pool parties and a few holidays as well. It's always good to have a few easy, tasty dishes that you can bring along and this easy veggie and bean dip is such a dish for me. I usually have all the ingredients on hand and can whip this up in 10 minutes.  I first tasted this when my friend Lisa brought it to a party and I just loved it. There is something about the crunchy sweet peppers and corn that go so nicely with the starchy beans and the tangy, creamy dressing really ties it all together.

Lisa served this dish with tortilla chips to make a colorful party dip, but sometimes I like to eat this as a salad too. I made this a while ago for a party and took these pictures at that time but I'm just writing this post today. Looking at these pics makes me want to have some for lunch! And while this looks very much like my  Mexican bean salad it tastes different. I really only eat that dish as a salad where as you can eat this dish as both an appetizer and a salad.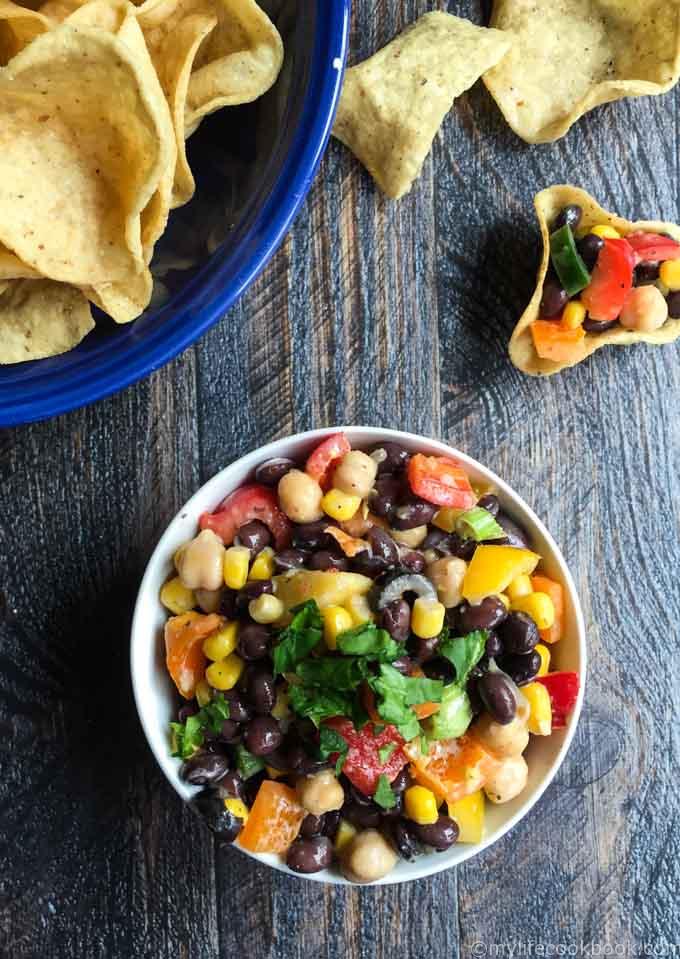 I like to use a mixture of sweet bell peppers to make it colorful. I sometimes use fresh corn if I have some leftover ears of corn in the summer. And the combination of black beans and chick peas gives this dip it's oomph. The dressing is a bit of ranch and a bit of Italian dressing and a few spices. It's perfect with the beans and veggies.
So that was a quick and easy one for you today. However I think it will be really helpful for those summer parties coming up. It's always nice to bring something colorful, healthy and most of all tasty. And it helps that it will only take a few minutes to put together. Enjoy!

Easy Veggie and Bean Dip
This easy veggie and bean dip is a colorful and tasty dish to make for your next party. Eat with tortilla chips or as a salad.
Author:
Denise Wright (MyLifeCookbook.com)
Ingredients
2 cans of black beans, drained and rinsed
1 can chick peas, drained and rinsed
1 can of sweet corn, drained and rinsed
1 small can of black olives, sliced
3 bell peppers chopped (I used 1 red, 1 yellow and 1 orange)
1 jalapeno, chopped
5 green onions, chopped
⅓ cup Italian salad dressing
⅓ cup ranch dressing
½ teaspoon of garlic powder
½ teaspoon pepper
¼ teaspoon cayenne pepper
cilantro or parsley to garnish
Instructions
Drain and rinse the beans.
Chop the vegetables and add to the beans in a large bowl.
Wish together the salad dressings, garlic powder, pepper and cayenne pepper.
Add to salad and mix well.
Refrigerate until ready to use.
Garnish with cilantro or parsley.