This delicious poblano corn soup recipe is full of bold flavors and can be eaten with or without chicken! It's a great soup to use leftover ears of corn. There's a bit of heat from the poblano peppers and other spices which complements the sweetness of the corn. This is summer comfort food in a bowl!
You might also like this low carb fajita soup made in the Instant Pot.
Everyday my husband presents to me the fruits of his lovely vegetable garden. Right now he has a lot of poblano peppers which is one of my favorite green chiles. I was craving chicken soup and thought I'd make one with a Tex Mex flavor and use some of those.
So I made this most delicious poblano corn soup. It has a bit of heat from the peppers and Mexican seasonings to go with the sweet corn. As a vegetable soup it was very good but as I said I was craving chicken soup so I added some cooked chicken and made it a more hearty chowder type of soup.
From there you can add toppings like fresh herbs, a bit of lime juice, Mexican cheese, etc. But just as it is, you will enjoy all the flavor in the broth.
Recipe ingredients I used.
The simple ingredients I used to make this soup were chicken stock, cumin, chili powder, fresh garlic cloves, yellow onion, poblano peppers, olive oil, Better than Bouillon chicken base and frozen corn.
Some additional toppings and ingredients you can also use are cooked chopped chicken, fresh cilantro, a squeeze of fresh lime juice, queso blanco cheese, fresh jalapeno slices or sour cream.
Note that I used frozen but you could use leftover or fresh kernels of corn.
How to make poblano corn soup.
Step 1: Heat up a large soup pot to medium high heat. Add the olive oil and then chopped onions and poblano peppers. Saute for a couple minutes.
Note: Poblanos can have hint of spice or heat which we like. If you are worried about the spice level, make sure to clean out the seeds and the ribs as that is were all the heat comes from.
Step 2: Add the spices and garlic to the poblano mixture and stir to combine. Then add in the chicken stock and thawed corn kernels. Cook for about 8-10 minutes until the peppers and onions have softened and are cooked through.
Step 3: Take about half of the soup and add to a high speed blender. You could use a food processor or immersion blender but a high speed one does a better job. Puree the soup and then pour back into the pot.
Be careful when blending the hot soup. Don't fill the blender container up too far as it could splash out from the heat. Have a kitchen towel or paper towel ready for any spills. You may have to do this in batches.
Cook for another minute or two to let the flavors combine and then take it off the heat.
Step 4: While the soup is cooking chop the chicken into bite sized chunks. Note you don't need to add the chicken if you prefer a vegetarian or meatless version.
Step 5: When the soup is done, add the chicken to the pot and mix well. Take off the heat and let set for a few minutes. Ladle soup into bowls and serve with a few lime wedges so everyone can add a squeeze of lime to their bowl before eating.
Store leftovers in an airtight container or freeze in soup containers. Please scroll down to view the printable recipe card.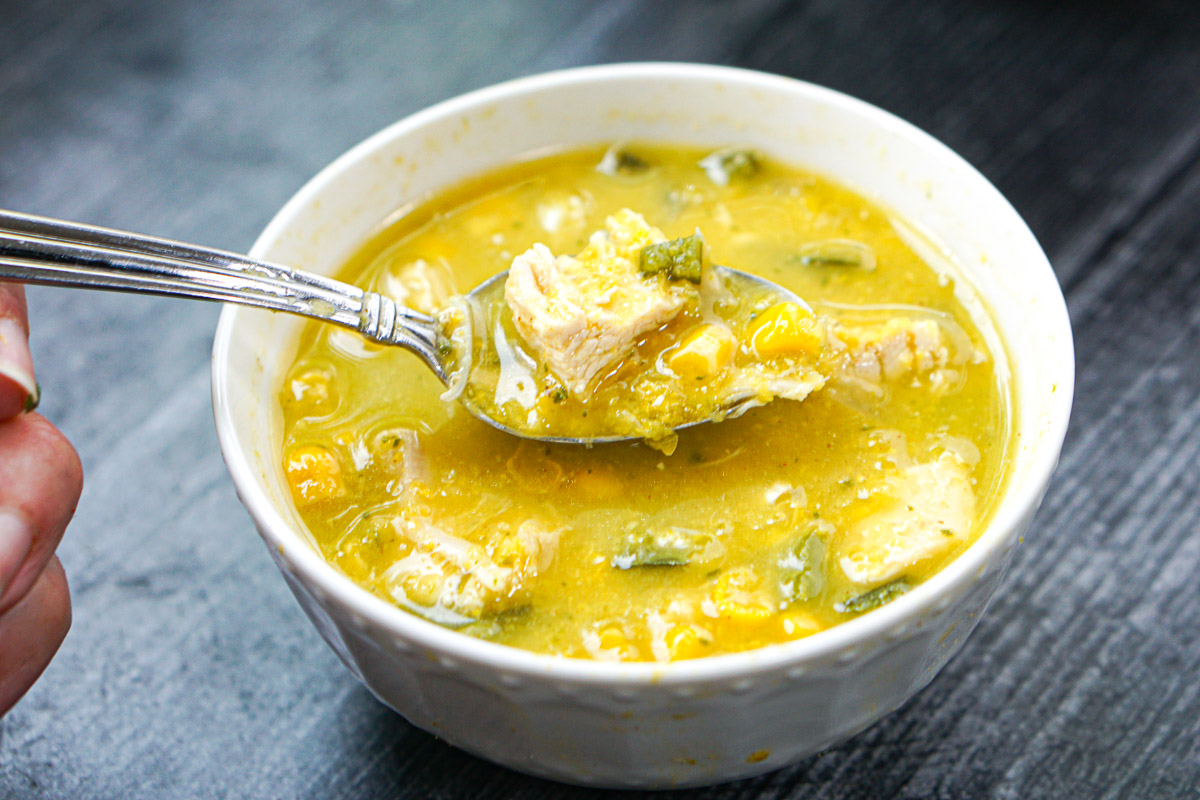 Ways to eat this sweet corn & poblano soup.
There are a few different options to make this soup.
For a vegetarian version you can eliminate the chicken and this soup will have tons of flavor. You would also have to use vegetable broth instead of chicken broth.
You can also puree the all of the soup or not puree at all. I like it the little thicker texture and the pureeing does this and adds a bit of creaminess too instead of adding heavy cream.
For a heartier soup add the cooked chicken at the end. This was the way my husband preferred it because it was thicker and chunkier.
Add toppings like queso blanco cheese, sour cream, even feta cheese would work. Also top with fresh cilantro or parsley and for more heat add a some thinly sliced fresh jalapenos. I loved the queso blanco and cilantro combination myself but hubby felt it didn't need it.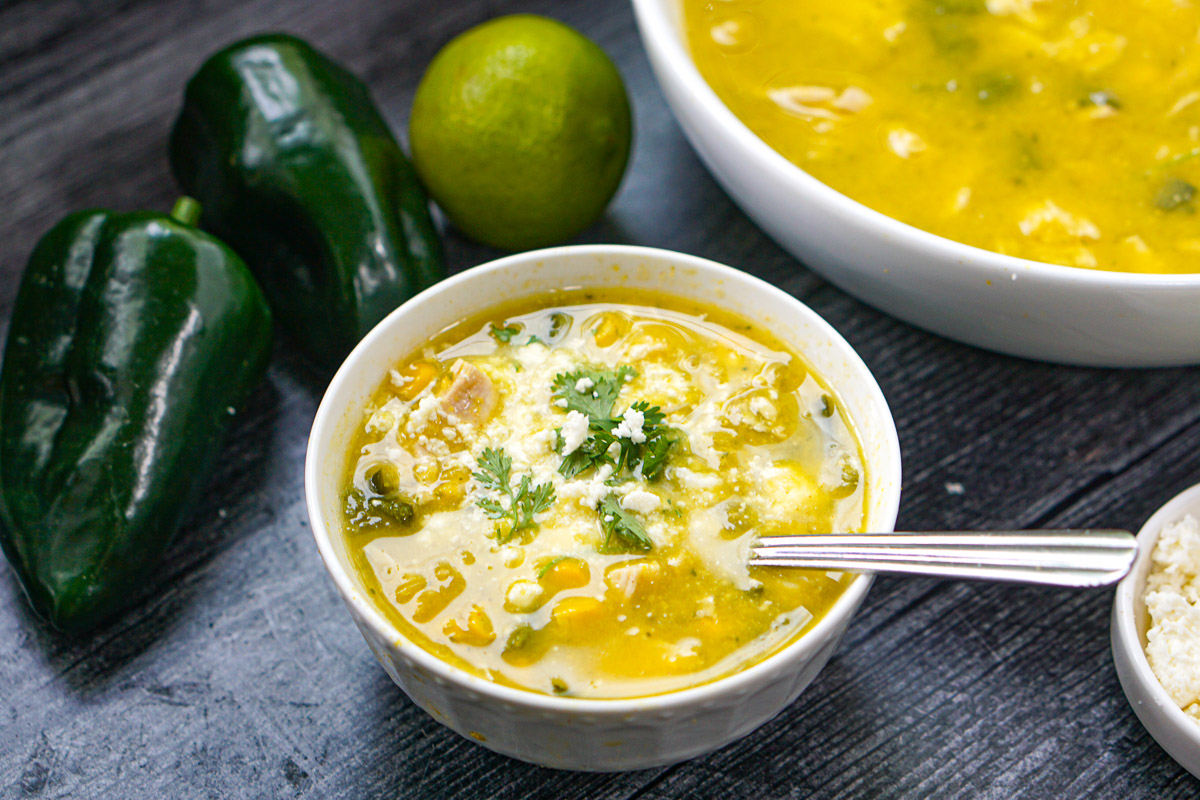 More delicious summer corn recipes to try.
We really like fresh corn in the summer and here are few more corn recipe to give a try.
Well I hope you give this hearty Tex-Mex flavored corn and poblano soup a try. It's a great way to use leftover corn and or chicken as well as fresh poblanos from your garden. Just serve a fresh green salad with this bowl of soup and you are set. Enjoy!
Easy Poblano Pepper & Corn Soup
This tasty poblano corn soup is full of southwestern or Mexican flavors. A bit of spice and sweetness makes this creamy corn chowder recipe the perfect for a light summer dinner.
Ingredients
1 tablespoon olive oil
1 ½ cup poblano pepper, diced
½ cup onion, diced
½ teaspoon salt
½ teaspoon chili powder
½ teaspoon ground cumin
2 cloves garlic, crushed
2 teaspoons Better than Bouillon chicken base
12 ounces frozen corn ( 2 ⅔ cups corn kernels)
32 ounces chicken stock or broth
2 cups chicken, cooked and chopped
Instructions
Get out a soup pot and heat to medium heat. Add the olive and then add the chopped onion and poblanos. Saute for 1-2 minutes.
Next add the crushed garlic, salt, cumin and chili powder to the poblano mixture. Mix well and the add the chicken stock, Better than Bouillon and corn. (Max sure to thaw the corn a little bit first).
Bring to a boil then let it simmer for 8-10 minutes. Then take out half of the soup and place into a high speed blender. Puree the soup and then pour back into the pot. Mix well. NOTE: Be careful to secure the blender lid and not add too much of the soup. The heat can cause it to spray out and cause a mess. You can also use an immersion blender or food processor.
If you are adding the chicken, chop it while the soup is cooking then add it at the end. Mix well and serve.
You can serve with wedges of lime so everyone can add a splash of lime juice to there bowl. You can also top with fresh cilantro and Mexican queso blanco or even feta cheese for added flavor. Sour cream and fresh jalapeno slices would work as well.
Notes
You can make this a vegetarian recipe by eliminating the chopped chicken and substituting vegetable stock for chicken stock. Also you can use Better than Bouillon vegetable base instead of chicken base.
The Better than Bouillon adds a lot of flavor but if you don't have any you can use regular chicken bouillon or add a bit more salt and maybe black pepper if it neeeds it. I highly recommend the Better than Bouillon for any homemade soup recipe though.
You can puree the whole batch of soup if you want or not puree it at all. It will give it a bit more thickness if you do puree it.
Nutrition Information:
Yield:

6
Serving Size:

1
Amount Per Serving:
Calories:

296
Total Fat:

13g
Saturated Fat:

3g
Trans Fat:

0g
Unsaturated Fat:

9g
Cholesterol:

62mg
Sodium:

675mg
Carbohydrates:

24g
Fiber:

2g
Sugar:

7g
Protein:

22g