If you are looking for an easy low carb dinner, try these sticky keto drumsticks that you make in the air fryer. The spicy sweet marinade is sugar free and only needs 5 ingredients. It's packed with awesome flavor and the air fryer gets the chicken legs nice and crispy. Each chicken leg has just 1.5g net carbs and can be made in 20 minutes!
You might also like this keto Asian salmon recipe.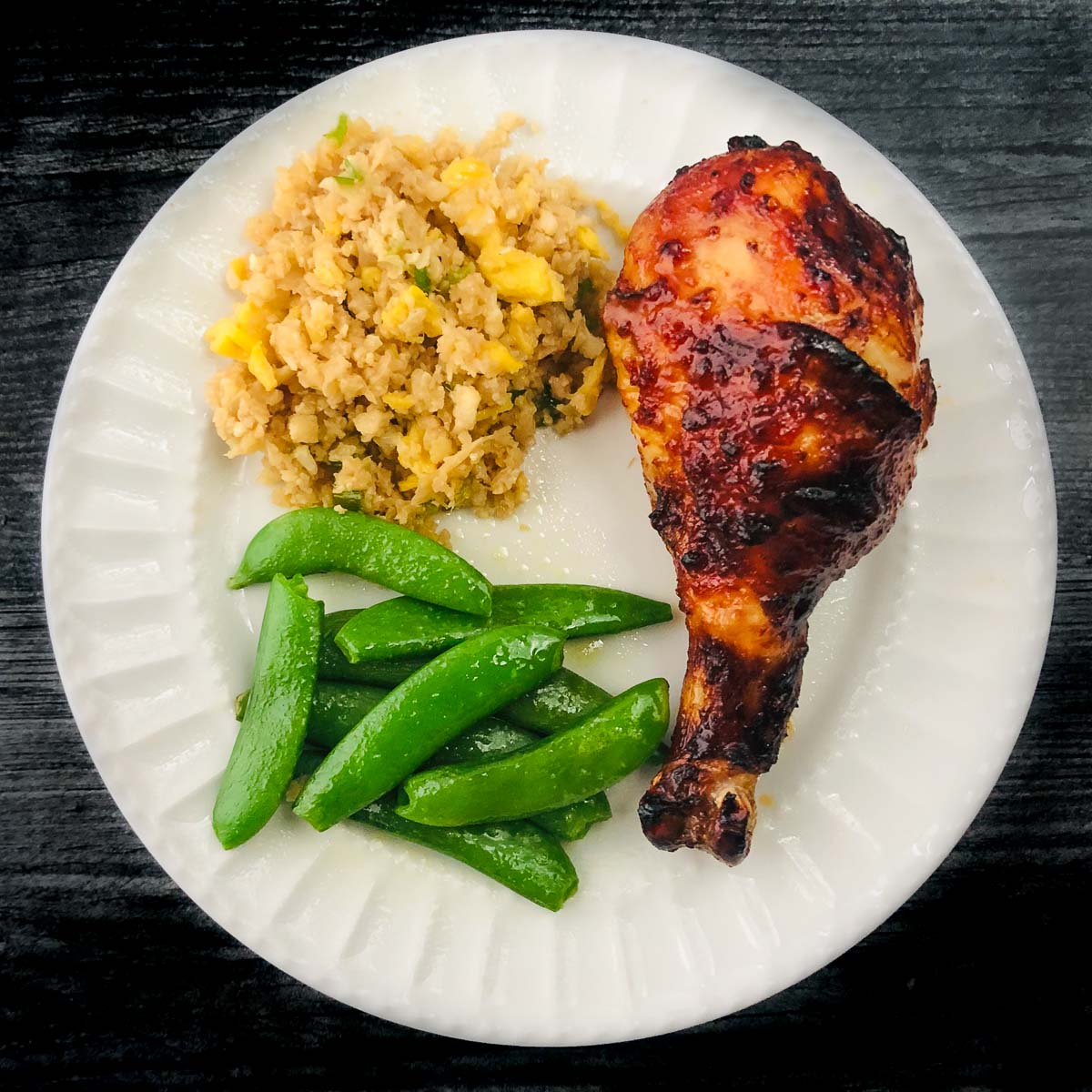 Some busy weeknights I want something cheap and easy for dinner so I grabbed a half dozen chicken legs and my air fryer and made this sticky keto drumsticks recipe! Bonus – it's great for those on a low carb diet.
The marinade I used for this recipe is now my absolutely favorite. I used it on a very popular keto beef jerky recipe and it was so good. Plus you only need 5 ingredients, most of which I bought at Aldi so they were not expensive.
The result was a sweet and spicy, sticky drumstick that I paired with some quick keto fried rice and a steamed green vegetable. So dinner was done in 30 minutes and was healthy, low carb and inexpensive!
Recipe ingredients I used and a few notes.
All you need for this sugar free marinade is 5 simple ingredients: soy sauce, Swerve brown sugar sweetener, chili garlic sauce, tomato paste and sesame oil.
I used chicken legs with the skin one as the air fryer cooks it well and it keep the chicken juicy. You could also make this recipe with chicken thighs or even boneless chicken breasts. The cooking times will change of course.
You can use Lakanto golden sweetener or another sweetener if you don't have the Swerve brown. If you don't care about carbs or being sugar free, you can substitute regular brown sugar.
If you can use soy sauce you can substitute with coconut aminos. Just use a less of the sweetener as coconut aminos have a bit of sweetness.
Some readers have asked where to get the chili garlic sauce. You can definitely buy it online here but I find it's in most larger grocery stores with the Asian ingredients like soy sauce and sesame oil. You can also get it at an Asian market. I believe Walmart sells it as well.
If you want a substitute for the chili garlic sauce try some sriracha sauce, hot sauce or hot pepper flakes and fresh garlic. Essentially you want to add both spicy heat and garlic flavors and maybe a bit of vinegar as well for tang. Here is a post on other ways to substitute for chili garlic sauce.
How to make air fryer sticky keto drumsticks.
Step 1: Get a medium bowl and add the ingredients for the marinade. Mix well and pour half of the mixture into a large baggie with the raw chicken drumsticks. The other half will be used to baste and glaze the chicken.
Step 2: Seal the bag and mix it around so all the meat is covered in the marinade. Refrigerate for a few hours. Save the rest of the marinade for basting.
Step 3: When ready to cook, get out the drumsticks and place on a plate while you preheat the air fryer for 5 minutes at 400°F.
Step 4: Spray the air fryer basket with nonstick cooking spray and then lay the chicken legs in a single layer. I made 6 drumsticks and they all fit in my air fryer but if yours is small you may have to do them in batches.
Step 5: Cook for 10 minutes at 400°F then take out the basket and baste on both sides if you can then cook for 10 minutes more or until the chicken is cooked through. It should have an internal temperature of 165°F using a meat thermometer.
Cooking time may vary but if you want it more crispy chicken skin or it's not done just cook for an additional 3-4 minutes to your liking.
And that is all there is to this recipe. Please scroll down to view the printable recipe card.
To make this recipe in the oven.
To make these in an oven you would first spray a baking dish with nonstick cooking spray. Place the chicken in the baking dish bake in a 425°F oven.
Once or twice during the baking process, flip and baste the chicken. Cook until nice and brown and the internal temperature is 165°F. This should be about 25-35 minutes.
You can also grill these just like you would bbq chicken legs.
What to serve with this keto chicken dinner.
When I made this sticky chicken I also made an easy keto fried rice that only took 10 minutes to make along with steamed snap peas. Other keto side dishes that would go well with this dish is:
Well I hope you get the chance to make this budget friendly keto recipe. It really is quick and easy and the sticky sauce is awesome. You can use it on beef, chicken, pork or even fish!
The nutritional information for 1 piece of chicken is 327 calories / 19.9g fat / 1.8g carbs / 0.3g fiber / 31.8g protein = 1.5g net carbs
You might also like my friend Keri's air fryer tandoori chicken legs recipe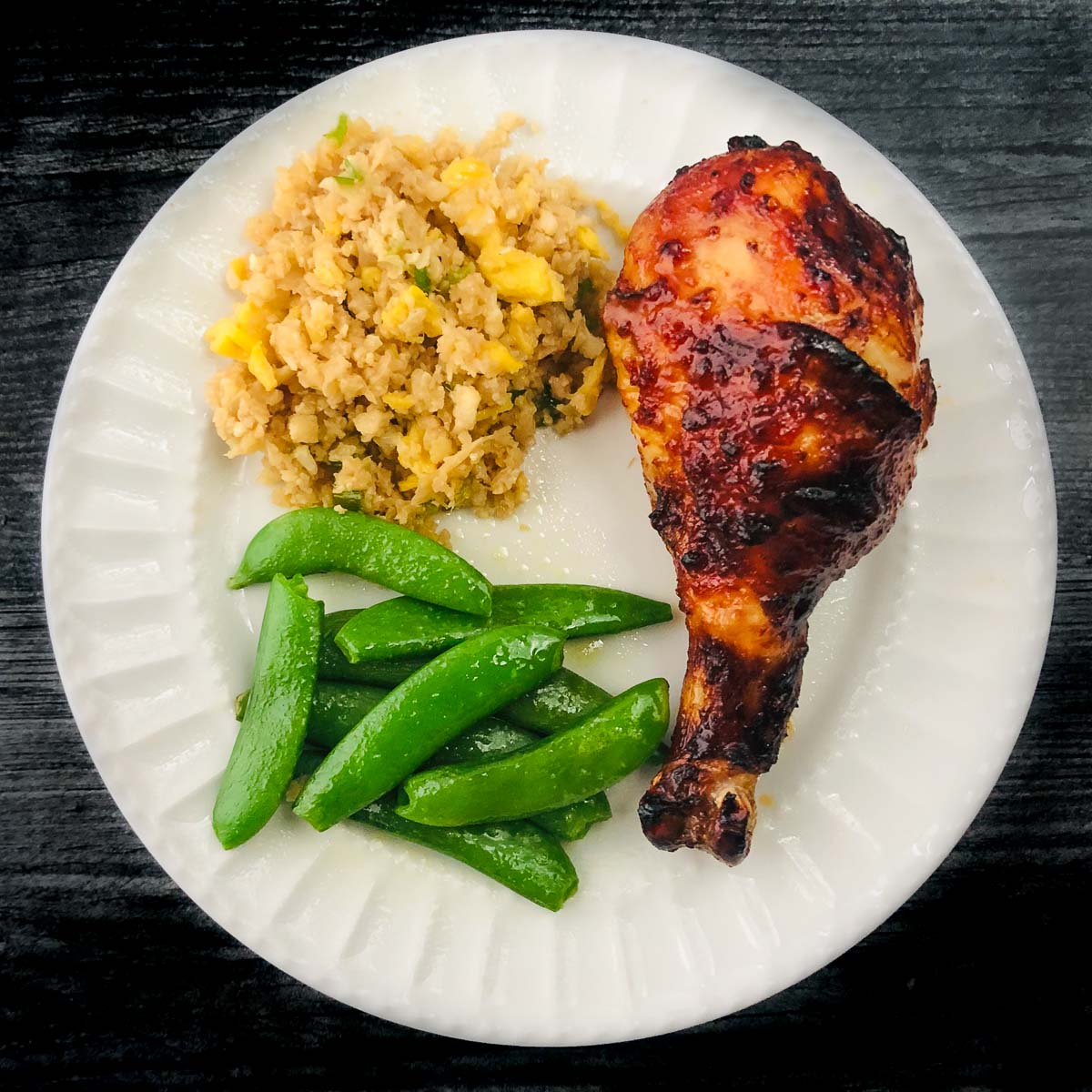 Sticky Keto Drumsticks in the Air Fryer
For an easy, inexpensive and quick keto dinner, try this air fryer sticky keto drumsticks. The marinade is packed with Asian flavors that are sweet and spicy. This delicious low carb dish only takes 20 minutes for juicy, crispy chicken legs.
Ingredients
6 chicken legs, skin on
6 tablespoons soy sauce
½ cup Swerve brown sugar sweetener
4 tablespoons chili garlic sauce
2 tablespoons tomato paste
2 tablespoons sesame oil
Instructions
In a medium bowl, add the marinade ingredients and mix well.
Place the drumsticks in a large baggie and pour half of the marinade over the chicken and save the rest for basting. Mix the chicken and sticky glaze around to coat everything well and then refrigerate for a few hours.
When ready to make dinner, get out the drdumsticks and preheat the air fryer at 400°F for 5 minutes.
Spray the basket of the air fryer with nonstick cooking spray. Place the chicken legs in a single layer and bake for 10 minutes at 400°F. Brush the chicken with the rest of the sticky sauce then flip and brush the other side and bake again for 10 minutes until nice and browned and crispy. The internal temperatuer should be 165°F. If you want them crispy cook for a few more minutes.
Take them out and serve. Store leftovers in an airtight container.
Notes
The nutritional information for 1 drumstick is 327 calories / 19.9g fat / 1.8g carbs / 0.3g fiber / 31.8g protein = 1.5g net carbs
Nutrition Information:
Yield:

8
Serving Size:

1 drumstick
Amount Per Serving:
Calories:

327 calories