This easy keto sesame ginger dressing is the perfect addition to a fresh tuna steak salad or really any salad at all! Full of flavor this sesame salad dressing can be made in just minutes and 1 serving has just 0.8g net carbs!
You might also like this low carb creamy ginger salad dressing!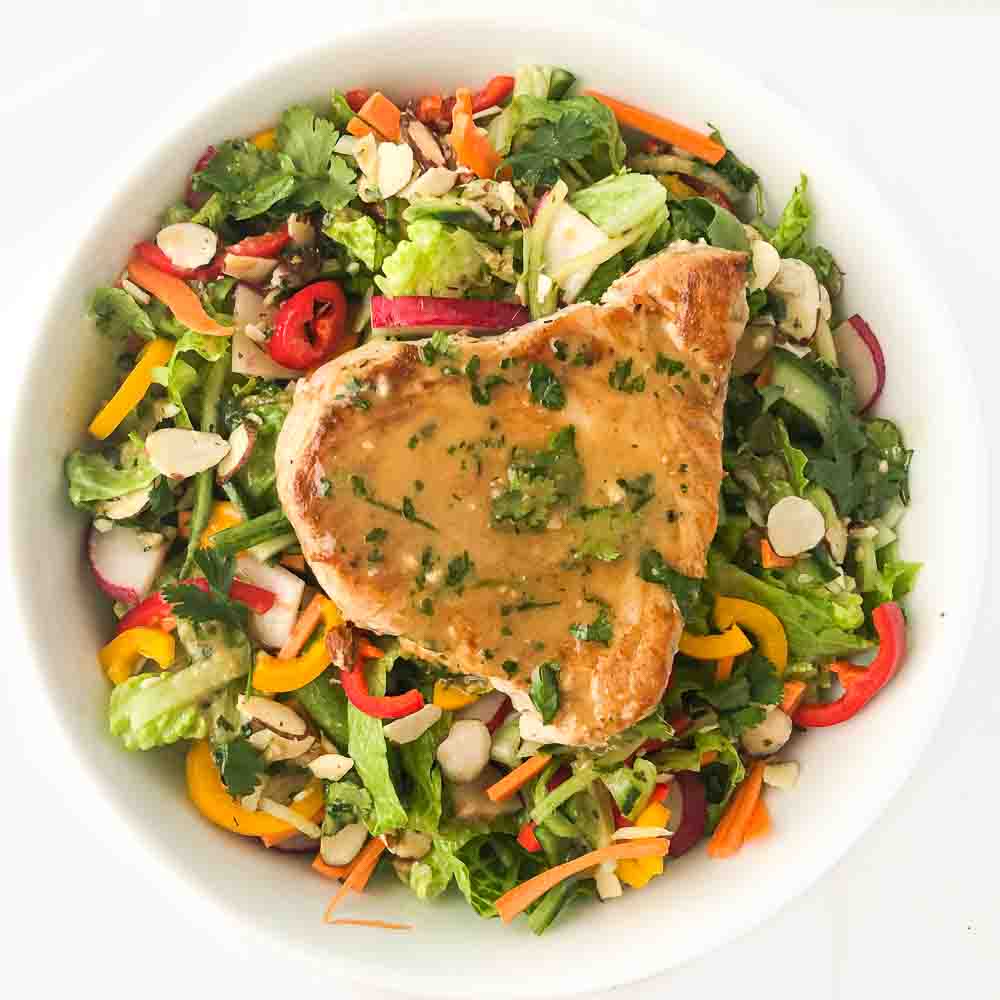 When my husband and I were dating we used to love this Asian chicken salad that was popular at a local restaurant. Then a Wendy's had a similar healthy salad and we would hoard the sesame ginger dressing packets so we could make them at home.
Because I'm on a fresh tuna steak kick I thought it would go great with a keto sesame ginger dressing and so I recreated our dating salad.
It was so good. The salad was filled with fresh and colorful veggies and then topped with a nice tuna steak. The finishing touch was this sweet and tangy Asian vinaigrette which I made sugar free so it would be keto and fit into our low carb diet. Delicious!
Recipe ingredients I used.
You really only need a few ingredients for this dressing and I bought all of them at Aldi except for the sweetener. I used soy sauce, apple cider vinegar, olive oil, raw garlic, fresh cilantro, grated fresh ginger, toasted sesame oil and Swerve brown sugar sweetener.
You could also use rice vinegar if you have it or another light vinegar. And if you are paleo you can substitute coconut aminos for the soy sauce and coconut sugar for the Swerve.
How to make keto sesame ginger dressing.
All you need to make this salad dressing is a food processor. I personally love having a mini food processor for smaller recipes like these.
The only thing I would recommend when making this salad dressing is to start by adding the garlic and cilantro first. Process them until they are finely minced.
Then add everything else and pulse until well combined. Note that this only makes 2 servings but you can easily double or triple the amounts to make more and store in an airtight container.
What keto vegetables and ingredients to put in your Asian salad.
I always use romaine lettuce for my base but you can use whatever variety of lettuce you like because all of them have very few carbs. The other vegetables I like to use are radishes, cucumbers, peppers and even carrots.
Carrots have higher carbs than the other vegetables and not used much in a keto diet. Howeve I only used 2 tablespoons of thin julienne slices so it's not many carbs. Here's a great visual guide to keto vegetables.
The other ingredients that I think go really well in this tuna steak salad are almond slices and more fresh cilantro leaves. I find colorful, crunchy salads are very satisfying for a light summer dinner.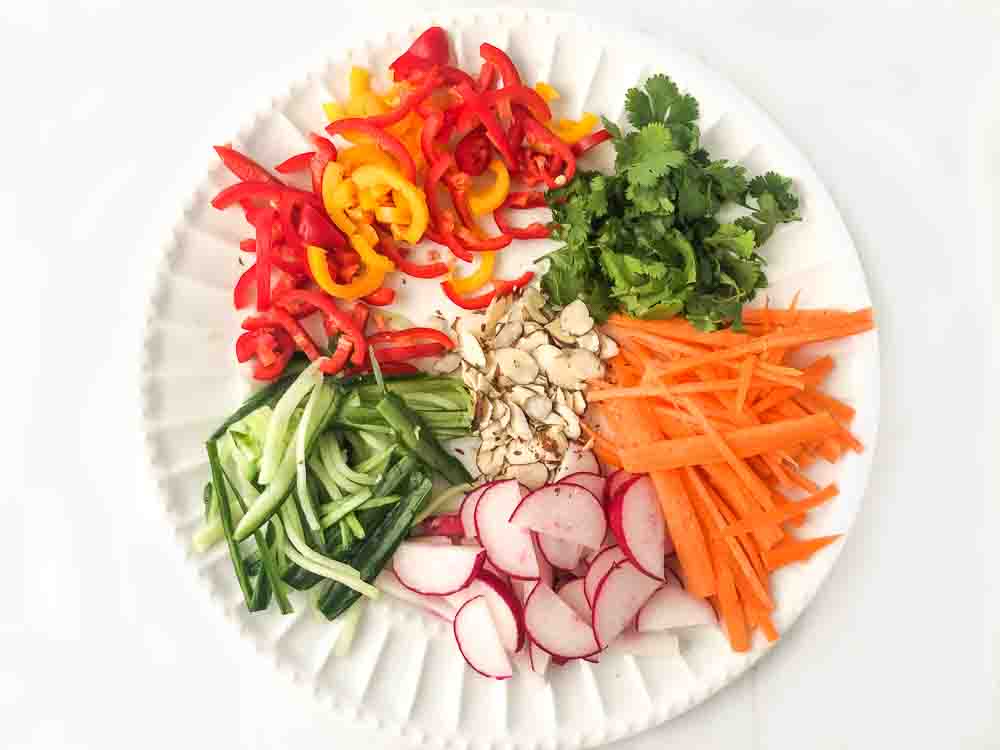 Putting it all together.
I had a few leftovers from my tuna steaks with creamy sriracha sauce post so I used those. However you could also use canned tuna if you want. I recommend using tuna packed in oil as it has so much more flavor.
You could also use chicken, shrimp or nothing at all on this salad and it will still be great. Also you can add a few green onions or sesame seeds if you have them.
This recipe makes enough for 2 large dinner salads. Of course you can use anything you want in your salad and any type of protein for this dish.
But I find that the salad, tuna steaks and sesame ginger dressing work great together for a healthy summer dinner. Please scroll down for the complete recipe.
Other keto salad recipes when having salad for dinner.
I love, love, love salads so here are few of my favorite keto salads that I serve for dinner. This keto chef salad is a nice mixture of meat, cheese and has a yummy red roquefort dressing.
I also love a low carb big mac salad with a special sauce dressing recipe or this cheesesteak salad with parmesan dressing. All of these recipes are good keto salads with low carb homemade dressings to go with them.
Check out this post to learn how to sear a tuna steak if you want to add that to your salad. It just takes minutes.
Well I hope you give this Asian tuna steak salad with the wonderful sugar free and keto sesame ginger dressing a try. This is one of our favorite salads and we will be making all summer! Enjoy!
The nutritional information for 1 serving of dressing is: 173 calories
18.1g fat / 0.9g carbs / 0.1g fiber / 2.1g protein = 0.8g net carbs
The nutritional information for 1 salad with a tuna steak without dressing is:
279 calories / 2.8g fat / 3.9g carbs / 1.9g fiber / 61.8g protein = 2g net carbs
Keto Sesame Ginger Dressing & Tuna Steak Salad
This easy keto sesame ginger dressing goes great with the tuna steak salad. It's a colorful and delicious healthy salad with the sweet and spice sugar free Asian vinaigrette. Great for a light summer dinner.
Ingredients
Sesame Ginger Dressing
2 tablespoons soy sauce
1 tablespoon apple cider vinegar (or rice vinegar)
2 tablespoons olive oil
I clove raw garlic
2 tablespoons cilantro leaves
2 teaspoons grated ginger root
2 teaspoons sesame oil
4 teaspoons Swerve brown sugar sweetener
Tuna Steak Salad Ingredients
2 cooked tuna steaks (optional)
3 cups of romaine lettuce, chopped
2 tablespoons carrot julienne strips
2 tablespoons sweet peppers, julienne strips
2 tablespoons cilantro leaves
1 large radish, thinly sliced
1 tablespoon almond slices
1 tablespoons cucumber, julienne strips
Instructions
For the dressing, add the garlic and cilantro leaves into a food processor and process until it's all finely minced.
Add the rest of the dressing ingredients and process until well combined.
Make the salad and toss with the dressing. Divid into two bowls and top with a piece of cooked tuna steak.
Notes
Note you can use canned tuna if you wish but I would recommend using tuna packed in oil. You could also use cooked chicken, shrimp or this salad is good without any protein on top.
You could also use rice vinegar if you have it or another light vinegar. And if you are paleo you can substitute coconut aminos for the soy sauce and coconut sugar for the Swerve.
The salad dressing is just enough for 2 salads so if you like it you might want to double or quadruple the amounts and make a big batch.
Lastly if you have some sesame seeds they would be good to scatter on top or even add the seeds to your dressing. 
The nutritional information for 1 tablespoon of dressing is: 173 calories
18.1g fat / 0.9g carbs / 0.1g fiber / 2.1g protein = 0.8g net carbs

The nutritional information for 1 salad with a tuna steak without dressing is:
279 calories / 2.8g fat / 3.9g carbs / 1.9g fiber / 61.8g protein = 2g net carbs
Nutrition Information:
Yield:

2
Serving Size:

1
Amount Per Serving:
Calories:

452