This pepper tuna steak recipe is simple but elegant. These meaty and tender tuna steaks taste even better with the simple lemon dijon cream sauce for only 2.9g net carbs. Best of all you can make this easy low carb fish dinner in just 15 minutes!
You might also like this keto cod with creamy sun dried tomato sauce.
We don't eat fish very often in our house. Mostly because I don't know many ways to prepare it. However I remember I used to make this tuna with cracked black pepper recipe years ago and was craving it again
In restaurants I love to order seared tuna steak topped with a tasty cream sauce so today I made my own! This easy pepper tuna steak recipe has a simple but tasty lemon dijon cream sauce with it and it's so full of flavor!
Fresh tuna is very "meaty" compared to other types of fish. It's also a very different type of tuna from canned tuna. With this recipe you will feel like you are eating a keto steak dinner and it only has 2.9g net carbs. So it's a nice seafood dish to serve a meat lover!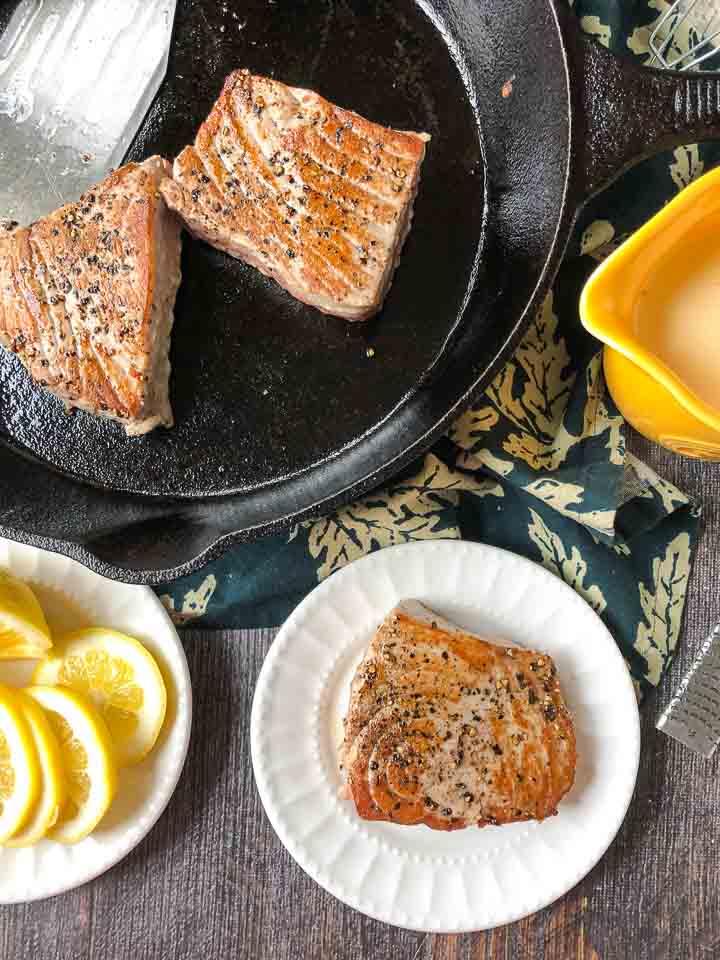 More Keto Fish & Seafood Recipes!
Recently I've made 3 more tuna steak recipes to the blog. Two had the bold flavors of a cilantro chimichurri sauce and a creamy sriracha sauce to eat with tuna steaks. And the other was a tuna steak salad with the Asian flavors of a ginger sesame dressing.
I also have over 45 keto seafood recipes. One of my most popular is an asiago tilapia recipe. I would eat this every week because it's easy and very tasty.
I also have quite a few salmon, shrimp and other tilapia recipes. So if you are looking to increase your seafood intake I now have a lot of low carb recipes for you to try.
What Fresh Tuna Steaks Tastes Like
If you've never had fresh tuna you might be surprised that it is nothing like canned. The raw fish is a deep red color with a mild flavor. When it cooks, it turns from pink to tan. It's a very meaty fish with a dense and firm texture much like beef. To learn more about fresh tuna click here.
The Easy Way To Cook Tuna Steaks
If you wondered how to cook tuna steak, let me tell you it is very easy in a cast iron skillet. I find that fresh cracked ground pepper is the best seasoning for steaks in my opinion. You can skip that step if you don't like pepper or even use steak seasoning.
Here Is How To Sear Tuna Steaks:
Turn up the heat to get your skillet nice and hot. Use a cast iron skillet if you have it but a nonstick skillet would also work.
Sprinkle a little salt and rub cracked pepper on both sides of the raw fish.
Pour a little olive oil into the hot skillet.  Place the raw tuna fillet in the skillet then turn it down to a medium heat.
Seared each side for about 3-5 minutes without disturbing them. The cooking time may differ for a thicker steak. The meat will cook it's way up the steak from the bottom. So once it has cooked ¼ of the way up flip it to the other side. Then take it out of the pan when that side has cooked ¼ of the way up but keep a very rare center. 
Let it sit for a few minutes and it will cook a bit more.
See the pictures below for what they should look like in each step.
Lemon Dijon Sauce For Tuna Steaks
While the tuna fillet is searing, make the easy lemon dijon sauce. The simple ingredients are butter, heavy cream, broth, garlic cloves, dijon mustard, fresh lemon juice and lemon zest. 
Add the butter to a small sauce pan and let it melt. Then add in the rest of the ingredients and whisk to combine. Note you can use chicken, beef or vegetable broth.
 You can make the mixture thicker by letting it simmer and condense or just serve it right away. It only takes a few minutes to make. 
You can also make it thinner by adding a bit more cream or broth. When the tuna is done and has sat for a few minutes, you can serve them with the sauce on the side or drizzled over the seared tuna.
Store leftovers in an airtight container. Please scroll down to view the printable recipe card.
Low Carb Side Dishes
To Go With This Meal
Some of my favorite keto side dishes for fish recipes like salmon or tilapia are Mediterranean Brussels sprouts, cheesy scalloped turnip stacks, feta & zucchini or sweet & spicy green beans.
You can also keep it simple with a buttered, steamed vegetable, cauliflower rice and a big green salad.
Sometimes I like to use leftover tuna steaks on a bed of green salad and use a sesame ginger dressing.
Recipe Notes And Tips
I bought this fish at Costco and of course got these huge pieces. It was a lot for the 3 of us so next time I will half this recipe.
These steaks are dense and filling so you don't need a big piece.
The lemon dijon sauce is optional but I really think it adds to the dish. You could also a bit of grated parmesan cheese to the sauce to make it thicker and richer. You can also try an herb butter on top.
If you are not a black pepper fan, you can try some steak seasoning too and it will really taste like a steak!
I hope you enjoy this easy tuna recipe and especially the savory flavor of the lemon cream sauce. It will definitely be making an appearance in our keto meal plan.
It's a really quick and easy weeknight meal but would also work for a special occasion like a dinner party!
The nutritional information for 1 serving is 335 calories:
11.7g fat / 3g carbs / 0.1g fiber / 36.9g protein = 2.9g net carbs
Pepper Tuna with Lemon Dijon Cream Sauce
This seared pepper tuna recipe is simple but elegant. Meaty and tender these tuna steaks taste even better with a lemon cream sauce for only 2.9g net carbs.
Ingredients
2 pounds tuna steaks (6 tuna)
2 tablespoons coarsely ground black pepper
½ teaspoon salt
1 tablespoon olive oil
1 tablespoon butter
½ cup heavy cream
1 tablespoon dijon msutard
½ cup broth (chicken, beef or vegetable)
2 cloves garlic, crushed
½ lemon juiced (about 1 ½ tablespoons lemon juice)
½ lemon zest
Instructions
Preheat a cast iron skillet over medium high heat.
While it's heating, rub the crushed pepper on both sides of the tuna steaks.
Also sprinkle a bit of salt on both sides.
Once the skillet is heated add the oil and then sear the steaks on both sides.
Sear each side for about 3-5 minutes without disturbing them. The time may differ depending on how thick your steaks are. The meat will cook it's way up the steak from the bottom. So once it has cooked ¼ of the way up flip it to the other side.
Then take it out of the pan when that side has cooked ¼ of the way up but keep a very rare center.
While the steaks are cooking, heat up another skillet.
Add the butter, cream, mustard, garlic, lemon juice and zest and broth.
Whisk and bring to a simmer.
Serve along side or over top steaks.
Notes
The nutritional information for 1 serving is:

335 cals / 11.7g fat / 3g carbs / .1g fiber / 36.9g protein = 2.9g net carbs
Nutrition Information:
Yield:

6
Serving Size:

1
Amount Per Serving:
Calories:

335
Net Carbohydrates:

2.9gg