If you are looking for a delicious sauce for fresh tuna steaks, try this keto cilantro chimichurri sauce. It only needs a few simple ingredients and is done in minutes. It's packed with flavor from fresh cilantro, garlic and spices. Light & refreshing this fresh cilantro sauce is perfect to dip or top tuna, steaks, chicken and more. (1 tablespoon of this fish sauce has only 0.5g net carbs).
You might also like this keto lemon dijon sauce for tuna steaks.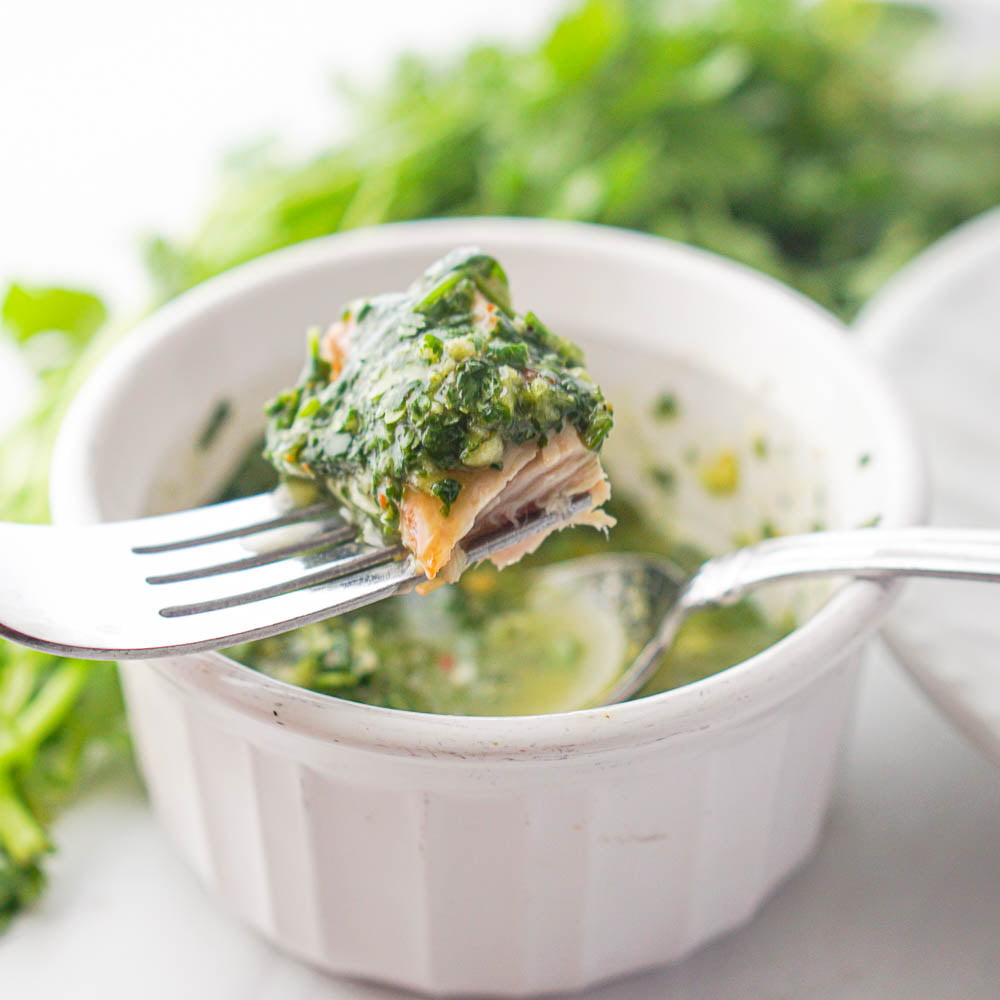 I really love fresh tuna steaks. They taste a bit like a beef steak but are very lean and make a nice change of pace for dinner. So a week or two ago I bought a big piece of fresh tuna and made this keto cilantro chimichurri sauce to go with it.
I also made a keto creamy sriracha sauce for the tuna steaks and placed both on the dinner table. Both my husband and I loved them both.
So today I'm sharing with you this deliciously simple but tasty chimichurri sauce that is full of cilantro, garlic and other spices. It only takes minutes to make and is packed with flavor. You can use it as a topping, dipping sauce or even a marinade.
What is chimichurri sauce?
Chimichurri sauce is an uncooked fresh herb sauce that is thought to originate from Spain and is often used on grilled meat. It typically contains parsley, olive oil, vinegar, garlic, fresh oregano and sometimes chili peppers. (source)
I've seen it around for years but never made it and now I don't know why because this classic sauce has so much flavor and takes seconds to make. And it's naturally low carb so win, win, win.
Today I used cilantro instead of parsley but if you have an aversion to cilantro just use the traditional Italian parsley.
Simple recipe ingredients I used.
As I mentioned above I made a simple chimichurri without parsley. So the ingredients I used were fresh cilantro, fresh garlic, olive oil, vinegar (apple cider vinegar or wine vinegar), red pepper flakes, salt and ground pepper.
You can play around with the ingredients if you want. For instance instead of white wine vinegar you can use fresh lemon juice or lime juice. Or try different herbs instead of the cilantro or parsley.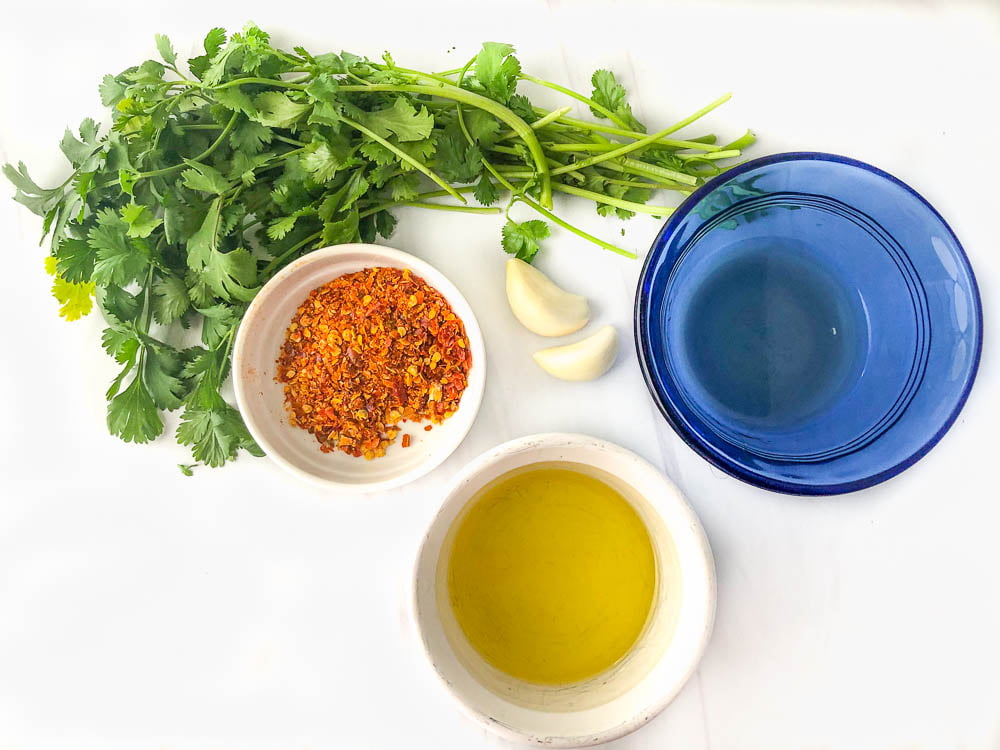 How to make fresh cilantro chimichurri sauce for tuna.
First wash and dry the fresh cilantro or parsley leaves.
Add the garlic cloves to a food processor bowl and pulse to finely mince it.
Then add in the rest of the ingredients and process until it becomes a beautiful green sauce.
Spoon into a bowl and let it sit while you cook the tuna steaks.
Store in an airtight container in the refrigerator. (Please scroll down to see and print the recipe card.)
This recipe only made about 4 tablespoons of sauce but it's SUPER flavorful and you don't need to much. If you find you really like it as we did, you can easily double the batch.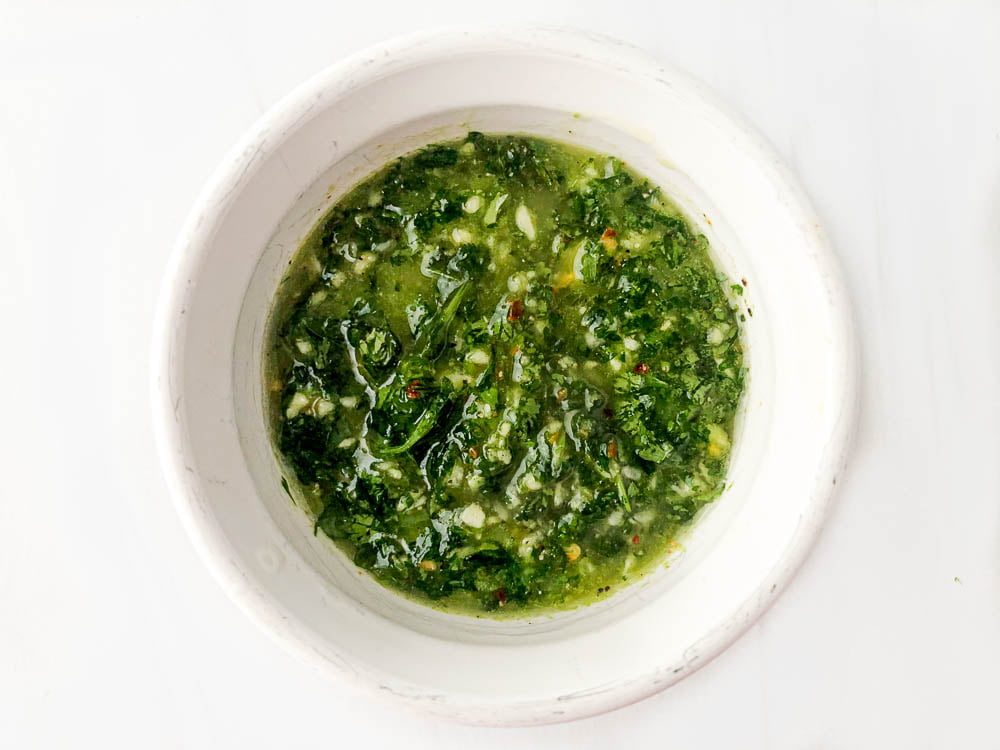 What other ways can you use chimichurri sauce?
As I mentioned above I love this with fresh tuna steaks. I have a post if you want to learn how to easily sear a tuna steak. It only takes a few minutes to do and this dish can be on the table in 10 minutes!
You can use chimichurri sauce on just about anything to give it an extra boost of flavor.
spoon on grilled steaks, chicken or even shrimp or use as a marinade
add it on top of fried eggs or roasted potatoes
use as a salad dressing if you add a little more olive oil and vinegar
mix it in pasta salad (use zucchini noodles for a low carb pasta salad)
top a burger or taco
NOTE: This sauce will keep in the refrigerator for about 2 weeks so you can double the batch and try it on one of the items above!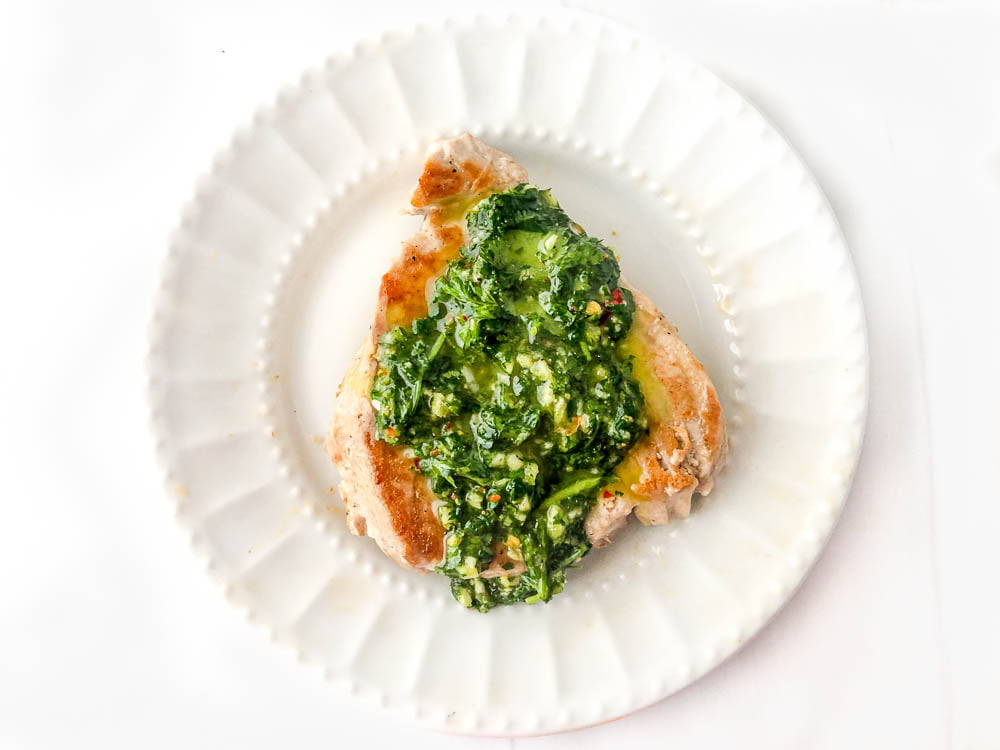 Keto side dish recipes to go with this tuna steak dinner.
I tend to like cauliflower rice with meaty dishes so for a quick and easy keto side dish try this Spanish rice, asiago rice or mushroom & brie cauliflower rice.
Or these easy garlic & lemon turnip noodles would be tasty and quick. And if you have a bit more time these cheesy scalloped turnip stacks are rich and delicious!
Well if you were like me and never tried chimichurri sauce give this keto recipe a try. It's SO full of flavor and goes with just about anything.
I can't wait to try it will a grilled flank steak this summer. Honestly it would be good with anything you make on the grill. Enjoy!
The nutrition information for 1 tablespoon of sauce is 92 calories
10.1g fat / 0.5g carbs / 0.1g protein = 0.5g net carbs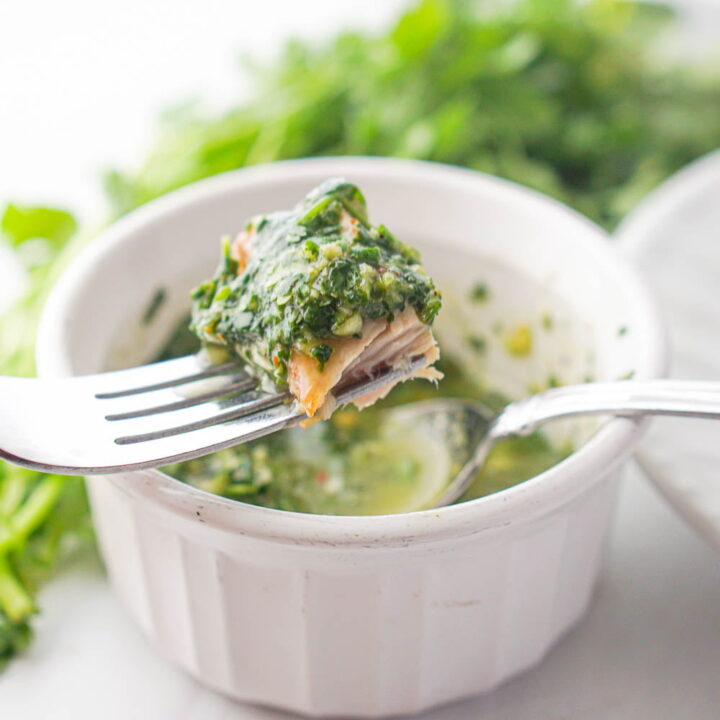 Keto Cilantro Chimichurri Sauce Recipe for Tuna Steaks
This keto cilantro chimichurri sauce is great with fresh tuna steaks. It only takes minutes to make and with just a few ingredinets. Use this fresh sauce over beef, pork, chicken or fish.
Ingredients
½ cup fresh cilantro leaves
2 cloves garlic
3 tablespoons olive oil
1 tablespoon of vinegar (white or red wine vinegear, apple cider vinegar)
¼ teaspoon salt
⅛ teaspoon black pepper
⅛ teaspoon crushed red pepper flakes.
Instructions
Add garlic cloves to a food processor bowl. Pulse until nicely minced.
Next add in the rest of the ingredients and process until everything combines and the cilantro is finely chopped.
Spoon over the tuna steaks right before serving. Store in the refrigerator up to 2 weeks.
To make the tuna steaks: Turn up the heat to get your skillet nice and hot.
Sprinkle a little salt and pepper on both sides of the raw tuna steaks.
Pour a little olive oil into the hot skillet. Place the tuna fillet in the skillet then turn it down to a medium heat.
Seared each side for about 3-5 minutes without disturbing them. The cooking time may differ depending on how thick your steaks are. The meat will cook it's way up the steak from the bottom. So once it has cooked ¼ of the way up flip it to the other side. Then take it out of the pan when that side has cooked ¼ of the way up but keep a very rare center.
Let it sit for a few minutes and it will cook a bit more.
Notes
The nutrition information for 1 tablespoon of sauce is 92 calories
10.1g fat / 0.5g carbs / 0.1g protein = 0.5g net carbs
Nutrition Information:
Yield:

4
Serving Size:

1
Amount Per Serving:
Calories:

92