If you are looking for easy ways to meal prep on a keto diet, a rotisserie chicken is the answer. Today I have 35 keto rotisserie chicken recipes that you can use in your meal planning. There is everything from pizza to waffles to chips!
You might also like this post about keto meal prep foods from Costco.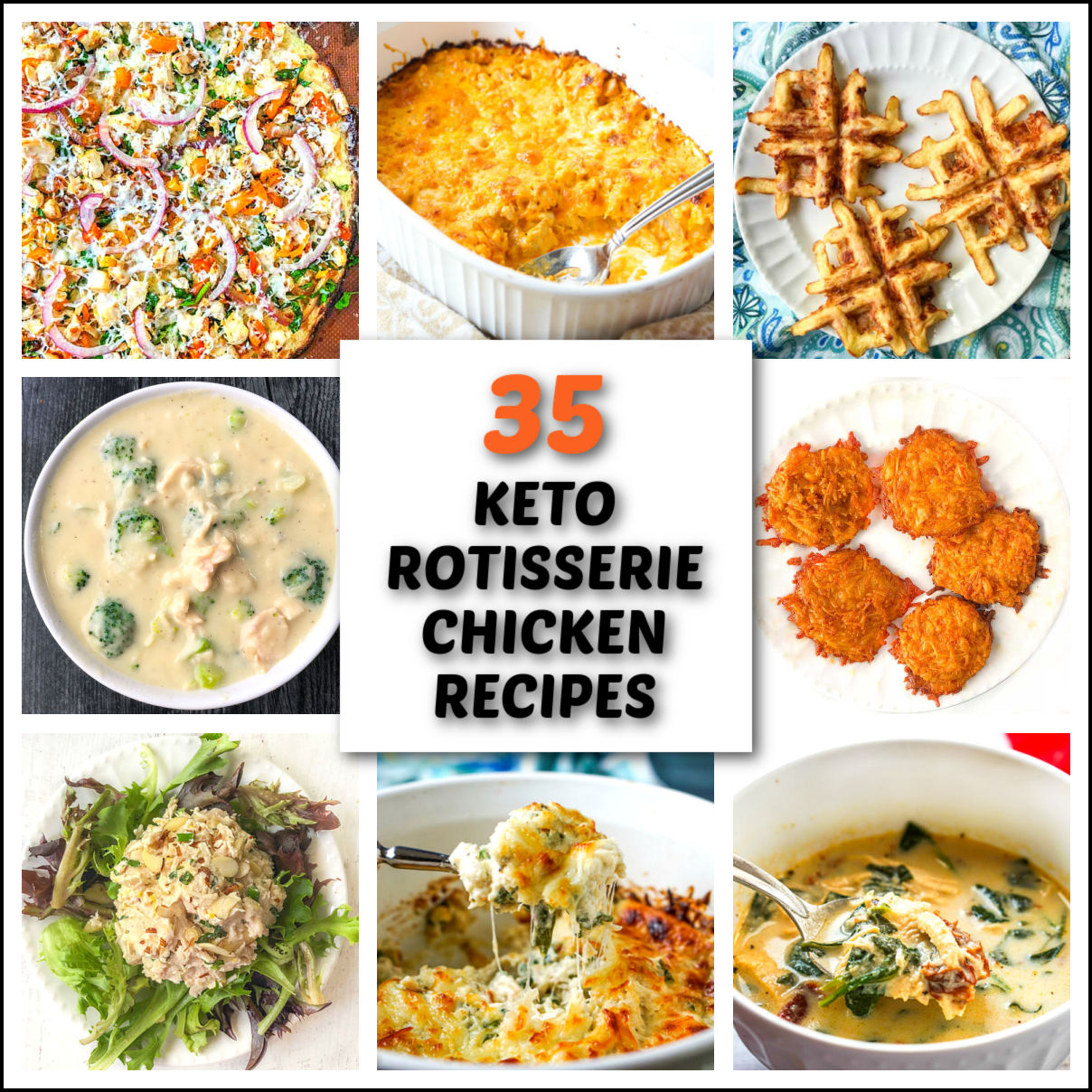 I don't know about you but I love store bought rotisserie chicken. The meat is moist and delicious and it's so convenient to grab one at the grocery store for an easy keto weeknight dinner.
However there are so many recipes you can make with rotisserie chicken. One chicken can give you 4 cups of chopped white meat for 4 different keto recipes and then you can eat the legs and thighs for dinner with little to no cooking. Then take the bones and make a few quarts of chicken broth in the slow cooker.
Below I have a list of 35 keto rotisserie chicken recipes that will help you with meal planning on a low carb diet. There is everything from soups and casseroles to a variety of Mexican foods like tacos, enchiladas and cauliflower rice bowls.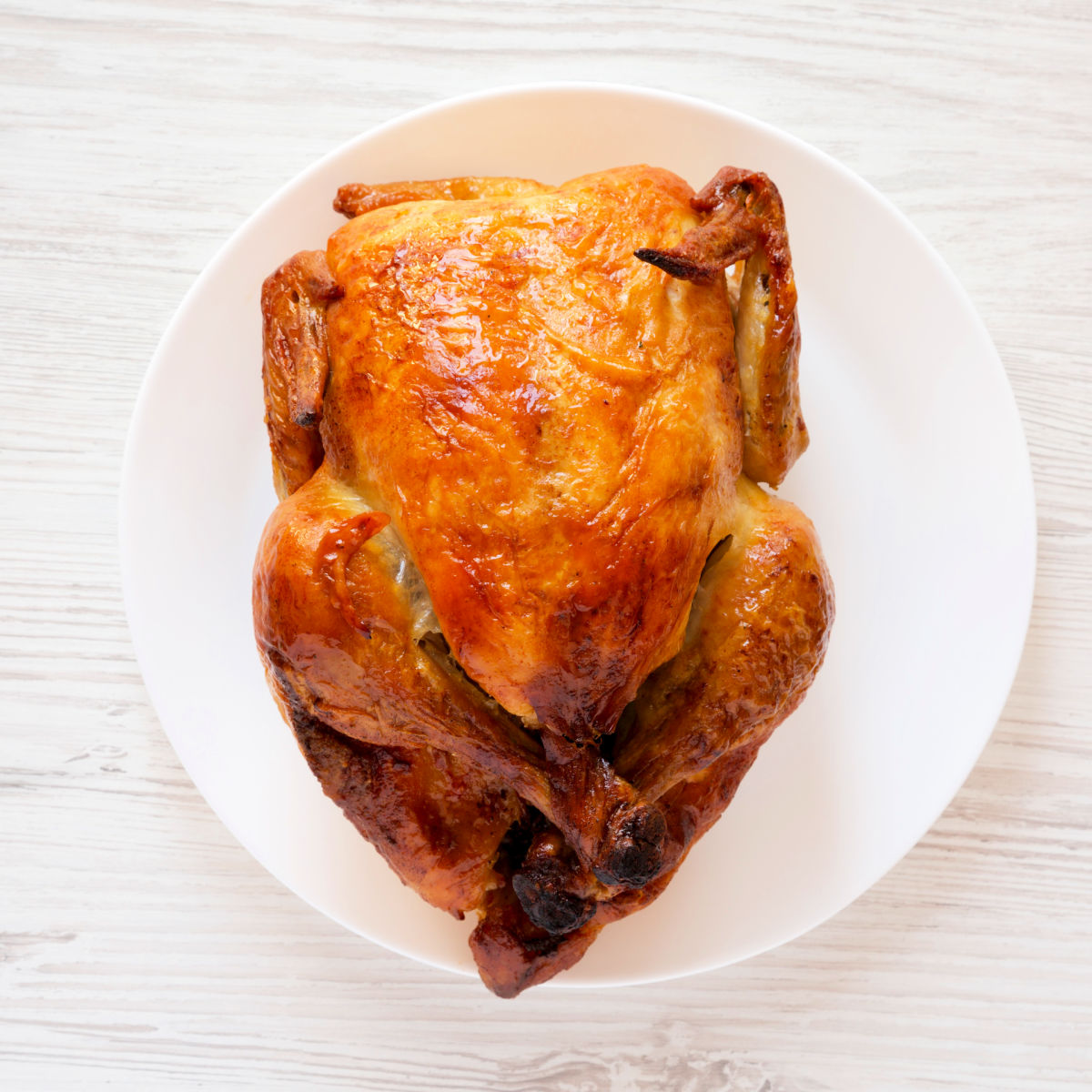 Ways to use rotisserie chicken on a low carb diet.
Eat it as a main dish. Just slice or cut into thighs, legs and breasts.
Shred the meat and use in keto Mexican foods like burritos, tacos and quesadillas or cauliflower rice bowls. Use low carb flour tortillas in these.
Chop the meat up for soups, stews and casseroles.
Top salads with pieces of chicken or mix together with mayo and spices to make chicken salad.
Use chopped chicken in stuffed zucchini, stuffed peppers, mushrooms etc.
Add to vegetable noodles like zucchini noodles along with some Alfredo sauce or other pasta sauces for a quick keto pasta dinner.
Slice and make sandwiches with keto bread or a low carb wrap with keto tortillas for a quick lunch.
The best place to buy rotisserie chicken.
To me Costco is the best place to buy rotisserie chickens. That is because they always have the biggest chickens at the best price. So I always buy one, clean off all the meat and place the bones into a slow cooker to make bone broth. I use the entire rotisserie chicken.
This takes just about 10 minutes to do and then you have cooked chopped chicken for recipes like soups, casseroles, burrito bowls, stuffed peppers, pasta dishes, buffalo chicken dip, etc.
I place the chopped chicken into baggies and keep them in the freezer for these kinds of recipes. Below you can see how I do it.
How to make your own rotisserie chicken in the slow cooker.
Sometimes you can buy a whole chicken at the grocery store cheaper than a rotisserie chicken. You can roast that in the slow cooker to have the same taste.
Essentially all you do is mix a blend of seasonings and rub the chicken with them. Then you place it in the slow cooker without any liquid and cook until you have tender chicken.
I have a whole post on how you to make a rotisserie chicken in the slow cooker here.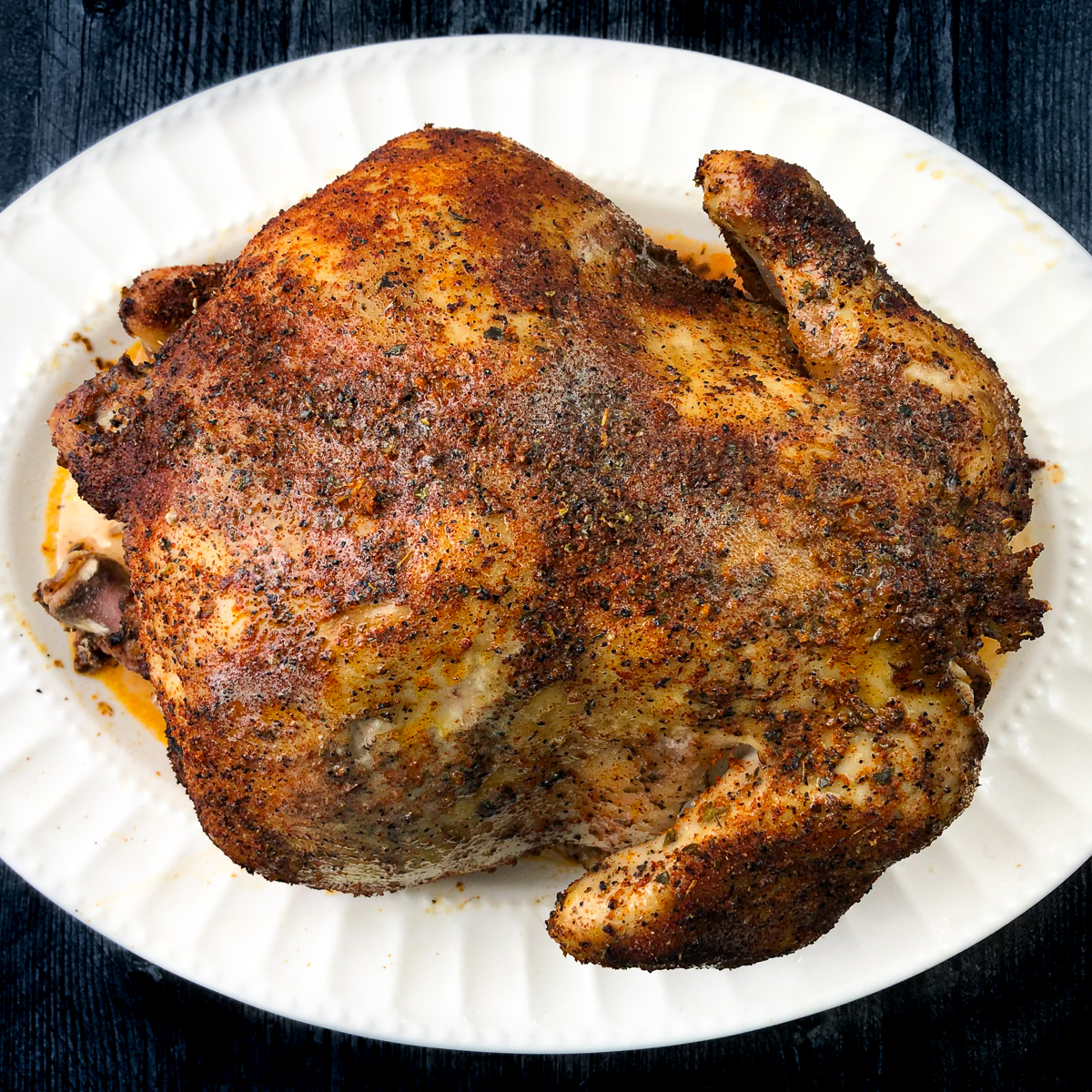 35 keto rotisserie chicken recipes to try this week!
Now let's get to those 35 keto rotisserie chicken recipes. I hope you find something that works for you. And remember if you rather make your own, check that post above and give it a shot. Enjoy!
35 Keto Rotisserie Chicken Recipes
These 38 keto rotisserie chicken recipes are great to have on hand for busy weeknight nights. All are low carb and use simple ingredients.