If you want to keep on track with a low carb or keto diet, here are a few of my favorite keto foods from Costco that I use for meal prep. Costco has many keto friendly foods at good prices so you can buy in bulk, prepare and freeze for later. It's a great way to stay organizes on any diet.
You might also like these Instant Pot chicken cubes used for meal prep.
I love Costco. Mostly because they have such unusual and high quality products at a good price. But also because they have LOTS of low carb and keto foods that really help me with meal planning and meal prep.
Above is my latest haul from there. They are some of the things that I usually buy and a few new things too. Keep reading and I'll show you how I use these low carb foods from Costco for making keto recipes.
Costco rotisserie chicken is always on my list.
That is because they always have the biggest chickens at the best price and I use rotisserie chicken for lots of keto recipes. So I always buy one, clean off all the chicken and place the bones into a slow cooker to make bone broth.
This takes little time and you have cooked chicken for soups, casseroles, burrito bowls, stuffed peppers, pasta dishes, buffalo chicken dip, etc.
I place the chopped chicken into baggies and keep them in the freezer for these recipes.
Organic grass fed ground beef is new for me.
I decided to clean up my eating and am trying to eat better quality of meat every once in a while. Whether you buy grass few or regular ground beef it's nice to have them made into patties and stored in the refrigerator.
I like to make ¼ lb burgers so you can always defrost a burger for a meals but you can also use the ground beef for casseroles, tacos, stir fry, soups, etc. Just grab 4 burgers for a pound or what ever amount the recipe calls for.
Here is a post about 27 keto recipe to use with ground beef.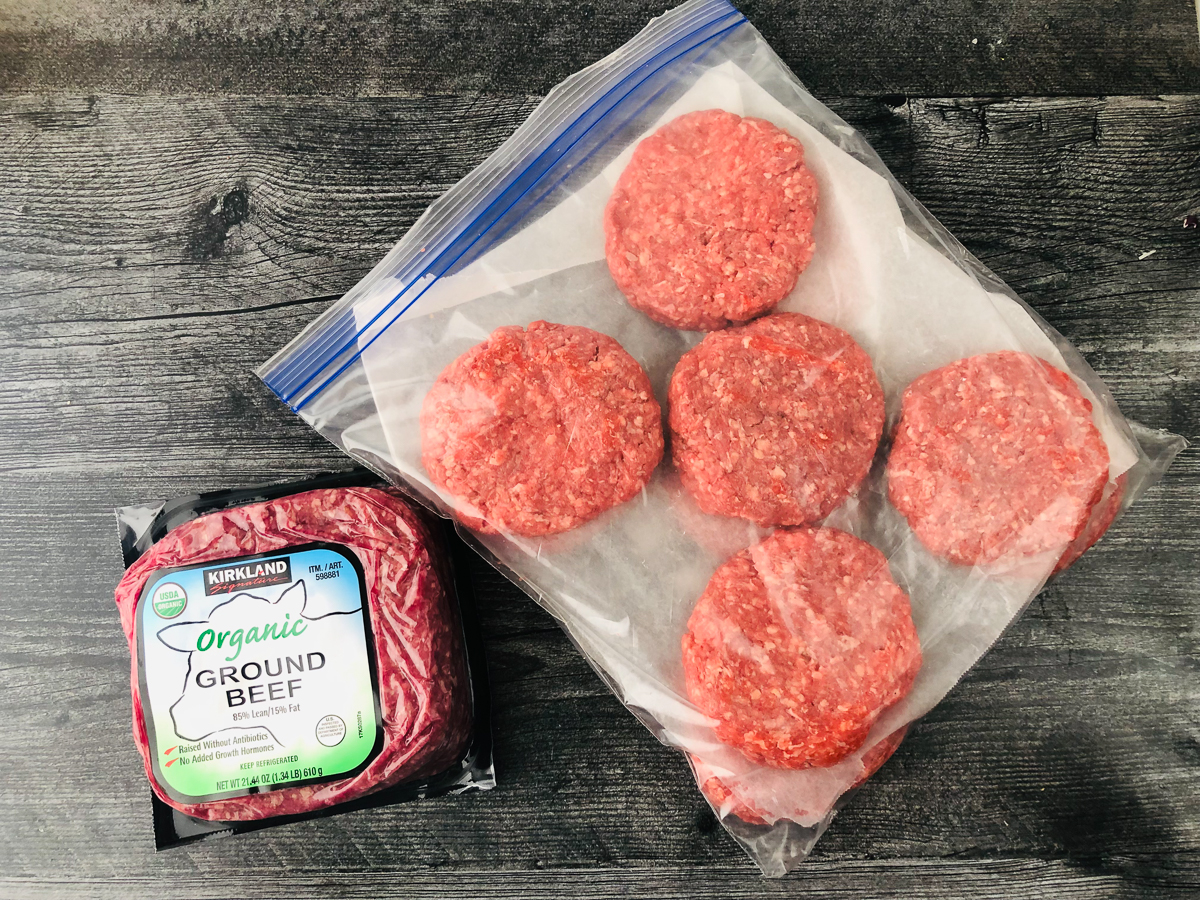 What to make with a large bag of broccoli florets.
What I did with this huge bag of broccoli was this. I made blanched and froze plain broccoli for a quick side dish or to add to recipes. This would be find to use in soups, casseroles, etc.
I also made a low carb cheese sauce for a tasty side dish that I can eat for lunch. All you have to do is microwave it and then add some kind of protein like a burger or grilled chicken, etc.
Lastly I use the rest of the raw broccoli and make a yummy broccoli salad with bacon, cheese etc. I love this stuff! But you can only eat so much raw broccoli right? So most of this bag is frozen.
What do make with a big container of mushrooms.
I don't normally buy these mushrooms unless I have a recipe for them but today I remembered a healthy stuffed mushroom dish I made for the blog and decided to make them then and freeze them for a quick keto appetizer of keto lunch.
So I made the recipe and stuffed the mushrooms and place them into containers and froze them. I will still have to bake them when I want to eat them but they will be great for a keto vegetarian meal.
How I use a huge bag of romaine lettuce.
I eat a big salad on most days. I even order them in a restaurants all the time. So I buy the big bag of romaine and it will last me a week or two.
To meal prep the salad I chop the lettuce along with radishes, cucumber, peppers and red onion and place a large ziplock bag or storage container. This will last me for quite a few days. Then I make the same thing for the next couple of days.
If you like keto salads here are a few of my favorites to use the lettuce.
The other Costco foods I bought to have on hand.
I bought the Canadian bacon because I like the taste of it and it has only 1g net carbs and 60 calories for 3 slices. This will be great for breakfast or lunch and go great with eggs or for a keto breakfast sandwich.
The uncured turkey bacon was a bit of a mistake. I thought it was a healthier regular bacon not turkey but it turned out to be really tasty and had zero carbs per piece. It tastes a lot like ham more than bacon but again great for eggs and it doesn't have any preservatives.
Individual avocado cups come in handy as I tend to buy alot of avocados that just go bad. These cups are not guacamole and just avocado so it's great for avocado toasts, as a dip like guacamole or just to put on a wrap or sandwich.
Lastly the almond flour tortillas are an impulse buy. I just wanted to try them. However I would recommend buy these keto 4″ flour tortillas on Amazon. They are excellent but you have to order them online. I buy a big bunch and freeze them.
Bonus: Yummy sweet keto treats to buy at Costco.
At a more recent Costco trip I found these delicious sweet keto treats. They were all good and let me tell you I've had some bad keto foods before.
However I really liked the Genius Gourmet Keto Bars the best. They are REALLY good. The No Sugar Keto Bars were just a step below but still very good and I would buy both of these again.
The Keto Layered Brownies were pretty good. I will eat them and enjoy them but I probably won't buy them again. But honestly they were pretty good.
And lastly the Dark Belgian Chocolate mini bars were not labeled as keto but they were small in size, tasty and 5 of them 11g net carbs. So if you can eat just 1 or 2 a day and love chocolate they were very good.
I would probably buy them because they don't have sweeteners and tasty very good.
PLEASE NOTE: I bought the the keto sweet treats below in April 2022. If you are reading this post at a much later date they might not have them in stock. But check around as they probably will have something else that's keto and will satisfy your sweet tooth. You can find them on Amazon too.
To summarize these Costco keto foods for meal prep.
rotisserie chicken – Clean the meat off, chop and freeze in baggies for other recipes. Use the bones for making an easy chicken broth in the slow cooker.
ground beef – Make into ¼ lb patties for burgers or just use as many burgers as ground beef for recipes. For example 4 burgers are a pound of ground beef.
raw broccoli – You can use another raw green vegetable if you wish. Blanche, cool then store in baggies in the freezer to use in recipes like soups and casseroles. Or make an easy keto cheese sauce and mix with the broccoli to make a tasty simple side dish. Store in individual serving containers in the freezer. Save some raw broccoli for a broccoli salad.
romaine lettuce – Chop along with salad vegetables and store in a large ziplock for tasty big keto salads. This huge bag will last 2 weeks in the refrigerator. Great if you eat salads everyday.
mushrooms – Stuff them and freeze for a keto appetizer, lunch or snack. An easy and healthy keto meal.
breakfast meats – The Canadian bacon and turkey bacon are great for keto breakfasts or as a little snack. They have virtually no carbs and pretty low in calories.
avocado cups – Because this is just avocado and not guacamole they are great if you buy a lot of avocados and they go bad before you use them. You can also use it to make dips or as a spread.