This delicious, easy and healthy keto burrito bowl is a great recipe for a quick dinner or even a lunch. You can put whatever you want in it but fresh ingredients are always the best. This delicious low carb meal can be eaten warm or cold and it only has 4.2g net carbs.
You might also like these low carb lettuce wrap fajita burritos.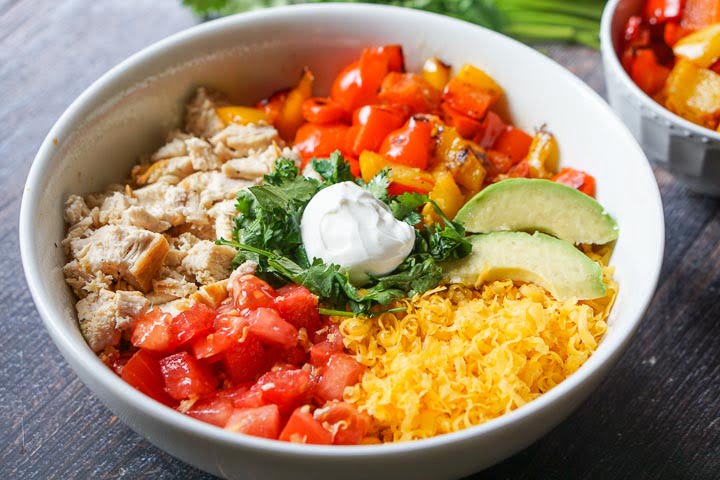 I've always wanted to make a burrito bowl. That's usually what I get at Chipotle and they just seem so fresh and healthy when it comes to Mexican food. So today I thought I'd give it a shot and make it low carb of course. I used cauliflower rice with some Mexican seasonings and was able to whip up this yummy dinner in just 25 minutes.
This healthy keto burrito bowl only has 4.2g net carbs and you can eat it both hot and cold. So if you make this recipe which has 4 servings, you can have one for dinner and then 3 for lunch!
What To Put In A Low Carb Burrito Bowl
As a base, usually you put in rice or lettuce for a regular burrito bowl. So for the low carb version you can use either lettuce or cauliflower rice.
Next comes the meat. I used some chicken that I simply cooked in a skillet with just salt and pepper. However you could use rotisserie chicken or even leftover chicken if you wish. You could also try this barbacoa beef recipe or this zesty garlic pulled pork and that too would be delicious. Lastly you could try some shrimp or nothing at all for a vegetarian version.
Toppings are the fun part! Pick from any of these healthy, low carb toppings: lettuce, cilantro, tomatoes, cheese, avocados, roasted peppers, sour cream, guacamole, salsa, black soy beans, etc.
The Ingredients I Used In My Bowl
I bought everything at Aldi. I like their organic chicken because it seems to cook better for me. For the cauliflower rice I just used cauliflower, spices and a little oil. While I was cooking the chicken, I also sauteed the peppers. Then when putting it all together I topped it with cheddar cheese, fresh tomatoes, cilantro, sour cream and the cooked chicken and peppers.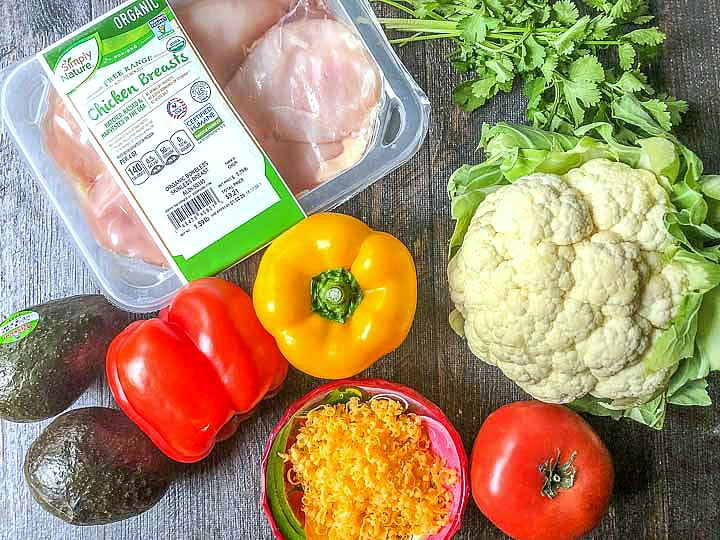 Making The Low Carb Mexican Cauliflower Rice
Admittedly I just winged this one and was surprised that my hubby liked it so much. I will definitely make it like this again. I chopped up the cauliflower to make rice in the food processor. Then I mixed it with cumin, chili powder, onion powder, garlic powder, salt and a little olive oil. Popped it in the microwave for a few minutes while the chicken and peppers were cooking and it was done.
Here's A Healthy Low Carb Meal Prep Option
As I mentioned above you can eat this warm for dinner and then eat it cold for lunch the next 3 days. When I gave this to my husband it was in the refrigerator and he thought it was more of a salad and ate it cold. I tried it the next day like that was surprised at how good it was!
So this is a healthy option if you need a new meal prep idea. Of course you can eat it warm the next day too. If doing that don't put the fresh items on it like the tomatoes, cilantro and sour cream while storing in the refrigerator. Heat up the cauliflower rice and chicken, then add the fresh ingredients right before eating.
How To Make This Keto Burrito Bowl In 25 Minutes
Start the chicken cooking in a skillet with a little cooking spray and sprinkle salt and pepper. The chicken should take around 15 minutes to make.
Get another skillet going and saute the peppers with a little salt and pepper and cooking spray. That should only take about 10 minutes.
While those are cooking, make the cauliflower rice by pulsing the florets in a food processor. Add the rice to a bowl and mix with the spices and olive oil. Cook in the microwave for 5 minutes. I like it a little crunchy but if you want it a more tender taste then cook a little longer.
While the cauliflower is cooking chop the tomato, avocado and cilantro if using.
Once the chicken in done, chop it up and assemble your bowl.
Recipe Tips And Tricks
As a meal prep meal you can eat this hot or cold. So you can eat it hot for dinner and then cold for lunch the next day. If you are making it for a hot lunch the next day, keep the fresh tomatoes, avocados, cilantro and sour cream off as you reheat it.
You can use already cooked chicken like rotisserie or chicken leftovers. You can also try other meats like barbacoa beef, pulled pork, shrimp or eat it with nothing for a vegetarian option.
If you like beans in your bowl but are on a low carb diet, you can try Eden black soy beans. They have very little carbs and you'll get your beans for Mexican dishes.
I like my cauliflower a little crunchy but if you want it more tender cook it longer in the microwave.
If you want to make a really quick version, buy some cauliflower rice and add the seasonings. Cook in the microwave and the top with rotisserie chicken, salsa, cheese, avocado, cilantro and sour cream. Now you have a low carb dinner in 10 minutes!
I hope you like this as much as week did. I was surprised at how much my husband liked it and I will be sure to make it again. It's a rather clean keto dinner and the nutritional information for 1 serving is:
348 cals / 18.7g fat / 10g carbs / 5.8g fiber / 32.8g protein = 4.2g net carbs
You might also like this keto slow cooker bbq beef burrito recipe.
Easy Healthy Keto Burrito Bowl
This delicious, easy and healthy keto burrito bowl is a great idea for a quick dinner or even a lunch. You can put whatever you want in it but fresh ingredients are always the best. Eat this delicious meal warm or cold and it only has 4.2g net carbs.
Ingredients
12 oz chicken breasts
1 cup chopped sweet peppers
1 cup fresh tomatoes, chopped
½ cup cheddar cheese, grated
1 avocado, chopped
½ cup cilantro chopped
4 cups cauliflower rice
1 teaspoon cumin
1 teaspoon chili powder
½ teaspoon garlic powder
½ teaspoon onion powder
½ teaspoon salt
1 tablespoon olive oil
cooking spray
Instructions
Sprinkle salt and pepper over the chicken breast. Spray a skillet with cooking oil and cook the chicken - about 15 minutes. Let rest for 5 minutes before chopping.
Once you got the chicken going, spray another skillet with spray and add the peppers. Sprinkle salt and pepper and cook for about 10 minutes until starting to brown. Set aside when done.
While the chicken and peppers are cooking, mix the cauliflower rice, oil, cumin, chili powder, salt, garlic powder and onion powder. Microwave for 5 minutes in the microwave.
To assemble, scoop 1 cup of finished cauliflower rice in each bowl. Top with the chopped tomoates, cilantro, cheese and chicken. Top with avocado or sour cream or both!
Nutrition Information:
Amount Per Serving:
Calories:

348
Net Carbohydrates:

4.2gg