This all started with a craving for stuffed portobello mushrooms. Orginally I wanted to stuff some portobellos with sausage and kale. Doesn't that sound good? But then I remembered it was Ash Wednesday which for me meant I couldn't eat meat. So then I had to go with Plan B; stuff them with feta, spinach and sun dried tomatoes. But then I started thinking about cauliflower rounds. They too, would be good topped with the feta mixture. I think I have food/cooking ADD.  😉
So let's start with the cauliflower rounds. They are pretty simple to make and you can freeze them for later. I think you could put just about anything on them to make a low carb appetizer so I encourage you to experiment. I know I will.
The Cauliflower Rounds Recipe
In a bowl, mix:
2 cups of riced cauliflower
2 cups of mozzarella, shredded
2 eggs
1/4 t garlic powder
1/4 t onion powder
1/4 t salt
1/4 t pepper.
On a parchment lined cookie sheet put mounds of the cauliflower mixer and flatten with your hand. Cook in a 425 degree oven for 20 minutes or until browned.
Above is what they look like before going into the oven and below is what they look like after. They are good enough to  eat as is but even better with the veggie stuffing. I've used the photo below on purpose to show you the wonky looking cooked cauliflower rounds. You can just break off the wonky parts that ran together and they will be fine.
The Stuffing Mixture Recipe
You can find the stuffing mixture recipe below. First you want to rub olive oil on both sides of your mushrooms. I bought a big container of  portobello mushrooms at Costco. They weren't the big caps you sometimes see; they were larger than your standard button mushroom but they were portobellos.  Anyway, you rub both sides with olive oil and bake for 10 minutes in a 400 degree oven. While they are cooking, you want to sauté everything but the feta cheese. When everything cooks down a bit, you add the cheese and then stuff your mushrooms with the mixture. You then pop the stuffed mushrooms in a 400 degree oven 15 minutes. Voila, veggie stuffed mushrooms.
OR
You take the stuffing mixture and top the baked cauliflower rounds and serve them like little pizzas.
I personally liked the cauliflower ones but my husband liked the mushrooms. But then again he didn't get to try the cauliflower ones because I ate them for my lunch. Sorry Rick. So I hope you get to try both of these Veggie Stuffed Veggies and please let me know which one you preferred.
Next time I'm going to stuff them with this mixture from my Sausage & Peppers Pasta post. Enjoy!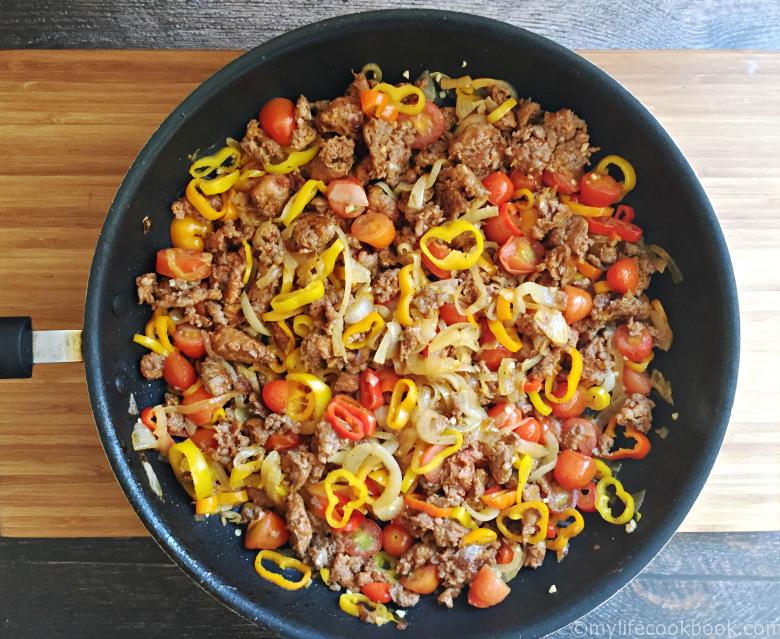 Veggie Stuffed Portabellos or Caulliflower Rounds
Ingredients
2

Tablespoons

olive oil

1 1/2

cup

chopped mushrooms

1

cup

riced cauliflower

2

Tabelspoons chopped sundried tomatoes

1

cup

spinach

fresh, chopped

1

teaspoon

garlic

1/4

cup

feta cheese

1/4

teaspoon

basil

1/4

teaspoon

oregano

salt and pepper to taste
Instructions
Preheat your oven to 400 degrees.

Rub olive oil on the mushrooms and bake for 10 minutes.

In the meantime, add the olive oil to a large sauté pan and heat to medium high.

Add your mushrooms, cauliflower, garlic and spices. Cook for a few minutes until the mushrooms are cooked.

Then add your sundries tomatoes and chopped spinach. Cook for a few minutes until the spinach is wilted.

Take mixture off of the heat and stir in the feta cheese.

Once mushrooms have cooked and cooled, stuff them with the feta mixture.

Put them back in the oven (400 degrees) and cook for 15 more minutes.

Enjoy!