This nourishing slow cooker chicken bone broth is full of minerals, amino acids and healthy things like gelatin and collagen. It's very easy to make in the slow cooker and inexpensive too. Make a big batch in your slow cooker and freeze for later for making healthy soup.
You might also like this recipe for chunky chicken soup!
Winter is coming and so I got out my crock pot and started making some homemade chicken bone broth to have on hand. Bone broth is very nutrient dense and very good for you and when you make it yourself you can be sure to get the most out of it and save money!
Hopefully after reading this post you will see how easy slow cooker chicken bone broth is to make and will make some for yourself.
Why make your own bone broth?
Bone broth is incredibly healthy. It's full of nutrients and known to improve digestive and joint health. Animal bones contain collagen and when you simmer bone broth for 12-24 hours, the collagen breaks down into a more digestible form which is gelatin. This gelatin contains a many important amino acids like glutamine & glycine which helps prevent leaky gut and improve your immune system. (Learn more.)
It's full of flavor. Often the chicken broth you buy from the grocery store does not have all that much flavor but when you make your own, you can add healthy ingredients that also add a depth of flavor like ginger and garlic to make a most delicious broth.
Making your own bone broth is inexpensive. You can make a large crock pot full and freeze for later. It's very useful for making recipes like soups, stews and recipes like these creamy chicken thighs recipe.
Bone broth is good to sip on when on a low calorie diet or feeling under the weather. I like to just sip it on those cold winter days if I feel a cold coming on or my stomach is bothering me. Not only is it good for you, it also has very little calories or carbs.
Start by slow cooking the whole chicken for dinner.
I like to roast a whole chicken in the slow cooker and make it for a meal the night before. I then chop up the leftover meat and freeze it for other recipes like soups, stews and casseroles.
Then I save all the leftover bones and other parts to make bone broth. I have another post that shows you how to cook the most delicious slow cooker whole chicken so check that out first. You can see how good the roasted chicken came out!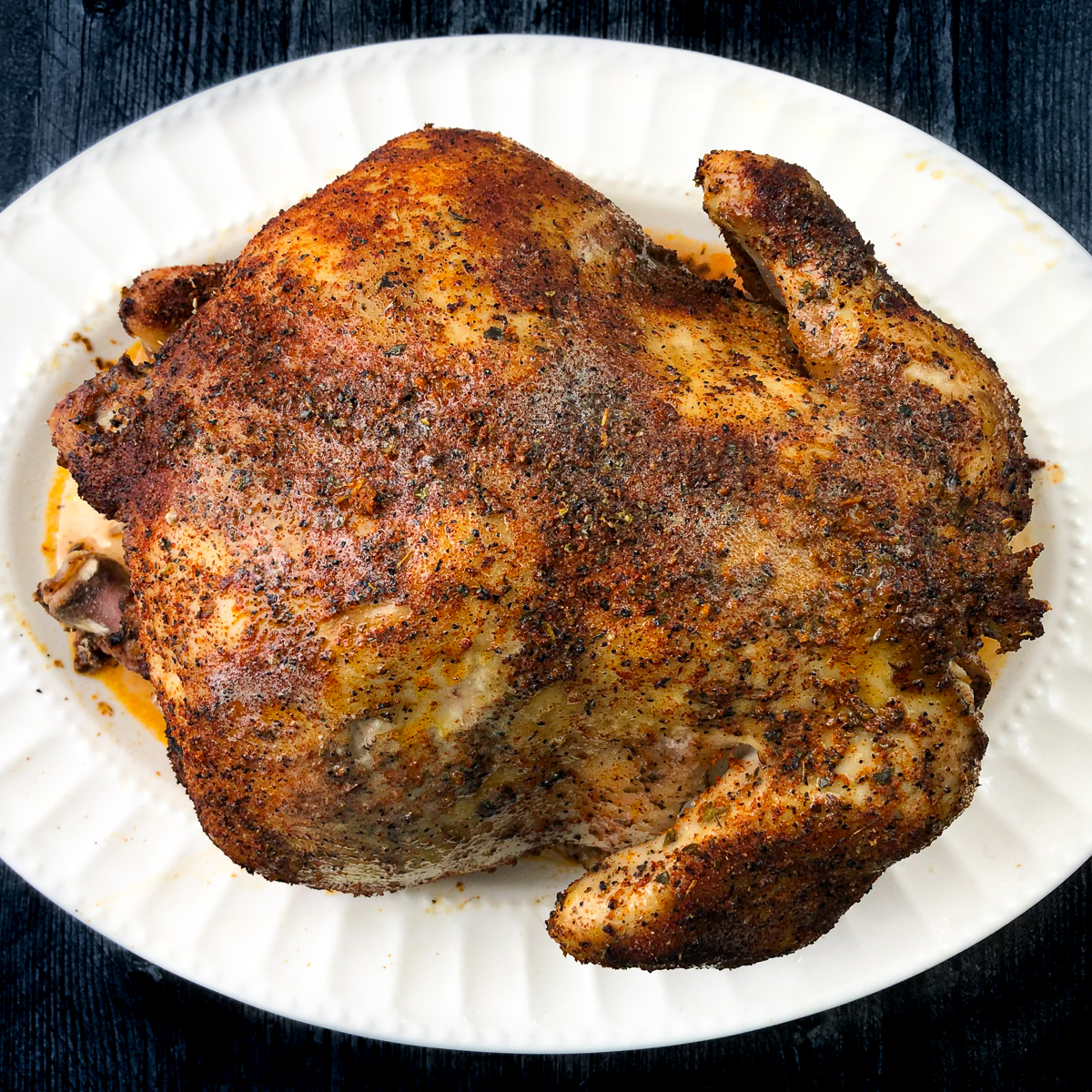 How to make slow cooker chicken bone broth.
Step 1: After you make the chicken and eat it for dinner, clean all the remaining meat off the bones and save for another recipe. Separate the skin and throw it away.
Step 2: Throw everything else back in the crockpot. If it's skin — throw away. If it's meat — freeze for later or use that day. Everything else goes in the crockpot. Some things are unidentifiable but I throw them back in the pot anyway.
Step 3: Add 1-2 tablespoons of apple cider vinegar to your slow cooker. This helps draw out the minerals from the bones.
Step 4: Chop up carrots, yellow onion and celery stalks and add them to your crockpot. You could use other vegetables if you like. Sometimes I even like to use spinach, kale or parsley if I have it on hand.
Step 5: Next add seasonings. I like to grate some fresh ginger in mine. You don't have to but it gives it something extra in my opinion. I also add crushed garlic cloves, bay leaf, salt & pepper.
I don't have any black peppercorns but they are nice to put in too. Sometimes I add turmeric as it's known for it's anti-inflammatory properties, has a lovely yellow color and doesn't have much taste. I just put in a teaspoon. This is optional of course.
Step 6: Now fill the crock pot to cover everything with water and until it reaches the top. Below is what mine looked like before it started cooking. You can see there is some oil from the cooked chicken juices. You can strain that off later.
Step 7: Turn on to a low setting and simmer for 24 hours. You can even do it longer if you want. Cooking time is totally up to you. I would cook it for at least 10-12 hours though.
Or some people make perpetual broth by leaving your crock pot on for a few days. Just take some out and strain, add more water and continue cooking.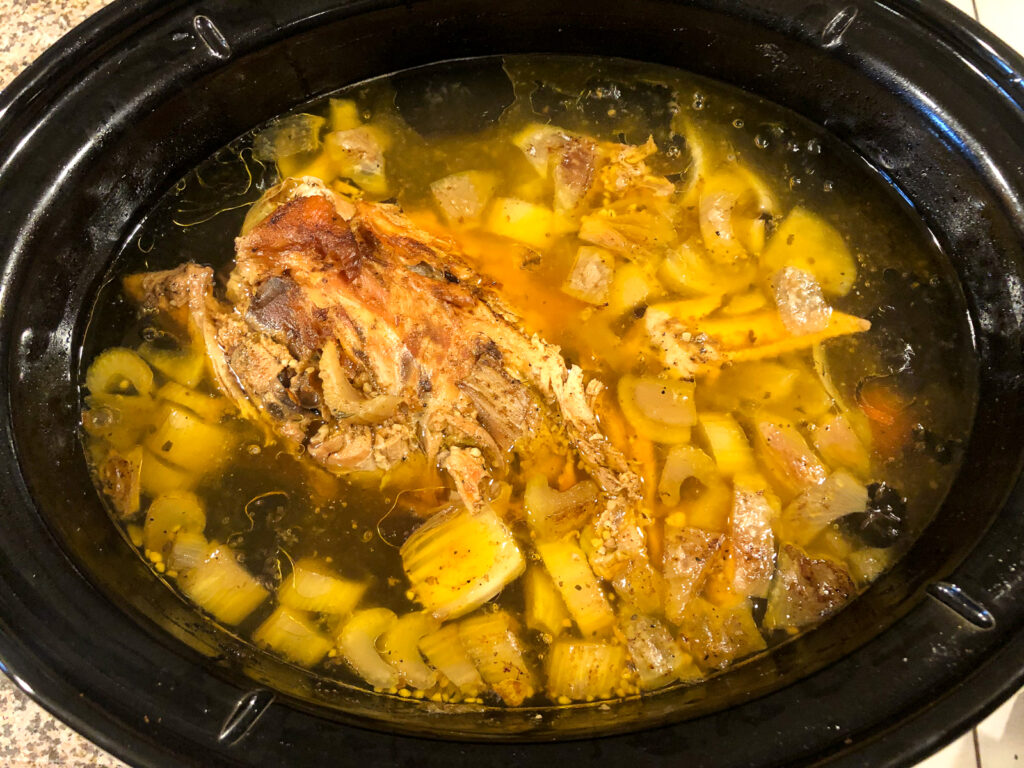 NOTE: It's always good to buy the best quality ingredients you can. That being said, while I would love to buy an all-natural or organic chicken, many times I just don't have to time or money to buy one and end up getting one from Aldi. It only costs around $5 and Aldi is close to my house.
When it's done cooking, turn off the crock pot, take the lid off and let cool for a bit. Then strain it using a mesh strainer into a huge bowl if you have it or into a large airtight container. You get quite a bit.
I usually use some of it for a soup dish and the freeze the rest. (Please scroll down for the printable recipe card.)
Recipe Tips and Notes
To freeze the broth, let it cool down and then spoon the strained stock into soup containers and set in the freezer. I bought these food storage containers for my soup 3 years ago and I'm still using them. Add the date on top using a piece of masking tape and write the date on top with a marker.
To reheat the soup from frozen just place the container in the microwave and cook for about 5 minutes, stirring midway through. If it's not done, cook for a 1-2 minutes more.
If the broth seems too oily for you, just put the strained broth into the refrigerator for a couple hours. All the chicken fat will come to the top and solidify and you can easily take it off. Or when you freeze it separates too and you can take it off then.
You can add any healthy ingredients you want to this recipe. You can also add any herbs and spices as well to change the flavor. I tried to keep it neutral but still have flavor with the ingredients I used. Also you can save your vegetable scraps from other recipes and use those in the both.
To get even more out of this recipe, try perpetual soup broth. Make a big crock and just strain off cups as you use it and refill with some water. Let it keep cooking on low. Sometimes I will do this for a day or two but for the most part I like to freeze it right away and be done with it.
You can also make this recipe with a rotisserie chicken. Just clean off the meat and save for something else. Discard the skin and throw everything else in the pot and follow the recipe.
Lastly you can pour the broth in ice cube trays and freeze them. Then store in a freezer bag for when you need them.
That's all there is to it. I may sound like a lot of steps but it's really quite easy and becomes second nature once you make it a few times.
Other ways to use chicken bone broth.
Also I wanted to mention that you can use this broth for many other things.
I sometimes roast vegetables in it as it gives it some extra flavor without the added fat.
It's good in sauces too. I make a healthy red pepper sauce for pasta that's just onions, peppers and chicken broth. Simmer the veggies in the broth, then when softened puree them with some cream. Super simple and tasty sauce.
You can also use it braise meat or vegetables or to deglaze a pan.
So you can see there are lots and lots of uses! I hope you will try this slow cooker homemade broth and enjoy it as much as I do.
Slow Cooker Bone Broth Recipe
Total Time:
1 day
10 minutes
This nourishing slow cooker chicken bone broth recipe is full of minerals, amino acids and healthy things like gelatin and collagen. Homemade bone broth is easy to make and inexpensive too. Great to make a big batch in your slow cooker and freeze for later.
Ingredients
1 whole cooked chicken
1 medium onion, chopped
2 carrots, chopped
2 stalks celery, chopped
2 tablespoons Apple Cider Vinegar
2 bay leaves
2 cloves garlic, crushed
1 teaspoon turmeric
1 tablespoon grated fresh ginger root
salt and pepper to taste, (can use sea salt or kosher salt)
as many cups water to fill crock
Instructions
Make the chicken in the slow cooker for dinner. Check out this post on how. Or rinse chicken and pat dry. Check that the neck bones and innards are not in a bag in the cavity. If so, discard bag and put them back into the cavity of the chicken.
Season with any herbs and spices you like.
Add chicken to crockpot and cook on high for 3-4 hours until chicken falls apart.
Take chicken out and let cool a bit so you can handle it. Then pull off the meat and set aside. Discard skin and throw everything else back into the crock pot. If it's not skin or meat, throw it in the crock pot. You can chop the meat and freeze in ziplock bags for other recipes.
Add onion, garlic, carrots, celery, ginger, bay leaves, vinegar, turmeric and salt and pepper to the crockpot and then cover with filtered water.
Cook on low for 24 hours.
Strain and put into containers to freeze. Or if you want, put into refrigerator to cool. Then take out and discard the fat that solidifies at the top. Then freeze.
Use in soups or for roasting or sautéing. Or just season and sip.
Nutrition Information:
Yield:

8
Serving Size:

1
Amount Per Serving:
Calories:

58
Total Fat:

2g
Saturated Fat:

1g
Trans Fat:

0g
Unsaturated Fat:

1g
Cholesterol:

15mg
Sodium:

227mg
Carbohydrates:

3g
Fiber:

1g
Sugar:

1g
Protein:

5g