This low carb chicken dinner with creamy mushroom and spinach sauce is sure to be a family pleaser. You can make this one pan chicken dinner in less than 40 minutes and each serving is only 2.9g net carbs! So for a great low carb dinner of chicken, mushrooms and spinach in a creamy sauce this is the one!
You might also like this low carb spinach & artichoke stuffed chicken recipe.
Lately I've been make a lot of skillet dinners with cream sauce. I love cream sauces but my husband does not. However when I make them lighter like my recent creamy pork & apples dinner, he doesn't seem to mind.
As a matter of fact he raved about this creamy mushroom & spinach low carb chicken dinner. It only has 2.9g net carbs and takes 40 minutes to make. That's a win/win for me!

Ingredients for Creamy Mushroom and Spinach sauce
Part of the reason the sauce is so good is that I used Swiss cheese in the creamy spinach sauce. I had bought a huge package of it at Sam's Club and have been trying to find ways to use it. The Swiss cheese went well with the spinach and mushrooms and gave the cream sauce some added flavor.
So the ingredients for this creamy sauce are mushrooms, spinach, heavy cream, garlic, thyme, butter and chicken broth. And of course there is the Swiss cheese too!
Low Carb Chicken Dinner REcipe
Sprinkle salt and pepper over chicken thighs and brown them in a large skillet.
Take out the chicken and add butter and mushrooms. When mushrooms start to brown, mix in the broth, thyme and garlic.
Mix well and then add the chicken back. Cover and cook for 10-15 over medium heat.
Lastly take out the chicken and whisk in the cream and Swiss cheese. Once the cheese is melted and the sauce is made add in the spinach and let it wilt.
Then add back to the chicken and serve.

I like to add half of the spinach into the cream sauce and mix well. Then I add more fresh spinach right before serving to keep the spinach from shrinking. If you would rather more thick spinach sauce, just add all of it in with the sauce before placing in the chicken thighs.
Creamy Chicken Recipe Notes
I like to use baby portobello mushrooms because they are meatier. Also make sure to brown them really well before mixing into the rest of the dish to get maximum flavor.
This dish is very simple but tastes very decadent because of the creamy sauce.
Double the spinach if you want to make this a creamy spinach and mushroom side dish instead of a sauce.
You can eat it dish over egg noodles or as is for a low carb dinner.
You can use a different cheese, but I think the Swiss is quite nice.
I hope you enjoy this recipe as much as my family did. It really is quite easy to make and I know you won't be disappointed with the taste. Here is the nutrition information for one serving:
207 cals/ 15.8g fat/ 3.1g carbs / 0.2g fiber / 13.6g protein = 2.9g net carbs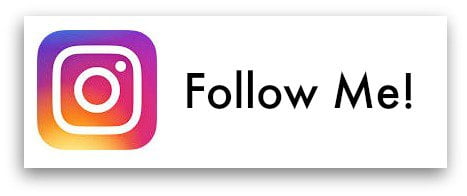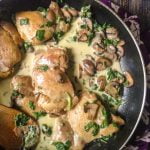 Low Carb Chicken Skillet Dinner with Creamy Mushroom & Spinach Sauce
This creamy chicken skillet dinner with spinach & mushrooms is a delicious low carb meal you can make in under 40 minutes.
Ingredients
6

thighs, boneless skinless

1

Tablespoon

oil

1

Tablespoon

butter

8

oz

mushrooms, sliced

1

cup

chicken broth

1/4

teaspoon

dried thyme

salt and pepper to taste

1

teaspoon

garlic, crushed

1/2

cup

heavy whipping cream

1/2

cup

Swiss cheese, shredded

2

cups

spinach, chopped
Instructions
Heat a large skillet to medium high and add the olive oil.

When hot, brown the chicken thighs on both sides. This should take about 3 minutes per side.

Take out the thighs and set aside. Add the butter and sliced mushrooms and brown for about 3-5 minutes.

When the mushrooms are browned, add the broth, thyme and garlic and mix well.

Add back the chicken, cover and cook for 10-15 minutes over medium heat.

Take out the thighs to make this part easier. Add in the cheese and cream and mix well until the cheese is melted.

Take off the heat and add in the spinach. Mix and then pour over chicken thighs or add the thighs back to the skillet if serving from the skillet.

Serve as is for a low carb dinner or over egg noodles.