This loaded keto broccoli cauliflower salad is a great dish to take to a summer picnic or party. Easy to make, this keto broccoli salad is full of flavor from bacon, cheese and other delicious ingredients mixed in a mayo based sugar free dressing. One serving has only 1.9g net carbs per serving!
You might like this other keto salad: layered cobb salad!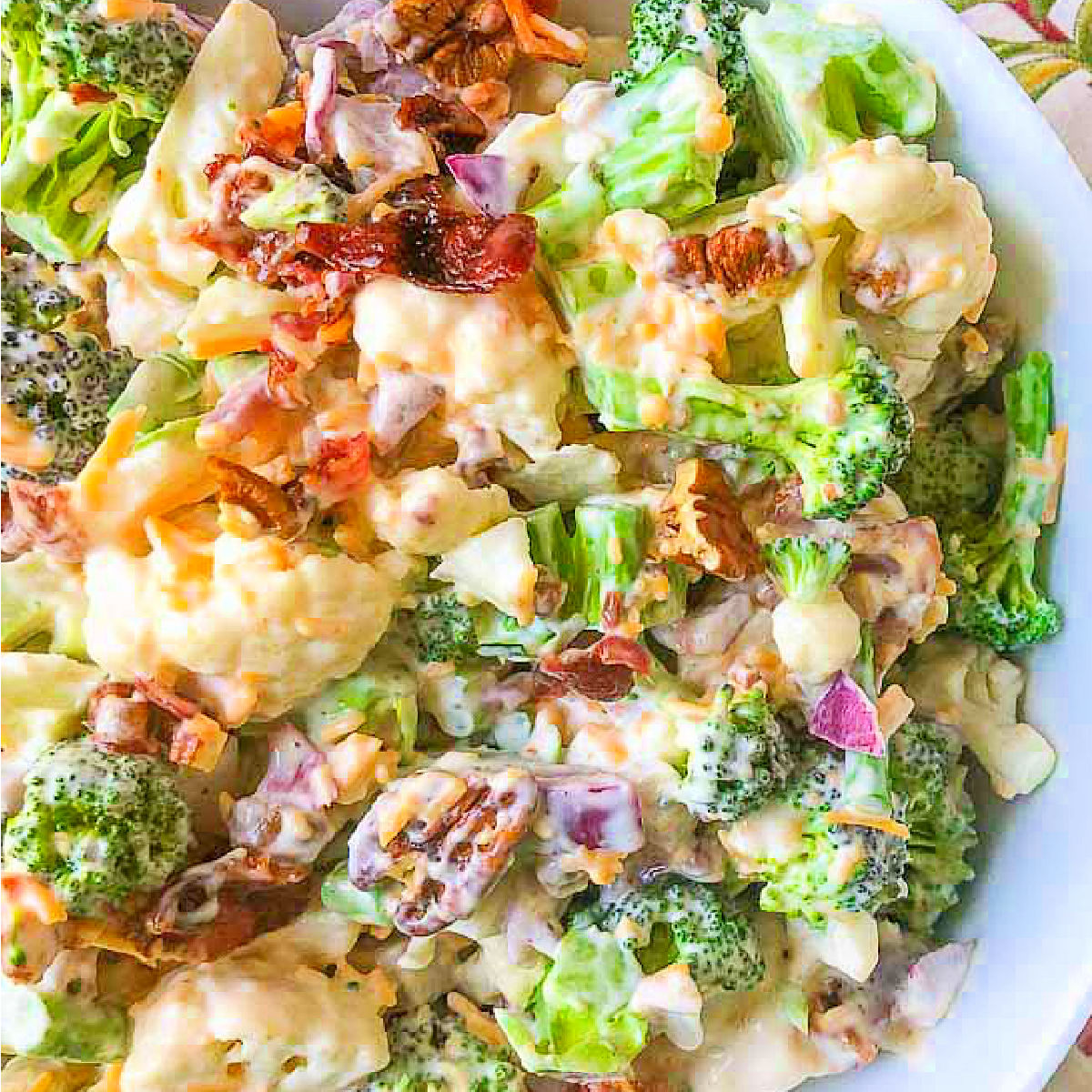 I'm sure you've been to a family picnic and had the ever popular broccoli salad. It's a creamy salad with a tasty combination of ingredients such as cheese, bacon and sometimes raisins and of course the broccoli.
Well today I've made for you a loaded keto broccoli cauliflower salad recipe that will satisfy your craving for that popular broccoli salad. It's has crunchy raw vegetables like broccoli and cauliflower, a creamy sweet sugar free salad dressing and loaded with bacon, cheese and even pecans!
This is such a tasty salad that no one will know or care that it's low carb. SO it's perfect to take to family gatherings or a summer party. The delicious flavors also make a great low carb lunch or side dish. Best of all it has only 1.9g net carbs per serving!
Try one of these other 50 keto salad recipes!
There are so many low carb salad recipes on this site because as you may already know I am a big salad eater. It's rare when I don't have at least 1 salad a day. It's also a great way to keep things low carb and still have great taste.
Two of my other low carb favorite recipes are my bacon blue cheese burger salad and my taco cobb salad. I have almost 50 keto salad recipes on this blog! So after you check out this keto broccoli salad, go check out the other delicious recipes!
They are sure to keep you cool and fill you up this summer.
Salad ingredients I used.
The simple ingredients I used are fresh broccoli florets, fresh cauliflower florets, red onion, sharp cheddar cheese, bacon and pecans. T
he simple homemade dressing is a combination of mayonnaise, apple cider vinegar and Swerve sweetener. And for the vinegar you could also try red wine or white wine vinegar.
You can use a different sweetener if you wish and if you don't care about carb count you can use white granulated sugar.
I used both broccoli and cauliflower to give this a little more contrast but you can use all broccoli if you wish or all cauliflower. I added the pecans for extra crunch but you can eliminate them if you wish or another option is to use other nuts or seeds like crunchy sunflower seeds. But the bacon is a must.
For the cheese, I like sharp cheddar but you can try Colby Jack, Monterey Jack or even mozzarella cheese. But I prefer the flavor of sharp cheddar.
How to make loaded keto broccoli cauliflower salad.
So this delicious salad is pretty straight forward. All of the ingredients are raw except the bacon and you can make it days in advance.
Make the bacon slices any way you want. Once it's done, chop or crumble and set aside. 
In the meantime, chop all the vegetables (raw cauliflower florets, broccoli florets and red onion), pecans into bite size pieces and mix with the shredded cheddar cheese in a large mixing bowl or salad bowl.
In a small mixing bowl, whisk together the sugar free dressing by combining the mayo, vinegar and Swerve sweetener.
Toss the salad with the prepared dressing and then fold in the cooked bacon. You can season with salad and black pepper if you wish but the salad and cheese have plenty of salt for my taste.
Cover with plastic wrap and refrigerate until ready to eat. Store leftovers in an airtight container. Please scroll down to view the printable recipe card.
NOTE: I added pecans to give this salad more crunch but you can use pumpkin seeds, almonds or just omit them if you aren't crazy about nuts.
Store leftovers in an airtight container in the refrigerator. This is a great dish to make ahead of time, even a day or so before a party. It won't get soggy and will retain it's crunch. I would mix in the bacon before serving though if you like crispy bacon.
What to serve with this low carb salad.
As I mentioned above this is the perfect side dish for a picnic, party or holiday gathering but you can eat this for a low carb meal like lunch or as a side dish for dinner.
Some low carb main dishes that would go great with this recipe is some from the grill like this Mexican marinated grilled chicken breast or this balsamic & garlic flank steak.
I also like these everything spice turkey burgers or this slow cooker barbecue chicken recipe. And if you have an air fryer try this easy rotisserie chicken pieces or even these keto chicken nuggets. All are delicious keto recipes and make a great weeknight meal.
This loaded keto broccoli cauliflower salad is very filling and tasty. The creamy dressing goes so well with the crunchy veggies and salty bacon. I ate it for lunch and dinner a few days in a row. So I give to you yet another low carb salad for a family picnic (seems to be an unplanned theme this week!).
The nutritional information for 1 serving is: 235 calories / 22.6g fat / 4.8g carbs / 2.9g fiber / 5.2g protein = 1.9g net carbs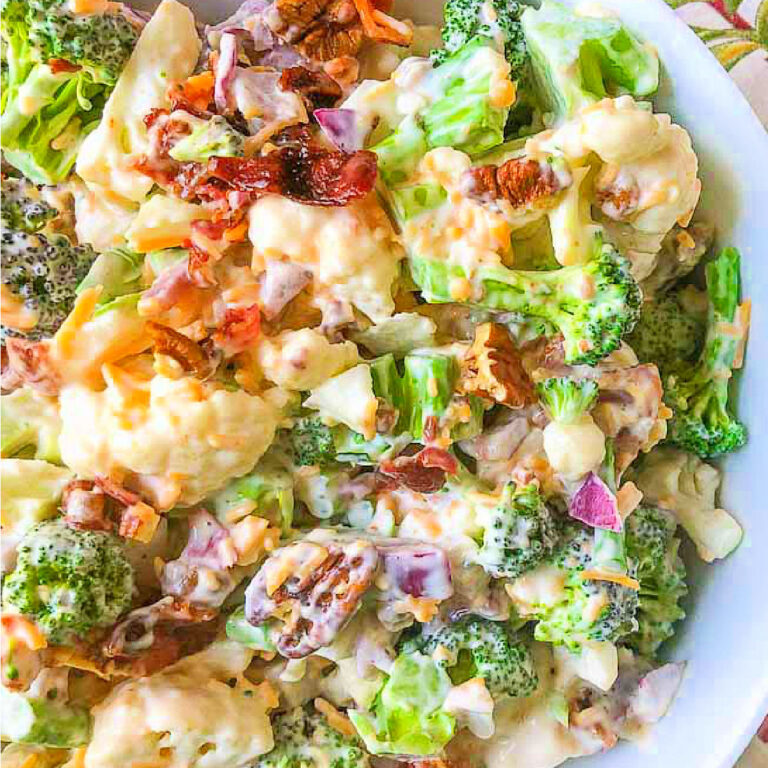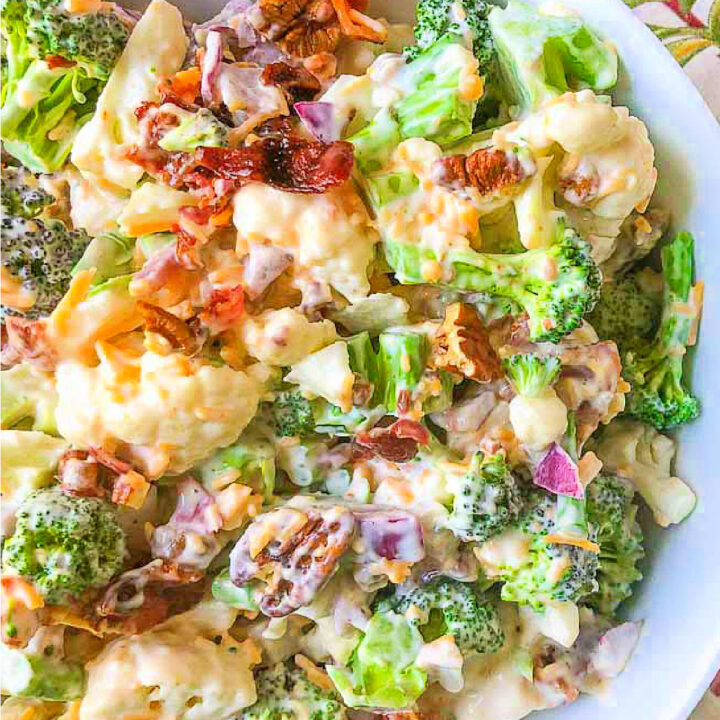 Keto Broccoli Cauliflower Bacon Salad
This loaded keto broccoli cauliflower salad recipe is a great dish to take to a summer picnic or party. Easy to make and only 1.9g net carbs per serving!
Ingredients
1 cup mayonnaise
1 tablespoon Swerve, or other sweetener
2 tablespoons apple cider vinegar
3 cups broccoli florets (raw)
3 cups cauliflower florets (raw)
½ red onion, chopped
½ cup cheddar cheese, shredded
8 oz bacon, cooked and crumbled
½ cup raw pecan pieces
salt and black pepper to taste
Instructions
Make the bacon any way you wish, let it cool and chop or crumble. Set aside.
In a small bowl add the mayonnaise, Swerve and apple cider vinegar. Whisk to combine.
Chop the raw broccoli florets, cauliflower and onion into bite sized pieces and add to a large salad bowl along with the cheese and nuts.
Pour the salad dressing int the salad bowl and mix well. Fold in the bacon or if make a day ahead of time, save the bacon for just before serving to keep it crispy.
Refrigerate until ready to use.
Notes
The nutritional information for 1 serving is:

235 cals / 22.6g fat / 4.8g carbs / 2.9g fiber / 5.2g protein = 1.9g net carbs
Nutrition Information:
Yield:

12
Serving Size:

1
Amount Per Serving:
Calories:

235
Net Carbohydrates:

1.9gg