If you are looking for a healthy lunch or dinner for meal planning you can make at home and save money, try these shrimp pasta low calorie freezer meals. A tasty combination of pasta, shrimp and flavorful vegetables this freezer meal has only 318 calories. It's a quick meal that is easy to make and meatless too!
You might also like this low carb healthy shrimp scampi recipe!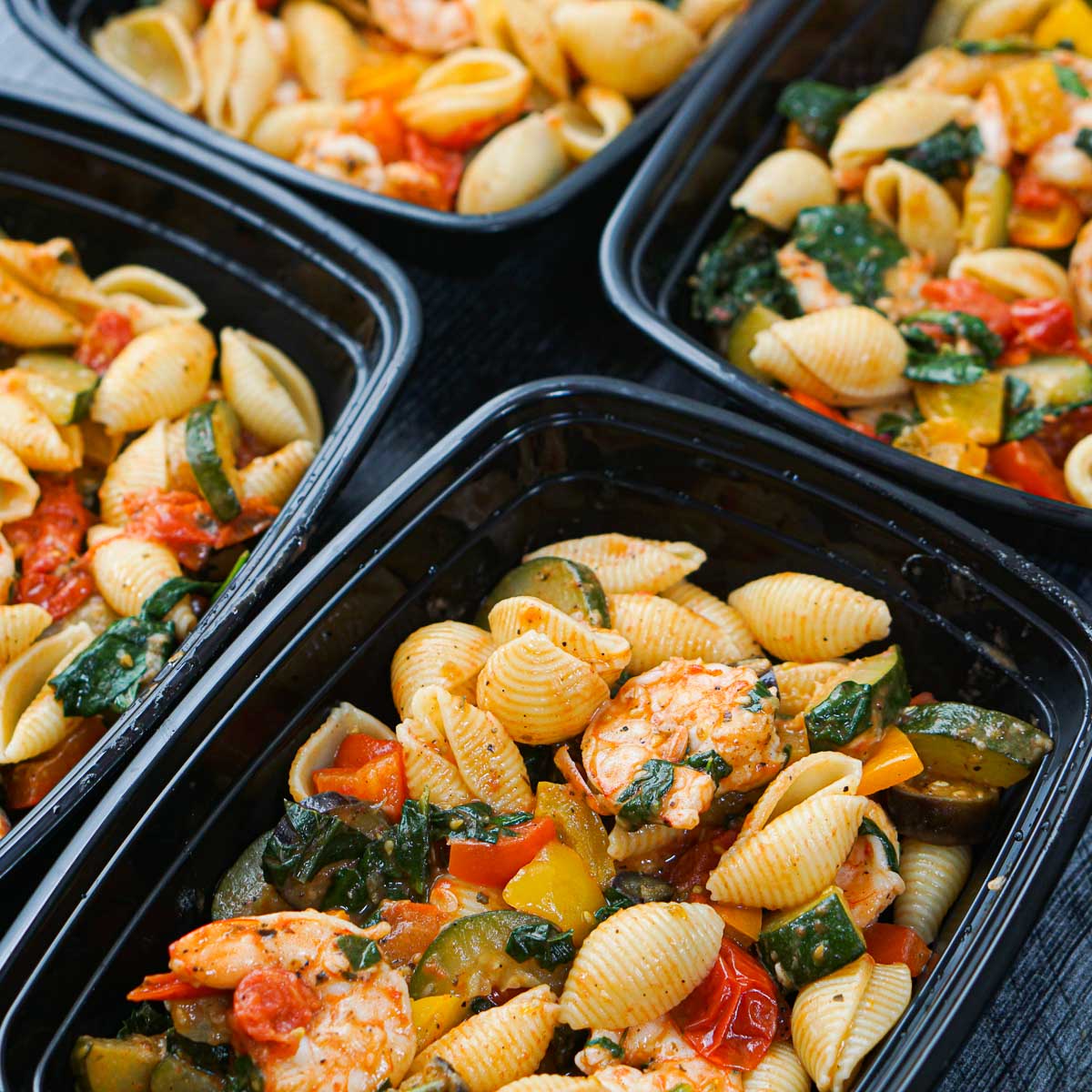 I like to freezer meals to have on hand now that my son went to college. When it's just my husband and I, there is no reason to cook a big meal some nights. So I can just pop one of these shrimp pasta low calorie freezer meals in the microwave and make a big salad for an easy and healthy weeknight meal.
These delicious meals are also great to have on hand for a quick and healthy lunch because you know exactly how many calories are in it and it's very tasty. While I mostly eat low carb, it's nice to eat pasta every once in awhile but I find I have to be mindful on how much I eat. And with a premade meal I know that's all I can have.
I pared it with a variety of roasted vegetables and succulent shrimp so it's a well rounded meal. And the variety of nutrient dense vegetables also happen to be ones I love the taste of.
Recipe ingredients I used and substitutions.
The simple ingredients I used were shell pasta, tomatoes, frozen raw shrimp, olive oil, garlic cloves, squash, eggplant, bell pepper, thyme, spinach, salt, black pepper and parmesan cheese.
Pasta
I used regular pasta but you can use low carb, whole wheat, chick pea or even hearts of palm pasta for this dish. I like using shape pasta noodles instead of spaghetti in meals like this because it seems more filling to me as well as easier to eat. However you can use spaghetti or whatever type of pasta noodles you want.
Of course you can also make this recipe with low carb zucchini noodles instead of pasta for more of a low calorie low carb meal.
Vegetables
I used my favorite combination of vegetables which were zucchini, eggplant, grape tomatoes, bell peppers and spinach. Spinach has so little calories and is nutrient rich so I would definitely recommend using that but you can use whatever veggies you want. Though I would also use the tomatoes because when roasted they have tons of flavor.
Frozen Shrimp
I just used jumbo raw shrimp in the shell from the freezer section of Aldi. I find they are very tasty and less expensive at Aldi. You can use any size of shrimp you want or even fresh shrimp but they should not be already cooked shrimp.
And if you want you can eliminate the shrimp altogether. Other substitutes for shrimp are rotisserie chicken or even cooked Italian sausage or try this meatball recipe.
Parmesan Cheese
If you are lactose tolerant you can use nutritional yeast but other wise the parmesan cheese adds extra flavor and I would definitely keep it in. The only two cheese I would substitute with are grated Romano cheese or asiago cheese as they are similar in taste.
The olive oil, garlic, parmesan and spices create a sauce of sorts but if you want you can add a bit of jar pasta sauce though that will add to the calorie count.
Also you can add some hot pepper flakes to add a bit of heat without adding any calories. If you want to add some fresh herbs like fresh basil or parsley. You can add it at the end.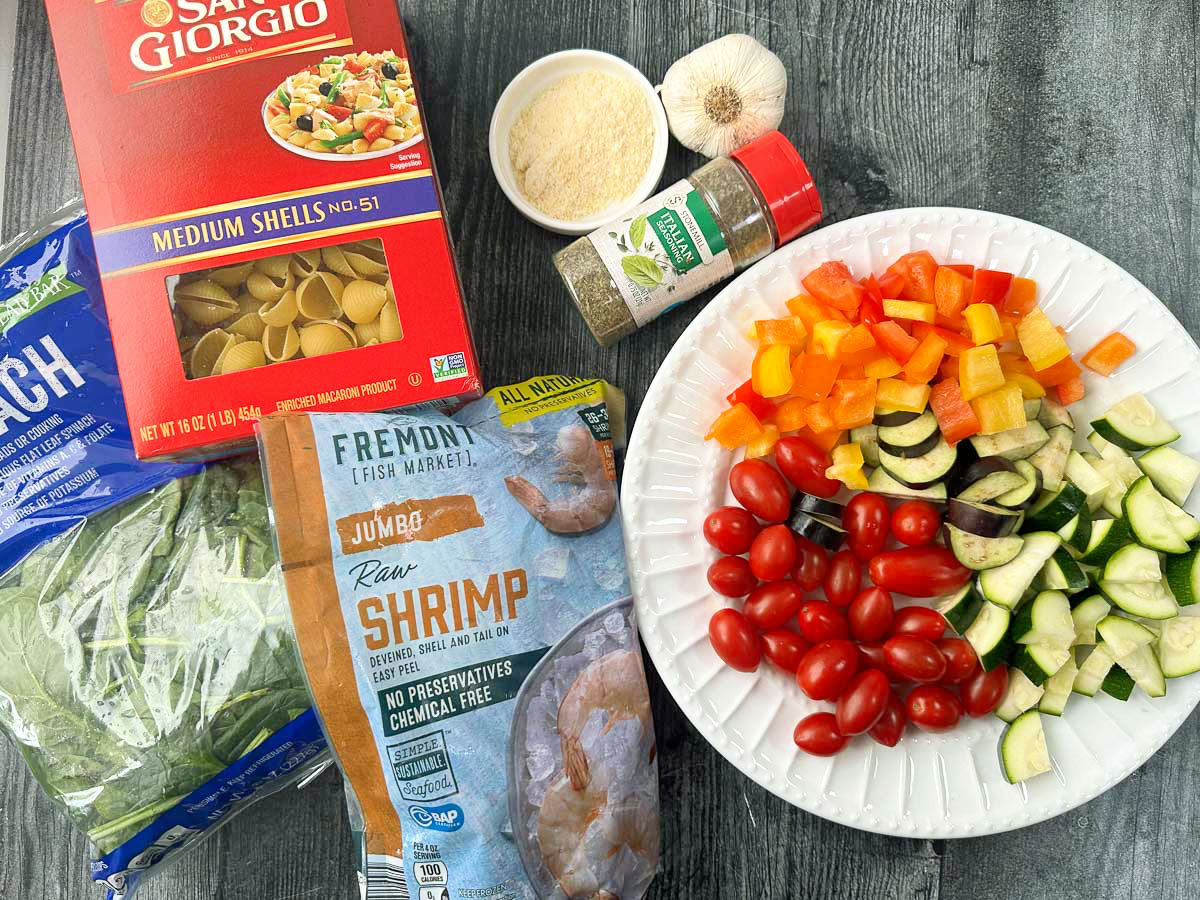 How to make shrimp pasta low calorie freezer meals.
Get out a large pot and fill with water. Bring to a boil and cook your pasta according to package directions but take it out a minute or two. You want it to be al dente.
Heat up a large skillet or saute pan to medium high heat. Add the olive oil and let heat up. Add the chopped vegetables and turn the heat down to medium heat.
Add the crushed garlic and thyme and season with salt and black pepper. Saute the veggies until the tomatoes start to wrinkle and soften.
Next add the thawed and peeled shrimp to the pan. Saute a minute or two until they just start to turn pink. Then add in the parmesan cheese and mix well.
Turn the heat off and add the spinach. Stir until spinach wilts but is not completely cooked. Add in the cooked pasta, toss well and let cool.
Get out your 4 airtight containers and divide the dish into 4 equal portions. Let cool completely then cover and store in the freezer.
To eat these freezer meals you can thaw overnight or reheat from frozen for 3-5 minutes. Check it at 3 minutes and then cook for an additional minute or two until heated through. Cooking time may vary though.
Note: You don't want to over cool the shrimp, pasta or vegetables because when you reheat in the microwave it will continue to cook the meal. The strip should just be pink, the pasta al dente and the veggies should be tender but not mushy.
Please scroll down to view the printable recipe card.
You can see below that there is only ½ cup of pasta in each dish and 3-4 large succulent shrimp and the rest is veggies. This is a very flavorful meal and if you add a green salad you can definitely have a healthy meal under 500 calories.
What kind of freezer store containers did I use.
Below you can see the freezer containers from Amazon that I used. If you don't like using plastic you can try these glass containers which I also have. But I also have take out containers that save and use those too. I just wanted to have something specifically for meal prep and planning.
The containers below are the 32 ounce size. That seemed to work good for me and the meal fit well. Also I use painters tape to write down the calorie count and date I made it. You might want to do that too. The painters tape is easy to take off too.
Another simple low calorie freezer meal to try.
Recently I made some low carb chicken patties and thought I would freeze them for another low calorie meal. This is also low carb so that's a bonus for me. You can get the chicken patty recipe here.
To make the green beans just microwave 4 cups of fresh green beans for 4 minutes. Take them out and saute with 3-4 tablespoons of butter in a large skillet for a few minutes. Season with salt and black pepper and toss with ¼ cup of slivers or sliced almonds. Take of the heat and let cool.
I used 2 chicken patties and 1 cup of the green beans for each meal. This came out to just 264 calories and 6.8g net carbs. if you make the above chicken patty recipe it makes 12 patties so if you want you can add another one (87 calories) and it would still be just 351 calories for the entire meal.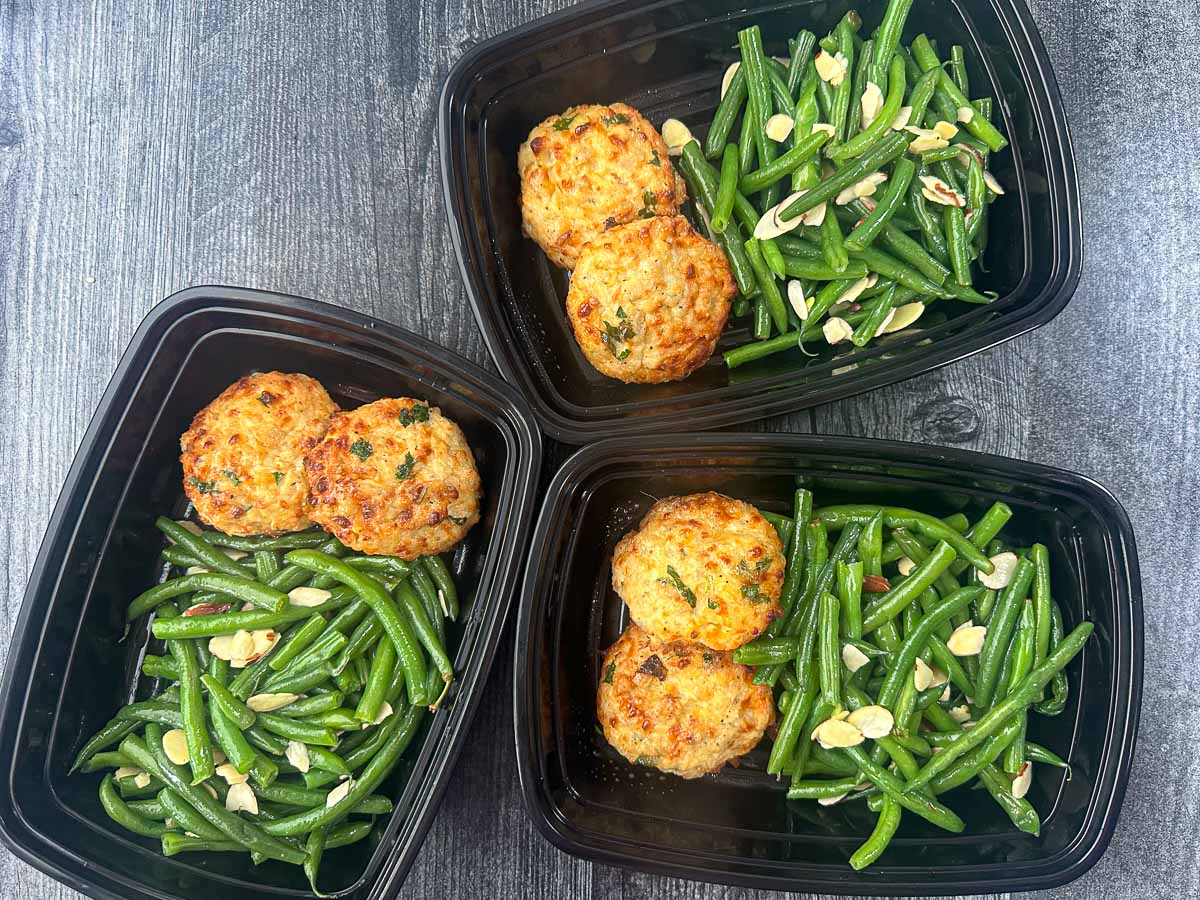 Well I was very happy with how these shrimp pasta low calorie freezer meals came out and I have few healthy dinner ideas for more low calorie freezer meals in the future. Stay tuned!
It just beats buying them in grocery store. They are less expensive and you know there are wholesome ingredients that are good for you. I hope you give this one a try. Enjoy!
The nutritional information for 1 frozen meal is 318 calories / 10.6g fat / 31.1g carbs / 5.5g fiber / 26.7g protein
Shrimp Pasta Low Calorie Freezer Meals
These low calorie freezer meals are great for a busy weeknight dinner or for a quick lunch. Full of healthy ingredients and a tasty combination of flavors from roasted vegetables, juicy shrimp and pasta shells.
Ingredients
2 cups pasta, cooked (I used medium shells)
2 tablespoons olive oil
2 cloves garlic, crushed
2 cups grape tomatoes
½ teaspoon thyme
2 cups zucchini, sliced
½ cup eggplant, diced
2 cups sweet bell peppers, diced
2 cups fresh spinach
¼ cup parmesan cheese, grated
12 ounces shrimp, raw
salt and black pepper to taste
Instructions
Get a big pot of boiling water going and cook the pasta according the package directions except you want to cook it for a minute or two less. It will cook more when you reheat it. You want it a bit chewy.
In the meantime, get a large skillet and heat to medium high heat. Add the olive oil and when it's hot turn the heat down to medium heat. Add the crushed garlic, zucchini, tomatoes and eggplant. Sprinkle the thyme and a little salt and pepper over top. Saute until the veggies start to soften.
Next add the shrimp. Saute for a few minutes until the shrimp just starts to turn pink. Add in the grated parmesan cheese and mix well. Take off the stove and add in the sprinach. Mix it well and it will start to wilt. Then add in the cooked pasta, mix and you are done.
If freezing right away, let the mixture cool before dividing between 4 freezer containers. Cover and add the date and calorie count on a piece of masking or painters tape and store in the freezer.
To eat these freezer meals you can thaw overnight or reheat from frozen for 3-5 minutes until heated through. Cooking time may vary though.
Notes
Notes

You can use any kind of pasta you want. I prefer shaped noodles instead of spaghetti because it seems to be more filling and easy to eat. You can also use zucchini noodles to make this an even low calorie and low carb meal. 

You can also use other lean protein like rotisserie chicken instead of the shrimp. Or try Italian sausage or  meatballs.

If you want to add some pasta or spaghetti sauce you can. However with all these changes you have to recalculate the calorie count. 


Nutrition Information:
Yield:

4
Serving Size:

1
Amount Per Serving:
Calories:

318