These Mediterranean chicken stuffed bell peppers are an easy yet delicious low carb dinner that is Paleo too. A healthy low calorie meal under 30 minutes and with only 4.2g net carbs and 127 calories per stuffed pepper!
You might also like these keto buffalo chicken stuffed peppers.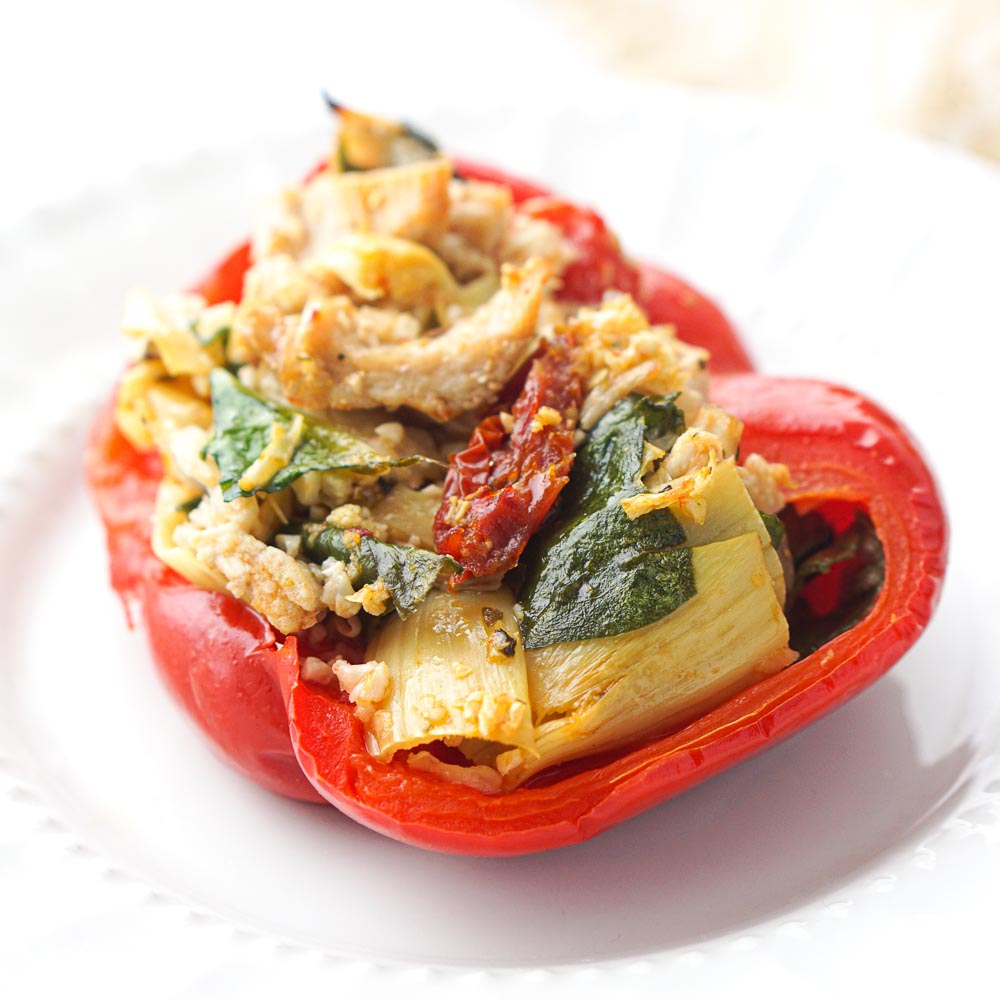 I have many keto stuffed pepper recipes on this blog. I've made taco stuffed peppers, antipasto stuffed peppers and now I have added these Mediterranean chicken stuffed bell peppers to my repertoire.
That's because we eat a lot of peppers in my house; my husband and I love them. We are already talking about all the different kinds of peppers we are going to grow in our garden this summer.
I like stuffing peppers because they are like mini self contained casseroles in a way. The peppers are kind of like a little low carb bowl that you can eat.
These low carb chicken stuffed peppers are filled with simple ingredients with a Mediterranean flavor combination of sun dried tomatoes, artichoke hearts, herbs and spices. Instead of rice we are using cauliflower rice to make this an easy low carb meal or weeknight dinner.
Are Bell Peppers Low Carb?
Yes bell peppers are low carb and a great vegetable use for flavor and healthy nutrients. For 100g of bell peppers (about ⅔ cup) there are only 3.5g net carbs (source). They are also high in vitamin C and contain healthy antioxidants such as capsanthin, quercetin and lutein.
Recipe Ingredients I Used.
I used both sweet bell and green peppers because I like the colorful combination but to me the sweet bell peppers are better. Green bell peppers can have a little bit of a bitter flavor.
The stuffing is simply cooked chicken breast, cauliflower rice, artichoke hearts, sun dried tomatoes, garlic, spinach, grape tomatoes, oregano and basil. Note I use dried and not fresh herbs. Also rotisserie chicken works great in this recipe.
How To Make Chicken Stuffed Bell Peppers.
This is an easy recipe and you can probably get it done in 30 minutes. I added some cauliflower to act as a kind of rice but honestly it's not necessary. It bulks up the filling and is so good for you, so why not?
I precooked the peppers in the microwave to cut down on the oven time. I also used already cooked chicken for convenience so once the filling was cooked on the stove it was pretty much ready to eat.
First thing to do is cut the raw bell peppers in half and clean them out. Then add them to a microwave vegetable steamer if you have one or a microwave dish and cook for 4 minutes.
While they are cooking, get out a large saute pan and add the oil and garlic. Saute for a minute over medium heat, then add in the grape tomatoes and spices. Cook for 1 more minute.
Now add in the artichoke hearts (with the juice or liquid) and sun-dried tomatoes and let simmer for 2-3 minutes.
Lastly add in the cooked chicken, cauliflower rice and fresh spinach. Mix it well and cook for a couple of minutes. Season with salt and black pepper.
Spray a baking dish with nonstick cooking spray. Once the peppers have cooled stuff the bell pepper halves with the chicken mixture and place in the baking dish.
Preheat the oven to 375°F and bake until peppers are tender (10 minutes). Please scroll down and print the recipe card.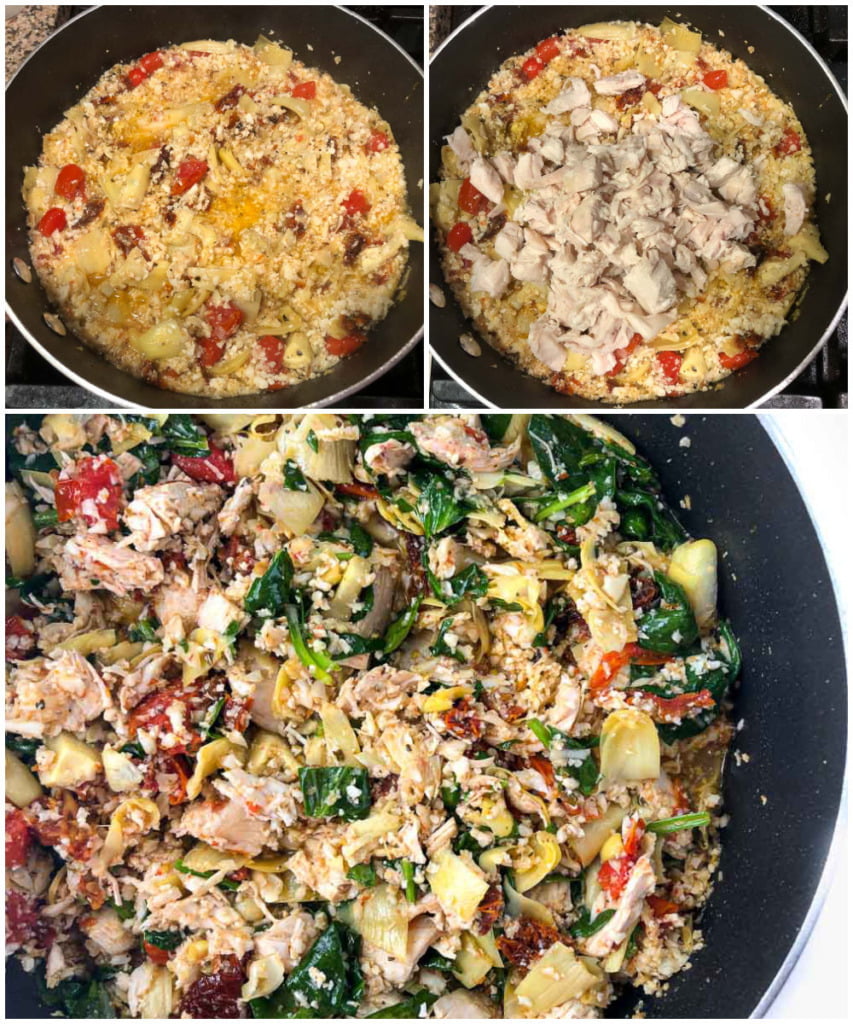 If you can multitask, this keto dinner can be done in 30 minutes. If you can not, it might be more like 45 minutes. Still that's not much time to make a good healthy dinner.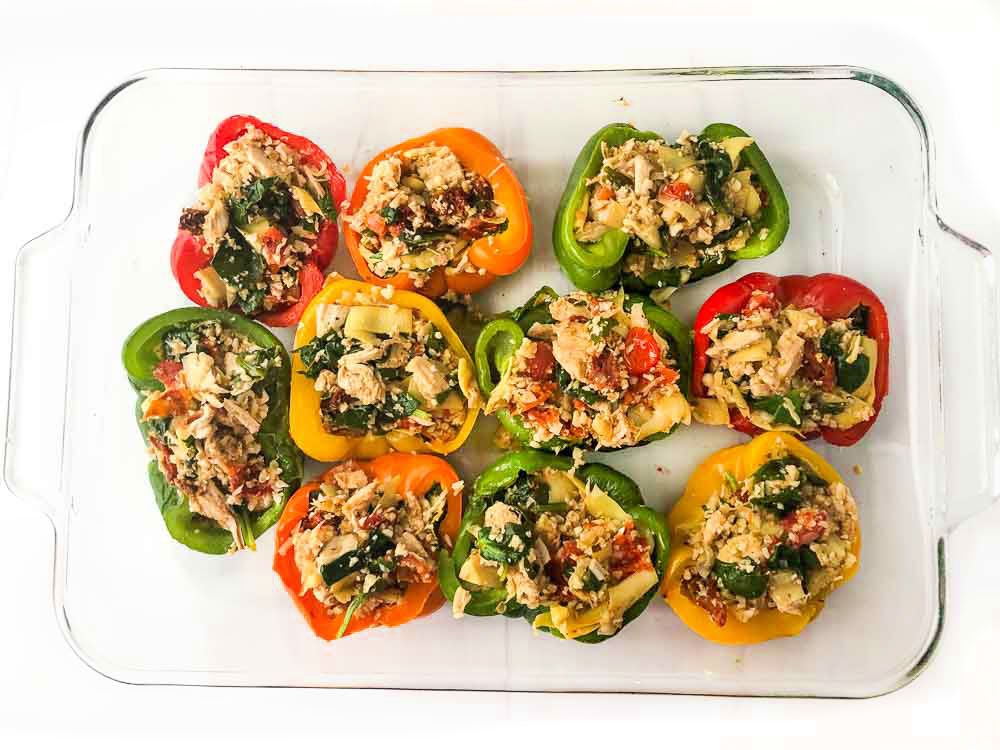 Below you can see them coming out of the oven. I thought about adding feta but honestly they didn't need it. There is so much flavor in that stuffing you could eat it as is.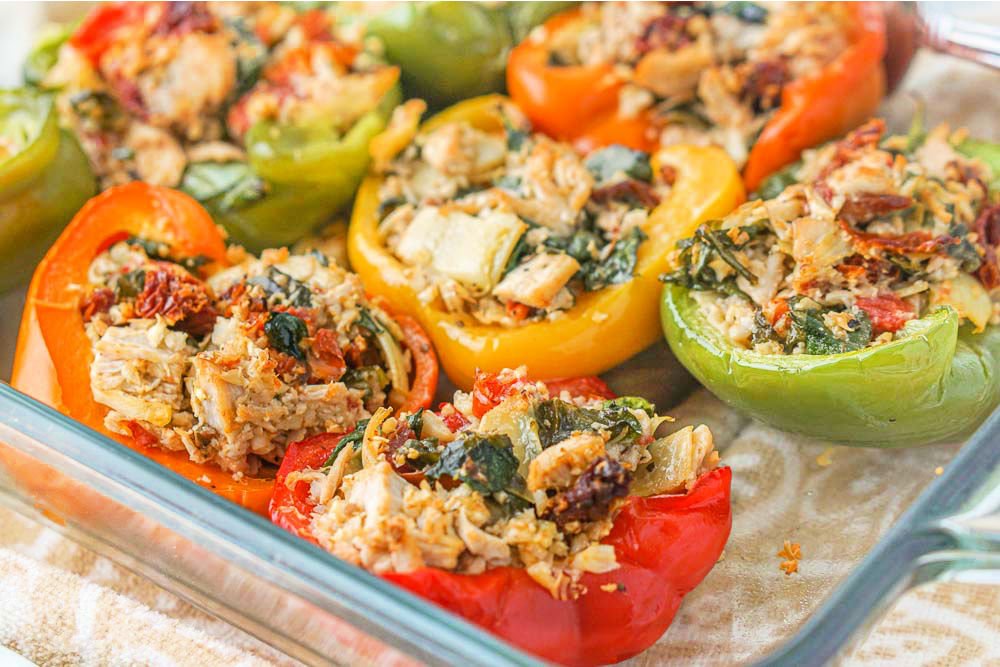 Yes I could have taken my time to make them look prettier. I'm sure you will do a better job than I did. But they still tasted great and also a one pan meal.
More Low Carb Stuffed Pepper Recipes To Try.
As of today I have 19 stuffed pepper recipes. I've stuffed them with eggs & bacon, bbq chicken and even sausage & cheese. This air fryer Italian sub bell pepper sandwich is very popular so check that one out.
My hubby really raved about these chicken stuffed bell peppers and I like that they make an easy weeknight meal for us.
The nutrition for 1 pepper is: 127 cals / 4.5g fat / 6.8g carbs / 2.6g fiber / 13.1g protein = 4.2g net carbs
Mediterranean Chicken Stuffed Bell Peppers
These Greek flavored chicken stuffed peppers are an easy yet delicious meal using simple ingredients.  This reicpe is low carb, low calorie and Paleo too. If you eliminate the chicken it's also a great vegetarian dinner.
Ingredients
1 tablespoon olive oil
½ cup grape tomatoes, quartered
2 cloves garlic, crushed
¼ teaspoon dried oregano
¼ teaspoon dried basil
1 cup cooked diced chicken
6 oz marinated artichoke hearts and liquid** (½ jar)
1 cup cauliflower rice
1 cup fresh baby spinach, chopped
¼ cup sun dried tomatoes, chopped
3 sweet peppers, halved
Instructions
Preheat the oven to 375 degrees.
Microwave the peppers for 4 minutes.
Meanwhile add olive oil and garlic to a large saute pan.
Saute for 1 minute over medium heat and then add grape tomatoes, oregano, basil and cook for 1 more minute.
Add your artichokes and sun dried tomatoes and let simmer for a couple minutes.
Add the cooked chicken and cauliflower and continue to simmer for 1 minutes. Season with salt and black pepper.
Add your spinach and stir until the spinach is wilted. Then take off the stove to cool.
Place your pepper halves in a large baking dish.
When the chicken mixture has cooled stuff each pepper with the mix.You might have a bit leftover depending on how big your peppers are.
Spray a baking dish with cooking spray. Add the peppers and then lace in the oven and bake for 10 minutes or until the peppers are tender.
Serve as is, over rice or cauliflower rice.
**Note - You want to use half the jar and half the liquid if you can. Originally I had doubled this recipe but it's really too much for most people.
Notes
The nutrition for 1 pepper is: 127 cals / 4.5g fat / 6.8g carbs / 2.6g fiber / 13.1g protein = 4.2g net carbs
Nutrition Information:
Yield:

6
Serving Size:

1 stuffed pepper
Amount Per Serving:
Calories:

127
Unsaturated Fat:

0g