If you want a low carb appetizer for your next party or just a delicious keto snack, try these keto cheese & sausage stuffed poblano peppers. They cook so quickly and easily in the air fryer but if you don't have one, you can make them in the oven. Each has 5.6g net carbs.
You might also like this keto chicken stuffed poblanos in the air fryer.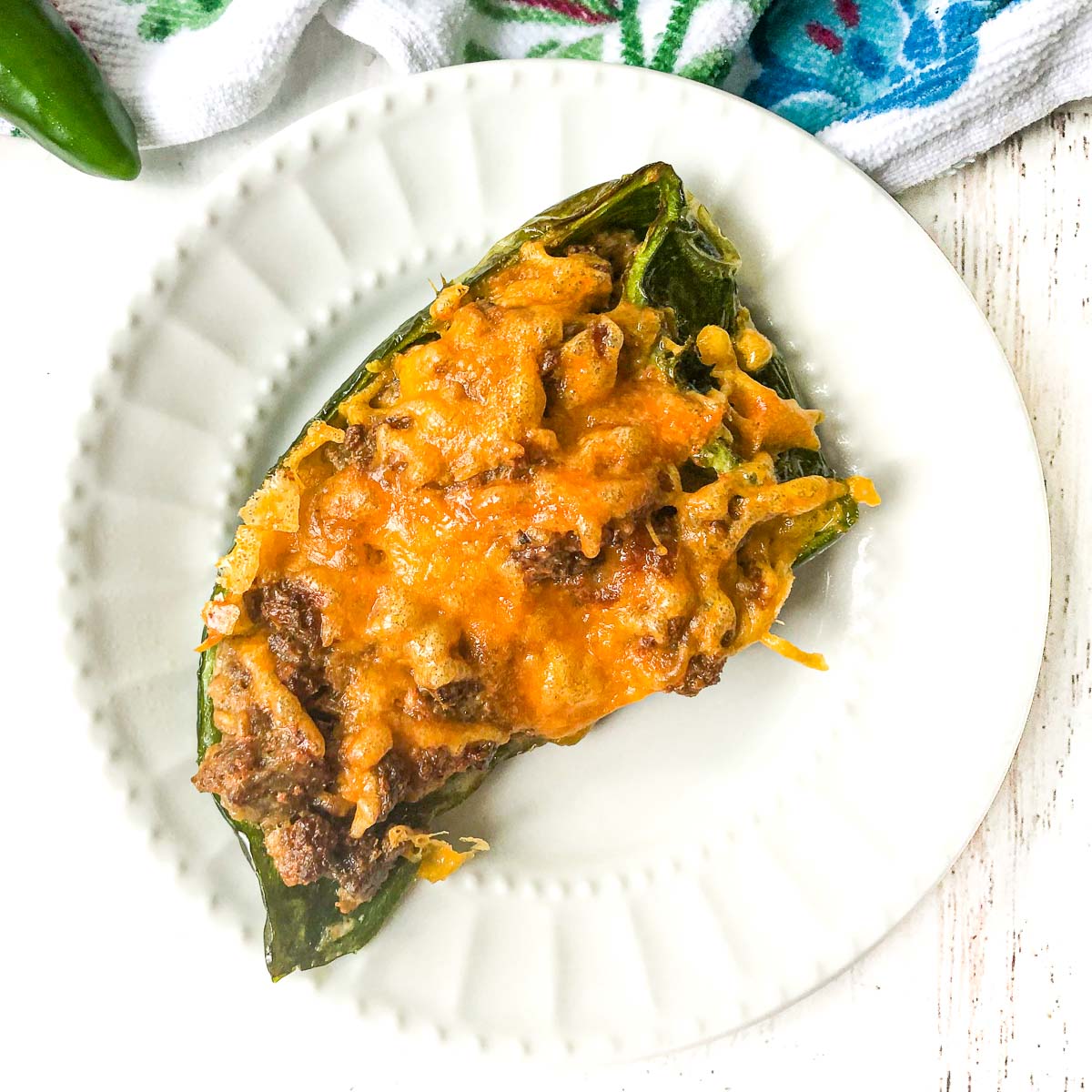 When I first started dating my husband, his mom made something called hanky pankies. They were a cheesy pork and beef mixture on mini toasts and a very tasty flavor combination! Since I don't often eat bread these days, I thought that creamy filling would be great to stuff in a poblano pepper.
So I made these keto cheese and sausage stuffed poblano peppers and oh my they were so good! I made them in the air fryer so it was very easy as well and they only need 6 ingredients.
However if you don't have an air fryer you could also make it in the oven. Each stuffed poblano has only 5.6g net carbs and would be great as a keto appetizer, snack or even a weeknight dinner. The combination of sausage and melty cheese filling goes perfectly with the tender poblanos.
Why I love poblano peppers.
I'm fairly new to poblano peppers. My husband grew them last year in his garden and we just loved the flavor. It has that green bell pepper taste but it's not bitter and has just a bit of heat.
That heat is from capsaicin which is thought to fight cancer and help with weight loss. It is also hight in antioxidants, vitamin A and vitamin B2. Learn more about the health benefits of poblanos here.
I just love them because they taste so tasty and are easy to stuff! You can also make chili rellenos with them!
Below is a photo of different types of peppers my hubby grows in his garden. I just wanted to point out the different varieties if you are looking for them in your grocery store.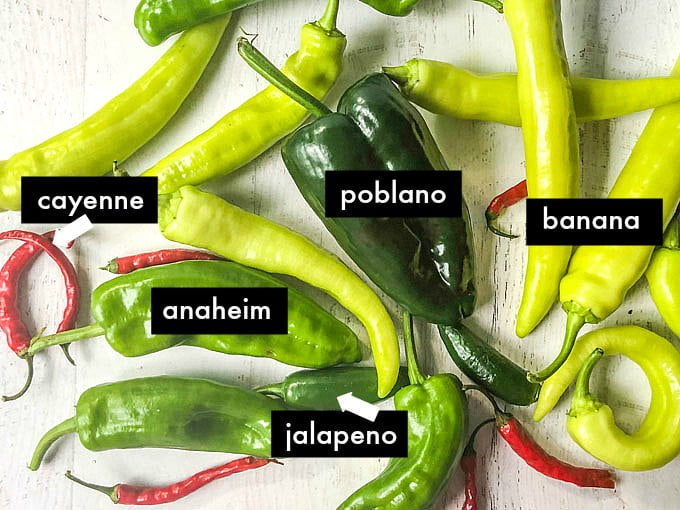 Fun fact: A dried poblano pepper is referred to as an ancho chile and smoked, dried jalapenos are referred to as chipotle peppers.
Cooking Tip: If you grow a lot of peppers, try drying and grinding them. These powders add SO much flavor to soups, stews and any Mexican flavored dishes you make.
Recipe ingredients I used.
All I used to make this keto recipe was breakfast ground sausage, ground beef, cream cheese, cheddar cheese, Worcestershire sauce and green poblano peppers.
Poblano Peppers
love the taste of poblanos and as I mentioned before, they have that green pepper taste but they are not bitter. You could use sweet or green bell peppers, banana peppers, Anaheim peppers, etc. However I really like the poblanos.
I have often seen them in Walmart so check there if your local store doesn't carry them. Check out the photo at the above with the labeled peppers so you can identify them in the store.
Cream Cheese & Cheddar Cheese
These cheeses create the creamy texture for the meat. You could use a different cheeses like pepper jack or a Mexican blend cheese instead of cheddar but keep the cream cheese in this recipe.
Ground Beef
You should use a lean ground beef as the cheeses and sausage contain enough fat. You can also substitute with ground turkey if you wish.
Breakfast Sausage
I really like the breakfast ground sausage in this recipe. It's the kind that comes in a roll and not links. You could use ground Italian sausage or even Mexican chorizo sausage but I prefer the breakfast flavors.
How to make keto cheese and sausage stuffed poblano peppers in the air fryer.
Step 1: First cut poblanos in half and clean out the seeds and stems and set aside.
Step 2: Heat up a large skillet to medium heat. Add the ground meat and ground sausage and brown it. When nice and browned, drain the excess grease.
Step 3: Mix in the cream cheese, Worcestershire sauce and ½ of the cheddar cheese and cook until the cheeses have melted. This should just take a minute or two. Then take it off the heat and cool.
Step 4: Spray the basket of your air fryer with nonstick cooking spray. Then spoon the poblano pepper halves with the stuffing mixture and top with remaining cheddar cheese. The place them in the air fryer basket in a single layer. (see below)
Step 5: Set the air fryer to 350°F and cook the sausage and cheese stuffed peppers for about 15 minutes. The poblanos should be tender and the cheese nice and browned. Note cooking time may vary.
When they come out they should look like the photo above. As you can see my poblanos have thin walls so they are very soft and delicious.
If yours are thicker, place them back in the air fryer for 5 more minutes or until have softened.
Store leftovers in an airtight container. You can just reheat them in the microwave or put them back in the air fryer for a few minutes just to reheat.
If you want to make this more of a complete meal, all you need is a nice green salad! Please scroll down to view the printable recipe card.
How to make these stuffed poblanos in the oven.
If you don't have an air fryer, I would first blanch or cook the poblanos in the microwave before stuffing. To blanch the poblanos, first clean them like above and cut in half. Then get a big pot of water boiling and place them in for 5 minutes.
Take them out and immediately put them in an ice bath (a big bowl of ice and water). Once they are cooled you can stuff them with the meat mixture and top with cheese. Place them in a baking dish or on a baking sheet and cook for 20 – 30 minutes in a 350°F oven.
More keto stuffed pepper recipes to try.
Try a stuffed peppers recipe from the delicious recipes below. They are all low carb and easy to make.
You can stuff peppers with these flavors:
Well I think that is the end of my air fryer stuffed peppers. The peppers just cook so well in the air fryer that I went a little crazy with all the recipes. These were delicious though and I hope you give them a shot. We ate them for dinner but they were meant as an appetizer.
The nutrition facts for 1 serving is: 399 cals / 29.6g fat / 5.6g carbs / 25.2g protein = 5.6g net carbs
You might also want to check out my friend Laurien's keto sausage stuffed peppers … they look awesome!
Keto Cheese & Sausage Stuffed Poblano Peppers in the Air Fryer
If you want an low carb appetizer for your next party or keto snack, try these low carb sausage & cheese stuffed poblanos. They cook so quickly and easily in the air fryer but if you don't have one, you can make them in the oven. Each has 5.6g net carbs.
Ingredients
3 large poblanos, cut in half and cleaned
½ pound breakfast sausage
½ pound lean ground beef
4 ounces cream cheese, softened
1 ½ cup cheddar cheese, shredded
2 teaspoons worchestershire sauce
Instructions
In a large skillet, start browning the sausage and ground beef. When done, drain excess grease.
Add in the worcestershire sauce, cream cheese and ½ of the cheddar cheese. Mix until the cheeses are melted.
Spoon sausage mixture into poblanos and top with remaining shredded cheese.
Spray the basket of the air fryer and cook at 350°F for 15 minutes.
To cook in the oven first microwave the peppers for a few minutes or blanch them to pre cook them. Then prepare the stuffed peppers as above, place on a baking sheet and bake in a 350°F oven for 30 minutes or until peppers are soft and tender.
Nutrition Information:
Yield:

6
Serving Size:

1 grams
Amount Per Serving:
Calories:

399
Unsaturated Fat:

0g