This tasty keto chicken enchilada bowl is super easy to make and only needs a few ingredients. It has a spicy, cheesy cauliflower rice base and then top with rotisserie chicken and your favorite Mexican toppings! Perfect for when you are craving Mexican food on a keto diet!
You might also like these low carb chicken enchiladas with coconut tortillas.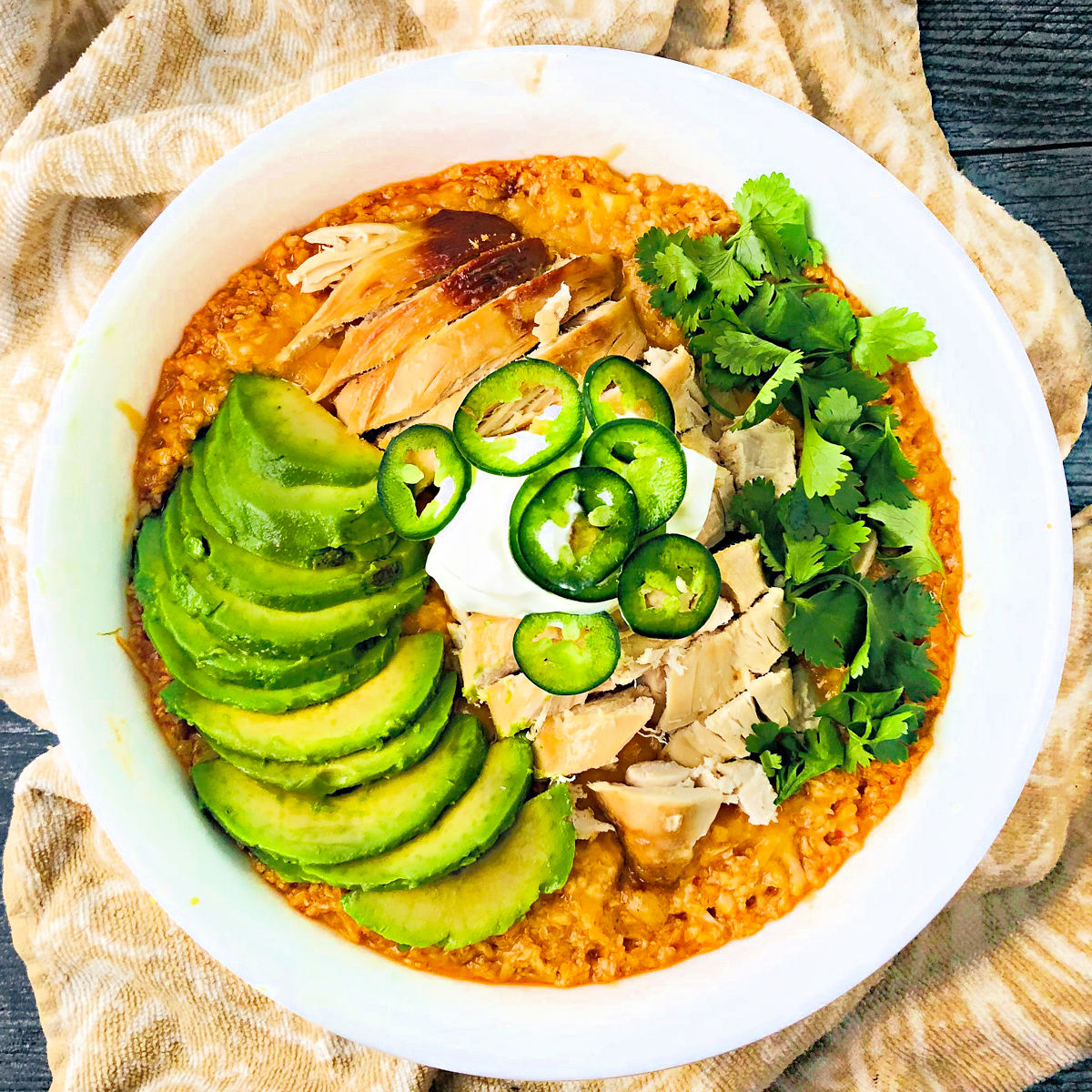 I don't know about you but I love the idea of meals in a bowl – breakfast bowls, smoothie bowls, egg roll in a bowl, etc. I have a few on this blog but today I wanted Mexican food so I made this keto chicken enchilada bowl. So good!
I made a spicy and cheesy cauliflower rice base and then topped it with already cooked rotisserie chicken, sour cream, fresh avocado and jalapenos and a little cilantro for garnish. Best of all it only took 15 minutes to make the whole meal!
It was quite filling and definitely tasty keto Mexican food. So if you love enchiladas you should give this keto version a try. You won't be disappointed.
What goes in traditional enchiladas?
Typically enchiladas are made with a corn tortilla that is filled with meat, beans, cheese, veggies and other things and then covered in a savory sauce. (source)
When I make regular chicken enchiladas I use a mixture of onion, shredded chicken and Monterey Jack cheese and cover them with red sauce and cheddar cheese.
Since I didn't want to use corn tortillas I tried to mimic the flavor of chicken enchiladas in the cauliflower base and then add the chicken on top along with other tasty toppings.
You can of course mix them all together to get the same flavor combination but it just looks better when done separately. But mixing together is an option.
Recipe ingredients I used.
You just need a few simple ingredients for this yummy Mexican bowl. I used fresh cauliflower rice, red enchilada sauce, pepper jack cheese, avocado slices, rotisserie chicken, jalapeno, sour cream and fresh cilantro.
When I make regular enchiladas, I dip the tortillas in canned red enchilada sauce and I wanted that effect so I use cauliflower rice instead of the tortillas. It worked great!
For the toppings you can use anything you want but of course you should use chicken. Rotisserie chicken makes it so easy so that is what I used.
I also love avocado and sour cream and since my husband has some fresh jalapeno and cilantro from the garden I used those as well.
However you can use whatever fresh toppings (other than the chicken) that you want.
How to make a keto chicken enchilada bowl.
Step 1: First you have to make the base of this bowl which is the cauliflower rice. Mix raw cauliflower rice with the enchilada sauce and all of the Monterey jack cheese.
I make my cauliflower rice by placing chunks of cauliflower into a food processor and pulse until it looks like rice. It tastes much better than frozen cauliflower rice but that would work too.
Add to a skillet and cook for a couple of minutes until the cheese is melted. Then spoon into the bowl you are using for this dish.
Step 2: Next sprinkle cheddar on top. Microwave for 1 minute or two until it starts to brown around the sides.
Step 3: Then top with your sliced chicken breast and place on top of the cauliflower rice.
Step 4: Add the rest of the toppings that you want. My preferred toppings were sour cream, avocado, fresh jalapenos and cilantro leaves. (Please scroll down to view the printable recipe card.)
Additional toppings could be extra sauce, cheese, black olives, hot sauce, guacamole, salsa, etc. You can store the leftover in an airtight container.
Other low carb Mexican recipes to try.
My family LOVES Mexican food so we have it pretty often. Here are some of my favorite Mexican or southwestern keto recipes that you might like.
Also you might want to try my friend Sabra' slow carb homemade enchilada sauce recipe!
This is not a very complicated recipe so I think it you will be able to assemble it in just 15 minutes or so if you have everything on hand.
I hope you give this keto enchilada bowl a try next time you are craving Mexican food. Enjoy!
The nutrition info for 1 serving (2 servings per bowl) with cilantro, jalapeno and sour cream is 347 calories / 16.5g fat / 10.1g carbs / 3g fiber / 37.3g protein
Keto Chicken Enchilada Bowl Recipe
This delicious keto chicken enchilada bowl is super easy to make and takes less than 15 minutes when you use leftover or rotisserie chicken. Add your favorite toppings for a delicious low carb Mexican dinner.
Ingredients
2 cups raw cauliflower, riced
½ cup of enchilada sauce  (red)
⅓ cup Monterey Jack cheese, shredded
¼ cup cheddar cheese, shredded
6 oz cooked chicken breast, sliced
2 tablespoons cilantro leaves (optional)
½ jalapeno pepper, sliced thinly (optional)
2 tablespoons sour cream (optional)
Instructions
Make the base of the bowl by mixing the cauliflower rice, red enchilada sauce and Monterrey Jack cheese in a skillet. Cook for a couple minutes until the cheese has melted and everything is well combined.
Take it out and spoon into the bowl you are using for this dish.
Sprinkle the cheddar cheese on top and microwave for 1-2 minutes until it starts to brown around the edges. Cooking time may vary.
When the cauliflower mixture is done, top with sliced cooked chicken and then your favorite toppings. I used fresh sliced jalapeno pepper, cilantro leaves, sour cream and avocado. Other choices would be black olives, gaucamole, salsa, hot sauce, etc.
Notes
The nutritional information for 1 serving (2 servings per bowl) with cilantro, jalapeno and sour cream is 347 calories / 16.5g fat / 10.1g carbs / 3g fiber / 37.3g protein
Nutrition Information:
Yield:

2
Serving Size:

1
Amount Per Serving:
Calories:

347