If you are looking for a new low carb salad recipe this summer, try this keto buffalo chicken salad spread. It is sure to be your new favorite recipe! It's creamy and spicy and full of shredded chicken. It's the perfect recipe to use leftover chicken breast and you can whip it up in minutes. Best of all it only has 0.5 grams of carbs and 21.9 grams of protein!
You might also like this lemon & herb keto chicken salad recipe.
I love to eat salads in the summer time and cold chicken salad is high on my list. However I am very picky and don't like traditional chicken salad that is swimming in mayo or even worse if it's bland. So I made some keto buffalo chicken salad.
Actually I also made this dish because we had a few grilled chicken breasts leftover from dinner the night before so I shredded it in the food processor to get the texture I wanted and added the rest of the ingredients. And the star of the show was the spicy buffalo sauce flavor.
It was so good! My husband I ate the whole thing. The bite of the spicy hot sauce and creamy mayo took this salad to the next level and it only had 0.5g net carbs. It's also very high in protein so it's great after a workout.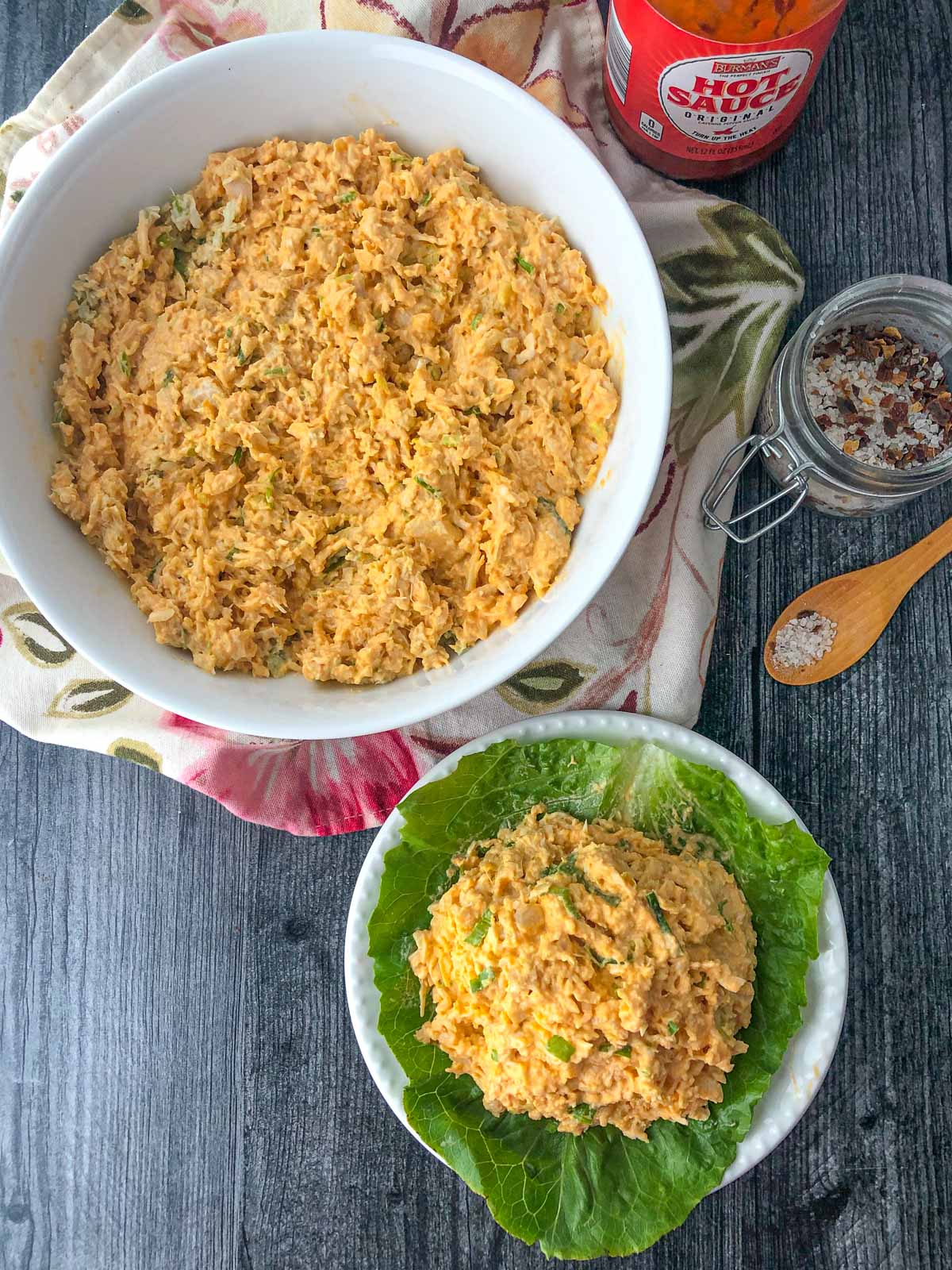 Recipe ingredients I used.
The 5 simple ingredients you need to make this dish is cooked chicken breast, hot sauce, celery stalks, green onion and mayonnaise.
The first time I made this I used leftover grilled chicken but for this post I used frozen chopped chicken. I often buy a rotisserie chicken and clean off the meat. Then I place 1 cup into baggies and freeze for casseroles and soups but it also worked great in this recipe!
Note – Franks Red Hot Sauce makes a buffalo seasoning blend powder. It would work good in this recipe too. Just sprinkle some in for more flavor.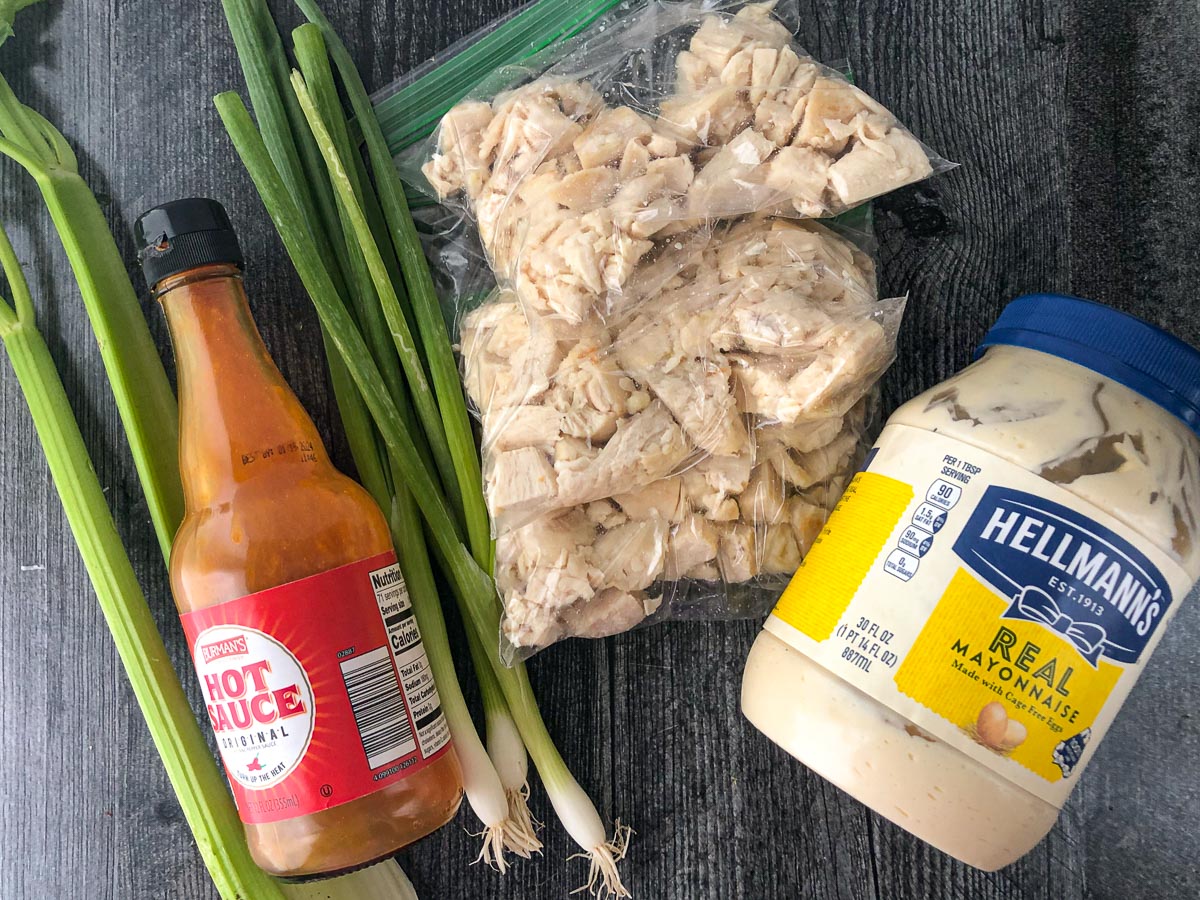 How to make keto buffalo chicken salad spread.
Step 1: Add the green onions and celery to a food processor and pulse until well chopped.
Step 2: Add the cooked chicken pieces and pulse until shredded. If you prefer it to be in bite size pieces instead of shredded you can skip this part.
Step 3: Scoop out the chicken mixture into a medium sized mixing bowl and add the mayonnaise and hot sauce. Mix well and taste. If you want more buffalo sauce add it. If you want more creaminess add more mayonnaise.
Step 4: Refrigerate until ready to eat. Serve with fresh veggies like celery sticks or sweet bell peppers. You can also eat it as is or in lettuce wraps. I like to scoop some onto a piece of romaine lettuce and eat it like a sort of taco.
This recipe makes about 6 servings so you can have for a couple meals. It would good for meal prep lunches. Cover with plastic wrap or store leftovers in an airtight container. (Please scroll down to view the printable recipe card.)
While I've never tried it, you might want to add a tablespoon or two of cheese to this dish. I would suggest either shredded cheddar cheese or blue cheese crumbles. As it is it tastes like a spicy classic chicken salad.
More delicious keto buffalo chicken recipes.
If you follow my blog than you know how much I love this flavor combination. I have a bevy of low carb recipes but here are my favorites.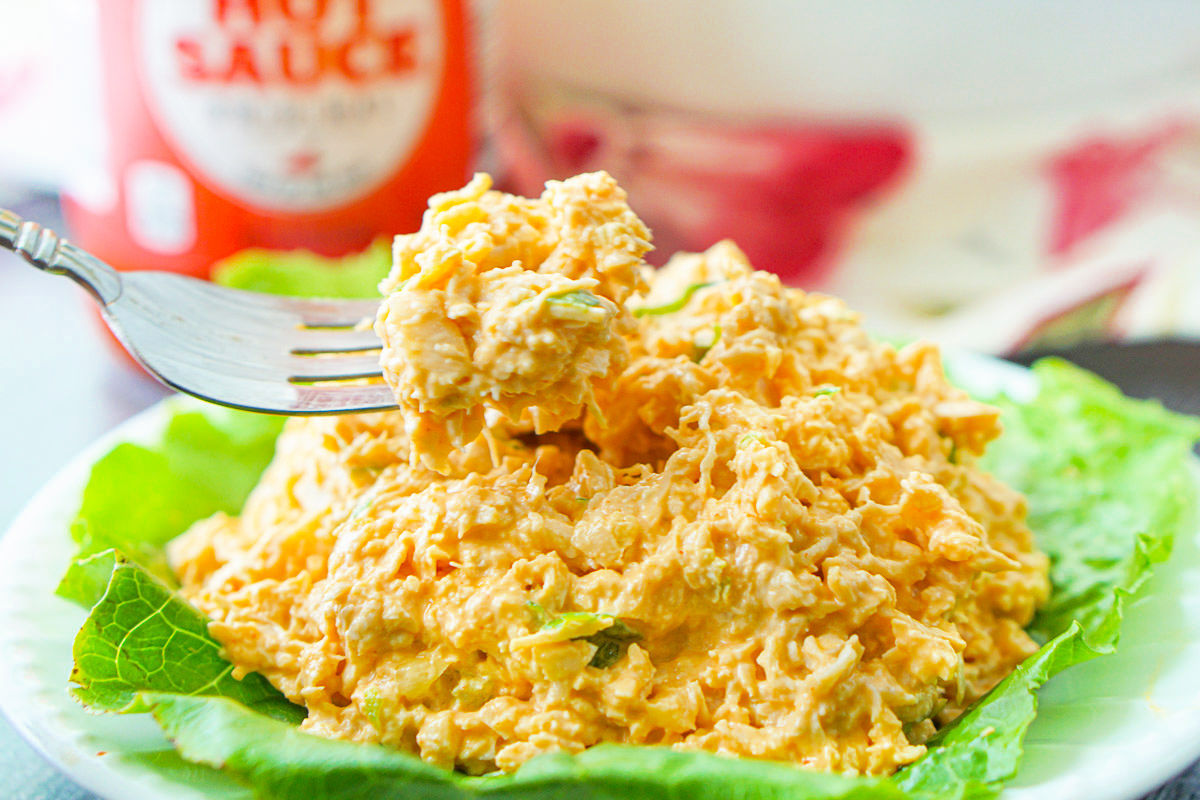 I hope you give this keto buffalo chicken salad spread a try because it awesome. It uses minimal ingredients and only takes 5 minutes to make.
It's perfect for quick lunches in the summer time. I've already made it twice and can't wait to make it again. Enjoy!
The nutritional information for 1 serving is 239 calories / 15.9g fat / 0.8g carbs / 0.3g fiber / 21.9g protein = 0.5g net carbs
Keto Buffalo Chicken Salad Recipe
The keto buffalo chicken salad recipe just takes 5 minutes to make and is so full of flavor. It's low carb and high protein and great for a quick summer lunch. Try it next time you have a rotisserie chicken or leftovers.
Ingredients
3 cups chicken breast, cooked
2 green onions
1 small celery stalk
½ cup mayonnaise
¼ cup hot sauce
Instructions
To a food processor add the green onions and celery stalk. Pulse until well chopped.
Next add the cooked cubed chicken and pulse until shredded.
Scoop the mixture out of the food processor into a medium bowl.
Add the hot sauce and mayonnaise and mix well. Taste and see if you want more hot sauce or mayonnaise. You can also add a pinch of salt and black pepper if you wish but I didn't think it needed it.
Refrigerate until ready to eat. Eat as is, with cut vegetables or in lettuce wraps. I like to scoop it onto a pieces of Romaine and eat it like that.
Notes
The nutritional information for 1 serving is 239 calories / 15.9g fat / 0.8g carbs / 0.3g fiber / 21.9g protein = 0.5g net carbs
Nutrition Information:
Yield:

6
Serving Size:

½ cup
Amount Per Serving:
Calories:

239