These keto fried chicken mini sandwiches make for great finger foods for a football party or even for dinner. Eat with lettuce wraps for a keto version or buy mini buns for those not on a low carb diet.
You might also like these keto fried pork strips with 3 dipping sauces.
If you don't have an air fryer, maybe think about investing in one. They are great for making fried foods but really cook food quickly and easily. Like these keto fried chicken mini sandwiches. They only take about 15 minutes in the air fryer and they are so crispy and delicious.
These cute chicken sliders would be great for a football party or tailgate if you are looking for low carb finger food. I ate mine as a lettuce wrap and it was awesome and my family ate them on slider buns. Top them with a ranch dressing and pickled onions for the perfect sandwich.
Other Keto Or Low Carb Party Foods
Since it's fall and football season I wanted to share with you a few more low carb party food ideas. Some I have even eaten for a low carb dinner.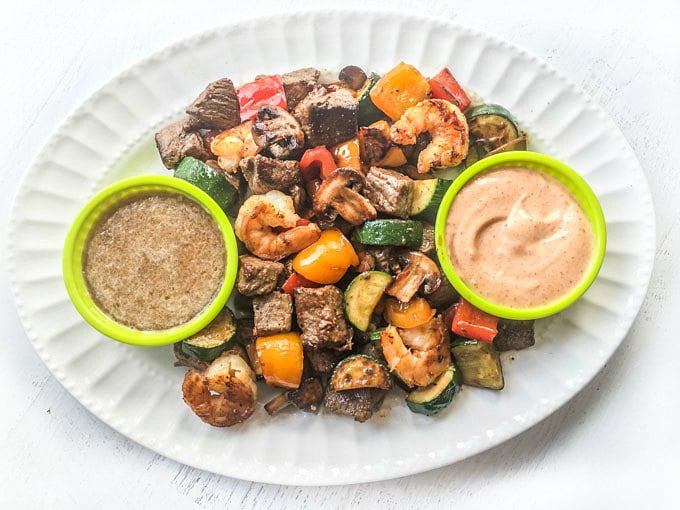 Ingredients For These Keto Fried Chicken Sliders
Below you can see the basics for these fried chicken sliders. I bought all the ingredients at Aldi.
fried chicken patty: The breading is simply crushed pork rinds and Parmesan cheese. I used their thin sliced chicken breasts so I wouldn't have to pound out the chicken cutlets.
buns or lettuce wrap: For those that don't care about their carbs, Aldi also had these cute brioche rolls that were the perfect size for sliders. For my low carb version I used mini romaine lettuce leaves;1 leaf as the top bun and 1 as the bottom bun.
The pickled red onions: These are just a mixture of vinegar, water, salt and Swerve sweetener. See recipe below.
Making The Mini Fried Chicken Patties In The Air Fryer
To make these fried chicken patties or cutlets use thin cut chicken breasts. You can also use regular chicken breasts and slice them as you would a bagel. Then pound each piece thin. I also cut them into the right size for the bun. I got 12 small chicken cutlets out of 1 pound of chicken. This made about 8 sandwiches because some of the pieces were very small so I used two.
I first coated the chicken cutlets in mayo and then dredged them in a combination of crushed pork rinds and parmesan cheese. I put the mayo in a baggie and then add the raw chicken pieces. It's easier to get them coated by squishing the mayo over the chicken through the baggie. Then coat them in the breadcrumb mixture.
Set them in your air fryer and bake at 380°F for 10 minutes then increase the temp to 400°F for 5 more minutes to get them crispy.
Making Keto Fried Chicken On The Stove
To make these on the stove, heat a large skillet to medium high. Then add a little oil and fry them on both sides until golden brown. This should only take a about 5 – 10 minutes.
If your chicken is thicker, you may have to bake them in the oven (350° F) for about 10 minutes to make sure they are cooked through.
Love These Easy Pickled Red Onions Recipe!
Pickled red onions are a new thing for me. They are so good on sandwiches because they have that crunchy, sweet and sour taste. They go particularly good on these fried chicken sandwiches.
To make the simple pickled red onions, mix ½ cup of mild vinegar to 1 cup of water. Then dissolve 1 tablespoon of Swerve sweetener and 1 teaspoon of salt in the solution. Slice 1 red onion very thin (with a mandoline if possible) and place into a glass jar. Pour the solution overtop and refrigerate for a a couple hours. Thats it!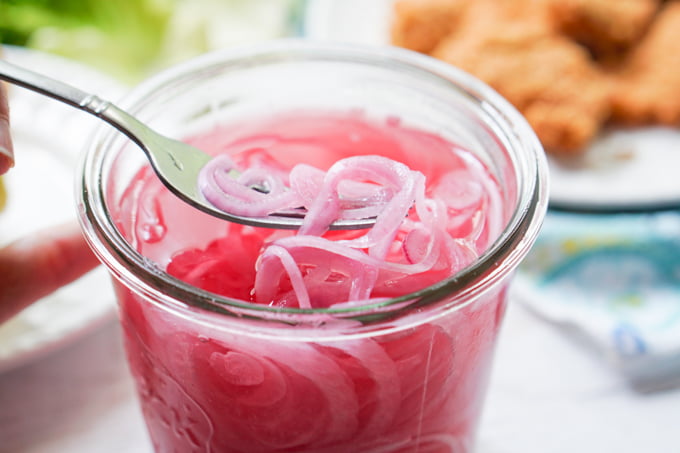 Putting It All Together
For the low carb version, I used two mini romaine lettuce leaves as the bun. I place a piece of the keto fried chicken on the lettuce, then dollop of ranch dressing or one of the aioli's below. Top with some pickled onions and another lettuce leaf. Deliciousness!
Or try my friend Kasey's recipe. She has the best keto buns that would go great with this recipe!
Try One Of These Keto Aioli Recipes For The Sandwich
Here are a few aioli recipes you might like: buffalo aioli, jalapeno aioli, roasted garlic aioli, avocado lime dip or tomato bacon jam. They are all pretty easy to make and would be delicious.
You can also just use mayo or ranch dressing if you wish. Check out my friend Mira's keto mayonnaise recipe, it looks delicious!
For The High Carb Version
Above you can see what it looks like with a real bun. I think these brioche rolls might have been a special seasonal purchase at Aldi but I know they have King's Hawaiian rolls there all the time.
Below you can see the lettuce wrap version. Low carb or not, it is my preferred way to eat these sandwiches.
Well that a long one today but I really like making fried food in the air fryer. They cook so quickly and evenly. I've been finding more and more recipes that work well in it. I hope you like these as much as I do. The nutritional information is as follows:
1 tablespoons of pickled red onions is roughly
4 cals / 0.9 carbs / 0.2g fiber / 0.1g protein = 0.7g net carbs
1 fried chicken patty
218 cals / 13.4g fat / 0.2g carbs / 22.9g protein = 0.2g net carbs
If you like this recipe, you may also like my friend Annissa's keto chicken nuggets recipe!
Where To Buy Pork Rind Breading
If you don't want to make your own pork rind crumbs you can always buy these Pork Panko breading crumbs on Amazon!
Keto Fried Chicken Mini Sandwiches in the Air Fryer
These keto fried chicken mini sandwiches make for great finger foods for a football party or even for dinner. Eat with lettuce wraps for a keto version or buy mini buns for those not on a low carb diet. 
Ingredients
1

lb

thin sliced chicken breasts, cut into bun sized pieces

½

cup

pork rinds, crushed

⅓

cup

mayo

½

cup

parmesan cheese, grated
Instructions
380°F for 10 minutes then 400°F for 5. Made 12 small pieces.

Cut the thin chicken breasts into pieces that would be good for your mini sandwiches. I got 12 pieces in 1 lb of chicken and made 8 sandwiches.

Take the raw chicken and add to a baggie with the mayo. Squish the chicken around the bag to make sure it's well covered in mayo.

In a separate bowl, add the pork rinds and parmesan cheese. Mix well.

Place the mayo covered chicken into the bread crumb mixture and coate on both sides.

Spray the basket of the air fryer and place in the breaded chicken. Bake at 380°F for 10 minutes then increase to 400°F for 5 more until as crispy as you like.

To make on the stove, heat some oil in a large skillet. Brown the chicken pieces on both sides. MIght take about 5-10 minutes. If chicken is very thick, then cook in oven (350°F for 10 minutes.)

Assemble the sandwich with 2 romain lettuce leaves for the bun, some pickled onions and ranch deressing. Enjoy!