This low carb creamy avocado lime dressing is delicious, fresh and tangy. It can also be used as a keto dip or spread for meats. The avocado creaminess tastes great with Mexican fare as well. Only 1.4g net carbs for 2 tablespoons.
You might really like this low carb creamy cilantro lime coleslaw recipe too!
This recipe was born out of an abundance of avocados from a Costco run. Did you ever impulsively buy too much at Costco? Does anyone ever not impulsively buy too much at Costco? Well I had more avocados than I could eat and two tubs of dips in my refrigerator so guacamole was out. Then I remembered I could make this low carb creamy avocado lime dressing with them and voila.
All the things you can do with avocados
I have quite a few avocado recipes that I really like. A super easy low carb snack are these tomato, avocado & salami snacks. I also have some a tasty recipe for Greek guacamole and they are great in smoothies like this mango match smoothie. Lastly would you believe I put avocados in this low carb chocolate peanut butter pudding?
How do you like your dressing?
This dressing came out really thick. I even added some water to it to thin it out but it's still thick. Therefore I think you could even use it as a dip or a topping on chicken or fish. As a dressing I mixed it with my greens first and then added my toppings. It was delicious.
It's very tangy and I like that in a salad dressing. However if you want a bit of sweetness, orange juice would be a nice addition.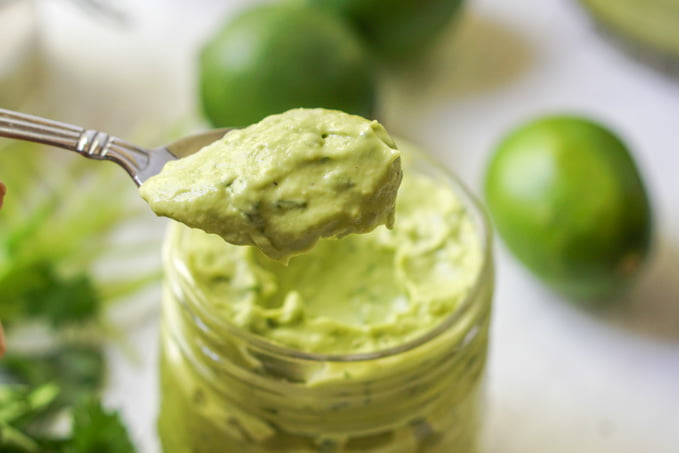 Creamy Avocado Dressing Ingredients
The ingredients I used for this dressing or keto dip are: avocados, olive oil, lime juice, cilantro, garlic, cumin, salt & pepper. If you are not a cilantro fan, you can substitute parsley or leave it out all together.

Creamy Avocado Lime Dressing Recipe
Of course this is ridiculously easy to make. Just throw your ingredients in a blender or food processor and blend well and then add to a bottle or jar. By the way, I have a mini food processor like this that is perfect for these small batch recipes.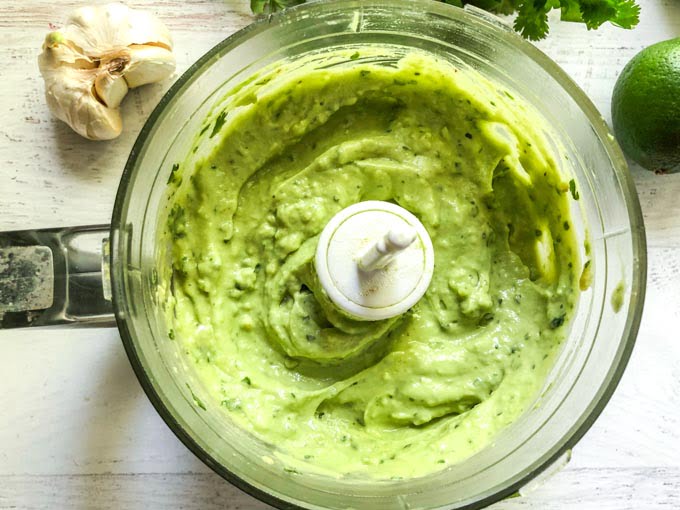 Well I hope you like this creamy avocado dressing. I used mine up quickly but I wish I would have tried it with fish or even on tacos because I think it would be quite tasty. Now that I'm thinking of it, try it on a turkey sandwich or wrap. I bet it would be perfect!
I did have a leftover piece of chicken and loved how good it was this dip (see below). It's great with a drier piece of meat like chicken breast or pork.
Well I think I should head out to Costco again so I can make some more. Enjoy. The nutritional information for 1 serving (2 Tablespoons) is:
123 cals / 12.3g fat/ 4g carbs / 2.6g fiber / 0.8g protein = 1.4g net carbs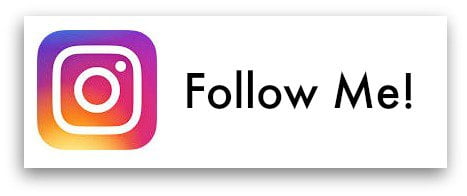 Avocado Lime Dressing
This is a delicious, fresh and tangy dressing that can also be used as a dip or topping for meats. The avocado creaminess tastes great with Mexican fare as well.
Ingredients
1 1/2

avocados

1/4

cup

lime juice

1/4

cup

olive oil

1/4

cup

water

1/2

teaspoon

crushed garlic

1/4

cup

cilantro

1/8

teaspoon

cumin

1/8

teaspoon

pepper

1/4

teaspoon

salt
Instructions
Process until smooth.

Refrigerate for up to a week.

Use as a dressing or dip or even for onto of fish, chicken, pork or beef.

Try it on sandwiches too!