These low carb salami tostadas are a delicious snack and only take 5 minutes to make.  Just 1 tostada has only 0.6g net carbs and makes a great appetizer too!
Did you ever hear of microwaved salami? My mother in law made this for me many, many years ago and I was surprised at how tasty it is. I tastes a bit like bacon with much less mess. The other day I was craving Mexican food so I threw together these low carb salami tostadas. So tasty and they only take 5 minutes to make! Best of all each one has only 0.6g net carbs so you can eat a bunch and not feel guilty!
I have made something similar to this with my salami, tomato and avocado cups and with my pepperoni roasted tomato pizza cups. In those recipes I made cups out of the salami and pepperoni and it had to be baked in muffin tins. This recipe is much easier.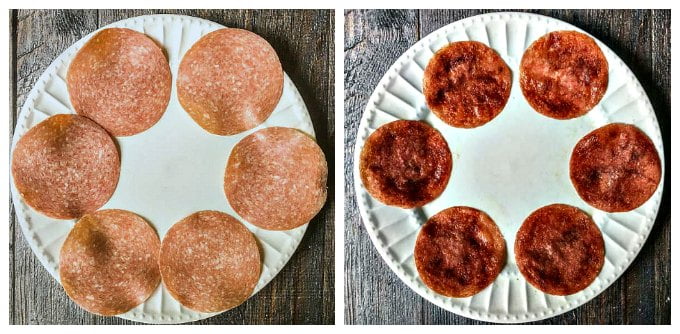 You can make salami chips in an oven but I like the microwave because it's faster. Just arrange the the slices on a plate or a microwave bacon cooker like this and cook for 1 -2 minutes. You might have to experiment a few times to get them to your desired crispiness. They can burn quickly so after a minute, cook for 15 second intervals until they are done. The time may vary depending on the thickness of your salami. I tried it with thick and thin and I liked the thicker ones better. 
Now you have your salami tostadas, just load them with your favorite toppings. For this particular recipe I used full fat sour cream, a finely diced grape tomato, lettuce, cheddar and a thin slice of jalapeño. Delicious! You could add avocado or mix a few spices in the sour cream  or even add some cilantro and a squeeze of lime!
Low Carb Salami Tostadas
So that was a quick and easy low carb snack for you to try sometimes. Please let me know if you like them or if you have a different take on this. I'd love to hear about it! The nutritional information for 1 tostada is:
57 cals / 4.5g fat / 0.8g carbs / 0.2g fiber / 3.3g protein = 0.6g net carbs
5 Minute Low Carb Salami Tostadas
Ingredients
9

pieces

of salami

3

tablespoons

of sour cream

3

tablespoons

of cheddar cheese

shredded

1

jalapino

thinly sliced

1/2

cup

shredded lettuce

3

grape tomatoes

small dice
Instructions
Add the salami slices to a microwave plate.

Microwave for 1 minute. Then in 15 second intervals cook again until they are darker in color but not burnt. Mine took 1-2 minutes.

Let cool while you chop your vegetables.

Assemble salami with lettuce, cheese, sour cream, tomatoes and jalapeños.
This post may contain affiliate links. For more information please visit our policies page.
---
More low carb snacks!