These keto lunch meat wraps are a deliciously easy high protein low carb snack or even lunch that you can make in minutes. Using low carb vegetables, condiments and cheese, you can mix and match to make a tasty wrap without the bread so it's gluten free too! And they only take minutes to make so they are good for keto meal planning.
You might also like these low carb fajita lettuce wraps.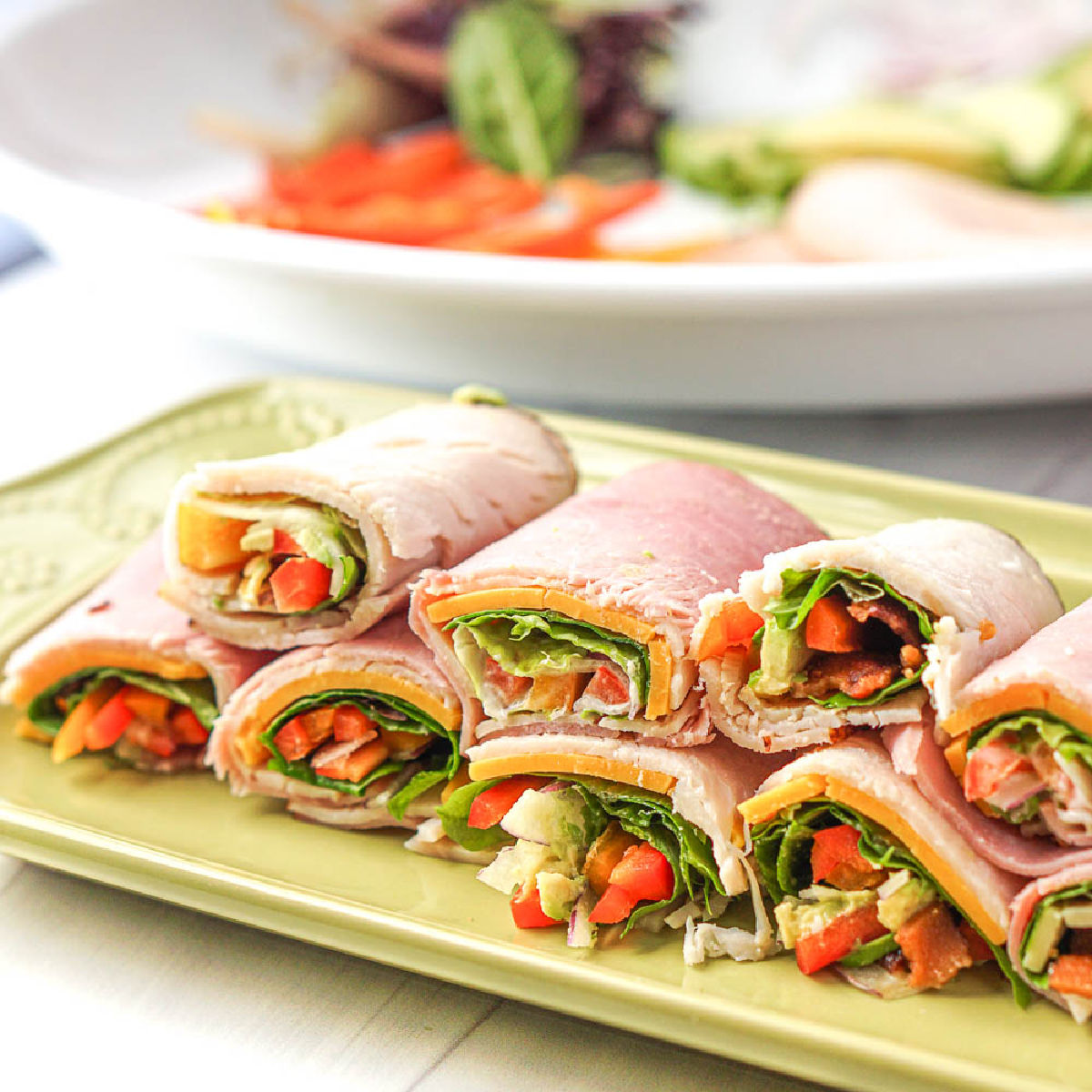 This recipes didn't turn out the way I planned. I had wanted to make an egg roll out of deli meat, cheeses and veggies. I thought it would be fun and cute looking.
Well it's not as easy as it sounds and I ended up with these keto lunch meat wraps. Turns out they were super easy and fun to make and absolutely delicious! They really are like a delicious sandwich or wrap without the bread and they take minutes to make.
I know it's just meat and cheese rolled up but it's the contents that make it most delicious. And they are perfect for a high protein low carb snack, quick lunch or even a dinner. My husband loved them as much as I did.
Let's talk about healthy lunch meat.
Lunch meat can be full of salt and nitrates and all kind of yucky stuff. So when ever possible I make my own lunch meat. I have a whole post if you are interested.
A while back I bought a meat slicer like this so we could make our own lunch meat. Part of the problem when you make healthy meat roasts is slicing it thin enough to use on sandwiches or meat rollups like these. So the slicer is very helpful.
My husband has a smoker (actually 2!) that he's become a master of so we've made lunch meat out of smoked turkey, smoked brisket and a baked roast beef (which you can see below).
We've also use the slicer to slice pepperoni thinly and ham etc.
So if you want the healthiest lunch meat try to make your own. If you don't have the time, I understand. You can try brands like Applegate Farms and even Aldi has a Never Any brand that doesn't have any nitrates and other things in their lunchmeat.
For this post I just went to the deli counter and looked for the largest pieces of deli meat I could find because I originally wanted to make egg rolls out of these.
The 3 keto lunch meat wraps I made today.
There are so many combinations you can make with these lunch meat wraps. The biggest and tastiest one I made is down in the recipe card below but it was a take on a Chef Salad.
The simple ingredients I used were ham, turkey, cheddar, Swiss, slices of crispy bacon, peppers, red onions, baby greens and a little ranch dressing. It was yummy!
For my hubby we made a roast beef, cheddar, peppers, baby greens and a good grainy mustard. My second favorite was a turkey, bacon and avocado wrap.
Below I have listed the approximate net carbs for some of the fixings I used. For the deli meat I used the Dietz & Watson brand on my Lose It app.
Please check with your own food tracker first as listings vary from app to app. These are just some ideas for you to see what your can put on your wraps.
Another way to eat these meat rollups.
If you are a big salad fan like me you can also take these ideas and make salad bowls. Just fill a bowl with lettuce, chop the lunch meat and your favorite cheese into pieces, add the other fixings you like and top with salad dressing.
Carb counts for low carb sandwich toppings.
You have lots of options as to what to put in in these keto roll ups. Here are few ideas for you.
bell pepper slices: 2 tablespoons 0.7 net carbs
baby Spring mix greens: 2 tablespoons 0.1 net carbs
red onion slices: ½ slice 0.4 net carbs
tomatoes: thin slice 2g net carbs
avocado: ⅛ of whole 0.4 net carbs
dijon mustard: 1 teaspoon 0g net carbs
ham: 1 oz 0.5 net carbs
turkey: 1 slice 0.5 net carbs
roast beef: 1 oz 0g net carbs
pepperoni: 2 slices 0.1g net carbs
hard salami:1 oz 0g net carbs
cheese, cheddar: 1 slice 0g net carbs
ranch dressing: 1 teaspoon 0.2g net carbs
Italian dressing: 1 teaspoon 0.5g net carbs
mayonnaise: 1 teaspoon 0g net carbs
dill picke: 1 spear 0.5g net carbs
green olives: 3 pimento stuffed 0.6g net carbs
hot sauce: 1 teaspoon of Franks hot sauce 0 carbs
cream cheese: 1 tablespoon whipped cream cheese 1g net carbs
Well I hope you like these low carb lunch meat wraps. I really liked them as did my husband. I think these will be come a staple in our house this summer.
It's a simple lunch idea but it's convenient too. You can take these on the go, for a picnic, on a road trip, etc. You really won't miss the tortilla or flatbread at all if you are on a low carb diet.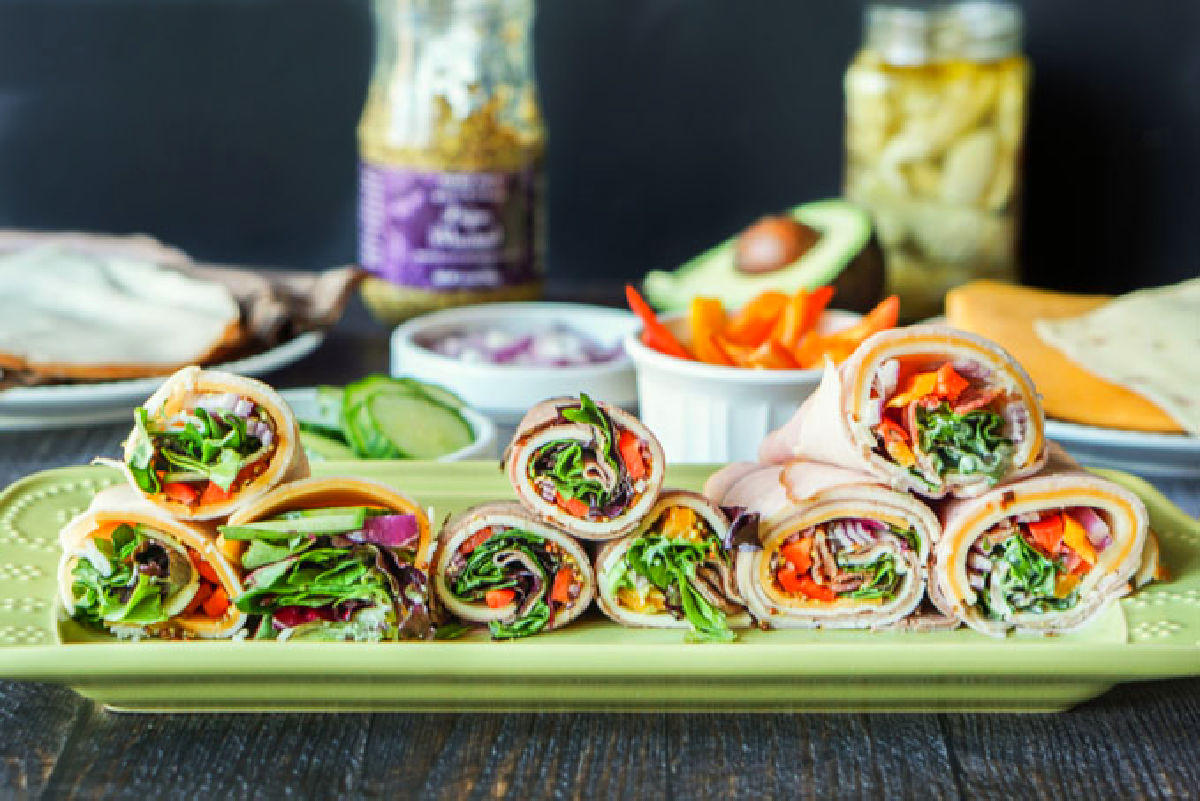 They are such a tasty and easy lunch or snack and you can make so many varieties using different types of cheese, meat slices and fresh veggies. And since they are like rollups, you could also slice them and serve as a keto appetizer. Enjoy!
The nutritional information for ½ of the large Chef Salad Wraps is below: 357 calories / 25.1g fat / 5g carbs / 0.6g fiber / 28.3g protein = 4.4g net carbs
Chef Salad Wrap - Keto Lunch Meat Wraps
These low carb lunch meat wraps are a deliciously easy low carb snack or even lunch that you can make in minutes. Using low carb vegetables, condiments and cheeses, you can mix and match to make a tasty wrap without the bread.
Ingredients
1 slice ham
1 slice turkey
1 slice cheddar
1 slice swiss
2 tablespoons baby lettuce greens
1 slice bacon, cooked
1 mini bell pepper, thinly sliced
½ slice red onion, thinly sliced
1 teaspoon ranch dressing (or dressing of choice)
Instructions
Lay down larger slice of meat on the bottom. For me it was the ham, then the turkey slice.
Add the two slices of cheese on top of the meat, along with a piece of bacon.
Add the thin slices of pepper and onion and top with baby greens.
Spoon 1 teaspoon of your dressing of choice and then carefully roll up into a wrap.
Refrigerate until ready to eat. To store leftovers you can roll in plastic wrap or wax paper. Or you can store in an airtight container.
Nutrition Information:
Yield:

2
Serving Size:

½
Amount Per Serving:
Calories:

357
Unsaturated Fat:

0g