Did you ever try to make your own lunch meat? It's very easy to do and healthy for you and your family. But the best reason of all is that it is delicious!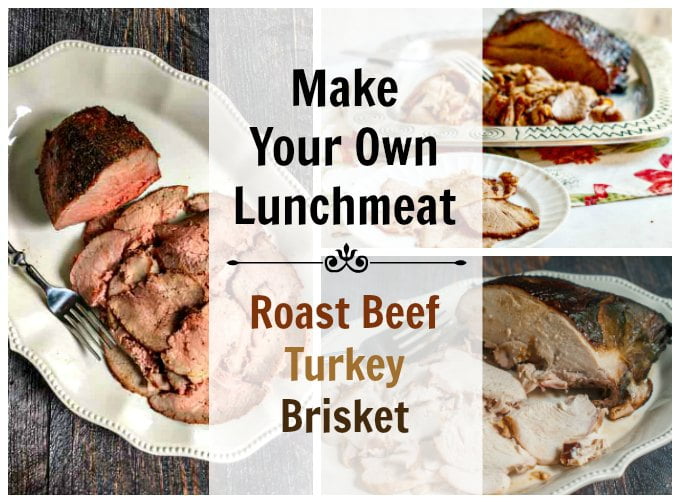 I've been wanting to make my own lunch meat for years now. My friend told me about it years ago and it sparked an interest but I never tried it. Now that my husband has a smoker (or two) and we use it often, I figured I should start trying it. Sandwiches in the summer are our go to lunch with the kids being home and it being hot outside. So I've found that we can make a roast and have it for dinner but then slice it up for lunch the next few days!
Thinly Sliced Lunchmeat
This biggest reason I wrote this post is because I bought a slicer. Correction, my husband bought a slicer. He bought this one from Amazon and we are quite happy with it. It is the perfect thing for slicing meat thin which is great when you have a tougher piece of meat.
For instance I roasted a lean eye of the round which was tough but when you slice it thin it's delicious! We ate it for dinner one night and then had sandwiches the next. My father in law was a butcher and he lives with us, so when it comes to meat and kitchen related meat gadgets we confer with him first. He knows his meat!
Smoked Turkey Lunch Meat
Above is a brined smoked turkey breast we just made last night (here's the post). It was fabulous! That was only one breast but the two gave us so much meat. We had a Thanksgiving style Sunday dinner in summer! And then we had so much turkey meat leftover, which is perfect for sandwiches this week.
Note if you are smoking a turkey breast for lunchmeat, it is easier to split the breast into 2 pieces but keep it on the bone to retain the juices. When it's done smoking, cut the breast meat off the bone and then slice by hand or with a slicer.
I don't really eat sandwiches often but I love this type of meat on salads, for a low carb meal.
Barbecue Brisket Lunch Meat
Below is the smoked barbecue brisket from last week. Again, a tough piece of meat but when you slice it thin it is just delicious! This is my son's favorite surprisingly to me.
Again, leftovers make tasty sandwiches. Add a little barbecue sauce for a zing!
Roast Beef Lunchmeat
And lastly here is our roasted eye of the round. I made this in the oven. By the way, you can cook your meat anyway you want, you don't have to smoke them nor do you have to have a slicer. However slicing it as thin as possible helps the taste in my opinion. This roast was rubbed with spices and cooked for a over an hour. It came out pink in the middle but last time I made it is was a bit pinker and I liked it better that way. This was very good too though.
Roast beef sandwiches are my husband's favorite. He likes to eat it with a horseradish spread. Now my father in law scoffed at me for making the eye of the round because he said it would be too tough. Well he changed his mind and gratefully accepted his second roast beef sandwich. Great praise if you knew my father in law. 😉 I adapted this recipe from the Hungry Mouse and my recipe is below.
Make Your Own Lunch Meat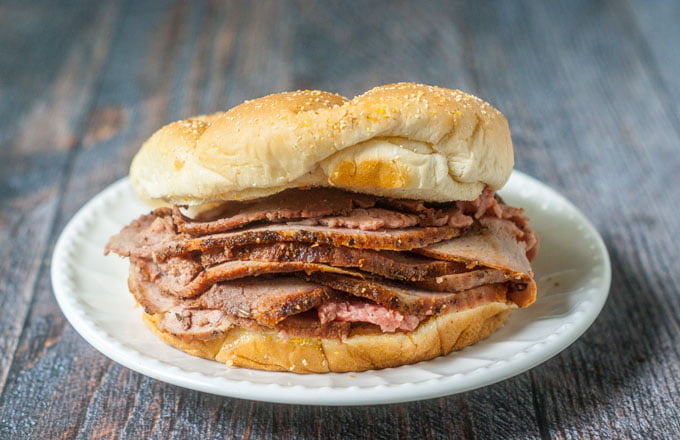 This post is really not rocket science. I'm just offering the idea that you don't have to buy expensive, additive ladden lunch meat at the deli. You can just make your own meats and slice it thin. It's become a game changer in our house and I wanted to share it with you. Enjoy!
Make Your Own Lunch Meat - Turkey Brisket & Roast Beef
Did you ever try to make your own lunch meat? It's very easy to do and healthy for you and your family. But the best reason of all is that it is delicious!
Cook Time
1
hour
30
minutes
Total Time
1
hour
35
minutes
Ingredients
2

lb

eye of the round

½

teaspoon

garlic powder

½

teaspoon

onion powder

1

teaspoon

pepper

1

teaspoon

salt

¼

teaspoon

thyme

½

teaspoon

paprika

1

tablespoon

of oil
Instructions
Preheat oven to 500 degree F.

Mix all the spices in a small bowl.

Rub oil and then the spice mixture all over the roast.

Set a roasting rack on a cookie sheet and then the roast on the rack.

Cook at 500 degree F for 20 minutes then lower to 300.

Continue cooking for approximately 1 hour or more until reaches about 135 - 140 for a medium rare. Let set for 20-30 minutes before slicing.
Recipes for your turkey lunch meat!