This chicken alfredo pizza is a delicious keto dinner because it uses a gluten free, low carb cauliflower crust. Loaded with chicken, spinach and cheese with a creamy keto alfredo sauce underneath. It's so full of flavor and very easy to make. Each piece has only 2.2g net carbs.
You might also like this low carb chicken & vegetable cauliflower pizza recipe!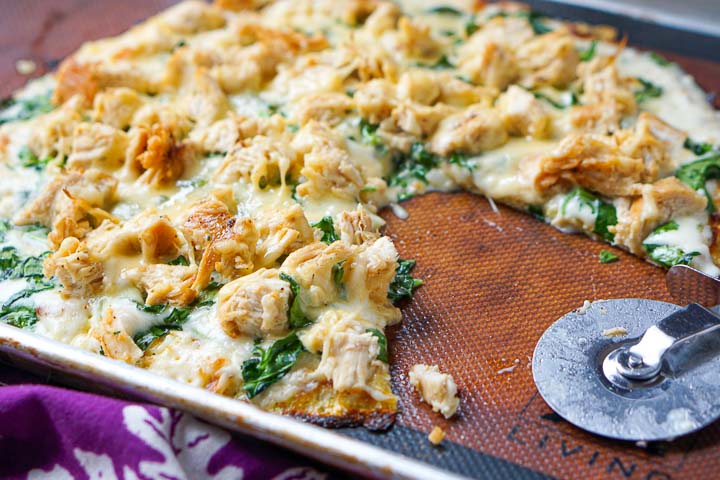 A few years ago I made a keto cauliflower crust pizza and I really liked it however I forgot all about it. Well the other day I was craving a chicken alfredo pizza and thought it would be good on a cauliflower crust.
So I got out that old recipe and topped it with a creamy keto alfredo sauce, chicken, spinach and lots of cheese. It was sooo good and I'm sharing it with you today. Each piece has only 2.2g net carbs and it's really packed with chicken so it's hearty. Let's go make it!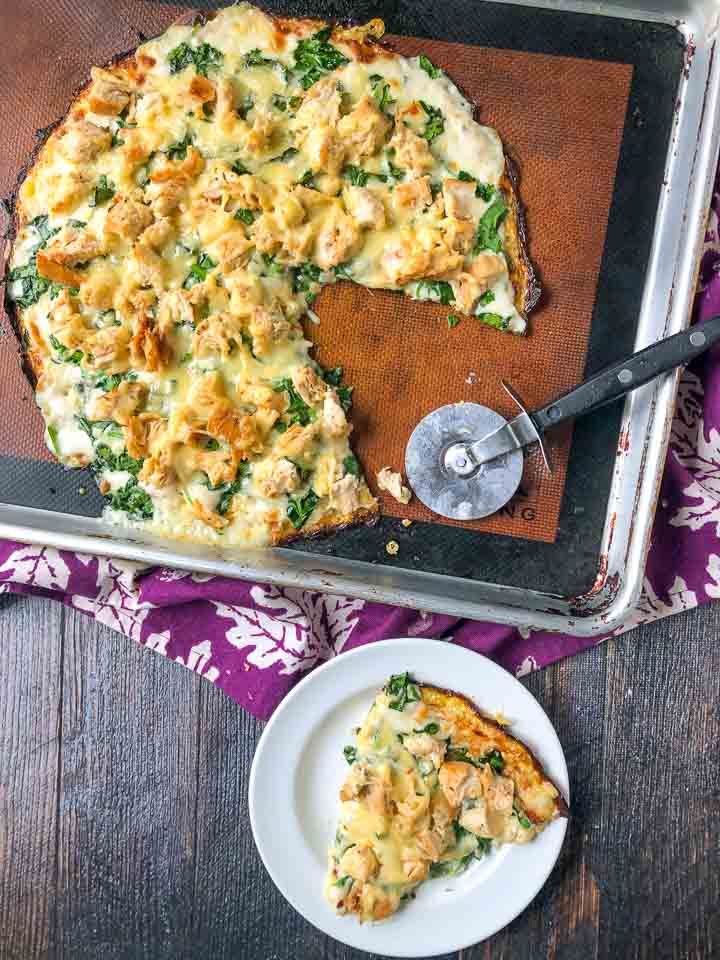 How To Make A Keto Cauliflower Crust
Making a low carb pizza crust from cauliflower is not hard. You just use riced cauliflower, mozzarella cheese, garlic and eggs. Here's how you make it:
Mix riced cauliflower with the eggs, garlic and mozzarella cheese to make a wet dough.
Place the dough on a silicone mat or parchment paper covered cookie sheet. Make sure to spray the parchment paper with cooking spray if you are using it.
Form the dough into a pizza crust
Bake for about 20 minutes or until it just starts to brown (see second picture below).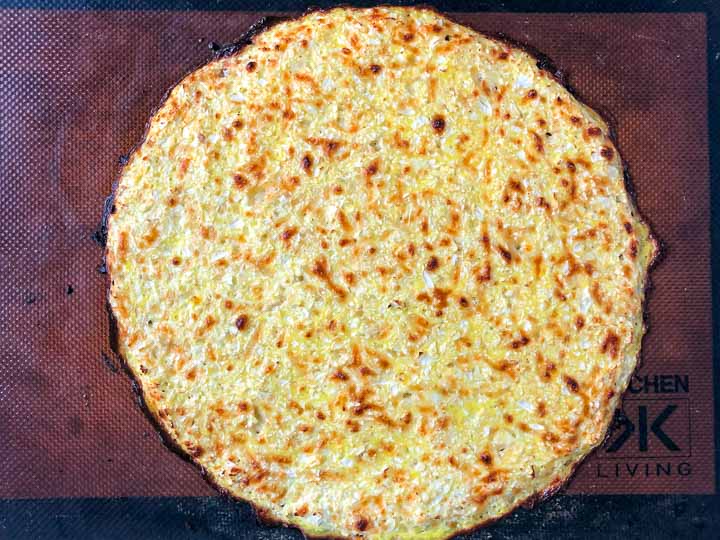 How To Make A Low Carb Chicken Alfredo Pizza
First you need to make the keto alfredo sauce which is very easy and should only take a few minutes. In a small saucepan melt the butter and then add the garlic. Let it cook for a minute or so until it's fragrant but not browned.
Add in the cream cheese, heavy cream and parmesan cheese. Whisk until all the cheese is melted and you have a nice creamy sauce. Take it off the stove and let it cool for a few minutes.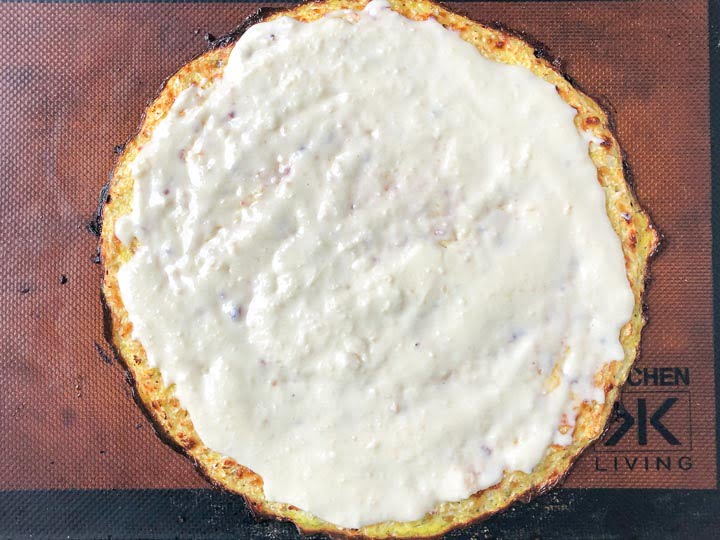 Next spoon the alfredo sauce over the pizza crust and then add the fresh chopped spinach and cooked chicken. Finally top with gouda cheese.
Put it back in the oven and bake for 5 minutes until all the cheese is melted and the spinach starts to wilt. If you want it more browned on top, place it under the broiler for a few minutes. That's all!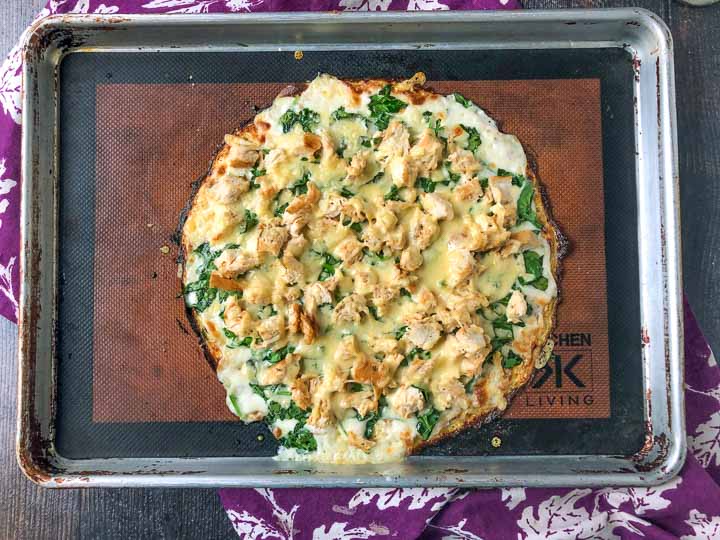 Recipe Tips And Notes
I like to use fresh cauliflower rice instead of frozen but if you use frozen, make sure to thaw it and squeeze all the water out from it so your crust will cook properly.
To make fresh cauliflower rice, just add florets to a food processor and pulse until it looks like rice grains.
I like fresh spinach but if you wanted to use frozen, again you will have to thaw it and squeeze the excess water out of it.
I added A LOT of chicken to this dish but you can use less if you want. Same goes for the alfredo sauce.
You need to use mozzarella in the cauliflower crust but you can use any kind of cheese on top. I like gouda because it melts well and is gooey.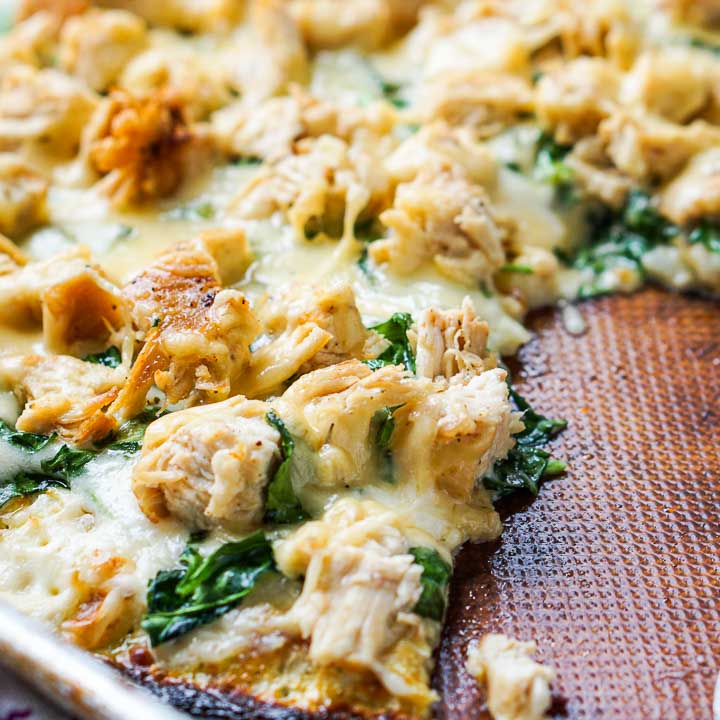 Other Low Carb Pizza Toppings To Try
There are a lot of different low carb toppings you can use on your cauliflower crust pizza. Some ideas are:
proteins like sausage, pepperoni, ham, shrimp, taco meat, shredded pork, bbq chicken, etc
vegetables like sweet peppers, onions, mushrooms, hot peppers, broccoli, sun dried tomatoes, olives, or artichokes
low carb sauces like barbecue, alfredo, tomato, cheddar, pesto or garlic & olive oil
If you haven't tried a cauliflower crust pizza yet, this is the one to try. It's loaded with chicken and cheese and I just loved it. I even froze a couple slices for a later date so I'll let you know how it reheats. The nutritional information for 1 piece is:
230 cals / 17.4g fat / 2.4g carbs / 0.2g fiber / 15.9g protein = 2.2g net carbs

You might also like this keto chicken pizza crust recipe from my friend Mira!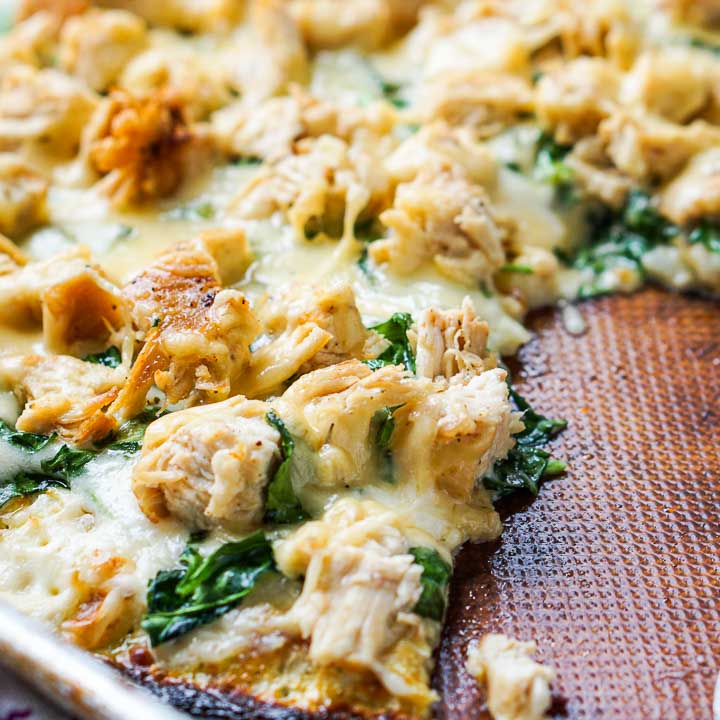 Chicken Alfredo Pizza with Low Carb Cauliflower Crust
This tasty keto chicken alfredo pizza uses an easy cauliflower crust and makes for a delicious low carb dinner.
Ingredients
2 cups of cauliflower rice
1 cup mozzarella, shredded
2 eggs, beaten
1 clove garlic, crushed
1 cup baby spinach, chopped
1 cup chicken, cooked and chopped
1 tablespoon butter
2 cloves garlic, crushed
⅓ cup heavy cream
⅓ cup parmesan cheese
2 tablespoons cream cheese
1 cup gouda cheese, shredded
Instructions
Preheat oven to 425°F
In a bowl mix the cauliflower rice, mozzarella, eggs and 1 clove of garlic crushed.
Place a silicone mat or parchment paper on a cookie sheet. Spread the cauliflower mixture into a large pizza shape. Use your hands or spray a piece of wax paper and use that to make an even pizza crust.
Bake for 20 minutes or until the crust is browned a bit. When done take out of the oven but keep the oven on.
In the meantime make the alfredo sauce. In a sauce pan, add the butter and the rest of the garlic. When the garlic becomes fragrant, add in the cream cheese, parmesan cheese and heavy cream.
Whisk until all the cheese is melted and the sauce is smooth. Turn off the heat and let cool a bit.
When the cauilflower crust is done take it out of the oven but don't turn it off.
Spoon the alfredo sauce over the pizza. Add the chopped cooked chicken and chopped spinach.
Top with shredded gouda cheese and place back into the oven for 5 more minutes until the cheese is melted. Or you can put it under the broiler for a few minutes but make sure it doesn't burn.
Nutrition Information:
Yield:

8
Serving Size:

1
Amount Per Serving:
Calories:

230
Net Carbohydrates:

2.2g