This Bruschetta Salad with Grilled Chicken is another low carb and Paleo dish that uses all those ripe tomatoes from your garden. The best thing is that it can easily be made in minutes!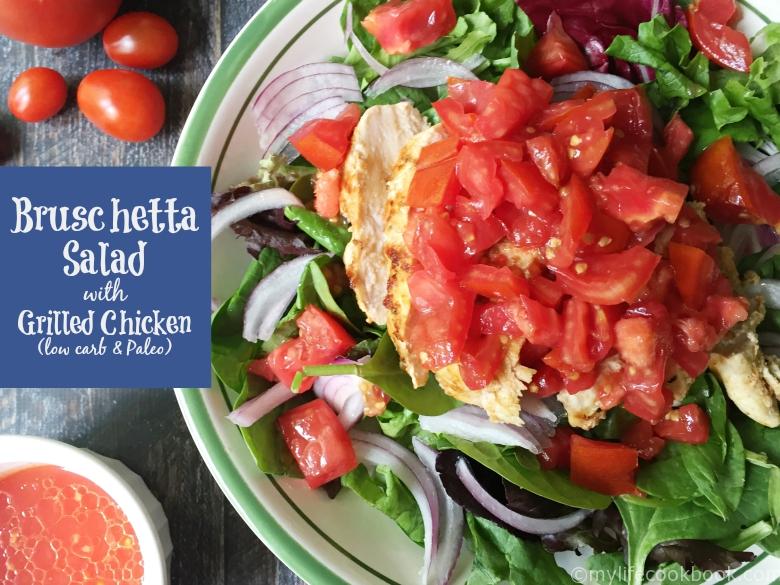 We have so many tomatoes….so, so, so many tomatoes. They other night I made bruschetta using my sister Patti's recipe and they were gone in minutes. But since I am always trying to stay low carb and Paleo (sick of those words yet? 😉 ) I decided to nix the bread and make it into a salad. Delicious! As a matter of fact I've eating this a few times over the last few days and I might be over doing it with the tomatoes. However I wanted to pass this one on to you because it's simple, yummy and makes great use of all those lovely garden tomatoes.
If you have grilled chicken on hand, you can whip this up in minutes. One day I took a few chicken breasts out of the freeze and cooked them for my salads but sometimes I buy precooked chicken strips from Aldi.
Speaking of Aldi, look what I found. A huge tub of freshly washed, organic spring mix for a just a few dollars. Talk about cheap and easy (not me, the salad).  I took a break from my Romaine and I'll be eating this for awhile. So with the pre washed greens, the cooked chicken strips (from Aldi) and my tomatoes from the garden, this took literally 5 minutes to make.
You can also add a nice sharp cheese to this. One day I had asiago and on another I had blue cheese. Last night I ate it without. Each way was delicious.
I think what I like most about this salad is the dressing. Using some of the juices from the ripe tomatoes really gives this simple dressing tons of flavor. I hope you get to try this one. Especially if you are a salad lover like me. I'm always looking for more ways to eat my salads and this is a keeper, especially during the summer. Oh yeah, I'm going to be adding the net carb count to my recipes over the next few months. I'm using caloriecount.com to calculate the nutritional facts. For this recipe the net carbs come to 5.9g. Enjoy!
Bruschetta Salad with Grilled Chicken (Low Carb & Paleo)
Ingredients
1

cup

tightly packed salad greens

preferably mesclun or spring mix

1/4

cup

red onion slices

1/2

cup

cooked grilled chicken

1

large ripe tomato chopped

1

Tablespoon

white balsamic vinegar

1

Tablespoon

olive oil

1/4

teaspoon

crushed garlic

1/4

teaspoon

salt

1/4

teaspoon

pepper

2

oz

shredded asiago cheese

optional
Instructions
Chop your tomato and sprinkle with salt and pepper. Mix and let sit for a few minutes.

Add you greens to a large bowl.

Mix in your red onion and chopped chicken.

In a small bowl mix 2 Tablespoons of the tomato juices from the chopped tomatoes.

Mix in the olive oil, vinegar and garlic.

Mix well and add to your salad.

Spring with shredded asiago cheese on top.

Net carbs = 5.8g (using caloriecount.com)