This easy chicken poblano casserole recipe is full of Mexican flavors and perfect for using fresh poblano peppers from the garden. You only need 4 ingredients and you can make this delicious casserole that is gluten free and lower carb. Great comfort food that's easy to make!
You might also like this keto Mexican chicken casserole recipe.
My husband and I love poblano peppers and every year he grows more and more of them. They make a delicious appetizer when you stuff them and we also use them to make chile rellenos. Below I have lots of recipes for you to try if you too have an abundance in the garden.
Today I made a really delicious chicken poblano casserole recipe. I was in the mood for low carb comfort food and wanted to use some of these fresh peppers.You have the different textures – soft and tender peppers, chunks of chicken, spicy sauce and lots of creamy cheese!
I only use 4 ingredients in total to make this cheesy casserole. This is a great recipe to use store bought rotisserie chicken in to speed up the process and then you just need the poblanos, shedded cheese and enchilada sauce!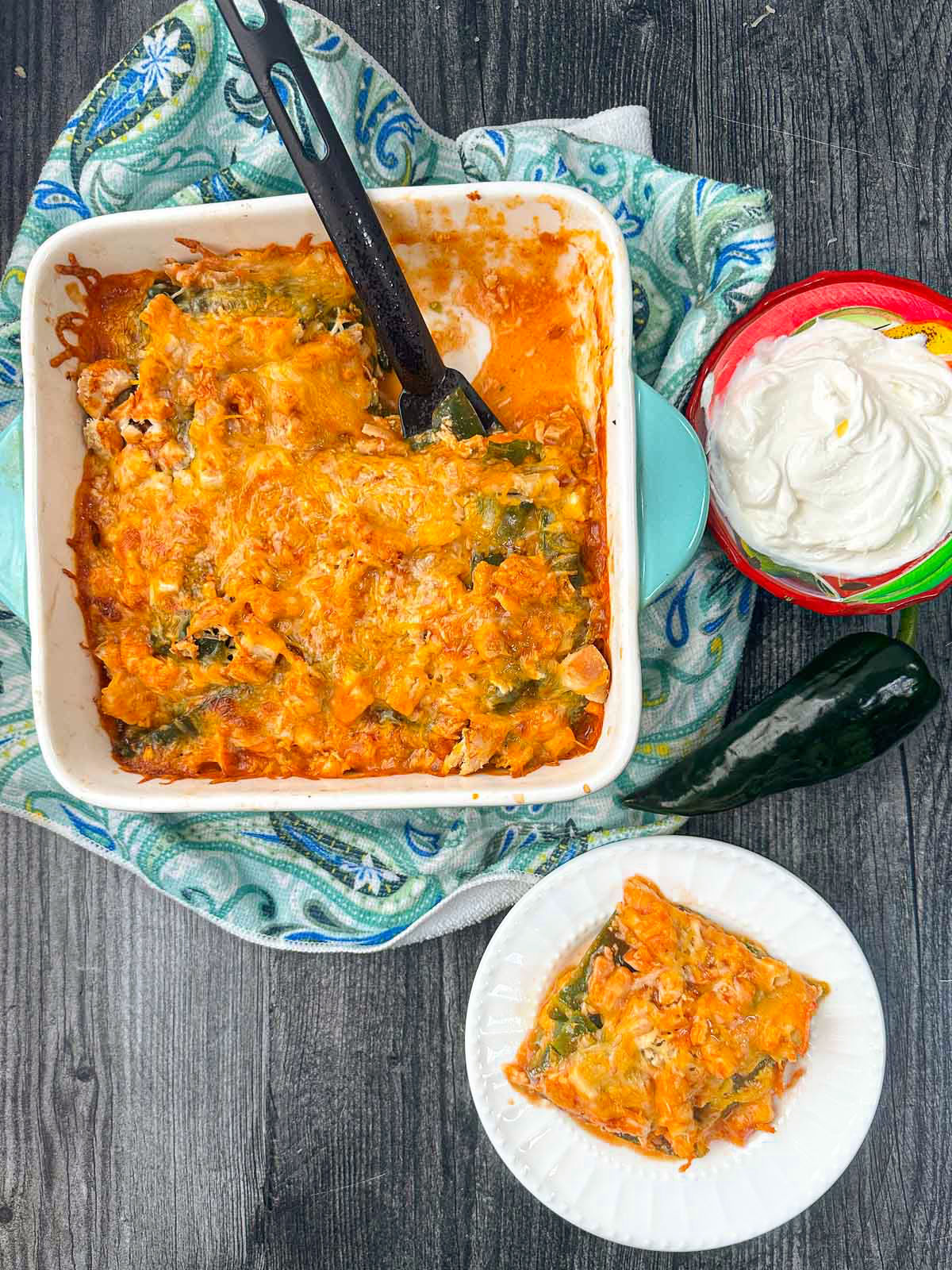 What are poblano peppers and are they keto friendly?
Poblano peppers are a mild pepper often used in Mexican recipes. They have a delicious flavor and they are not very spicy. Below you can see what they look like.
They are often called ancho chiles when they ripen and are dried. You can add these peppers to many dishes for added flavor. My husband grows these every year and we just love them. Below I have links to some of our favorite recipes.
In my opinion poblano peppers are keto friendly but they are a little higher on the carb scale for a vegetable. They have so much flavor though so I think they are a great vegetable to add to your low carb cooking.
I had a hard time finding the nutritional data for poblano peppers but the US Food Database does have the nutrition for 1 ancho pepper which I used in my calculations.
I ancho pepper, dried has 48 calories, 1.4g fat, 8.7g carbs, 3.7g fiber and 2g protein. So there is roughly 5g net carbs per pepper. (US Food Data) Learn more about poblano peppers here.
Recipe ingredients I used.
All you need to make this recipe are 4 simple ingredients – poblano peppers, chicken, cheese and enchilada sauce. If you want you can season with salt and black pepper but I did not.
Poblano Peppers
You want to use raw poblano peppers. Below you can see what they look like and I know our Walmart has them all year round if you can't find it in one of your grocery stores. You could also use regular sweet bell peppers as a substitute but this recipe is really all about the poblanos.
Cooked Chicken
I used chopped chicken breast in this recipe. I buy a rotisserie chicken from Costco (best price and size), take all the meat off, chop it up and then freeze it in 1 cup portions. I use this for TONS of recipes.
You can use dark meat like chicken thighs too if you want, but the chicken has to be cooked. If you have to, get some boneless skinless chicken breasts and then cook and chop them for this recipe. In a pinch you could also used canned chicken.
Shredded Cheese
I bought a cheddar jack blend from Target but you can use just Monterey Jack cheese or cheddar cheese or a Mexican cheese blends. It doesn't really matter but I really like this blend for a Mexican casserole.
Enchilada Sauce
I bought Old El Paso red enchilada sauce. You will use the whole 10 ounce can. If have another brand you like go ahead and use that. There really isn't much of a substitute for this ingredient but you could try a very flavorful salsa but it would be as good.
Note I was trying keep this casserole as low carb as possible to make a healthier recipe. However if you don't care about carbs you could add things like black beans, corn kernels, cooked rice or even flower or corn tortillas. I have a chicken burrito casserole that uses more ingredients like that if you are interested.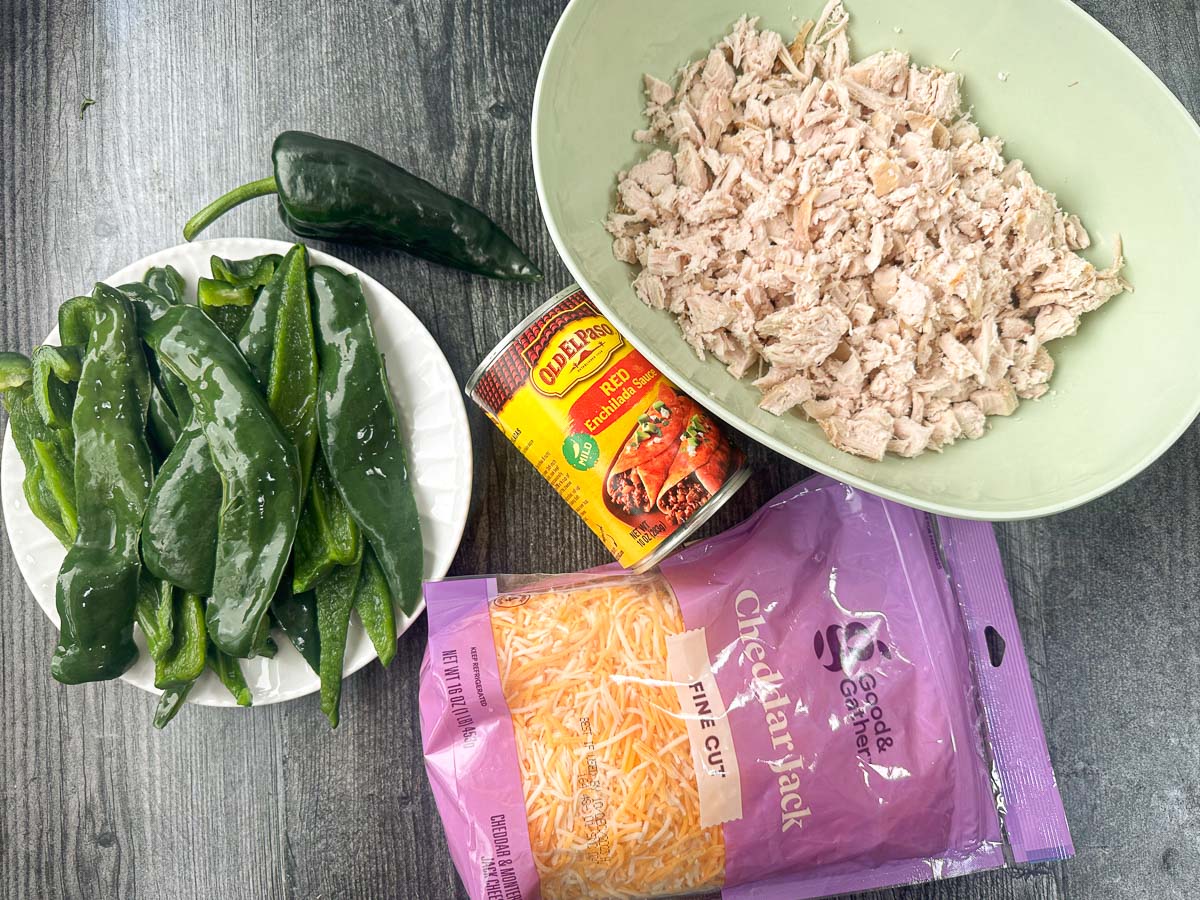 How to make chicken poblano casserole.
In this dish I just blanch the poblanos and keep the skin on. If you want you could place them on the grill to char them, place in a medium bowl with a lid for 5 minutes and then peel off the charred black skins. It's a little more labor intensive then the blanching.
Preheat the oven to 350°F. Then get out a large pot and fill with water. Heat the water to medium high heat until boiling.
Cut the peppers in half and clean out the seeds and ribs. Place them in the boiling water for 5 minutes to precook them.
In the meantime, get out a large bowl and fill with cold water and ice. When the peppers are done, quickly put them in the ice bath to stop cooking and make them easy to handle.
Spray an 8×8 inch casserole dish with cooking spray. Slice the peppers in big pieces so they lay flat.
Add one layer using half of each of the following in this order: peppers -> chicken -> sauce -> cheese. Then add another layer using the rest of each ingredient. You will be making 2 layers of each ingredient and ending with a layer of cheese.
Place baking dish in the oven. Bake for 30 minutes until the cheese has browned. Let the finished dish sit for 5 minutes before serving.
Below you can see the first 4 out of 8 layers in this casserole. Please scroll down for the printable recipe card.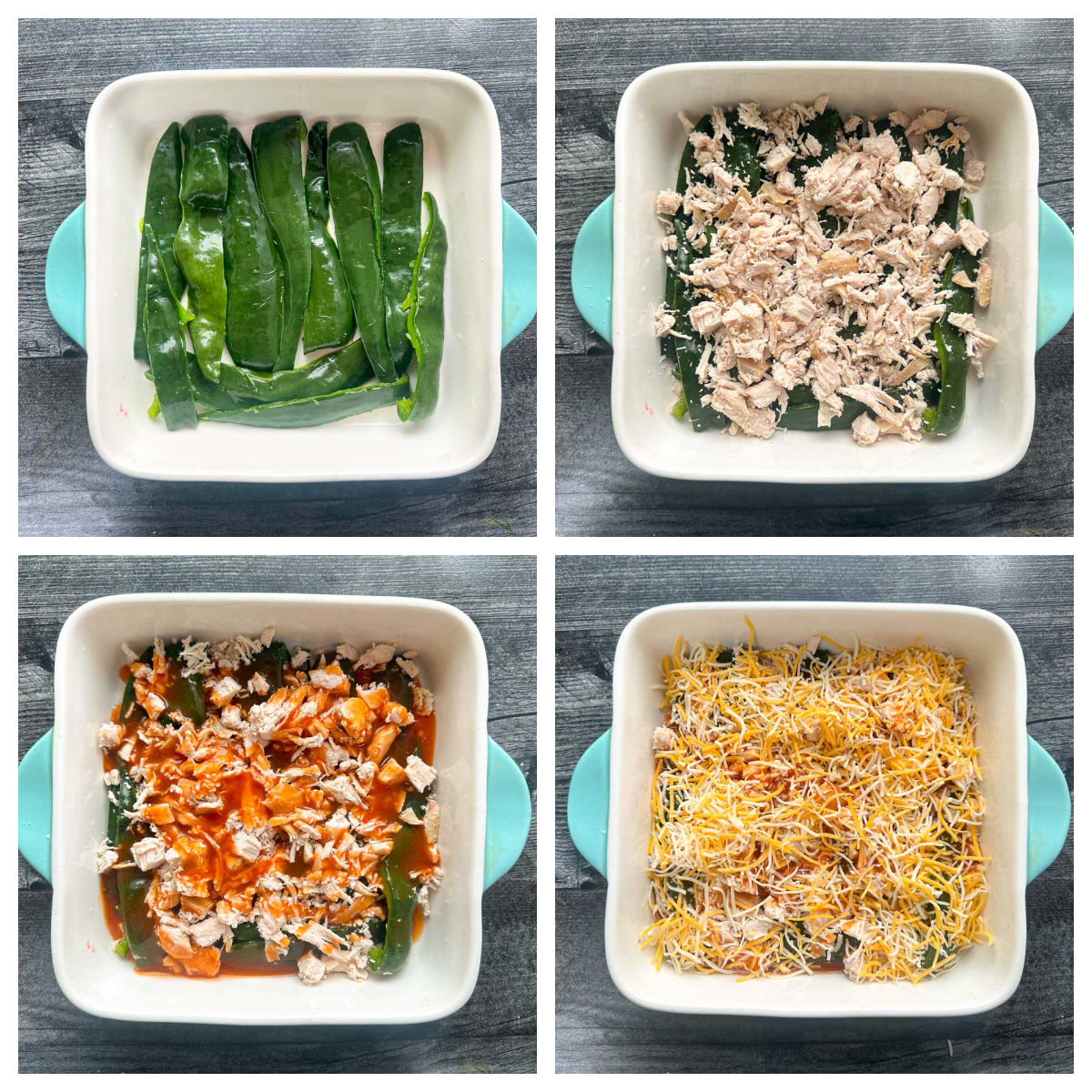 Store leftovers in an air tight container. You can garnish this dish fresh cilantro leaves or top with sour cream. But it taste great just as it is.
To make this dish more of a meal, serve with a green salad if you are on a low carb diet. If you are not it would also go great with Mexican rice.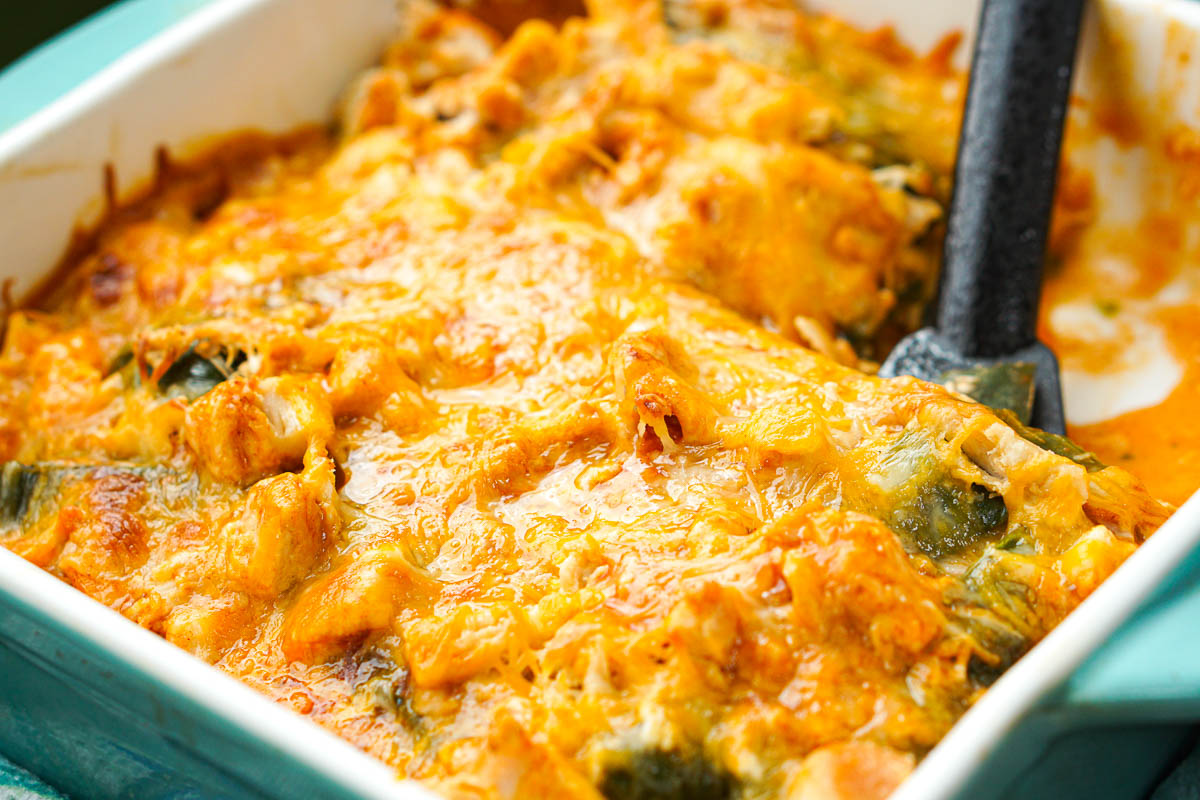 More recipes that use poblano peppers.
If you are looking for making something with your fresh peppers other than this chicken poblano casserole, try one of these delicious recipes. Many are low carb too!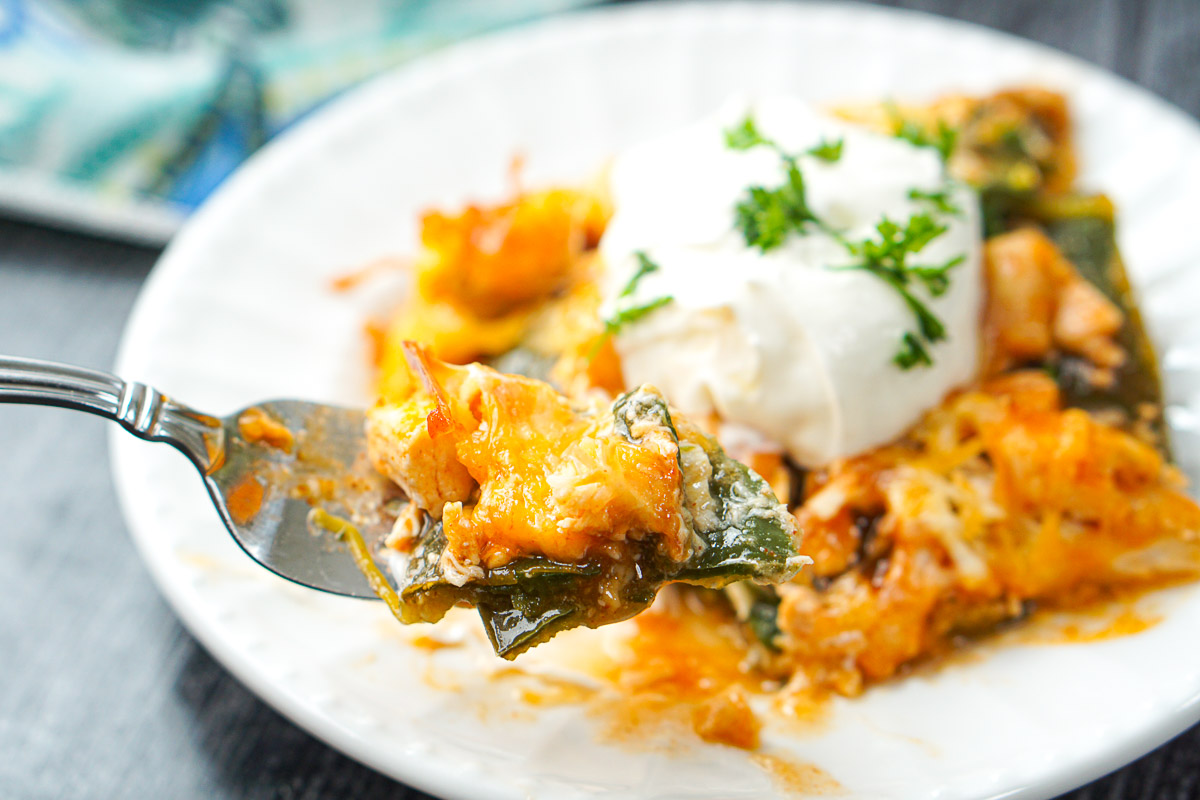 I really love this keto friendly casserole recipe and I think it will freeze well. It's great for a quick dinner on busy weeknights. I hope you like it too!
The nutritional data for 1 serving of this casserole out of 6 servings is 290 calories / 12.9g fat / 11.2g carbs / 3.1g fiber / 32.1g protein = 8.1g net carbs
Chicken Poblano Casserole Recipe
This chicken poblano casserole is a delicious comfort food recipe using poblanos from your garden. Full of Mexican flavors and only uses 4 ingredients to make this amazing dish.
Ingredients
2 cups chicken, cooked and chopped
1 ½ cups shredded cheddar jack cheese
10 ounce can enchilada sauce
5 poblano peppers, raw
Instructions
Preheat oven to 350°F. Spray an 8x8 inch casserole dish with nonstick cooking spray.
Get out a large pot and fill with water. Heat the water until boiling.
In the meantime cut the peppers in half and clean out the seeds and ribs. Once the water is boiling add the peppers and cook for 5 minutes. While they are cookign get a large bowl with cold water and ice cubes ready. Once the peppers are done, place them in the ice bath to cool down and stop cooking.
Slice the peppers in to large pieces so that will lay flate. Then using half of each of the ingredients add a layer of peppers, then chicken, then sauce, then a layer of cheese. Repeat and use the rest of the ingredients to make another layer of each.
Place the baking dish in the oven and cook for about 30 minutes until the cheese has melted and browned. Take out the casserole and let sit for 5 minutes or so then serve. If you want you can top with some sour cream or chopped cilantro if you wish.
Store leftovers in an airtight container. You can also freeze portions for a quick lunch.
Nutrition Information:
Yield:

6
Serving Size:

1
Amount Per Serving:
Calories:

290