If you are looking for an easy Mexican dinner on a busy weeknight, try this easy chicken burrito casserole. It's a great recipe for using leftover rice, leftover chicken or rotisserie chicken. You can whip up this easy dinner in just a few minutes using simple ingredients.
You might also like this chicken enchiladas recipe.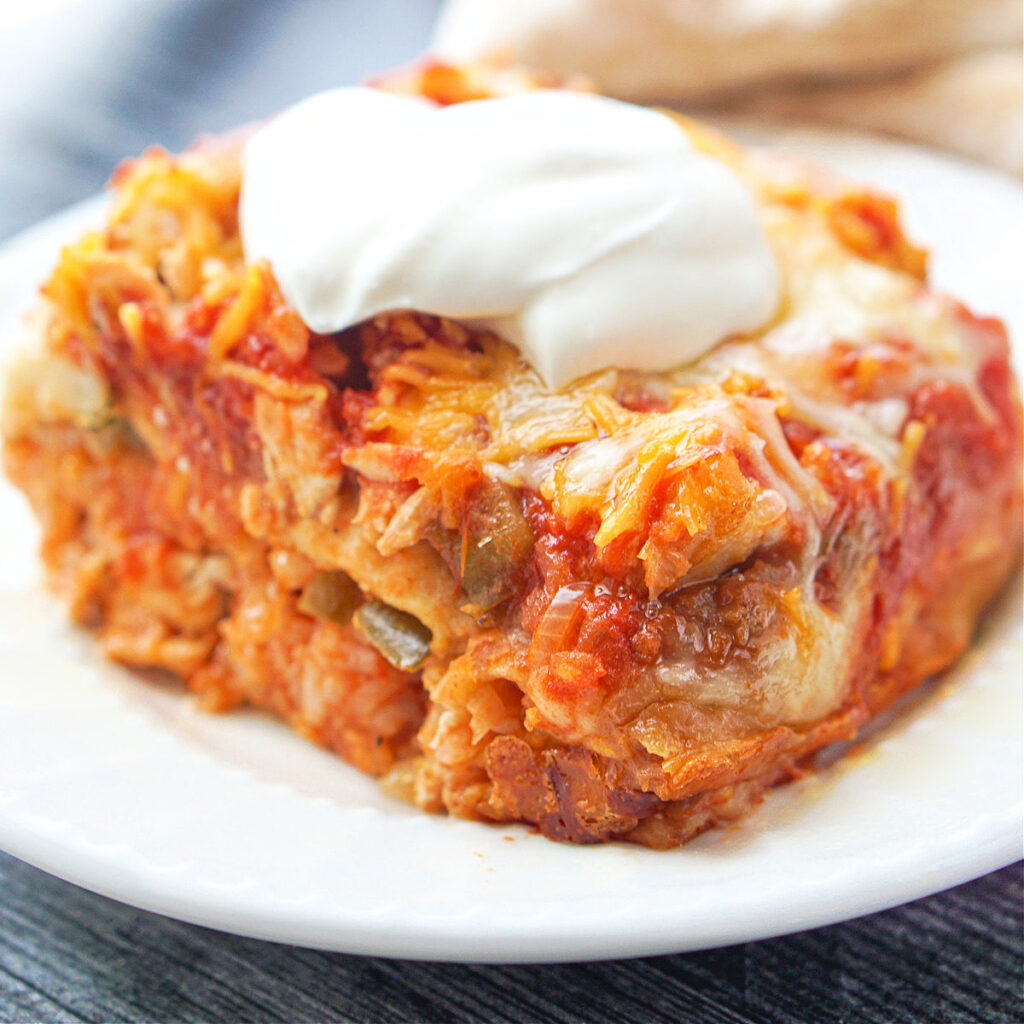 My family really loves Mexican food so I tend to make either quesadillas or burritos at least a couple times a month. My son loves any Mexican flavor combination with chicken and cheese so I knew he'd love this easy chicken burrito casserole.
I used leftover rice and rotisserie chicken as well as refried beans, tortillas and cheese so it was everything he loves about Mexican food wrapped up in a casserole dish.
I love this recipe because it's the ultimate comfort food. It's also really easy to make and a one dish meal. Plus using leftovers for it is a bonus. I had to waste food.
Recipe ingredients I used.
You just need a handful of simple ingredients to make this Mexican casserole. As a matter of fact you can use leftover chicken and leftover rice!
What I ended up using was these yummy ingredients that we use in our favorite burritos – rotisserie chicken (breast meat), leftover white rice, refried beans, chunky salsa, cheddar cheese, mozzarella cheese and flour tortillas.
Recipe Notes and Tips.
With this recipe you could use another type of meat if you want like ground beef taco meat, shredded pork or beef or even seasoned ground turkey.
I used refried beans because they spread nicely and it sticks to the tortillas. If you don't like refried beans you can add another kind of bean like black beans, chili beans, etc. Or eliminate them completely. You might want to add some extra cheese though.
I used flour tortillas but if you want to use corn tortillas I would buy a can of enchilada sauce and dip the corn tortillas in it to cover them completely. Then lay them in the baking dish. This will make them softer when cooking.
If you don't have leftover rice you can buy one of those instant rice packs that you make in the microwave. They only take about 1-2 minutes to cook.
You can also play around with shredded cheese and use different ones like Monterey Jack, pepper jack, gouda or a Mexican blend cheese. Or add a bit of heat with a spicer salsa or adding hot sauce.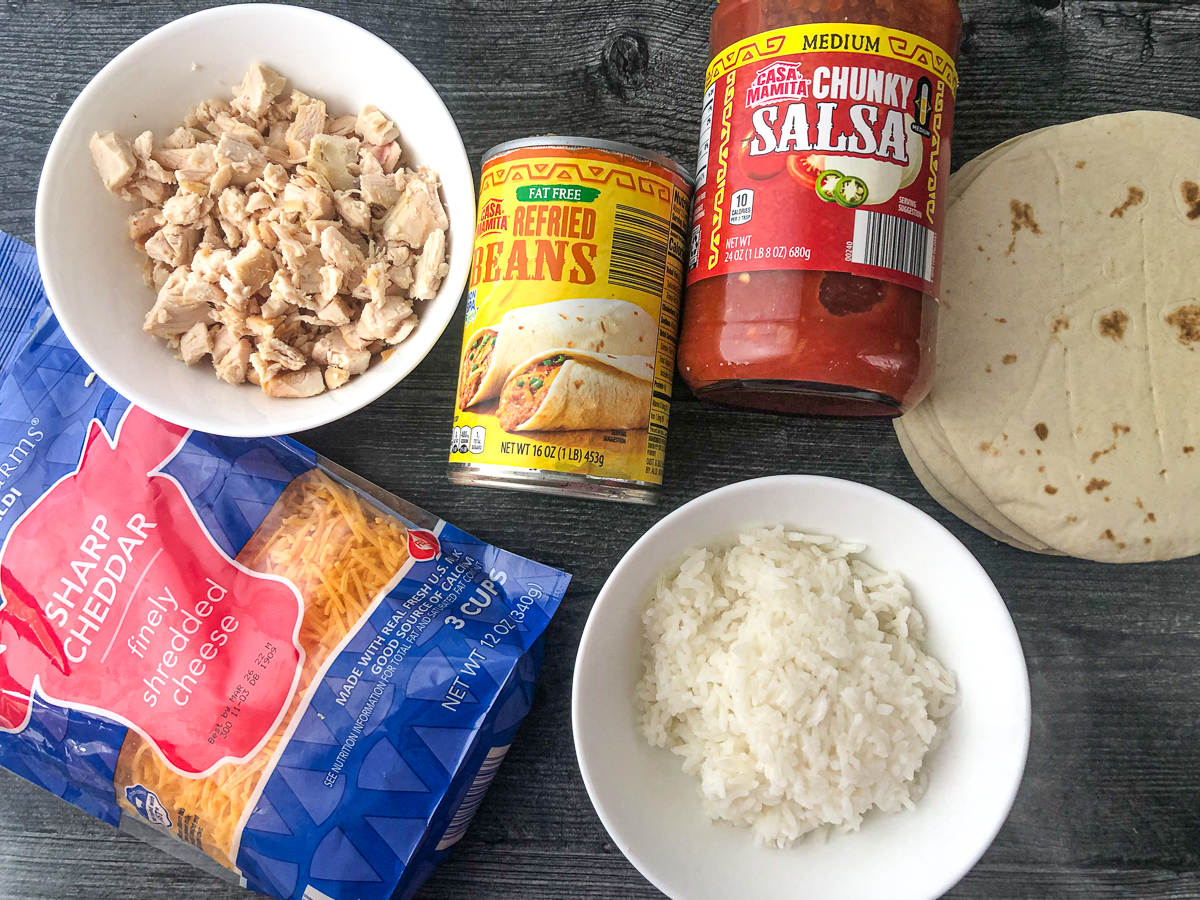 How to make an easy chicken burrito casserole.
Step 1: Preheat the oven to 350°F. Spray a casserole dish with cooking spray all over the sides and bottom.
Step 2: Chop the chicken into bite sized pieces. Make the Mexican rice by mixing one cup salsa with the rice in a medium bowl and set aside. You do not want to use uncooked rice!
Step 3: You will be using 8 tortillas. Spread refried beans all over them and then cut them in half. Lay them in the casserole dish as shown in the photo below to make a tortilla base. I used 8 halves per layer.
Step 4: Spread half of the cooked chicken for the next layer and then all of the rice mixture on top of the chicken. If you want to add extra cheese, you can add some at this point. I just wanted it to be on the top though.
Step 5: Repeat the tortilla layer with the remaining 8 halves of tortillas. Then cover with the remaining chicken and the remaining salsa.
Step 6: Lastly sprinkle the mozzarella and cheddar cheese for the last layer and place in the oven. Cook for 30-40 minutes until cheese has browned nicely. Note baking time may vary.
Let the burrito casserole cool for 5 minutes or so before serving. Eat as is or use your favorite toppings
Toppings you can try on your cheesy burrito casserole.
I personally love sour cream but other things you can try are sliced black olives, fresh jalapenos, pickled jalapenos, chopped tomato, cilantro, avocado, guacamole, pico de Gallo, hot sauce, etc.
Mexican side dishes to serve with this casserole.
When I make this hearty meal I tend to not make anything else except maybe a green salad. However if you want to make a side dish with Mexican flavors you can try one of these easy recipes.
If you are looking for some new weeknight meals, try this easy chicken burrito bake. It's sure to become a family favorite and you can change it up anyway you want. Enjoy!
Easy Chicken Burrito Casserole
This easy chicken burrito casserole is a delicious Mexican dish for a busy weeknight dinner. It's a great recipe for using leftover rice, leftover chicken or rotisserie chicken.
Ingredients
3 cups cooked chicken breast, chopped
2 cups salsa (I like medium hot chunky style)
2 cups cooked rice
1 can refried beans
1 cup cheese, (shredded cheddar or Mexican blend)
8 flour tortillas (6" -8" tortillas)
½ cup mozzarella cheeses shredded
Instructions
Preheat oven to 350°F. Prepare a baking dish or casserole dish by spraying it with nonstick cooking spray. I used a 9x13 inch baking dish.
Spread all of the tortillas with the refried beans and cut in half. Using 8 halfs line the bottom of the casserole dish. I like to place the straight edge of tortilla against the sides of the dish and overlap the middle.
Next take half of the chopped chicken add evenly layer over the tortillas.
Mix the cooked rice with ½ of the salsa and spread over the chicken.
Add another layer of tortillas, then the rest of the chicken.
For the last layer, add the rest of the salsa and the cheddar and mozzarella cheese.
Place in the oven for about 30 minutes until the cheese has browned.
Let sit for 5 minutes before serving.
Top with your favorite burrito toppings like sour cream, black olives, guacamole, green onions, jalapenos, etc.
Nutrition Information:
Yield:

12
Serving Size:

1
Amount Per Serving:
Calories:

312
Total Fat:

12g
Saturated Fat:

4g
Trans Fat:

0g
Unsaturated Fat:

6g
Cholesterol:

45mg
Sodium:

715mg
Carbohydrates:

34g
Fiber:

3g
Sugar:

2g
Protein:

17g