This Mexican keto cauliflower rice salad is a refreshing take on traditional tabouli. Using fresh herbs, vegetables and citrus flavors to make a tasty gluten free side dish. This low carb and low calorie salad has just 115 calories and 4.6g net carbs. It's an easy, refreshing and healthy summer side dish! Perfect for those on gluten free or keto diets.
You might also like this Mexican black bean salad recipe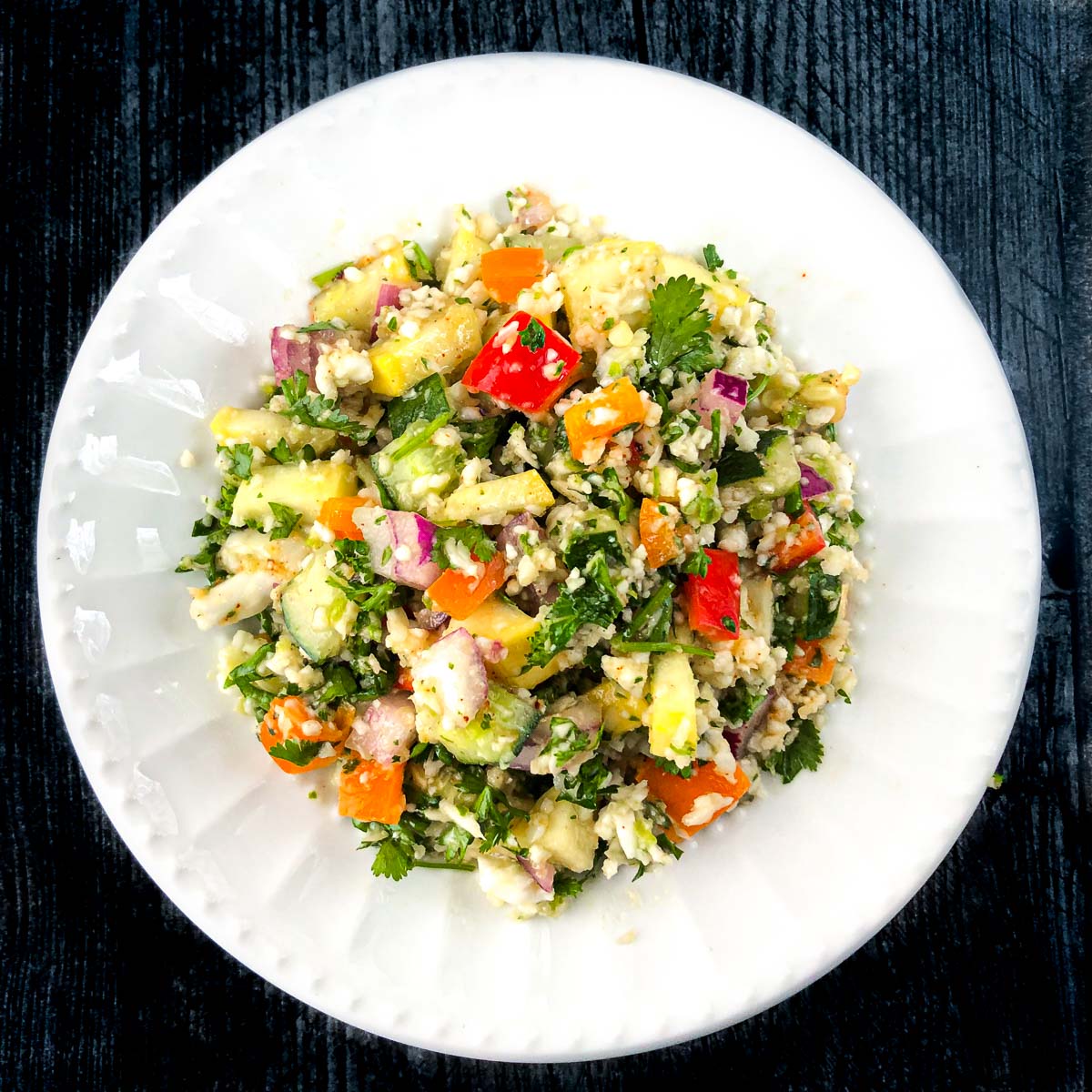 Summer is the time for salads in our house. I crave cold, crunchy foods and with the abundance of fresh vegetables and I usually have some sort of salad for lunch or dinner.
I recently made a low carb Middle Eastern salad (tabouli or tabbouleh) that brought back memories of my childhood, but today I felt like giving it a twist. Adding some cilantro, jalapeños, citrus and cumin resulted in this tasty Mexican keto cauliflower rice salad full of fresh ingredients from my garden.
This is a good low carb dish for anyone on a low carb or low calorie diet. Even if you aren't on any kind of diet, it's very refreshing and a great way to use veggies from the garden.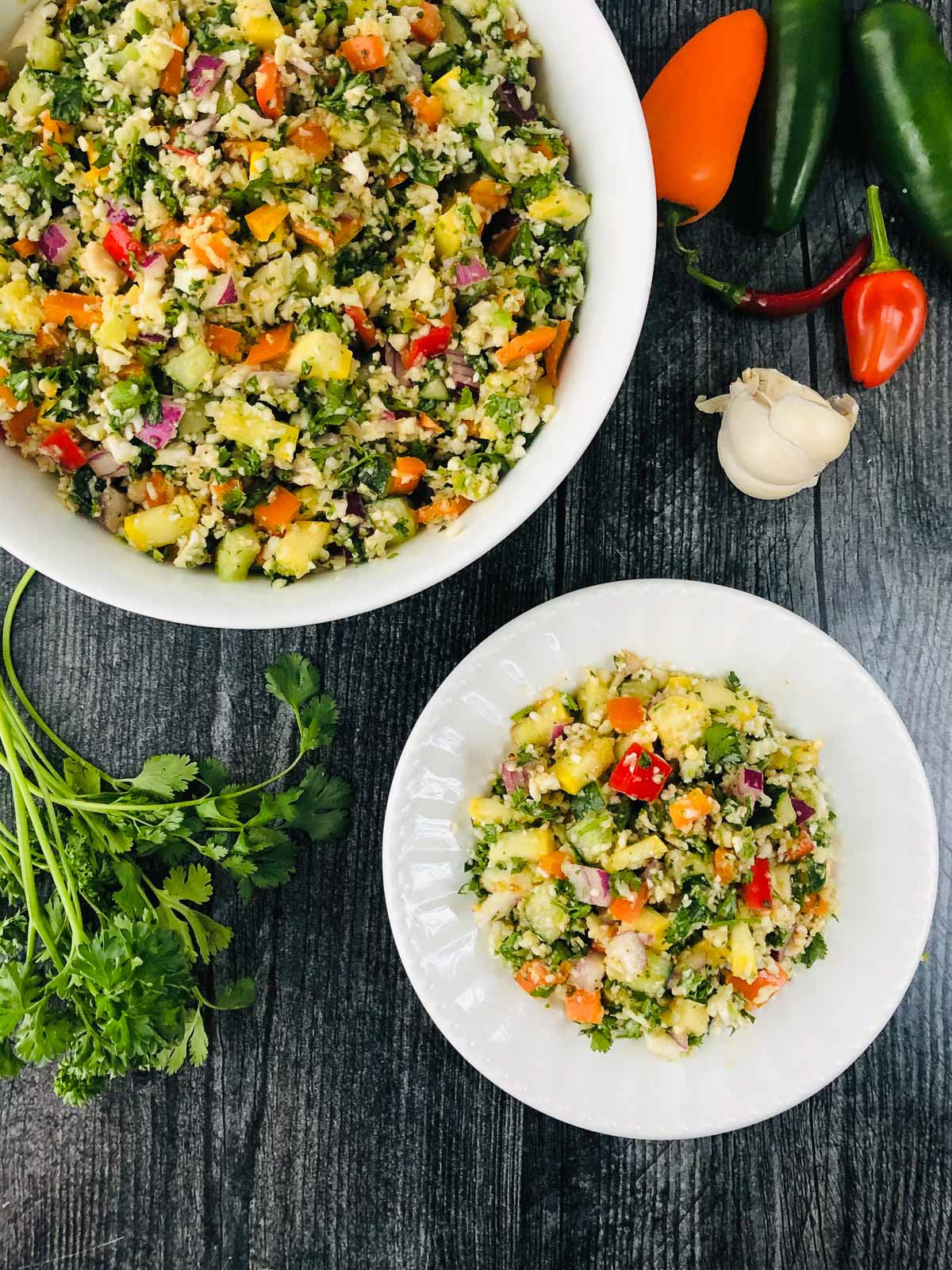 Salad ingredients I used.
So what all do I have in this salad? There are bell peppers, red onions, raw cauliflower rice, yellow and green zucchini, cucumbers, fresh parsley, fresh cilantro and of course cauliflower rice. Most of these came from our garden.
I had to use curly parsley because that is all I could find but I prefer flat leaf parsley. The taste is the same but the curly leaf parsley can but tough in my opinion.
Traditional Middle Eastern tabouli uses tomatoes, fresh lemon juice, bulgur wheat and fresh mint leaves but I substituted those with sweet bell peppers, lime juice, cauliflower rice and cilantro to give it more of that Tex Mex flavor.
You can substitute whatever veggies you want in this salad but I recommend keeping the peppers, cilantro and jalapeños to give it some of those Mexican flavors.
For the simple homemade dressing I used lime juice, orange juice, olive oil, fresh garlic, jalapeno, cilantro, cumin, chili powder, salt and black pepper
The salad dressing is very similar to the cilantro dressing I use in my pork tacos with coconut tortillas that I posted a long time ago.
How to make Mexican keto cauliflower rice salad.
Step 1: First place some cauliflower florets into a food processor and pulse to make the riced cauliflower. I've never really used frozen cauliflower rice but I you do, don't cook it and drain as much liquid as you can.
Step 2: Clean out the food processor and add your dressing ingredients: olive oil, lime juice, orange juice, jalapeño, cilantro, garlic, cumin and salt. Blend well and pour into a medium bowl then set aside for later.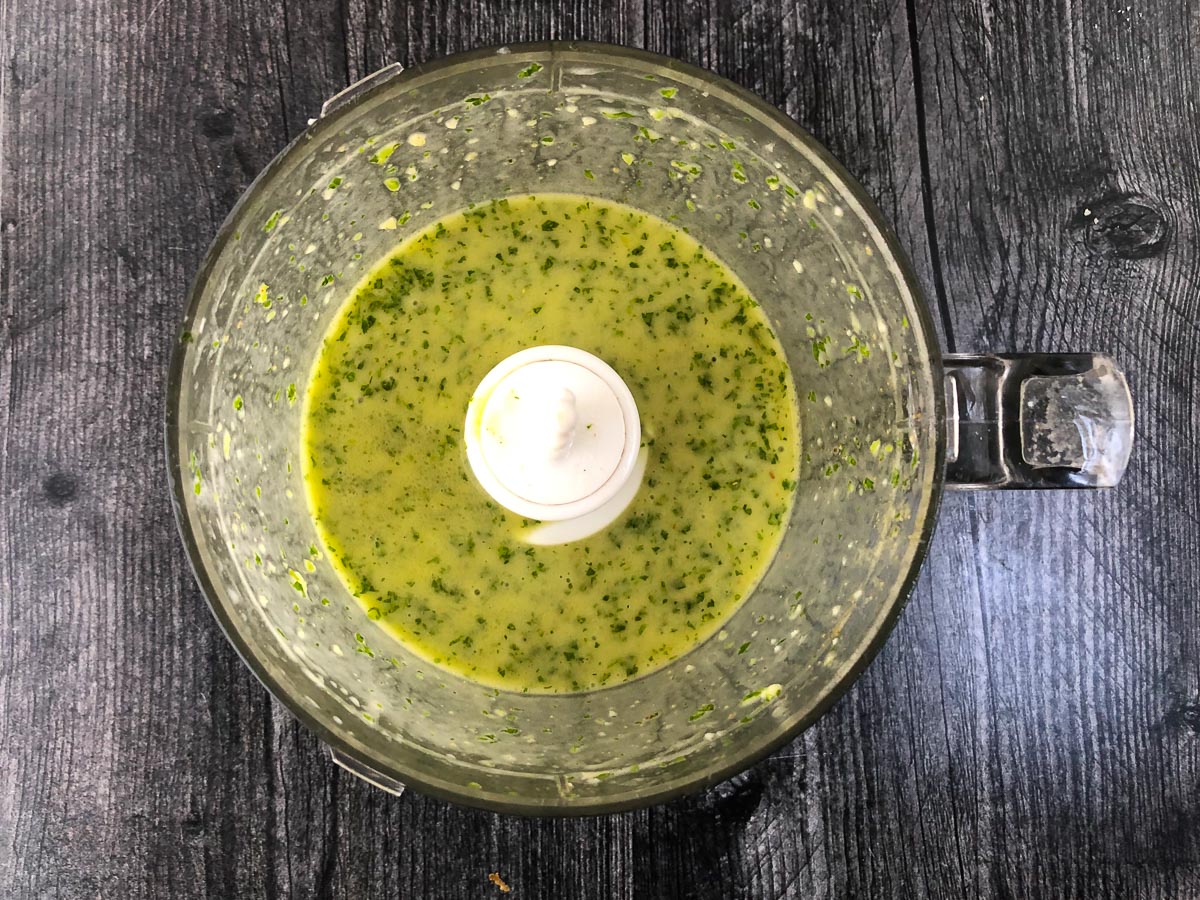 Step 3: Add the cauliflower rice to a big salad bowl and then chop all your vegetables into small pieces. Mince your herbs and then add everything to the bowl.
Step 4: Toss the vegetables and dressing together and refrigerate. Eat it immediately or let it refrigerate for better taste.
Store leftovers in an airtight container. If you want to make this more a meal, you can add some cooked shrimp or chicken. Please scroll down to view the printable recipe card.
My husband LOVED this keto cauliflower rice salad because he loves the Mexican flavors. Seriously he went on and on about it which was great because it's a healthy dish.
I'm the vegetable freak in the family so anytime I can get them to eat more vegetables, I'm very psyched. As I mentioned this was gluten free too because I used cauliflower instead of bulgar wheat.
More fresh keto salads for summer time.
Also I have tons of low carb cauliflower rice recipes so check those out if you are interested.
This makes a lot of salad. We happily ate it for a few days. It never got soggy either because of the raw cauliflower rice base. I hope you like this Mexican spin on tabouli salad for a refreshing summer meal. Enjoy!
The nutritional information for 1 serving is 115 calories / 9.5g fat / 6.8g carbs / 2.2g fiber / 1.9g protein = 4.6g net carbs.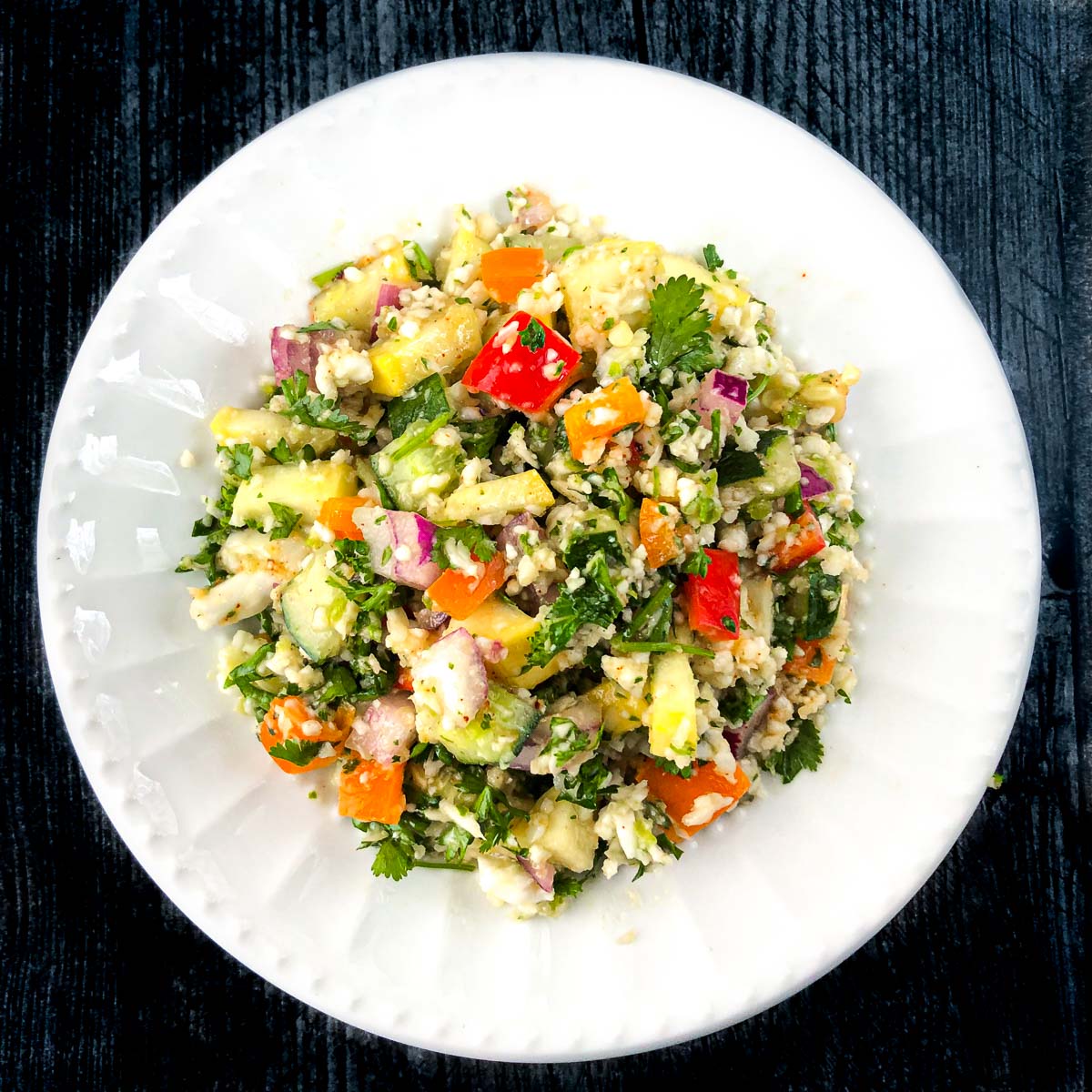 Mexican Keto Cauliflower Rice Salad
This keto cauliflower rice salad is much like a Mexican spin on traditional tabouli salad. However it low carb, low calorie and gluten free so it's a healthy and refreshing summer side dish that uses fresh herbs, vegetables and citrus flavors..
Ingredients
2 cups cauliflower, riced
1 cup bell peppers, cut into small pieces
½ cup red onion, cut into small pieces
1 cup zucchini, cut into small pieces
½ cup cucumbers, chopped into small pieces
½ cup parsley, chopped very fine
¼ cup cilantro, chopped very fine
Dressing
½ cup cilantro
1 orange, juiced
¼ teaspoon cumin
¼ teaspoon salt
1 large garlic cloves
1 large jalapeno
¼ cup lime juice
¼ cup olive oil
Instructions
In a food processor add ½ cup cilantro, orange juice, lime juice, olive oil, cumin, salt, garlic and jalapeno and process to make the dressing.
In a large bowl, add all your vegetables and pour the dressing over.
Mix well and refrigerate.
Notes
The nutritional information for 1 serving is 115 calories / 9.5g fat / 6.8g carbs / 2.2g fiber / 1.9g protein = 4.6g net carbs.
Nutrition Information:
Yield:

6
Serving Size:

1
Amount Per Serving:
Calories:

115
Unsaturated Fat:

0g
wp-recipe-maker/recipe {"id":15431