If you like caprese salad you'll love this low carb strawberry caprese salad with balsamic vinaigrette. It's the perfect summer salad with strawberries substituting for tomatoes, basil and fresh mozzarella. Each serving has only 4.3g net carbs!
You might also like these low carb caprese kebabs appetizers!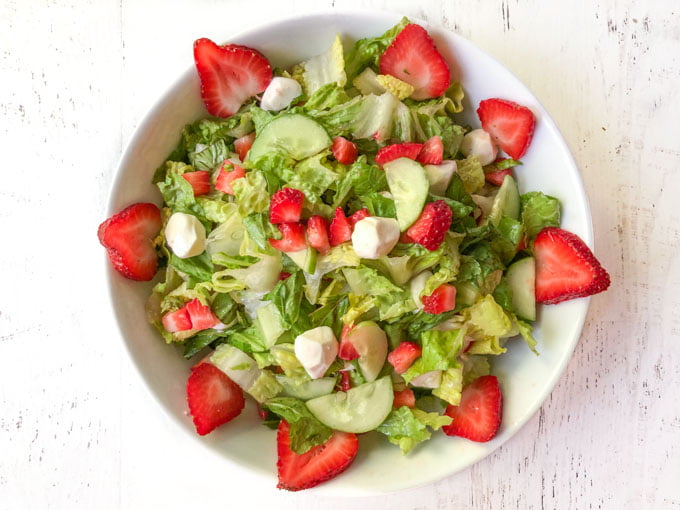 Summer is coming and I can't stop eating salad already. Seriously I have a problem. I try to limit myself to one a day but sometimes I eat it for lunch and dinner. Never for breakfast…I'm not a complete freak.
Anyway, I had some lovely strawberries left over from my alcohol infusions and a big bunch of basil from a recent Trader Joe's run so I thought I'd make a strawberry Caprese salad. That is, I used strawberries instead of tomatoes. Yum! It was good.
Balsamic Vinaigrette Recipe
Since there is not much to this salad other than chopping and tossing, I've added a variation of my sister's Balsamic Vinaigrette. (On a side note if you are interested in gardening and home decor you should check out her lovely blog Hearth and Vine.)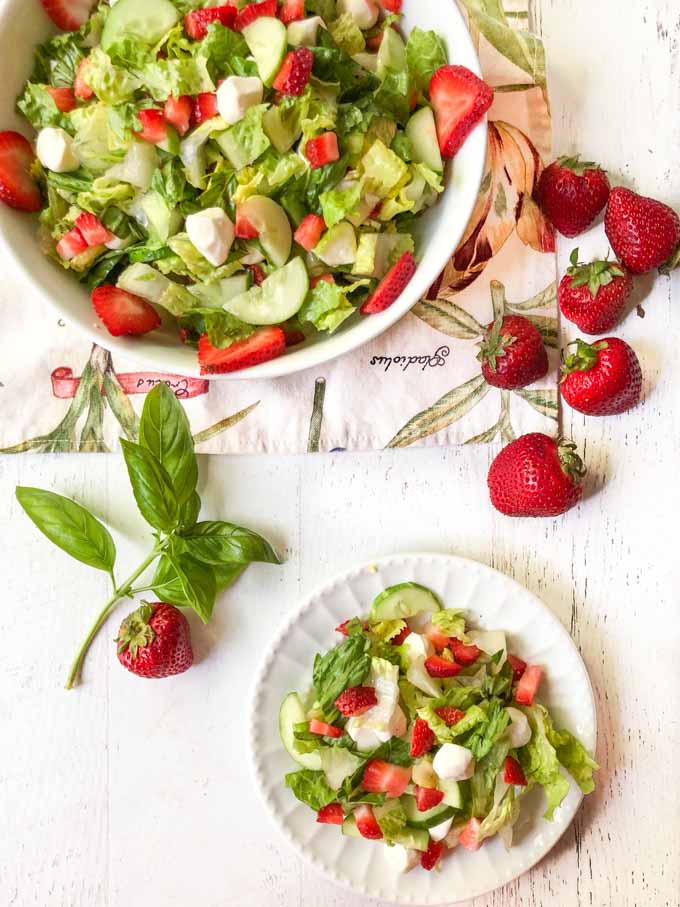 Strawberry Caprese Salad Ingredients
Usually with a caprese salad you use fresh garden tomatoes. I substituted strawberries for tomatoes because they have less carbs and they add a nice fruitiness to the salad. This is also nice substitute if you have people who don't like tomatoes. Believe there are a few of those people out there!
So the main components of this salad is fresh basil, strawberries, romaine lettuce, cucumbers and fresh mozzarella.
I found these fresh mozzarella pearls (below) at Aldi the other day. They are little mozzarella balls and perfect for this recipe. However if you cannot find them just buy a big ball of fresh mozzarella and cube it. But the pearls were pretty cool.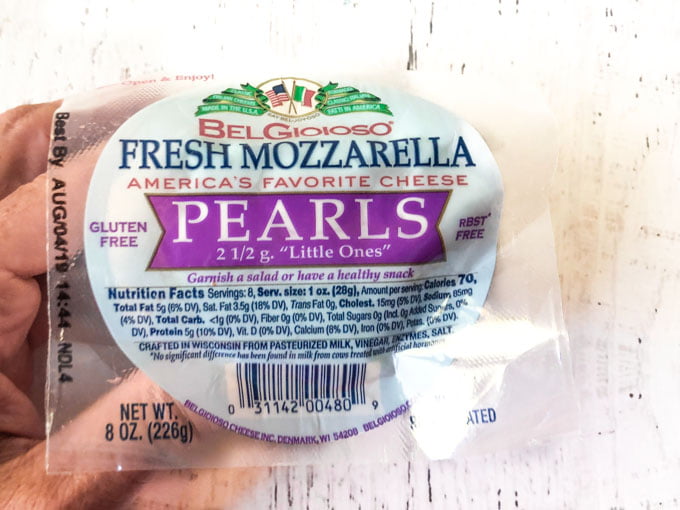 To make the salad I like to both dice and slice my strawberries. I dice a few for the salad and then slice a few to look like hearts or flower petals to decorate the bowl. Add as much fresh basil as you like. I used a ¼ cup of fresh leaves for this salad but you can add more if you have it. Just chop and toss everything in a big bowl.
Lastly spring the mozzarella on top or fold it into the salad. To make the dressing, just add all the ingredients to a bowl and whisk to combine. I like to serve the dressing on the side.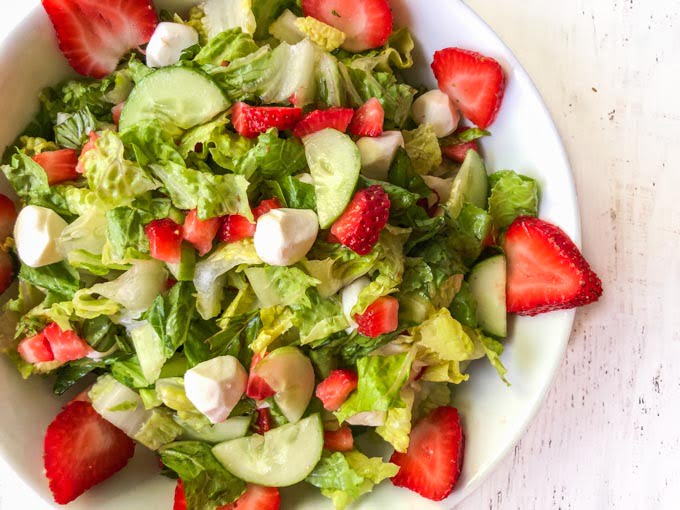 This recipe is intended to be a side salad but my hubby and I ate this for dinner. I just added some grilled chicken on top. You could also try a nice piece of salmon or roasted pecans or walnuts too. The nutritional information for 1 serving of this salad is:
228 cals / 20.3g fat / 5.9g carbs / 1.6g fiber / 5g protein = 4.3g net carbs
The nutritional information for 1 tablespoon of dressing is 85 calories / 9g fat / 1 carbs / = 1g net carbs.
You might also like this keto caprese salad from my friend Jen!
Strawberry Caprese Salad with Balsamic Vinaigrette
This is a quick and easy way to use the fresh strawberries of the season. Enjoy the freshness of a Caprese pizza in a strawberry salad by substituting strawberries for the usual tomatoes. Delicious!
Ingredients
4

cups

romaine lettuce, chopped

¼

cup

cucumber slices

6

strawberries, diced and sliced

4

oz

fresh mozzarella cheese, chopped

cubed

¼

cup

basil leaves, chopped
Balsamic Vinaigrette
¼

cup

balsamic vinegar

½

cup

olive oil

½

teaspoon

Dijon mustard

1

clove

garlic, crushed

⅛

teaspoon

salt

⅛

teaspoon

pepper
Instructions
Chop the lettuce toss with the cucumber, strawberries and basil.

Sprinkle the cheese on top.

Whisk together the vinegar, Dijon mustard, garlic, salt and pepper.

Spoon dressing over salad or individual plates.

Add grilled chicken if you want to make it more of a meal.
Recipe Notes
The nutritional information for 1 serving of this salad is:
228 cals / 20.3g fat / 5.9g carbs / 1.6g fiber / 5g protein = 4.3g net carbs