These fruit & herb infused liquors are a fun way to use all that ripe and luscious summer fruit. I have three delicious flavors for you: strawberry basil gin, apricot ginger vodka and strawberry lime tequila!
You might also like this mojito infused vodka recipe!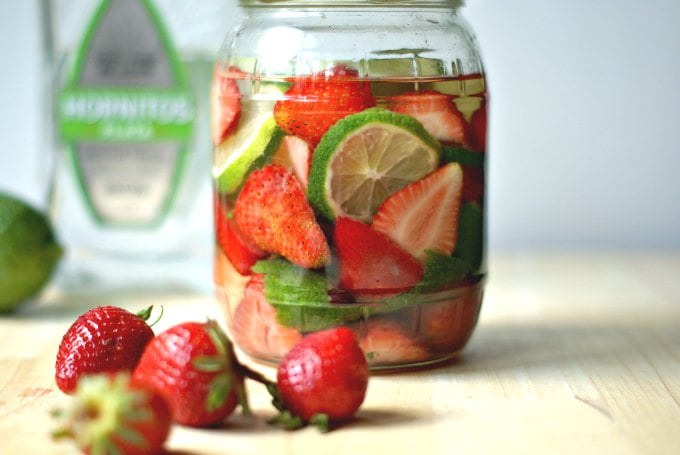 Back in the day…way back in the day, my friends and I would go to a bar called Froggy's for happy hour every Friday night. When summer hit they always had these big containers full of fruit infused vodkas. I remember them having raspberry, strawberry and pineapple. Like I said that was a really long time ago, but when I think of summer time and picnics and parties I think about those fruit infused vodkas.
Last summer I made a raspberry one that I liked so this year I thought I'd do a little mad scientist experimenting. My husband thought I was nuts until he tasted these fruit & herb infused liquors and now he's quite impressed!
I thought I'd try 3 different variations: Strawberry Basil Gin, Strawberry Lime Tequila and Apricot Ginger Vodka. It's hard to say which is my favorite because they all taste so different and to me they all came out quite good but if pushed I would say the Strawberry Lime Tequila is my favorite.
What Type Of Liquor To Use
One note before we get started. It's best to use a halfway decent brand of liquor. No bottom shelf and if you don't mind the cost, go top shell but I'm cheap and just used a middle of the road brand for all 3 infusions.
Strawberry Basil Infused Gin
Pictured above is the Strawberry Basil Gin infusion. I'm not a big gin fan but I thought it would go well with some type of herb. Since I just made my Strawberry Caprese Salad I had lots of basil and strawberries leftover and thought they would go nicely. This particular infusion came out so much better than I thought. The basil has a bit of an anise flavor that goes really well with the gin. And the strawberries add a sweet fruity note. Even if you are not a gin fan, I would suggest you try this if you like anise flavor because it has a really unusual and tasty flavor.
Apricot Ginger Infused Vodka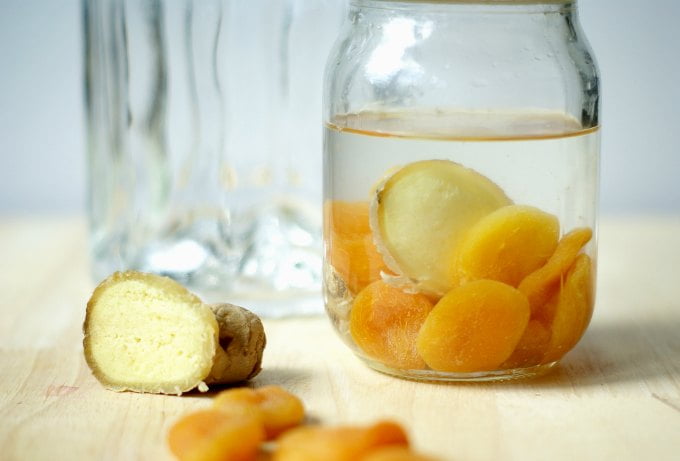 Pictured above is the Apricot Ginger Vodka. This was very good and it has encouraged me to try some more dried fruits. I once had a peach ginger tea that I loved and that inspired this concoction. I just sliced up some fresh ginger root and threw in some dried apricots and topped off with a half decent vodka. Easy peasy and tasty! I think next time I might also grate some of the ginger because I really like it and wouldn't mind if it was super gingery. The apricots add a bit of sweetness. My husband ate them when I was done with this one. (He's a big apricot fan.)
Strawberry Lime Infused TEquila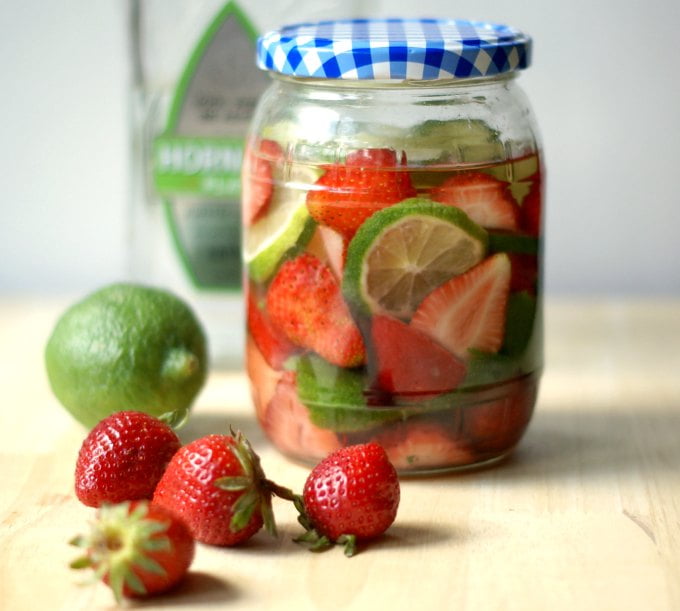 And now we come to my favorite Strawberry Lime Tequila. This tastes like a strong margarita to me. I peeled a lime and added the peel to the jar along with the sliced lime and sliced strawberries. Poured my tequila to cover the fruit and let sit for 1 week. I think the peel gave it much more lime flavor whichI really liked.
Fruit & Herb Infused Liquors Recipe
In each recipe I used about a ⅓ to ½ jar of fruits, herbs or spices.
Then I topped them with a middle shelf alcohol.
Let them sit in a dark dry area of your house.
Taste along the way to see if they are done. I liked them after a week but you can use them in less or more time.
After they are done, strain and refrigerate.
How To Use These Infused Liquors
Drink Suggestions: I usually like my drinks on the rocks or with soda. I don't like the extra sugar of mixers and juices but I'm sure many of you don't mind them. Here are my suggestions and I would LOVE to hear yours in the comments.
Strawberry Lime Tequila: I would make a margharita with this as the base. All you would really need is triple sec and possibly a simple syrup.
Apricot Ginger Vodka: Gingerale and ginger beer would be tasty as a mixer. I think tonic water would also be nice.
Strawberry Basil Gin: Tonic water would definitely be a great addition. This is an herby tasting drink that I find very interesting. I don't think any kind of juice would do it any favors so I would sip it on the rocks, with soda or tonic water for the best flavor.
Update: Since this summer or infusion experimenting my hubby gave me this cool VodkaZinger device. It's like a thermos you can put fruit, herbs and spices and infuse your vodka with. It has a built in strainer and will crush the ingredients to extract more flavor. It's pretty cool because you can take it to parties or picnics.
Infused Liquors
These infused liquors taste great alone or in your favorite drink. Easy to make and fun to try with different flavor combinations.
Ingredients
Strawberry Lime Tequila

1

quart

size glass jar

1

cup

sliced strawberries

1

lime peel

1

lime sliced

½

bottle tequila

Strawberry Basil Gin

1

quart

size glass jar

1

cup

sliced strawberries

½

cup

chopped basil

tightly packed

½

bottle gin

Apricot Ginger Vodka

1

quart

size glass jar

½

cup

sliced ginger slices

1

cup

dried apricots

½

bottle of vodka
Instructions
For each infusion make sure your jars are clean and dry.

Add your fruit, herbs or spices and the cover with alcohol.

Cover and set in a cool dry place.

Test after a few days to see if desired taste. Mine took a week but yours could take less or more time depending on your taste.

Strain and store in a glass bottle or jar.

Refrigerate.
This post may contain affiliate links. For more information please visit our policies page.