It's grilling season and steaks are the ultimate keto dinner for us, along with this creamy grilled poblano sauce. It's very versatile, low carb and has only 0.9g carbs per tablespoon!
This post is sponsored by the Certified Angus Beef ® brand in conjunction with a social media campaign through Sunday Supper LLC. All opinions are my own.
You might also like this low carb creamy avocado lime dressing too!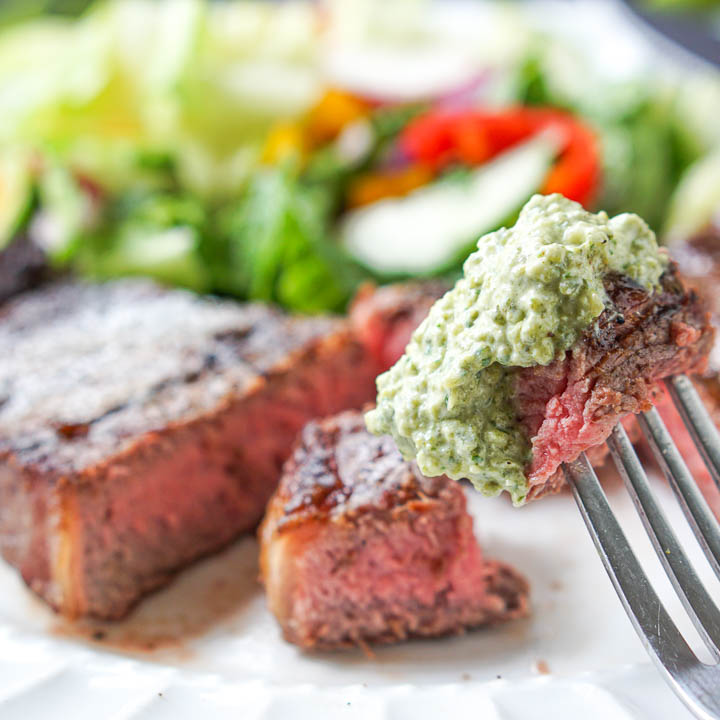 In the summer, my husband is the master of 3 things: his garden, grill and smoker. However today I took over his grill and used one of his favorite garden peppers – poblanos. I grilled the poblanos to make a creamy grilled poblano sauce to go over our delicious steaks which I also grilled, though he helped me a little. 😉
I was surprised at how easy it was to perfectly grill a steak and poblano peppers. Today I'll show you how to do both and also make the grilled poblano sauce. My family really loved this dinner so as soon as my hubby's poblanos start coming in we will have this keto dinner many times this summer.
These Are Seriously The Best Steaks
I recently received a shipped package of Certified Angus Beef® steaks with filets, ribeyes and strip steaks. These were seriously the best steaks I've ever made. My family went on and one about them last night so I wanted to share with you how I grilled them.
Normally I buy my Certified Angus Beef® at Giant Eagle because they have the biggest selection in my area. But now you can also buy them online and have them shipped to your door! These would make a great gift for the holidays (father's day) or even birthdays for foodies!
Above you can see I have two ribeye steaks and 1 strip steak in the middle. Check out how Certified Angus Beef® brand has generous marbling which is what gives them that mouthwatering flavor! Below you can see how they turned out. I got all of my grilling tips on their website.
I have to work on my diamond pattern. But overall I was really happy with how well these came out!
Steakholder Rewards Program
Certified Angus Beef® now has a Steakholder Rewards™ program. It's FREE to join and you earn points towards merchandise. You can also earn points when you scan your Certified Angus Beef ® brand purchase receipts. I just joined and have 78 points from watching recipes and taking a survey. It's definitely worth it. Join the FREE Steakholder Rewards program here.
How To Grill The Perfect Steak
Below you can see me grilling after I watched a video on how to become a grill steak master and I even earned points watching! I still need to work on my diamond marks but I'm really getting the hang of this.
Essentially this is what I did to grill the perfect steak:
Defrosted my frozen steaks in the refrigerator for 24 hours and let them come to room temperature before grilling.
Seasoned them with ample salt and pepper.
Got my grill nice and hot. Then I took a rag and doused it with cooking oil which I rubbed over the grill with tongs.
I set my steaks on the grill until I saw the juice coming to the top. I waited another couple of minutes and flipped them.
From there I monitored the temperature until it came to 130°F. I learned from the grilling page that medium rare is 135°F. You want to take your steaks off the grill when they are 5° lower because as they rest they will continue to cook.
Find recipes, grilling tips and the degree of doneness chart which helped me so much on the Certified Angus Beef® website.
How To Grill Poblano Peppers

Grilling the poblano peppers were much easier than I thought they would be. To do this I just sprayed them with cooking spray and placed them on a hot grill. Using tongs I kept turning them over until all of the skin was blistered as they are pictured below.
Then I placed them in a plastic bag and let them sit until they were cool enough to handle. That's when you can peel off the skin very easily. These are great in chile rellenos by the way.
Making The Keto Grilled Poblano Sauce
I made this creamy grilled poblano sauce because I knew it would be low carb and because my hubby and I LOVE poblanos. Also it's very versatile and I have more ideas on how to use it below.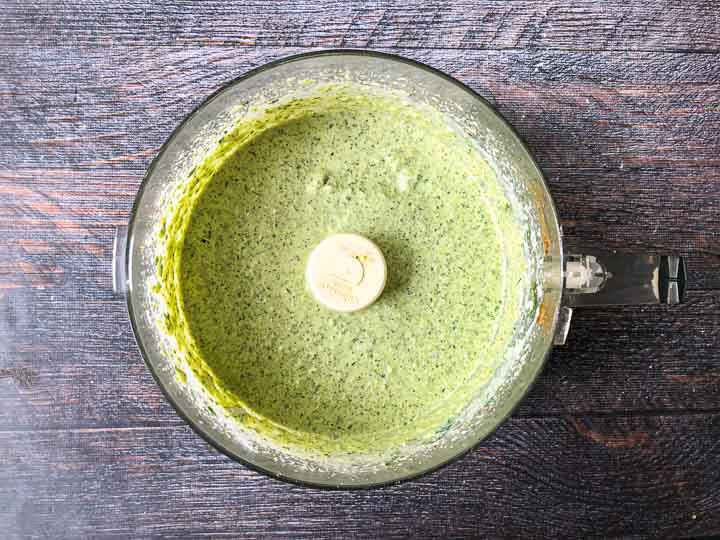 First thing you want to do is add the garlic and cilantro to a blender or food processor. Process until both are minced well. Then you can add the poblano peppers which you should chop first and then the rest of the ingredients. Whiz until it's a smooth and creamy sauce like above.
I used this more as a dip so it's nice and thick. If you would want it thinner, you could add a little water to it (just a tablespoon at a time) until you get the consistency you want.
Other Ways You Can Use This Grilled Poblano Sauce
Add a bit more lime juice and water to make a delicious salad dressing.
Use as a dip for raw vegetables.
Top any Mexican dish like enchiladas, tacos, etc.
Can also be used as a topping for fish, chicken or grilled vegetables.
And while I have not done this yet, I think this could be made into a dynamite soup. I'll have to make that a post and get back to you.
Summer Keto Dinner On The Grill
I served this steak and poblano sauce with a large salad and buttery panned fried mushrooms for a deliciously easy keto dinner last night. I'm always looking for easy go to dinners in summer and this one will be in the rotation for sure.
Not only was this meal tasty, it was easy. I hope you give it a try and like it as much as we did. Enjoy! #GetOutTheGrill #Steakholder
The nutritional information for 1 tablespoon of poblano sauce is:
38 cals / 3.6g fat / 1.1g carbs / 0.2g fiber / 0.4g protein = 0.9g net carbs
Resources For Grilling The Perfect Steak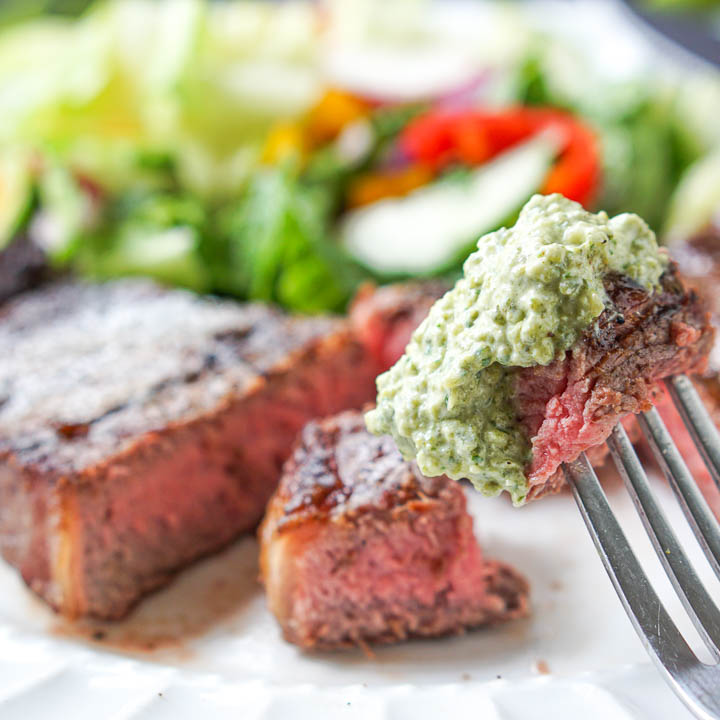 Grilled Steaks with Creamy Grilled Poblano Sauce
It's grilling season and steaks are the ultimate keto dinner for us. Try this creamy grilled poblano sauce the next time you grill steaks for the family. You can use it on vegetables and even make a dressing out of it and it's low carb. One tablespoon has only 0.9g net carbs!
Ingredients
4 poblano peppers
1 tablespoons olive oil
1 clove of garlic
½ teaspoon onion powder
½ cup of cilantro leaves
2 tablespoons of lime juice
½ cup of sour cream
½ cup of heavy cream
1 teaspoon Better than Bouillon vegetable base (optional) use ½ teaspoon of salt if not
Grilled Steak
1 Certified Angus Beef® Brand steak
salt and pepper 
Instructions
To make the grilled pobablano sauce: Spray the peppers with cooking spray and place on a hot grill. Try to get an even char by turning them over once the skin starts to blister. When they are done, place in a plastic bag until they are cool enough to touch.
Take out of the bag and peel the skins off. They should come off easily. Clean out the seeds and stem and then coarsely chop.
In a food processor or blender, add the garlic and cilantro leaves. Pulse until finely chopped. Then add in the rest of the ingredients and process until smooth and creamy.
If you want it thinner, add a bit of water - 1 tablespoon at a time - until you get the consistency you like.
To make the perfect grilled steak: If using a frozen steak, thaw in the refrigerator 24 hours before. Take it out and bring to room temperature before grilling.
Heat up the grill and then take a rag and douse it in cooking oil. Using tongs, wipe the grill so your steaks won't stick.
Liberally sprinkle salt and pepper over the steaks and then place on the grill.
Once the juices start to form on the top, wait a minute or two more and flip. Use a meat thermometer to determine the doneness of your steak. I like it medium rare which is 135°F. However you want to take it off the grill 5° lower because it will continue to cook.
Let the steak rest before serving along with the grilled poblano sauce.
Check Certified Angus Beef® website for a degree of doneness chart and more grilling tips. It really helped me a lot.
Notes
The nutritional information for 1 tablespoon of poblano sauce is:

38 cals / 3.6g fat / 1.1g carbs / 0.2g fiber / 0.4g protein = 0.9g net carbs


Nutrition Information:
Yield:

22 tablespoons
Serving Size:

1 tablespoon
Amount Per Serving:
Calories:

38