This keto chicken parmesan casserole recipe is very easy to make and it uses cooked chicken. With just a few ingredients you can put this low carb chicken casserole on the table in just 40 minutes! It's perfect for a busy weeknight keto dinner and your whole family will love it. Each serving has only 3.6g net carbs.
You might also like this standard low carb chicken parmesan recipe.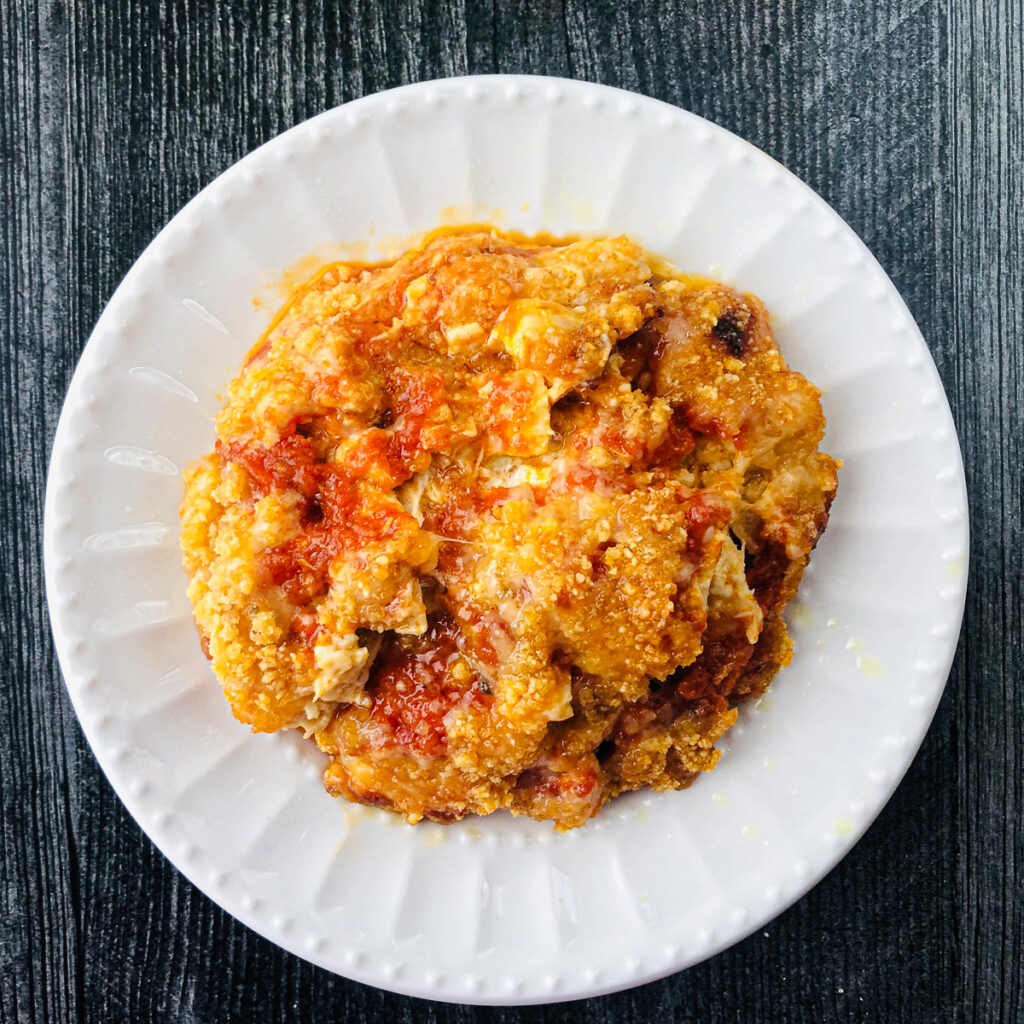 My hubby's favorite Italian dish is chicken parmesan and I've grown fond of it too. I was in the mood for another casserole so thought this keto chicken parmesan casserole would be the perfect keto dinner for us.
I used cooked rotisserie chicken so this keto casserole was really easy to assemble and was done baking in 30 minutes. It is so tasty that I froze half of it for an easy low carb lunch on demand. Each serving has only 3.6g net carbs.
Recipe ingredients I used.
You only need a few simple ingredients to make this keto casserole: cooked chopped chicken, cream cheese, heavy cream, grated parmesan cheese, shredded mozzarella cheese, garlic, crushed pork rinds and low carb pasta sauce.
If you don't want to make your own pork rind crumbs you can always buy these Pork Panko breading crumbs on Amazon!
Also originally when I made this post I used Aldi's Specialty Selects marinara sauce. I still like this and it's easy for me find. However lately I've really come to love Rao's Marinara which I get at Costco.
It has good flavor regardless if you are on a low carb diet. And it has the same number of net carbs as Aldi's sauce. However if you have a good homemade marinara sauce that happens to be low carb you can surely use that.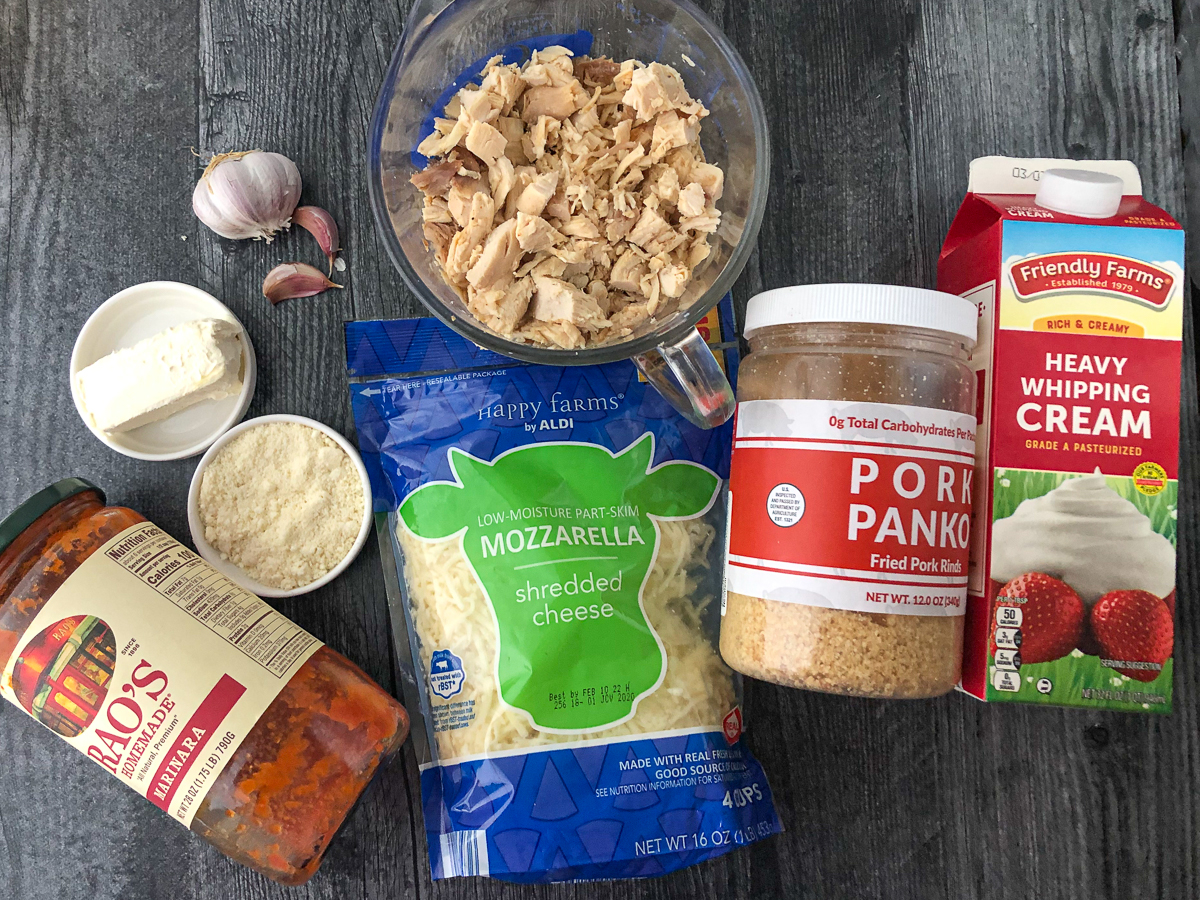 How to make keto chicken parmesan casserole.
Step 1: The first thing you want to do preheat the oven to 400°F and prepare a baking dish by spraying it with nonstick cooking spray.
Step 2: Make the first layer by placing the cream cheese, garlic and heavy cream into a medium bowl and place in the microwave for a minute or so. Mix in some parmesan cheese and then add the chunks of chicken and mix again. Spoon into the casserole dish to make the first layer.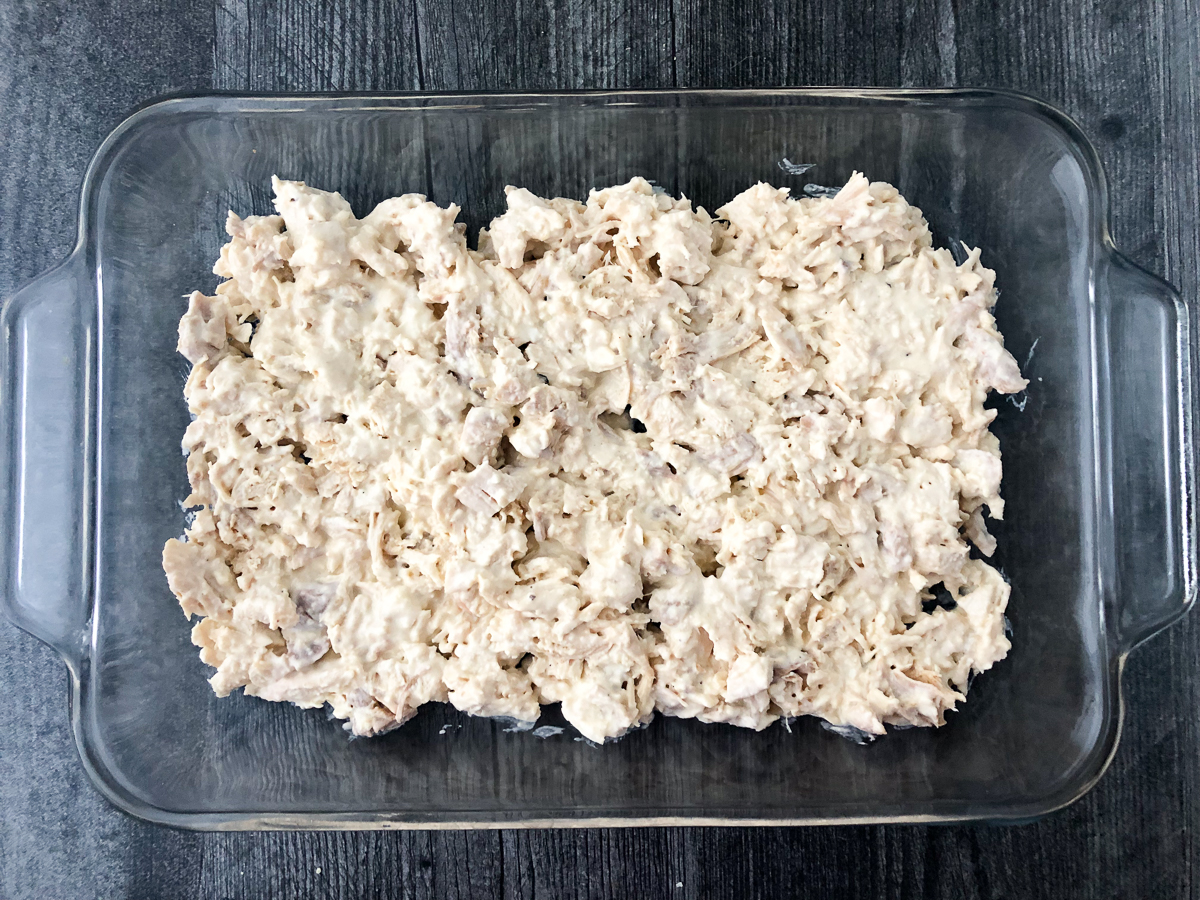 Step 3: Top chicken with marinara sauce to make the second layer. Then add the shredded mozzarella cheese over sauce.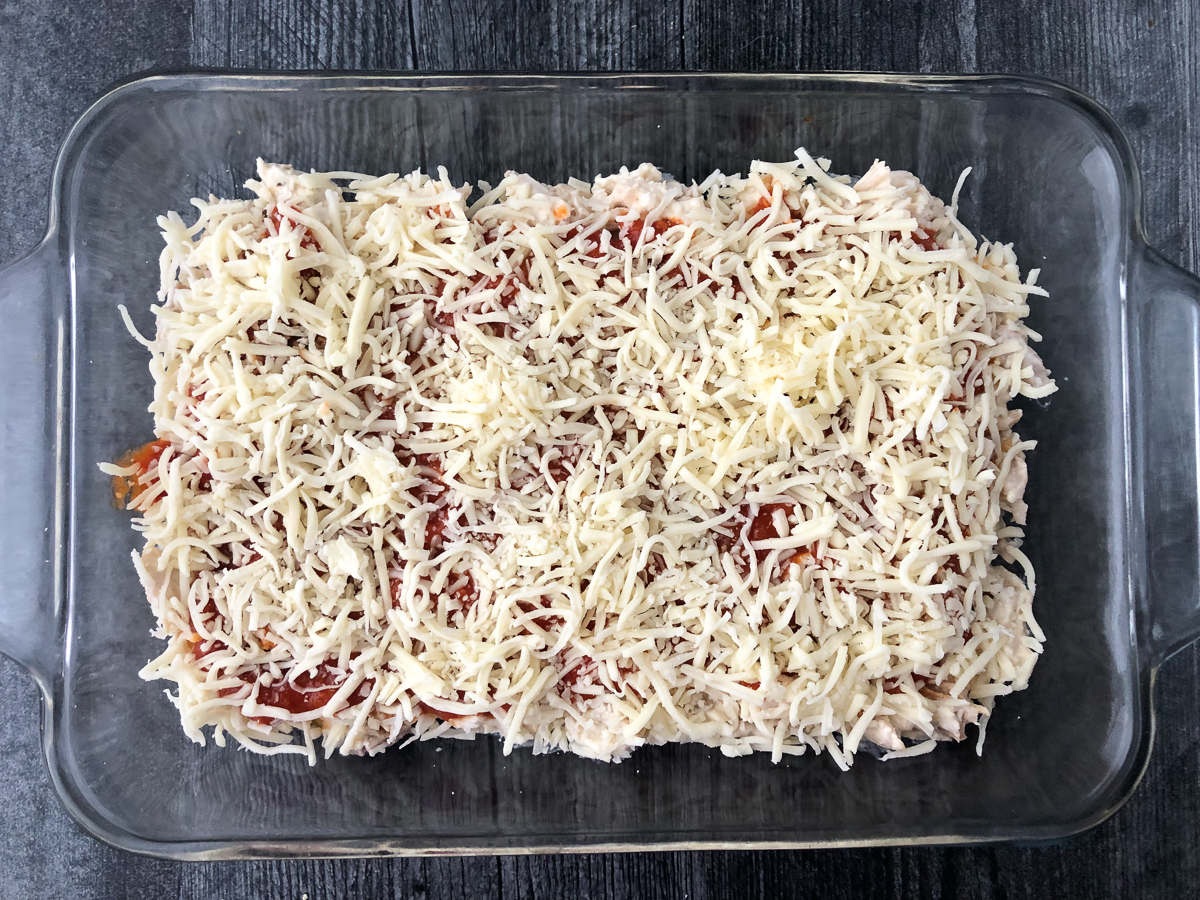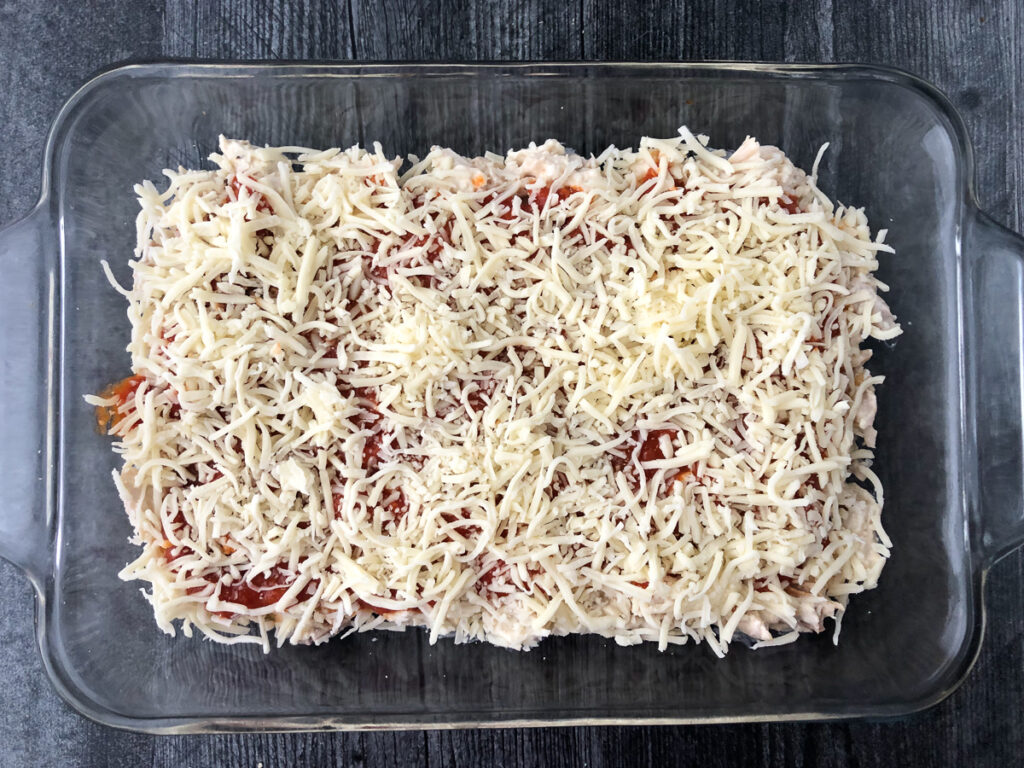 Step 4: For the last layer mix the crushed pork rinds and the rest of the parmesan cheese. Sprinkle the breading mixture evenly over the casserole then place the baking dish in the oven.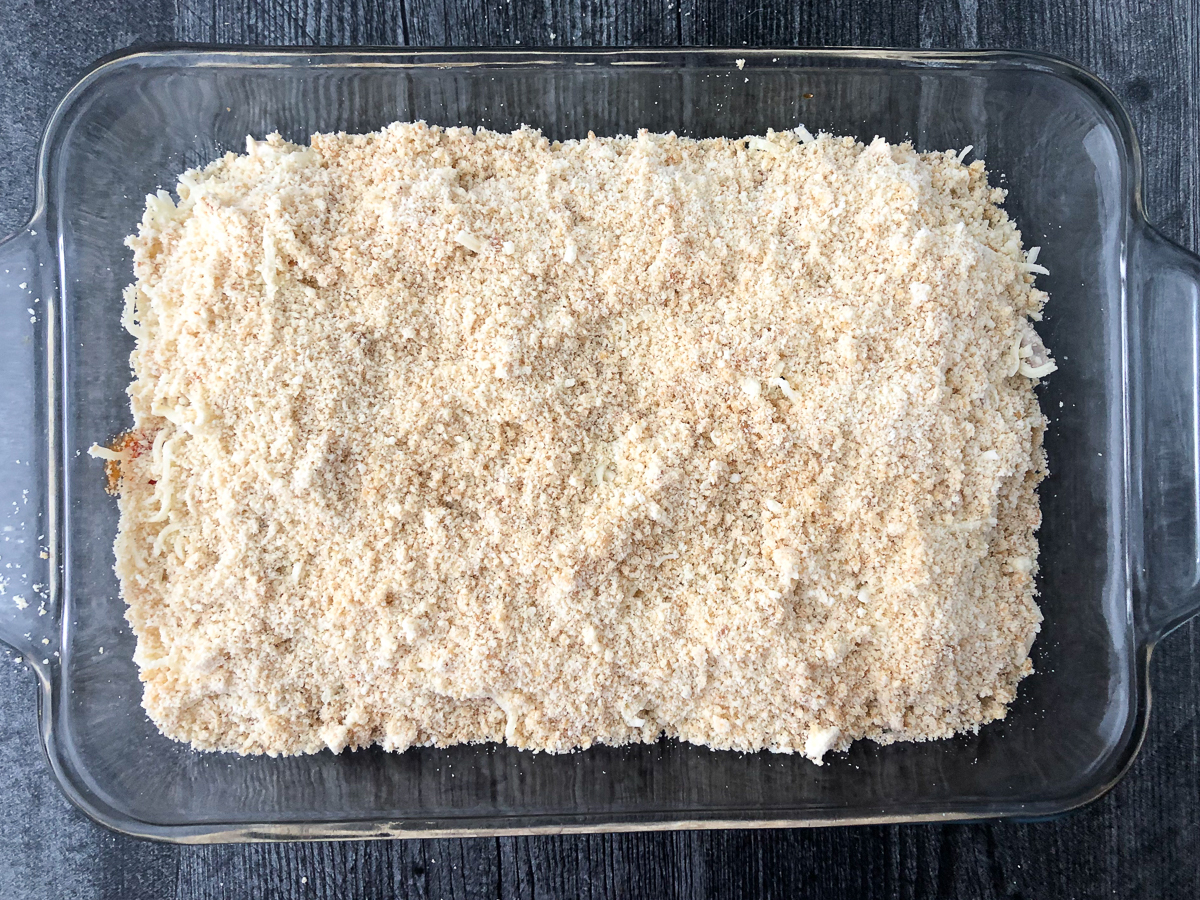 Step 5: Bake for 30 minutes until the casserole is golden brown and bubbly. Let set for 5-10 minutes before serving. Baking time may vary.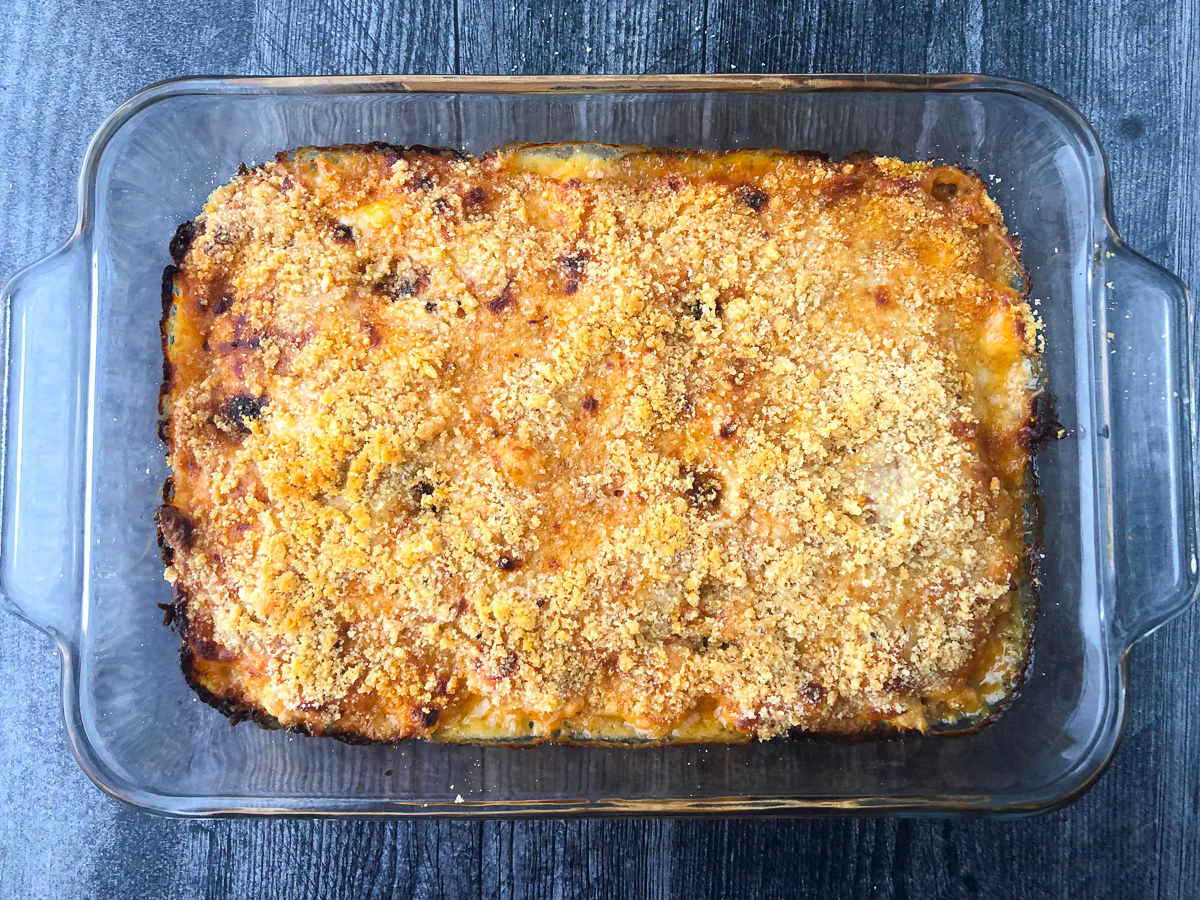 Place leftover in an airtight container in the refrigerator for up to 3 days. This dish also freezes well. (Please scroll down to view the printable recipe card.)
My go to keto bread crumb recipe.
I use this bread crumb substitute as a breading for chicken and fish all the time. You buy pork rinds and crush them in a food processor. You could also buy pork panko which is just crushed pork rinds.
Then you add in an equal amount of grated parmesan cheese and any spices you want like garlic or onion powder. For today I just used the parmesan cheese.
I wanted to use the bread crumb layer for this casserole to mimic classic chicken parm. Instead of breading the chicken I added it to the end so the gooey mozzarella cheese would meld with the pork rinds.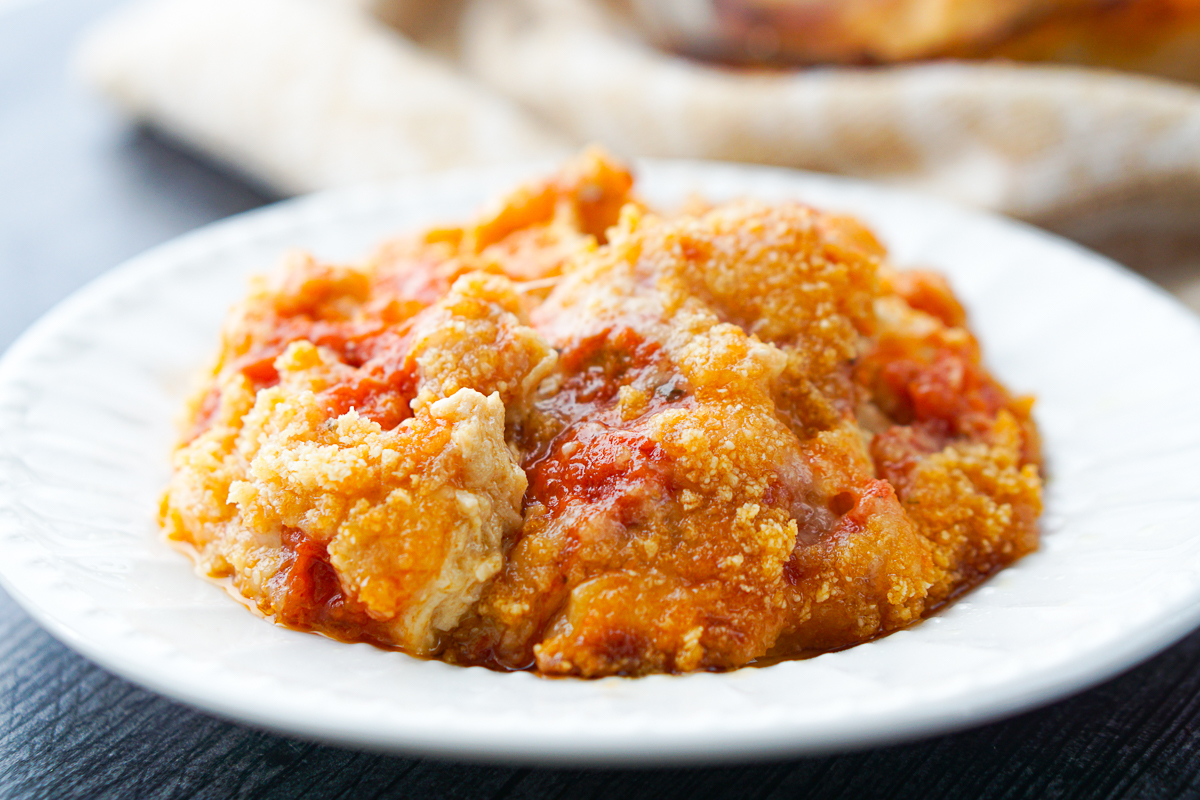 This casserole made 6 good sized portions for me. I ate some for lunch and dinner and then froze the rest of an easy low carb lunch.
For my family I ended up make my standard low carb chicken parmesan pictured below because my son is not much of a casserole fan. I used most the same ingredients except for using a mixture of almond flour and parm instead of pork rinds. Also I used chicken pieces instead of chopped, cooked chicken.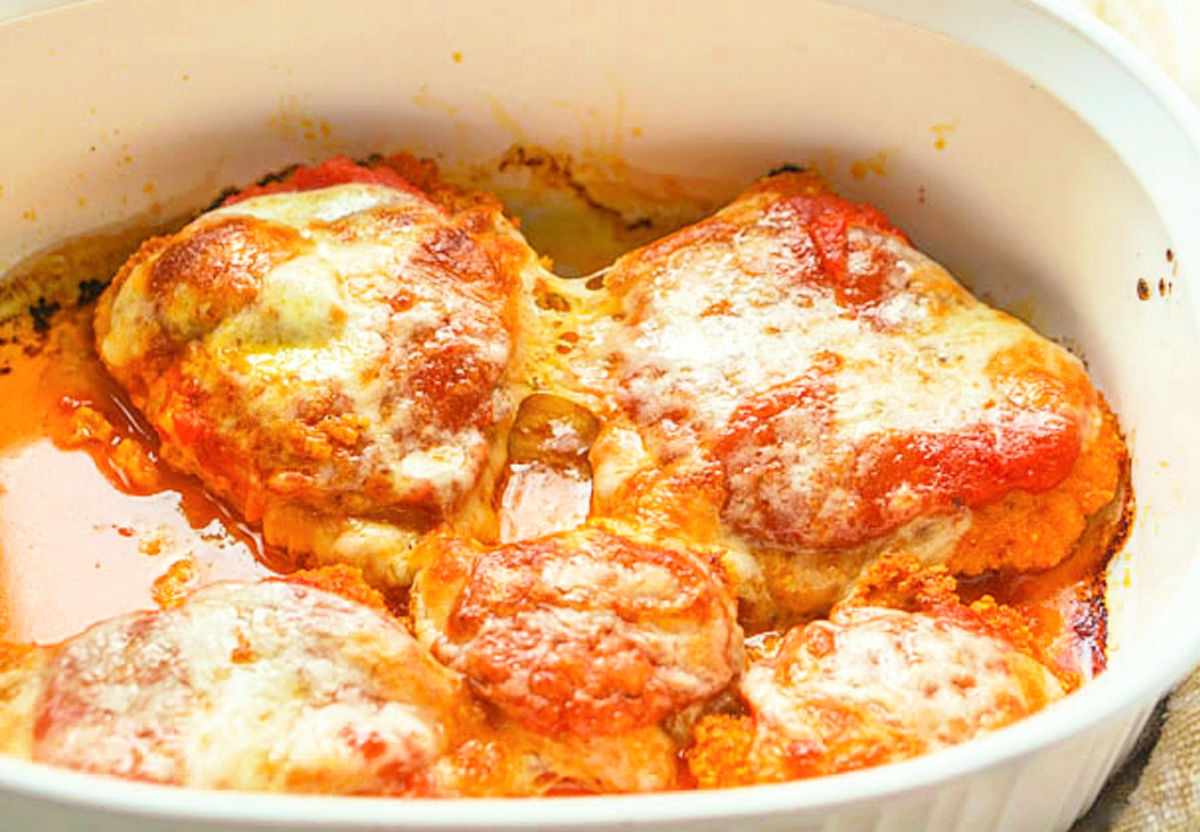 Recipe notes and tips.
The tomato sauce is your biggest source of carbs. I only used 1 cup but in retrospect I would want to use more because I like my parm a little saucy. That's your call if you want to use more. I will say that it was delicious without it but I wanted to point that out for you.
You can use white meat (chicken breast) or dark meat (chicken thighs) in this recipe. I prefer white meat but either will work and not effect the carbs. I used 3 cups of chicken but I might have used more if I had it. Again this shouldn't effect the carb count if at all.
You can cut back on the pork rind mixture if you want. If you use a smaller baking dish it might be too much. However use all of the parmesan cheese.
You can add some herbs like fresh basil or parsley as a garnish if you wish. I would chop and mix it in to the bread crumb topping if using. You can also sprinkle salt and black pepper here but sometimes the pork rinds and cheeses have plenty of salt. And if you want some heat add a few hot pepper flakes to the sauce.
We ate this as is but you could add some zucchini noodles or cauliflower rice to the plate and serve this casserole on top. Or you could add a green vegetable like broccoli or asparagus along side.
hope you enjoy this low carb chicken parmesan casserole! It's a keeper to me and sure to be a family favorite for you even if you are not on a keto diet. And for more keto casseroles check them out here.
451 cals / 26g fat / 4.3g carbs / 0.7g fiber / 48.3g protein = 3.6g net carbs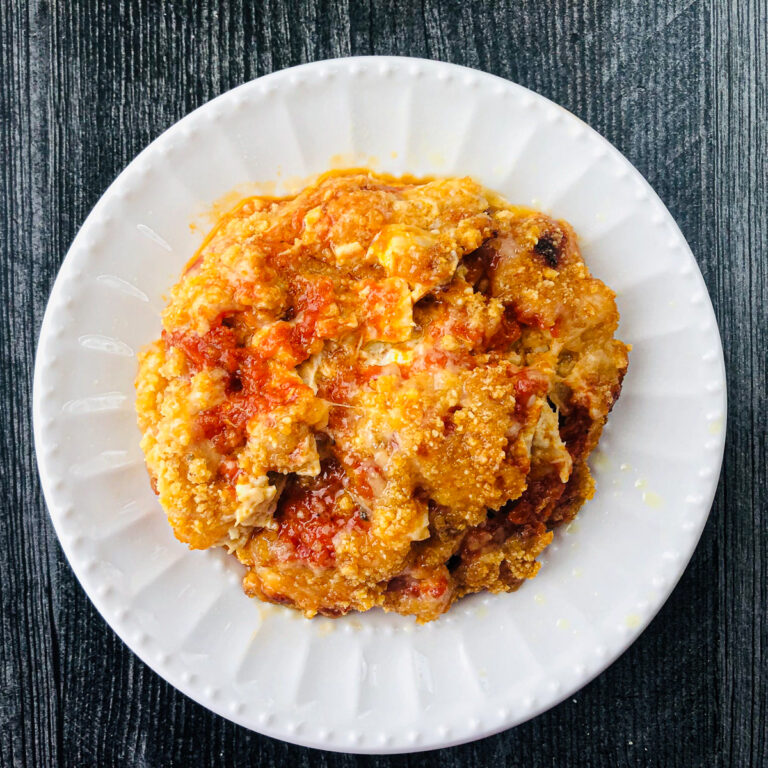 Keto Chicken Parmesan Casserole Recipe
This keto chicken parmesan casserole recipe is great for an easy weeknight dinner. Using cooked chicken and other simple ingredients you can put this low carb casserole together in minutes and pop it in the oven. It's low carb, gluten free and high protein dinner recipe.
Ingredients
3 cups chicken, cooked, chopped
2 oz cream cheese
½ cup heavy cream
1 teaspoon garlic, crushed
1 cup grated Parmesan (dived into ¼c and ¾c)
1 cup marinara sauce, low carb
1 ½ cup mozzarella cheese, shredded
¾ cup crushed pork rinds
Instructions
Preheat oven to 400°F degrees.
Microwave cream cheese, heavy cream and garlic for 1-2 minutes until cheese is melted. Mix well and stir in ¼ cup parmesan cheese.
Mix this mixture with the cooked chicken and make the first layer of the casserole.
Then pour on sauce over the chicken mixture for the second layer and top with shredded mozzarella cheese.
Lastly mix the crushed pork rinds with the rest of the parmesan cheese and sprinkle the breading mixture on top.
Bake for 30 minutes and let cool before eating.
Notes
The nutritional information for 1 serving is:
451 cals / 26g fat / 4.3g carbs / 0.7g fiber / 48.3g protein = 3.6g net carbs
Nutrition Information:
Yield:

6
Serving Size:

1
Amount Per Serving:
Calories:

451
Unsaturated Fat:

0g